What comes to mind when you envision your perfect backyard? Whether you have a large or small yard, we have a dream backyard checklist that will help you design your space.
Jump To Sections:
Before you start decorating your backyard, you should make a plan of how you want to use the space and what is essential for your dream backyard. Decide how much privacy you need and how much money you're willing to spend. You could also use DIY projects to add a unique flair to your living space.
Accenting your walls or fencing with tropical décor could make you feel like you're on vacation to an exotic island getaway. After a long day, you want a backyard where you can play and relax. To make your yard everything you want it to be, here is your guide for creating your dream backyard.
Check out our video: Dream Backyard Checklist
Questions to Ask Before Decorating Your Backyard
When you have a plan, you can check the items off your dream backyard checklist with ease. As you create your plan to decorate your backyard, you should answer the following questions:
How do you want to use your space? Your yard is essentially an extension of your interior living space. Depending on the size and layout of your space, you can use your backyard for multiple functions. Visualize how you see yourself using this space. Do you imagine grilling outside and having your guests over for an outdoor dinner? Do you want the room to play or space to unwind after a long day of work? Knowing this information before you design your dream backyard could help you choose the right furniture and décor for your intended purpose.
What is essential for your space? If you are renovating your backyard, you may be able to visualize your dream backyard better if you clean the current furniture out of your backyard. Use the clean space as a blank canvas for your perfect backyard layout. As you create your image for your dream backyard, brainstorm what furniture and appliances will complete your look. Do you need an outdoor grill? What about a pool? You can decide how you want to create your perfect exterior living space with the right essentials.
Will you be entertaining kids? Whether you have kids of your own or your guests have kids, consider whether your backyard should be kid-friendly. You can have a relaxing backyard while still creating space for the kids in your life to have fun. Even if you choose to keep your yard more mature, make sure it is safe for kids who may come by for a visit.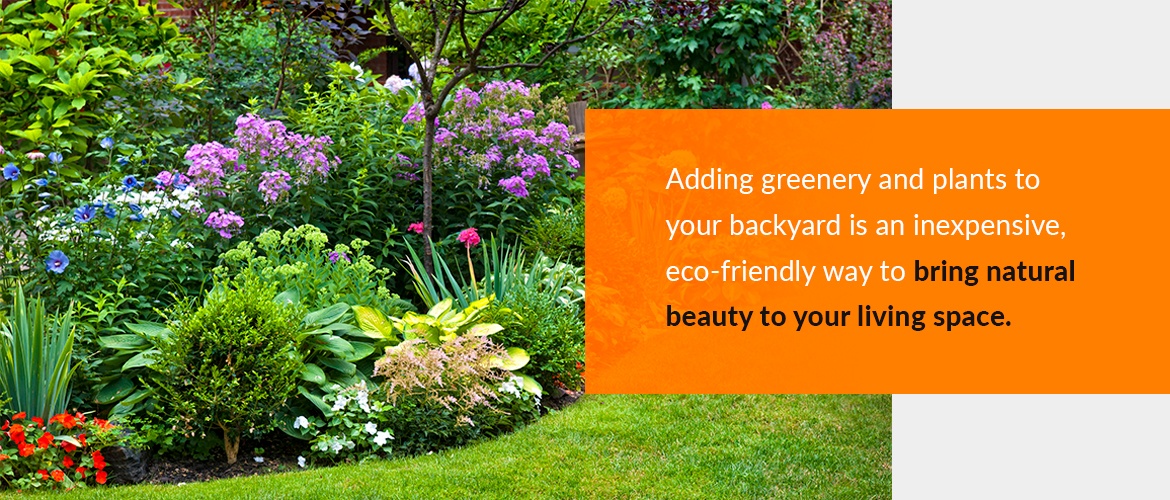 How much greenery do you like? Adding greenery and plants to your backyard is an inexpensive, eco-friendly way to bring natural beauty to your living space. You could use your yard to grow fragrant herbs or colorful flowers. If you would rather have a more urban look to your yard, you could choose stone, brick or wood to decorate your backyard instead of a garden.
What is your budget? You could design your backyard landscaping to look however you want. Before you fall in love with a plan that could set you back financially, ask yourself how much time and money you have to spend on your property. Even if you have room in your budget to set up a luxurious backyard, think about how much money it will cost you to maintain over time. You also should consider how much time your dream backyard will take to clean. You can have your dream backyard and save money by doing projects yourself or investing in inexpensive furniture and decor.
What is your backyard theme? Your backyard should reflect your unique personality. You could have a tropical theme to your backyard, or you could have a more modern look. Use your interior design to model how you want your backyard to look. Your theme should be consistent throughout every aspect of backyard decorating, including your garden, your patio and the material you use for privacy.
What is the climate like in your local area? Whether your home sees all four seasons or you have mostly warm temperatures, you may need a covered area to protect you and your guests from the elements. You should also consider how your neighborhood's climate will affect your outdoor furniture and decor.
What kind of area do you live in? Your backyard design can reflect the overall aesthetic of your neighborhood. If you live in an urban setting, you can include more modern furniture. If you live in a woodland setting, you could use stone pathways and greenery that match the natural beauty around you.
Essentials for Your Dream Backyard
After you figure out the theme and purpose of your backyard, now you can start designing. You can create your ideal yard with any of these essentials.
Pool: Pools are popular for people who enjoy hosting outdoor parties and entertaining kids at home. If you decide to put a pool in your backyard, you should also include a pool deck to provide a safe space for people walking with wet feet.
Garden: Depending on the theme of your backyard, you could have a meditation garden or one filled with specific types of flowers. You could even do a tropical flower garden to showcase your tropical décor aesthetic. If you like cooking at home, you could include an herb garden in your backyard just outside the kitchen. The more variety of plants you use, the more colorful and inviting your backyard will be.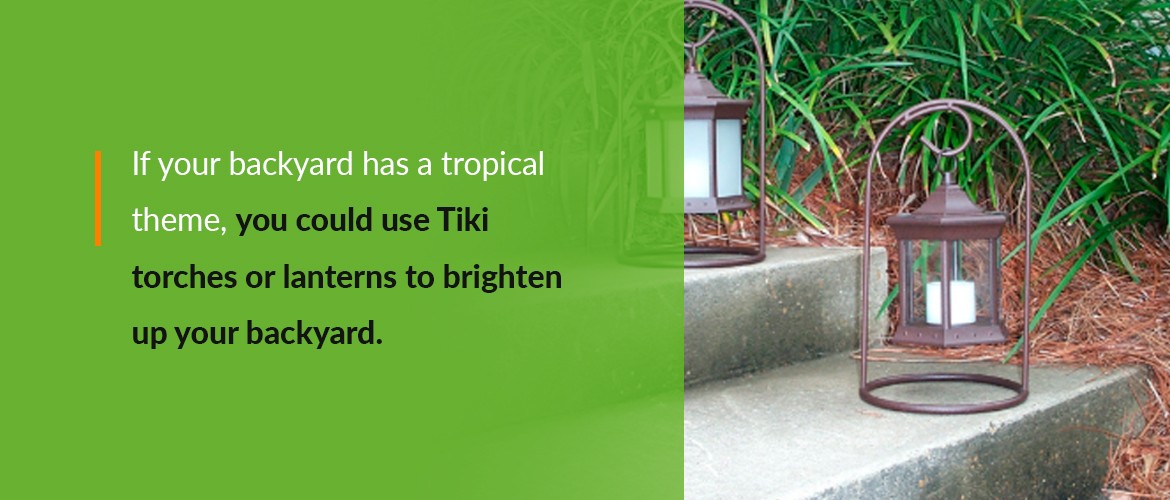 Lighting: You and your guests should have lighting at night to help you see each other and walk safely throughout your backyard. You could use string lights or candles. If your backyard has a tropical theme, you could also use Tiki torches or lanterns to brighten up your backyard.
Tropical decor: For a tropical aesthetic, you can choose from a vast selection of tropical decor. You could build a Palapa with thatch and bamboo or a Mexican thatch umbrella to provide shade and designate a space in your backyard for relaxing. Using bamboo or thatch products creates a luxury feel in your backyard, while allowing you to stay within your budget.
Flow: Your backyard will be more inviting from the interior of your home if you have doors to help you easily flow from one place to the other. On a beautiful summer day, you could even leave your door open to allow your guests and family to move throughout your entire living space.
Designing Your Backyard on a Budget
If you're on a tight budget, you can still have the dream yard you want. You can make your small yard seem more spacious, and you can design your large backyard with furniture and décor that fit your budget.
Adding Space to Your Small Backyard
You can add details to your small backyard to make your space appear bigger. If you live in a neighborhood where everyone has a small backyard, you could ask your neighbors for inspiration and tips.
Create a function for each part of the yard: To make the most of your small backyard, you should have a designated space for each part of the yard.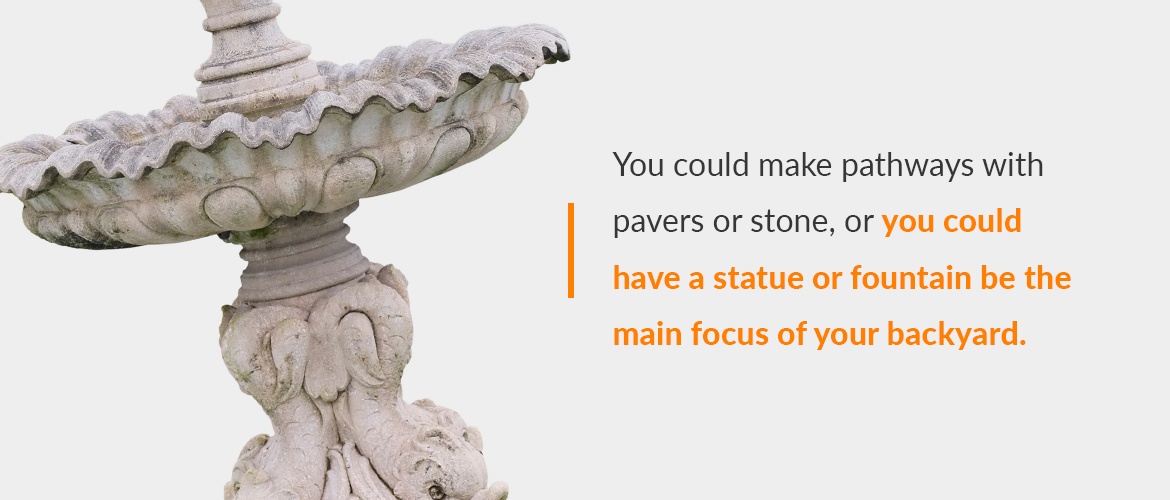 Create focal points: When you have a focal point in your backyard, your guests will have something to grab their attention. You could make pathways with pavers or stone, or you could have a statue or fountain be the main focus of your backyard.
Use the side yard: Your backyard includes your side yard on both sides of your house. You could use this space to add a garden or a small table for an intimate gathering.
Add bold colors: You could add pillows with pops of color to accent your outdoor furniture. For a more natural look, you could also use colorful flowers in your garden and shrubbery to decorate your backyard.
Use archways to frame your space: In addition to adding privacy, to provide shade in the summer and make your space appear bigger, you could add trees, pergolas or a Mexican thatch umbrella. You could also adorn these frames with tropical décor or greenery.
Garden vertically: If you want trees, you should plant trees that will grow up instead of out. You could also use hanging plants or use bamboo garden planters to create a vertical garden instead of a horizontal garden that takes up space in your yard.
Keep your furniture and décor small: For a small backyard, use small, simple furniture as accents to your dream backyard space.
Inexpensive Décor for Your Luxury Backyard
When you create a budget, you can design your luxury backyard while wisely spending your money. Here are some budget-friendly tips for decorating your backyard.
DIY projects: If you are crafty, so you could save money by doing projects yourself. For example, you could create a patio, benches or fountains on your own.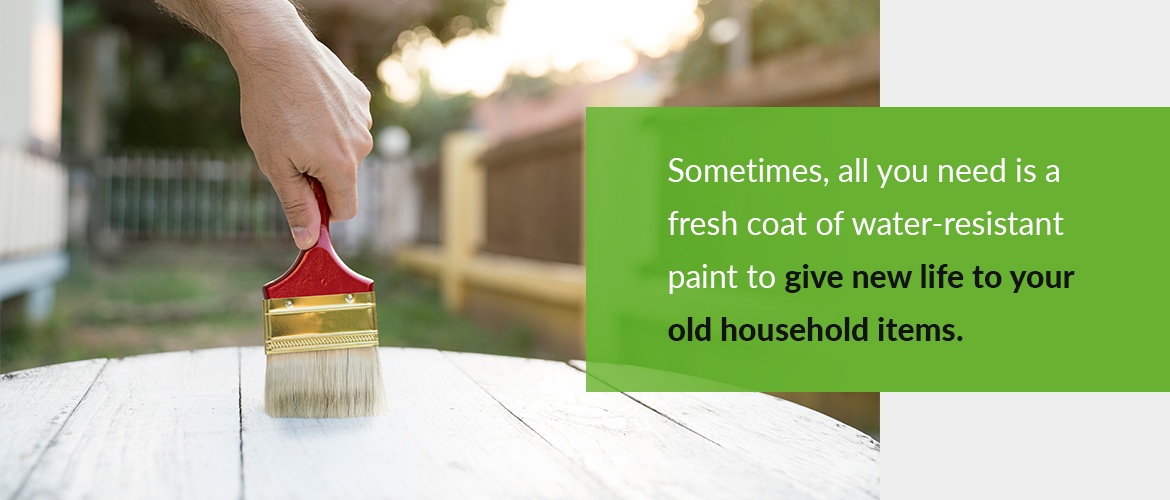 Refurbish old items: You could be creative and reuse items in your home outside. Sometimes, all you need is a fresh coat of water-resistant paint to give new life to your old household items.
Use greenery and flowers: You could add pops of color to your backyard with evergreen plants and bright flowers. Plants that last throughout the years are the best investment for your yard.
Invest in affordable lighting: When you're outside at night, you could use Tiki torches or lanterns as an affordable way to light your backyard.
How to Give Your Backyard More Privacy
Another essential detail to consider is how much privacy you want in your backyard. If being able to conceal your yard is important to you, you have plenty of options to choose from as alternatives to traditional fencing. Here are some ways to give your backyard more privacy.
Hedges of shrubbery: Evergreen plants are sustainable, eco-friendly substitutes for traditional fencing and will last throughout the whole year. Hedges are relatively easy to plant on your own. You could also use shrubs to create a cozy enclave corner in your backyard. Consult with your local nursery to find the best shrubs for your budget and your local area.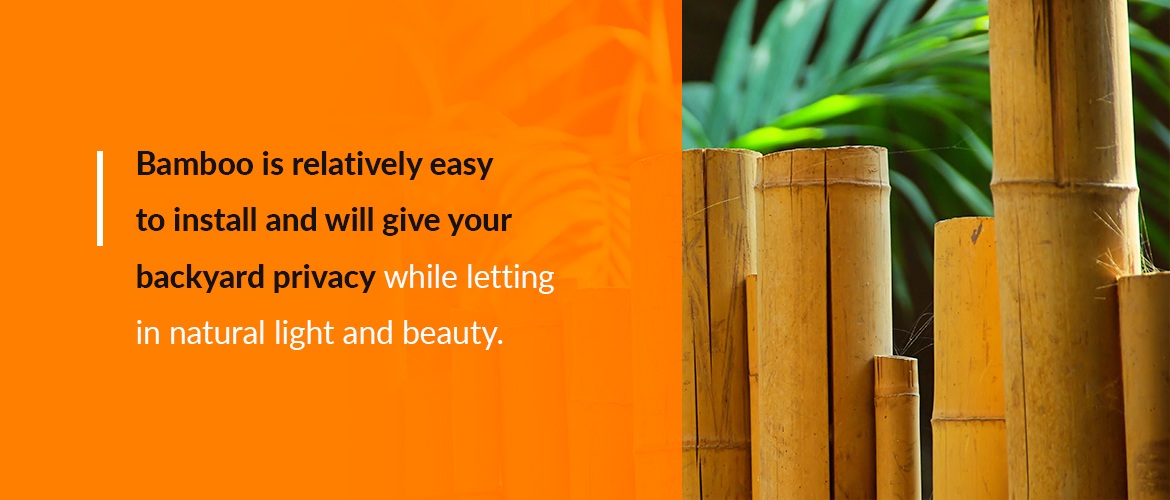 Bamboo fencing: Bamboo fencing provides a natural feel to your backyard. As a sustainable, durable alternative to traditional fencing, bamboo is relatively easy to install and will give your backyard privacy while letting in natural light and beauty. While bamboo is beautiful on its own, you could enhance your bamboo fencing with a stain finish. If you create DIY fencing, you could also design your bamboo fencing to fit your backyard's unique aesthetic.
Bamboo walls: You could use exterior bamboo walls to turn your backyard into a retreat from the world. While most fences make you feel closed in, bamboo walls contain gaps that allow you to see outside your home at the same time as providing privacy for you and your guests. Bamboo walls are relatively easy to install with bamboo poles.
Pergola: A pergola provides some overhead privacy from your neighbors on the second floor. Pergolas can stand on their own, but adding wood beams or columns could provide more privacy in your backyard. You could also add plants and greenery to your pergola to fill in those empty gaps.
Privacy panels: You could design privacy panels made out of wood. Like bamboo walls, they will provide you with privacy while also allowing space to see beyond your yard.
Bamboo roof: You could design a Mexican thatch umbrella to cover your space and provide shade.
Partitions: A portable partition will allow you to have flexible privacy in your space. You could also make a room divider out of bamboo for exterior use.
Vertical garden walls: Along with hedges of shrubbery, you could also add a vertical garden to your backyard to provide privacy.
Metal wall screen: For a modern look, you could create a wall screen out of metal for your backyard's privacy.
Stone walls: If you have a larger budget, you could add privacy to your home with a stone wall. Doing this will give your home a more classic look while adding privacy to your backyard.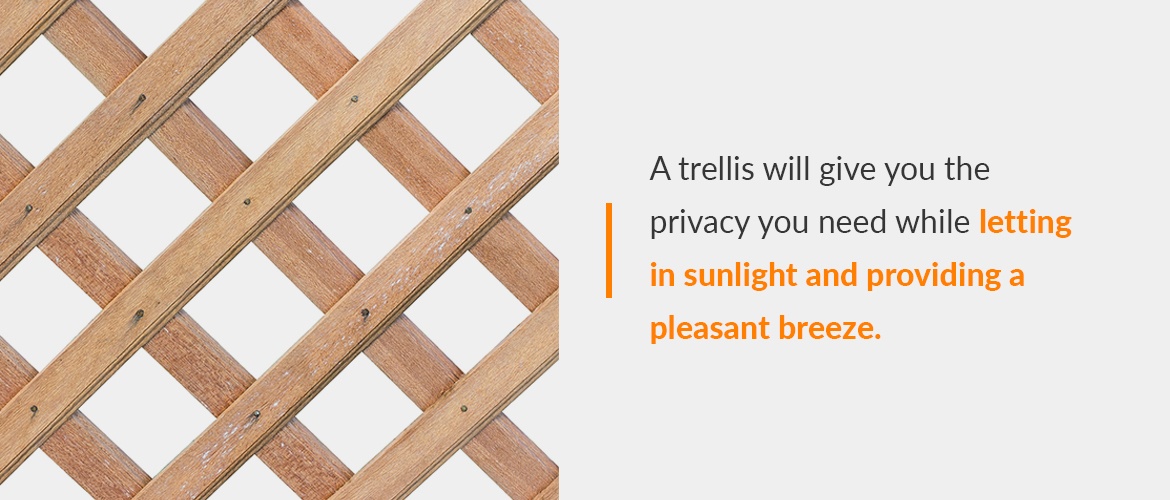 Trellis: A trellis will give you the privacy you need while letting in sunlight and providing a pleasant breeze. You could add greenery to adorn your trellis in your backyard. You could also create a trellis out of bamboo for your backyard.
Outdoor curtains: For blocking off certain areas of your backyard, you could use an outdoor curtain. Curtains specifically made for the outdoors can handle different weather conditions and come in a variety of colors. While curtain rods are easiest for mounting outdoor curtains, you could also hang your curtains from your pergola or the sides of your porch.
Backyard Décor for Your Dream Backyard
To complete the theme of your dream backyard space, you should find the right décor. Here are some of our favorite décor items.
Tropical-Themed Décor for Your Dream Paradise
Do you imagine your backyard looking like a vacation on a tropical island? If you work long hours and need a place to retreat after a stressful workday, consider designing your tropical paradise backyard. You can select from a wide variety of bamboo and thatch products, as well as some DIY projects to complete your tropical décor.
Tiki huts and umbrellas: Tiki huts and thatch umbrellas provide your backyard with natural shelter. You can cool down your exterior space with an eco-friendly thatch umbrella. You can choose from a selection of African Reed, Sea Grass or Mexican Palm thatch products.
Tropical flowers, signs, hanging birds and Tiki masks: Add tropical accents to your bamboo walls or fencing — like flowers or signs — to complete your tropical paradise look in your backyard. You can also choose from a selection of tropical products like hanging birds and Tiki masks that can make you feel like you're on vacation.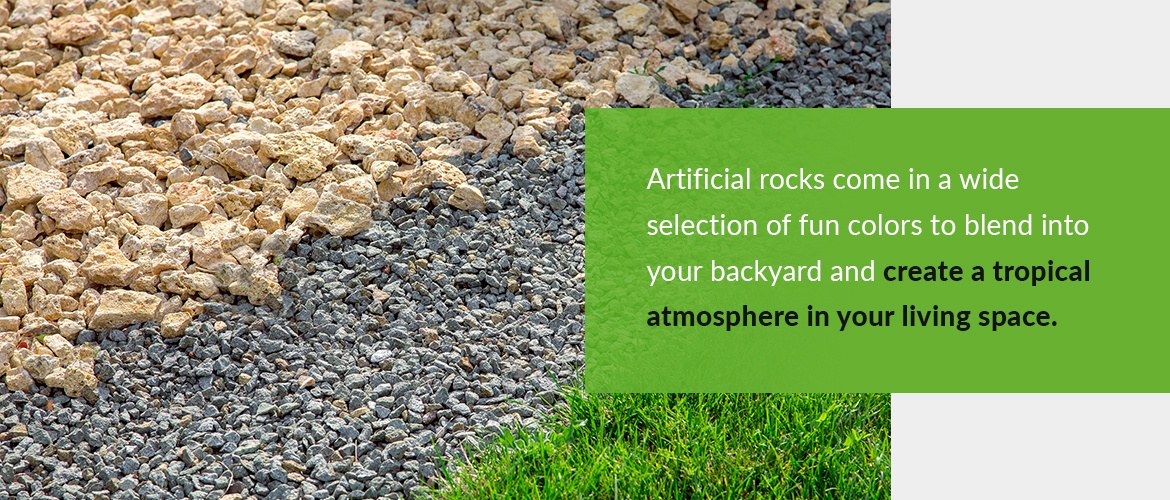 Artificial rocks: These stylish rocks can hide unsightly aspects of your exterior space. They come in a wide selection of fun colors to blend into your backyard and create a tropical atmosphere in your living space.
DIY Projects to Save Money and Match Your Style
While you can buy products pre-made for backyard decorating, maybe you'd prefer to do a project yourself. You can choose from so many fun tropical DIY projects that will save you money and become what you want them to be.
When you use bamboo to design your special project, remember that bamboo comes in a variety of natural colors to fit your backyard theme, but you could also stain or paint it. If you need to cut bamboo for your DIY project, cover the area with masking tape first to avoid splintering and use a power saw or a fine-bladed hacksaw. As you connect your bamboo poles, drill a hole into your poles before adding screws or tie the poles together with twine.
Here are some ideas for DIY projects to spruce up your backyard with bamboo or thatch products.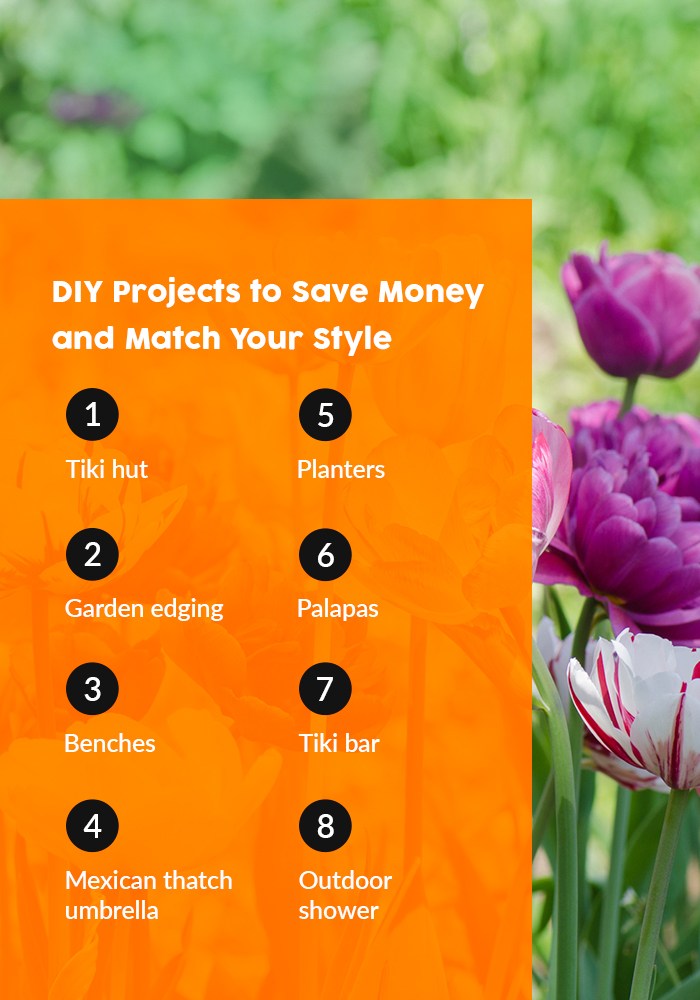 Mexican thatch umbrella: Mexican Palm thatch is naturally water-resistant, so it is the ideal material for your DIY umbrella. Mexican thatch umbrellas are round, but you can make them whatever size you want and place them wherever you like in your backyard.
Tiki hut: You can create your Tiki hut to your unique specifications. For this project, you would need bamboo, thatch, measuring tools and a saw.
Garden edging: While most homeowners use wood, brick or stone to create a border around their garden, you could use bamboo poles as garden edging. All you need to do is measure your garden space and cut the poles to fit your garden.
Benches: This project is for advanced DIY-ers, but we've made the process easy by providing you with the bamboo poles you need to create a sturdy bench for your exterior space. Bamboo has the same tensile strength as steel and has an excellent strength-to-weight ratio.
Planters:You can enhance your exterior space by making hanging planters out of thick bamboo poles.
Palapas: Palapas — or thatch roofs — are relatively easy to install and can enhance the tropical aesthetic of your exterior living space. You would need to create the posts out of bamboo, the roof base out of bamboo or plywood and the roof covering out of thatch.
Outdoor shower: You could set up an outdoor show just outside your pool to allow your guests to rinse themselves. You could add bamboo to an existing outdoor shower. Since bamboo is water-resistant, it is a perfect resource for you to use to create your outdoor shower.
Tiki bar: Your Tiki bar will help you serve your guests and continue the party in your backyard. You can create a brand-new Tiki bar with bamboo poles and a thatch roof, or you could add a layer of bamboo to cover a Tiki bar you already have.
Forever Bamboo Has Everything You Need for Your Tropical Dream Backyard
As the nation's leading provider of tropical-themed décor, Forever Bamboo has bamboo and thatch products to make your dream backyard a tropical paradise. We ship globally from San Diego, California, and offer free shipping on select products. Our bamboo and thatch products are eco-friendly and sustainable for you to create your dream backyard.
Browse our collection of products to start creating your tropical dream backyard. We have the largest inventory of bamboo products, thatch products and tropical décor in the United States. Call 877-912-2244 today to speak to a customer service representative, or fill out a contact form.