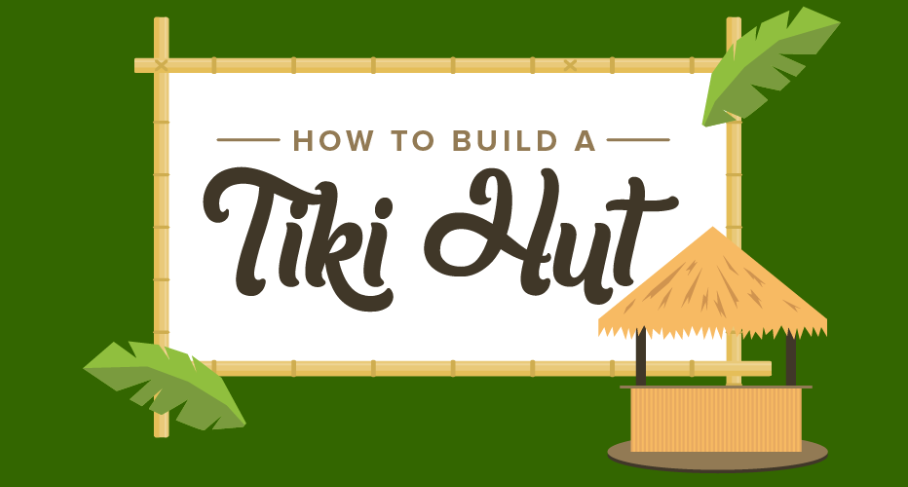 We all love hanging out in our backyards, but on a rainy afternoon or an extremely bright day, you need some shelter. A tiki hut can be an excellent way to add a little character to your backyard while keeping you out of the sun, but getting a premade one can be expensive. Thankfully, it's relatively easy to make a completely free standing tiki hut yourself!
Follow this 10-step guide to help make your tiki hut construction a little bit easier.
Steps for Building a Tiki Hut

This work is licensed under a Creative Commons Attribution-NoDerivs 3.0 United States License.
1. Make a Plan
It's never smart to start building something without having a plan in mind. Spend some time thinking about your hut, including where you're going to build it and how large you want it to be.
2. Collect Your Tools and Materials
The next step is to start collecting everything you're going to need to build your dream tiki hut. For the tools, you'll need to gather:
A saw for cutting your bamboo and other materials to the proper length
Nails to hold it all together
Gloves to prevent splinters
A hammer or pneumatic tool to drive the nails
A tape measure
Safety goggles
The materials you use to build your tiki hut are entirely up to you. Commonly used materials include framing nails, lag bolts, bamboo poles or dimensional lumber, which is available at any major hardware store.
3. Design the Layout
It's tempting to start from the top down, but the base of your hut can get heavy quick, so it's a better idea to plan out your tiki hut design in advance. Start by figuring out your hut's shape — something you should have already started thinking about in step one — and laying the floor base. The base should be completed before you construct the walls.
4. Cut Your Walls
You're going to need three pieces for each wall — two outer pieces and inner support. You will also need three sides for the bar, with the fourth side being the area where you enter the hut. If you're going to install shelves, cut these now, too.
5. Assemble the Pieces
The next step is to start putting everything together. Remember the golden rule of construction — measure twice, cut once. Use glue and framing nails to hold everything together during assembly, then use the nails and L-brackets to join everything together permanently. Work from the bottom up, and don't try to skip any steps or you might end up with a lopsided tiki hut.
6. Install Your Counter
You'll need to measure and cut holes in each corner of the bar for your posts. Bamboo is one of the most popular options, but you can just as quickly use standard lumber or even aluminum or steel posts if that would work better for your design.
After you've cut the holes, fit the countertop on the post. Once you're satisfied with the fit, glue them in place, then nail them to keep them permanently secured.
7. Build Your Roof Base
The roof base is simply the material that will support your roof. Build the frame of the base with 2x4s and run one 4×4 piece of lumber through the center for additional support. You're going to want to secure these pieces for now with framing nails.
8. Shape the Roof
You might want to borrow or rent a miter saw for this, though you can cut the plywood pieces for your roof with a hand saw, as well. Start at the center of your beams and work your way down. Leave about four inches between each piece of plywood and secure them with framing nails. This will create the shape for your roof.
9. Build Your Thatch Roof
Once the structure of the roof is ready, it's time to attach the thatch roofing. First, lift the roof structure into place and secure it on all four corners of the bar. It's important to secure your roof in place before adding the thatch, as it would be difficult and too heavy to lift into place afterward.
Thatch offers coverage from shade and the elements. Attach your thatch panels or roofing materials with staples starting from the bottom and working your way to the top.
10. Make It Yours
Once you have everything put together and secured, the last step is to make it your own. Add lights, decoration or your personal flair. Some people like to wrap the face of the bar in bamboo slats — it brings the whole look together. Wind chimes add atmosphere, and tiki torches make great evening lighting — make sure you position them far enough away that they won't ignite the thatch roofing material.
A tiki hut is an excellent way to add some character to your backyard and give you an interesting place to host parties. They're easy to build, as long as you have everything you need and a suitable design in mind.
Try before you buy with a sample box! Place your order within 45 days of purchasing your samples and get $25 off. This makes your sample box FREE! Still have questions? Contact us today for expert advice on constructing a high-quality tiki hut and choosing the right materials for the job!
Related Products & Information