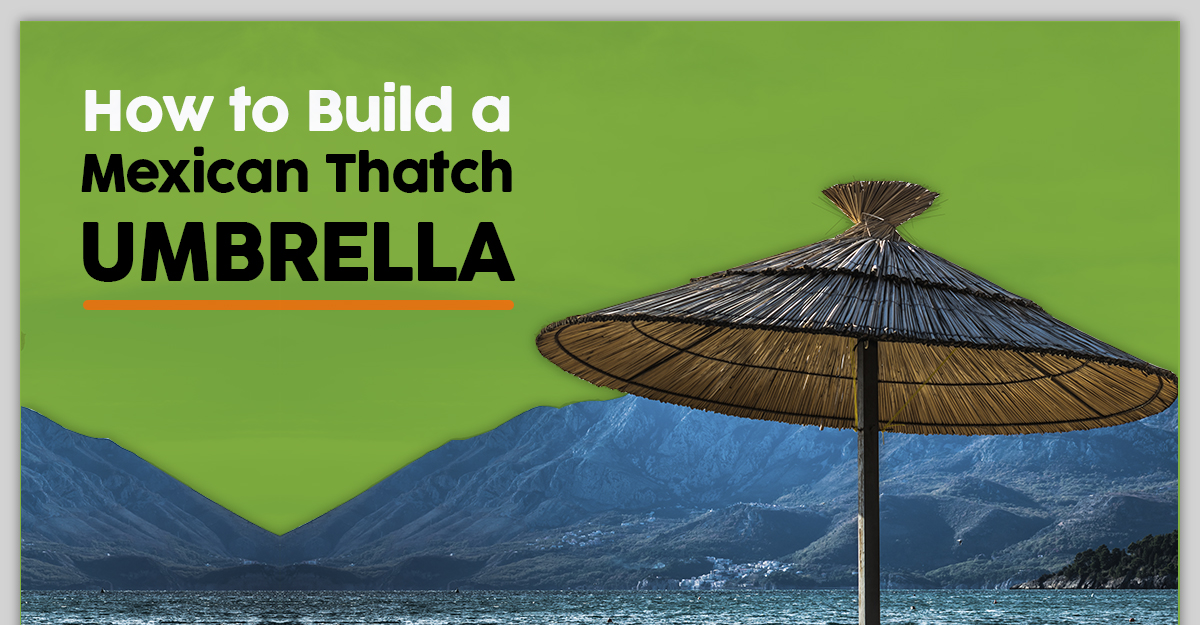 A tropical ambiance can enhance all sorts of spaces, from island resorts, restaurants and bars to our very own backyards. No matter where you are, tropical-themed structures and decor can transport your mind to a place of fun, fresh air and relaxation. So, how can you create a tropical paradise in an otherwise-ordinary space?
Jump To Sections:
When most people picture a tropical environment, that picture will almost certainly include thatch roofs. Thatch features dried vegetation sewn or woven together tightly. It can be made of cane reed, palm leaves or other natural materials. Thatch is the perfect material to top tropical structures, such as Palapa bars, other hut-style structures and umbrellas. Thatch umbrellas are a great option to consider for bringing the tropics to any location. A thatch umbrella can shade you from the sun and turn any pool, porch or patio into a relaxing and fun haven.
If you want to implement a tropical theme in your backyard or another space, then why not make your own thatch umbrella? It's a fun project, and our step-by-step guide in this post can help walk you through. If you follow the steps in this post and customize everything to your project, you'll end up with a finished product you can be proud of.
Whether you want to make your own patio umbrella or build a Tiki umbrella for your business, you can do it with Mexican palm thatch. In this post, we'll learn more about Mexican palm thatch and go over how to make a Tiki umbrella using this traditional material. We'll break it down by steps, all the way from planning the project and making the bamboo umbrella frame to attaching the thatch and putting on the finishing touches. We'll also discuss some ready-made options to consider.
What Is Mexican Palm Thatch?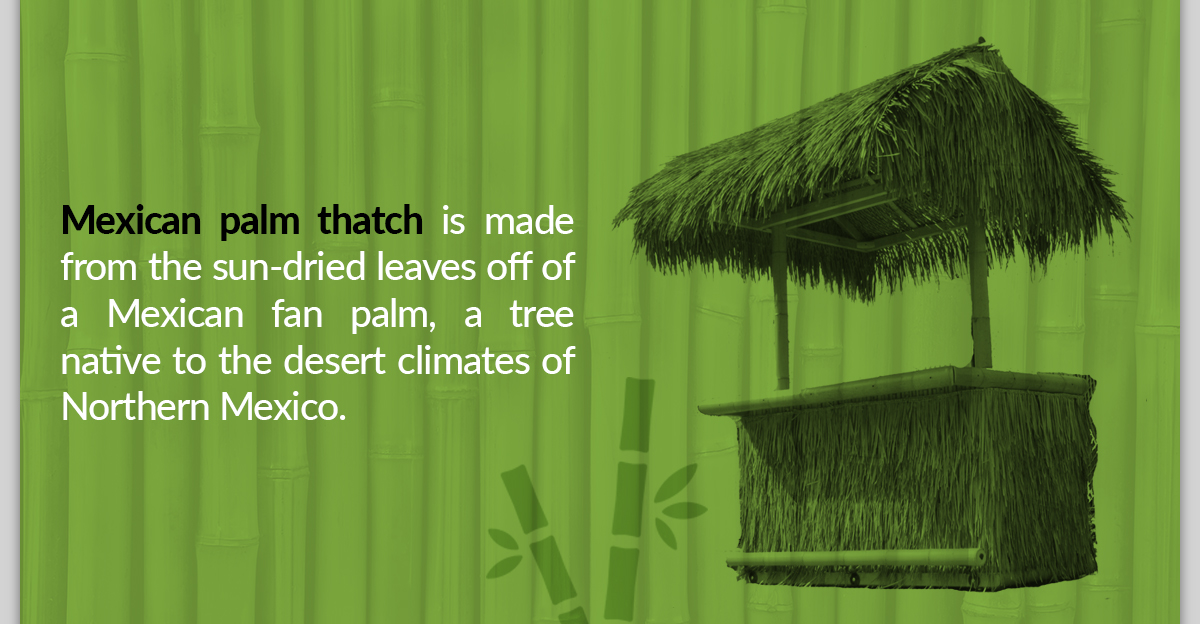 The ideal material to use for a DIY thatch umbrella is Mexican palm thatch. It's one of our most popular thatch products at Forever Bamboo. Mexican palm thatch is made from the sun-dried leaves off of a Mexican fan palm, a tree native to the desert climates of Northern Mexico.
For centuries, people have used Mexican palm thatch as a water-resistant and insulating roofing material. Because of its water-resistant properties, Mexican thatch was also historically a useful material for making rain capes, a forerunner to a modern-day rain jacket or poncho. Palm thatch isn't a material of the past — it's still commonly used in Central America and throughout tropical climates as a roofing material.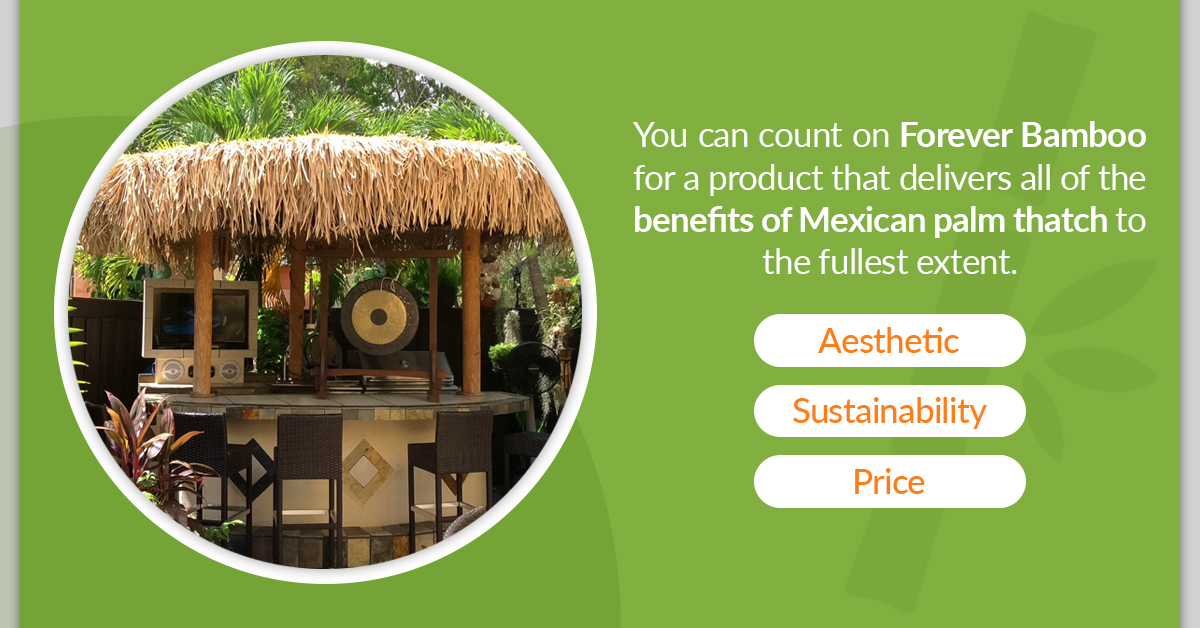 Our Mexican palm thatch is woven by hand in the traditional way by expert artisans to meet the highest standards of quality. You can count on Forever Bamboo for a product that delivers all of the benefits of Mexican palm thatch to the fullest extent. These benefits include:
Aesthetic: When it comes to the tropical resort or coastal village look, no material can rival Mexican palm thatch. It has a beautiful, natural and distinctly tropical appearance. Though palm thatch offers other benefits, many people are interested in the material primarily for its unique aesthetic.
Sustainability: As a material, Mexican palm thatch is exceptionally eco-friendly. Palm trees don't require the resources that many other trees require to grow, so their carbon footprint is minimal. Because the harvesting process for palm leaves does not damage the trees, palm thatch is a fully renewable natural product.
Price: Palm thatch is also an affordable thatching material. Affordability is a key factor for both homeowners and business owners who want to enhance their space. For some, money may be no object, but chances are, you want a material that delivers the look you desire at a price that comfortably fits in your budget.
Step 1: Make a Plan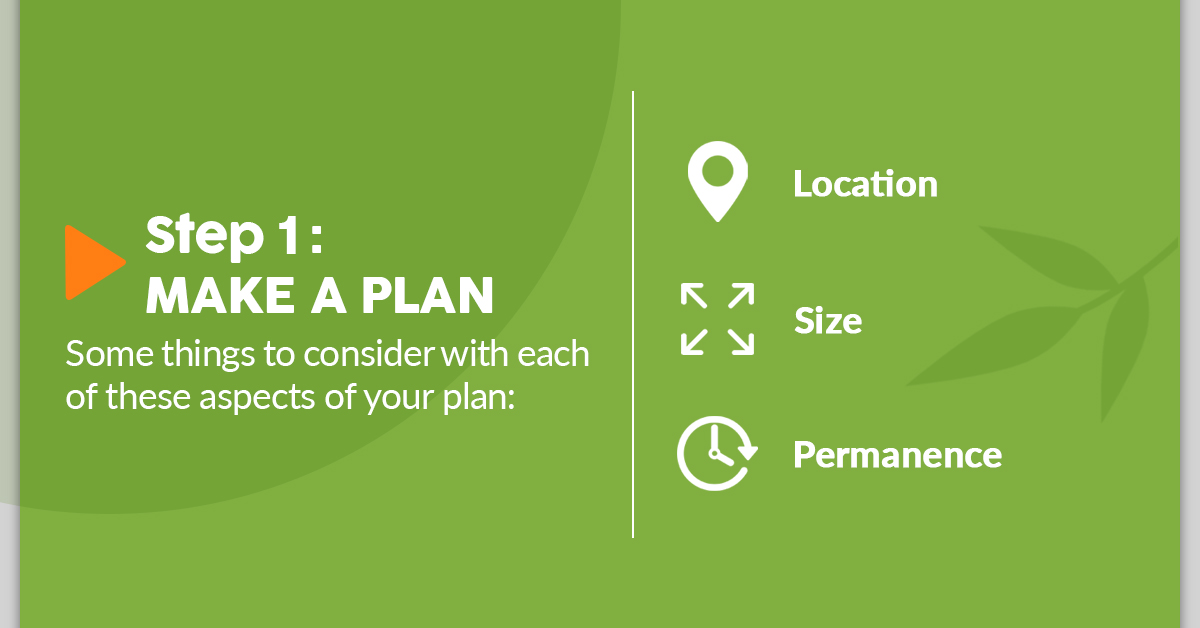 The first thing you should do is make a plan. This includes choosing where you're going to place your umbrella, how large you want the umbrella to be and whether you want it to be a permanent or temporary installation. Let's look at some things to consider with each of these aspects of your plan:
Location: You probably already have a spot in mind for your thatch umbrella. Thatch umbrellas are prized for their ability to produce a cooler shade than canvas umbrellas, so they're ideal in full-sun areas where your family or patrons may appreciate some shade. Popular locations for Mexican thatch umbrellas are by the pool or over patio tables where people can relax or enjoy some refreshments.
Size: Consider the amount of space you have and decide how big around you want your thatch umbrella to be. Some standard sizes include a diameter of 7, 9, 12 and 14 feet. If you want to have a table with seating under the shade of your umbrella, then make sure you build it large enough to cover more area than the table you plan to include underneath.
Permanence: Decide whether you want your umbrella to be a permanent installation to enhance your space or a temporary installation for a special event or party. The easiest style of umbrella to make is one that features a single pole permanently installed into the ground. If you don't want the umbrella to be permanent, then you should create a weighted base for the umbrella pole rather than plant it into the ground.
Step 2: Select and Order Your Thatch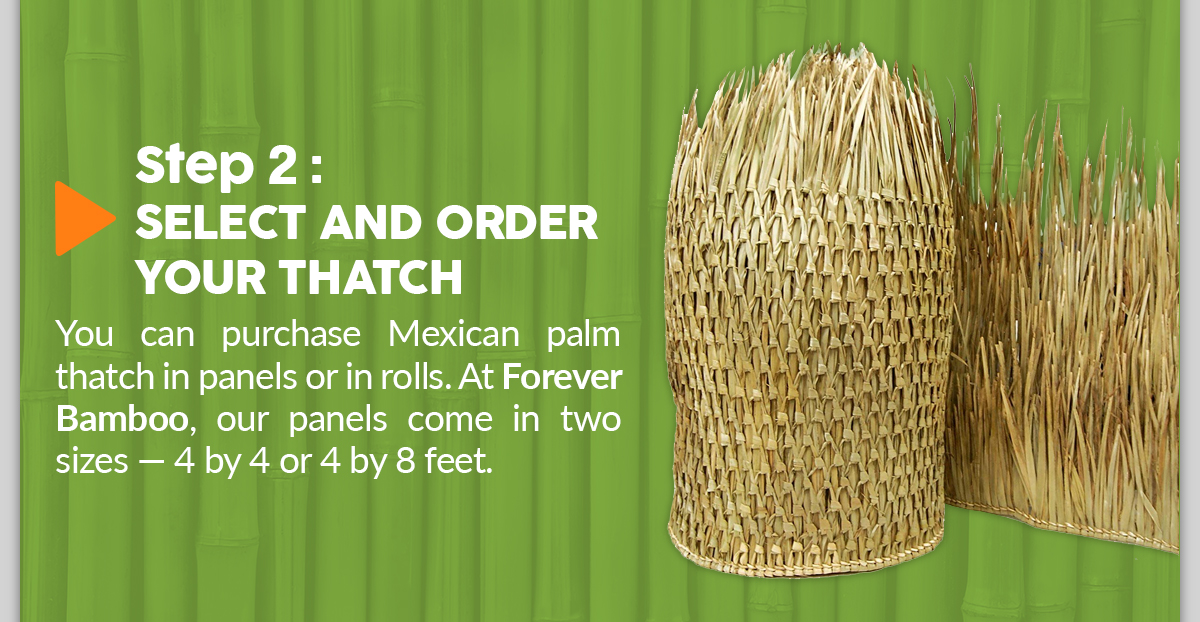 Once you have a plan in place, it's time to gather your materials. The main selection you'll need to make is what type of thatching material you want to use. In this post, we're focusing on Mexican palm thatch, which is our top recommendation. It's thick, full and bushy, and is a favorite material for many people who want to achieve the tropical aesthetic. This type of thatch's thickness and fullness can provide ample shade, and the length of the thatch panels can be customized to meet your needs.
If you're interested in exploring other materials, there are several types of thatch that you can purchase, such as African thatch or Tahitian thatch. Though natural materials will give you the most authentic end result, artificial thatch can be a valuable option to consider. Synthetic thatch is a larger investment, but it offers heavy-duty wear and tear compared to the typical two- to three-year lifespan of natural palm thatch.
Once you've chosen the right type of thatch for your project, you'll need to determine how much to order. Refer to your plan from Step 1 and calculate the area in square feet that your umbrella will cover. Then, add about five to 10 percent to the number you come up with to account for some overlapping and a little margin error.
You can purchase Mexican palm thatch in panels or in rolls. At Forever Bamboo, our panels come in two sizes — 4 by 4 or 4 by 8 feet. Rolls come in the following sizes:
Our most popular size is the 35-inch-by-60-foot runner roll. This size gives you approximately 175 square feet of palm thatch to work with, which is plenty for most umbrella projects.
Step 3: Install the Support Post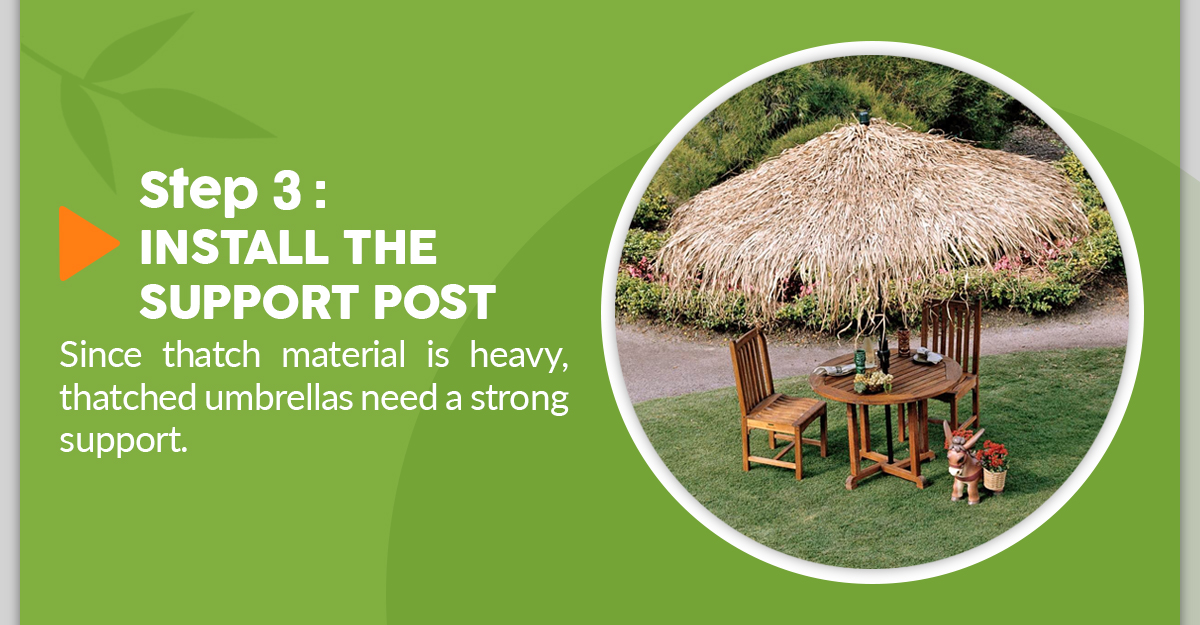 The first step in constructing the umbrella is to install a support post. This is because it is easier to install the Mexican thatch to the frame once it has been secured in the ground. Since thatch material is heavy, thatched umbrellas need a strong support. There are two options here, depending on whether you want your umbrella to be permanently placed or movable.
To create a permanent installation, start by digging a hole with a post-hole digger or shovel. The hole should be at least 12 inches deep. Insert the post into the hole. Use a pressure-treated lodgepole for solid support. You can pour concrete into the hole around the pole to help keep the pole in place. Just make sure you keep the pole straight and upright until the cement dries so that you don't end up with a crooked umbrella. You can also hammer wooden supports onto the pole to help keep it in place.
If you want our umbrella to be movable rather than stationary, then you should create a base for your support pole to rest in. One way to do this is to use a large clay flower pot. You can place the pole in the middle, scatter gravel or rocks around the based and then fill the rest of the pot with cement. Before the cement dries, you can place seashells, glass rocks or other decorative elements on the top of the cement for a personal touch.
Even though this option doesn't involve cementing a pole into the ground, the base should still be heavy, so you should start out with it positioned where you want it so you don't have to bother with moving it.
If you want your umbrella to shade a table, you should consider constructing or purchasing a table. There are many different ways to construct a patio table if you want to go the DIY route. The simplest course of action is to make the table first and drill a hole for the umbrella support pole in the middle of the table. You can also buy a patio table that includes a hole for an umbrella. You should position your table where you want it and then put the pole through it before securing the pole in a base or in the ground.
Step 4: Prep the Umbrella Frame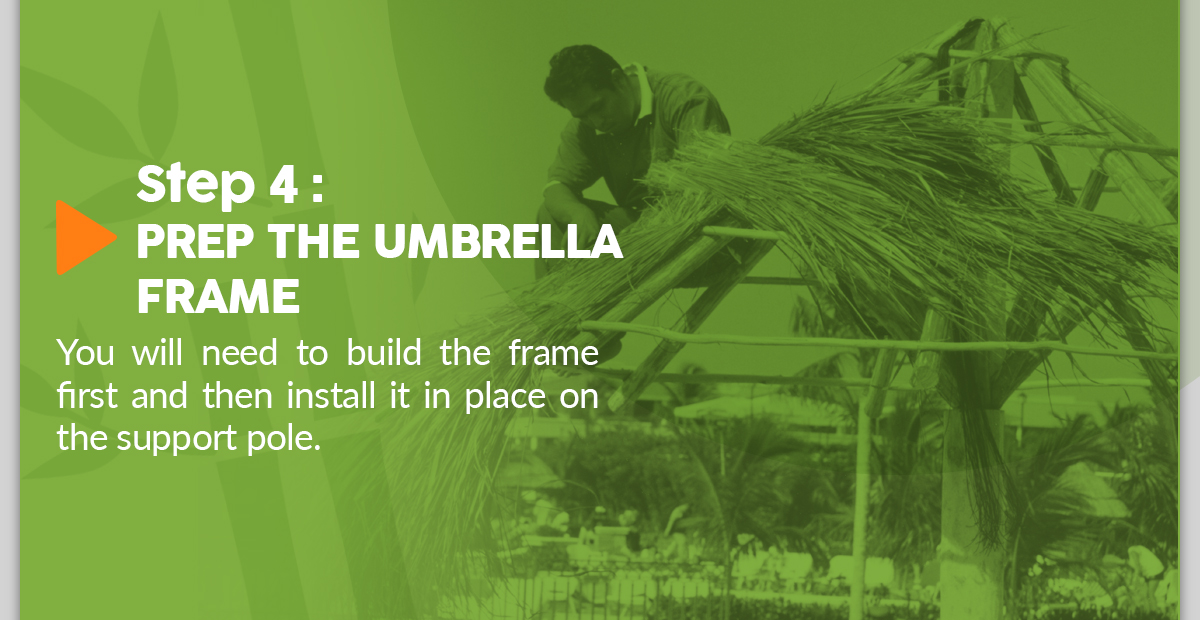 The next step to build your own umbrella is to construct the frame. You will need to build the frame first and then install it in place on the support pole. Though other guides may talk about using wooden rods or 1-by-2-inch wooden boards to build a frame, for a traditionally tropical look, you'll want to use bamboo poles to construct the frame.
Measure and cut the pieces of bamboo for your umbrella framework based on the overall size you want your umbrella to be. Consider whether you want your umbrella to have a four-sided square shape or to appear more round. If you are attaching your umbrella to a square table, then a four-sided umbrella frame would complement that look. For a square, you want to create four triangle sections with a lattice of crosspieces.
Many umbrellas are more round in appearance and may accompany a round patio table. For a more round appearance, create eight or more smaller pie-shaped sections. This means you'll actually be creating an octagon or another polygon, but once the thatch is added, it should appear round.
Start by constructing each wedge individually. Lay out three larger pieces and screw them together to form a triangle. Then add the smaller pieces running horizontally across the triangle, approximately seven inches apart on center. Next, attach the sections together to form a cone shape. The height of each of your wedges will determine the pitch of your umbrella cover.
Once you've attached all the sections together to create a bamboo umbrella frame, screw the frame onto the top of the support pole. Depending on how much weight you need the umbrella frame to bear, you may want to attach additional poles from the main support pole that extend horizontally and attach to the frame.
Step 5: Attach Thatch to the Framework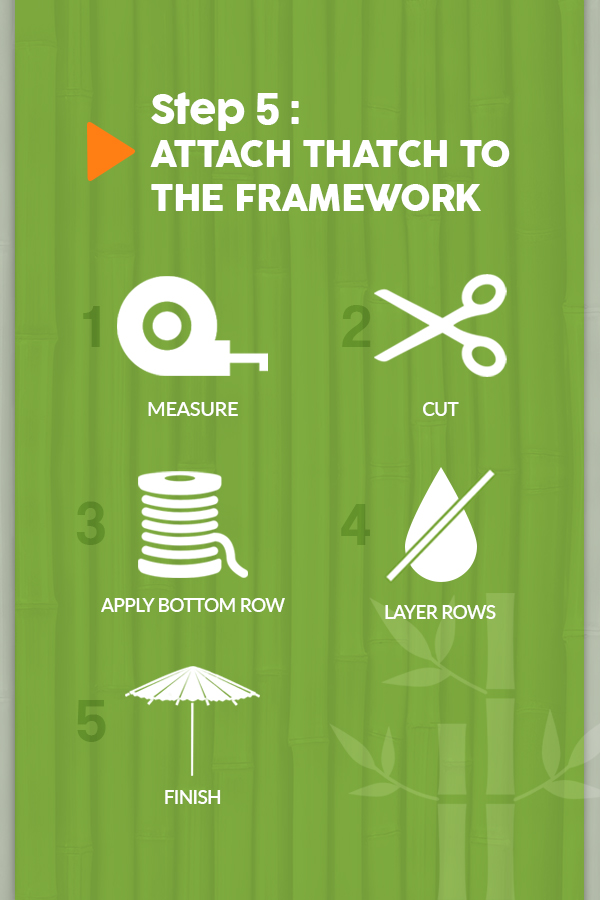 Last, but not least, is attaching the thatch to the framework you constructed. This part may feel like the most tedious step, but it's also where you get to see your umbrella coming to life. The Mexican palm thatch is what brings this project to the next level to make it look like a true Tiki or tropical umbrella. For this final step, we'll break it down a bit more to make sure you can create a finished product fit for an island paradise.
Measure: Before you start cutting or stapling, use a marker to make a mark in each spot where you're going to apply the thatch. The spacing will depend on the height of the panels or runner roll you purchased. Whatever the height, the key is to overlap your thatch pieces by about 12 to 16 inches, so plan for this when you measure. Measuring first will save you the trouble of trying to figure out spacing as you go.
Cut: Use a utility knife or scissors to cut the Mexican palm thatch into sections based on the width of your umbrella's wedges. Start at the knotted side (top) and cut down. You can either cut the thatch to fit exactly to the shape of each wedge, or you can make straight cuts to create rectangular pieces. If you do this, you'll want to trim off the excess material after stapling the sections onto the umbrella frame.
Apply bottom row: The first row of palm thatch you apply should be along the bottom of your umbrella. With the woven side down and the shaggy side up, place the thatch where you want it. Be sure to let the bottom layer hang down over the ends. If you decide later you don't want quite so much hanging down, you can always trim it. Using a manual or pneumatic staple gun, staple directly into the knotted rope along the top of the section to secure the thatch to the frame. You may also be able to use twine or wire to attach the thatch.
Layer rows: Once the bottom tier of thatch is on, you can add the remaining horizontal rows. Attach them to the frame in the same way, using a staple gun. For full coverage, make sure you overlap your sections vertically by at least one foot. If you want an especially full and shaggy look, you can double up the panels of thatch. You still want to overlap the sections if you do this. A double layer of thatch tends to look even better than a single layer, and it makes your umbrella more water-resistant.
Finish: When all the layers are attached to the frame, all that's left to do is put on the finishing touches. Take a look at your thatch umbrella and determine what, if any, sections look unfinished. You may want to cut narrow sections of thatch to cover the seams where the wedges of your umbrella frame meet. You may also want to add a cap or roping detail to the top of the umbrella. You can use scissors to trim up any areas you want to shorten or make more uniform.
Ready-Made Mexican Thatch Umbrellas
Though we've broken it down into five steps, it's still easy to get overwhelmed trying to build an umbrella if you don't have much building experience. Because building a thatch umbrella can be a fairly advanced DIY project, some people would understandably prefer to purchase a kit that takes most of the work out of the equation.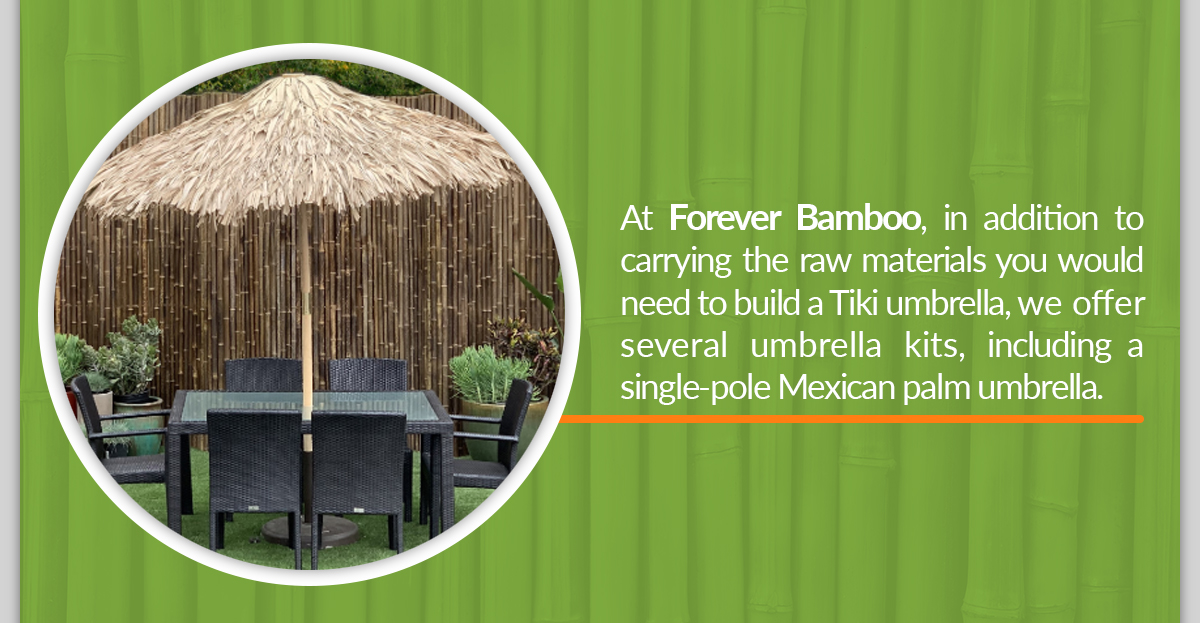 Fortunately, at Forever Bamboo, in addition to carrying the raw materials you would need to build a Tiki umbrella, we offer several umbrella kits, including a single-pole Mexican palm umbrella. In the kit, you'll get all the hardware you need, along with a complete 11-foot wooden frame, a 6-inch pressure-treated lodge pole and two layers of Mexican palm thatch. You'll also get instructions, so you can easily put everything together without any help.
If you don't want to construct everything from scratch, but you want some help, a great solution is to buy your own support pole and install it where you want and purchase an umbrella cover. These covers are already thatched and ready to go, so your assembly process is significantly simplified compared to constructing everything from scratch. Our Mexican palm thatch umbrella covers come in three round sizes — 9-, 12- and 14-foot diameters — so you can find one that fits your project.
Create a Tropical Paradise With Forever Bamboo
If you want to build your own thatch umbrella, but you're not feeling very confident about your abilities, remember that you don't have to figure it all out by yourself. Our customer support team has the expertise to guide your product choice and installation. Our team members understand how to recommend measurements and materials that fit your project. So, bring us your ideas, and we'll help you make it a reality.
An umbrella made from Mexican palm thatch is the ideal addition to a tropical-themed patio, pool area, restaurant, bar or other business. Our material is commercial grade and artisan quality. As our name suggests, we offer many bamboo products to help complete your next tropical project. We also offer Tiki huts, tropical decor and more to help you achieve your very own tropical paradise. Browse through our product offerings and place your order with us as a first step to making your own umbrella!
If you have any questions about the products we offer or how you can use them to build a Mexican thatch umbrella or another type of Tiki structure, contact Forever Bamboo today. Our highly trained representatives will be happy to share more information with you.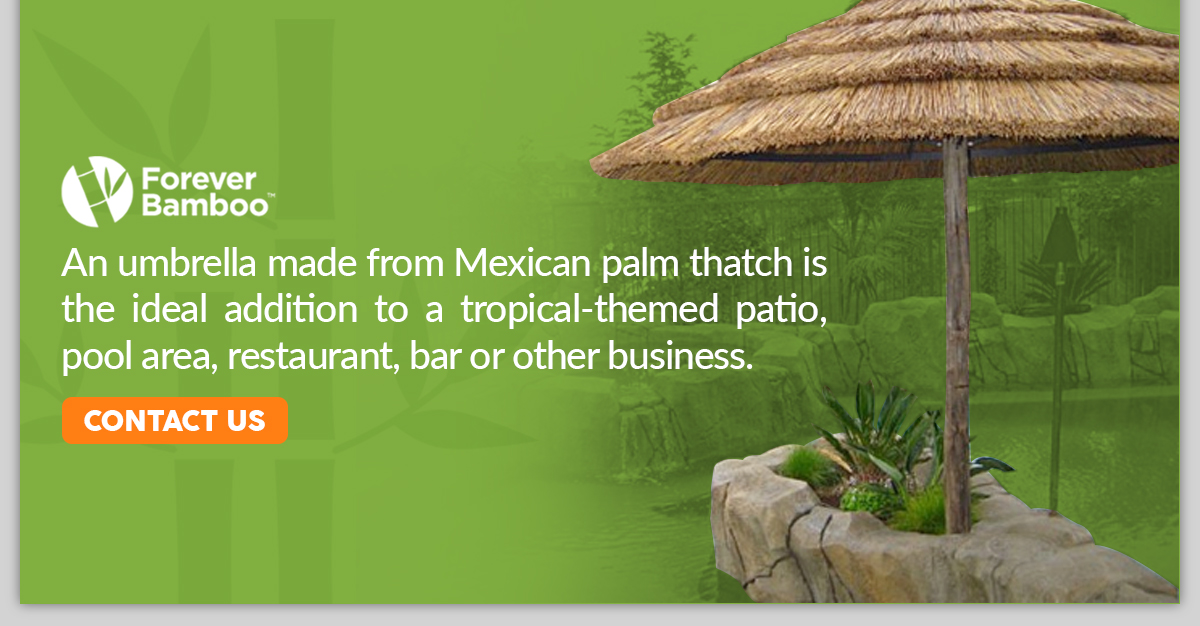 Related Products & Information