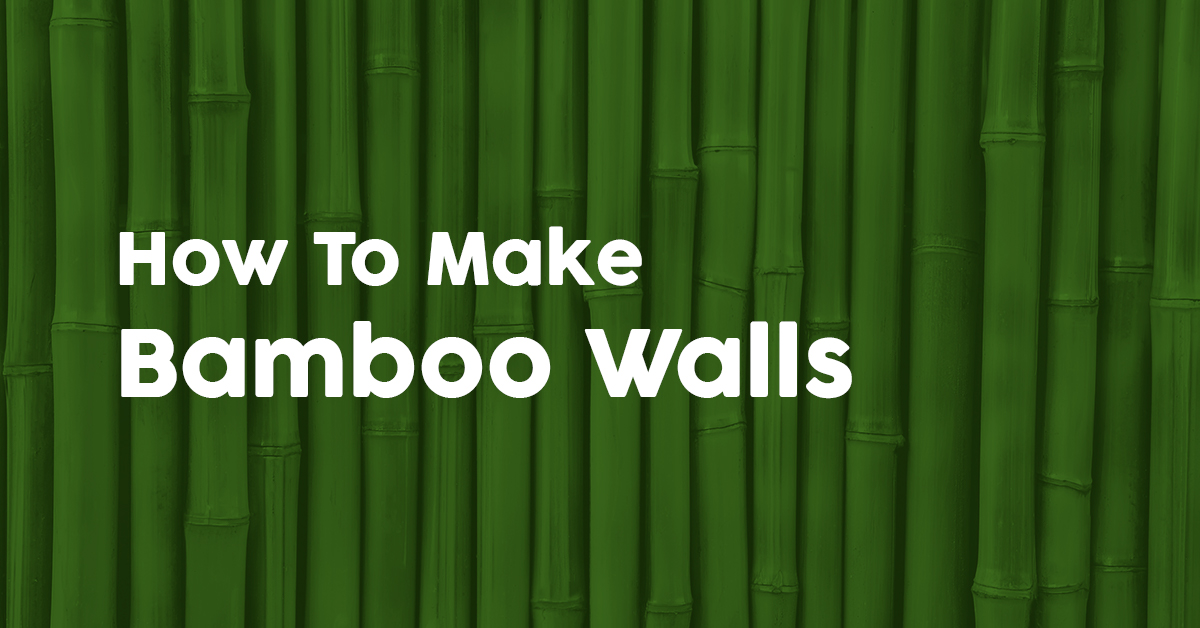 Looking for a way to add a unique look to a structure you are planning to build in your yard? Adding bamboo instead of wood offers a unique and fresh element to your home. You can also use bamboo products to bring natural beauty to the interior design of your home, using our various bamboo wall ideas as your guide.
Bamboo walls add a decorative accent to your interior and exterior walls. Whether you are redesigning your patio or adding an accent wall to your bedroom, bamboo is a great option for you. We'll show you how to have fun designing your DIY bamboo wall.
Jump To Sections:
Why Use Bamboo for Your Walls?
If you're looking for a natural, exotic look to your home, bamboo is a smart choice. Bamboo is eco-friendly, cost-effective and sustainable. Designing your home with bamboo also adds a unique aesthetic. Here are some qualities of bamboo that show why we make walls out of bamboo.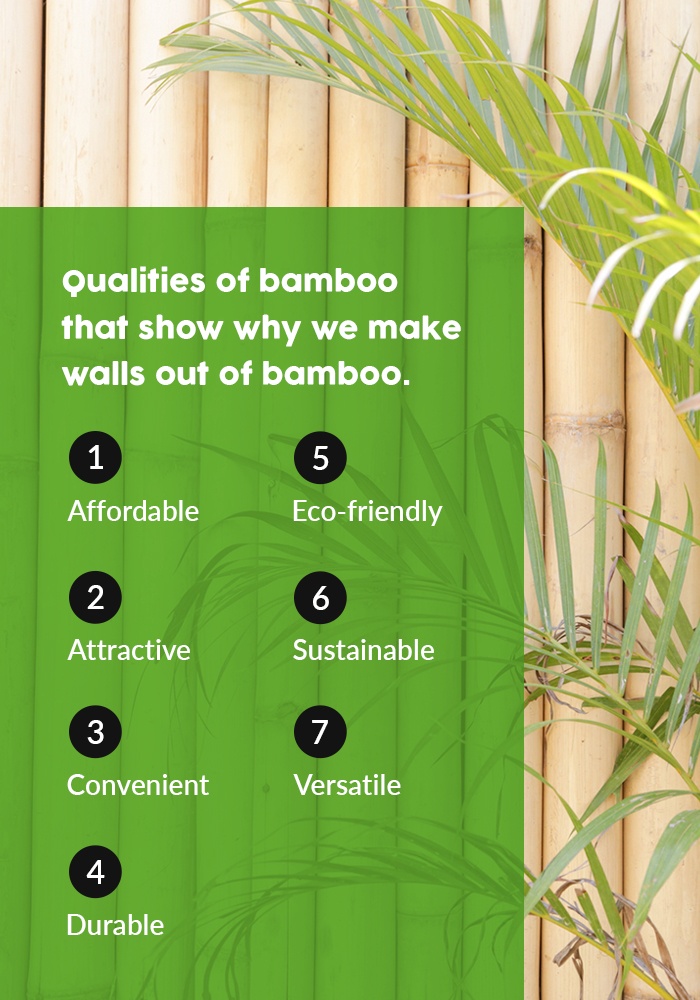 Affordable: Bamboo is more affordable than many other materials because it is widely accessible and simple to manufacture.
Attractive: Bamboo is both practical and aesthetically pleasing. Instead of blocking your view in your backyard like other materials, you can have the moderate privacy you crave while experiencing the natural elements of the world around you. While bamboo comes in a variety of natural colors, you can also stain it to add your own unique style.
Convenient: Bamboo is relatively easy to install, especially since we sell our bamboo paneling in rolls. Because it is light, it is easy to transport and easy to mount on your walls. You will save time on construction projects by preparing, decorating, repairing and maintaining your wall with moderately less effort.
Durable: When harvested properly, bamboo can last for years, depending on your home's climate conditions. Bamboo is water-resistant and has a greater strength-to-weight ratio than steel. Bamboo is also earthquake-resistant due to its ability to bend under pressure. For added durability, Forever Bamboo offers a sealant finish that can prolong the life of your bamboo walls.
Eco-friendly: Bamboo adds oxygen to the environment. While manufacturing other wall materials may require harsh chemicals, bamboo is harvested in an environment free of pesticides, fertilizers and other chemicals. Bamboo produces 35% more oxygen than trees. Bamboo also consumes a large quantity of nitrogen, a gas that may cause water pollution. If bamboo eventually deteriorates, it does not create pollution. Instead, the waste from bamboo can be used as fertilizer or charcoal.
Sustainable: Bamboo can grow in almost any part of the world. The material needed for bamboo design can be harvested without killing the whole plant. Bamboo plants can mature after three years and can regenerate quickly, growing as rapidly as 35 inches a day.
Versatile: Bamboo can be used to design walls, furniture, décor and more. Its physical characteristics make bamboo the perfect material for all types of temporary and permanent constructions. Bamboo also works well with other construction materials, so it will not conflict with your current home setup.
Material Options
Before designing your bamboo walls for any interior or exterior DIY project, you need to have the proper materials. Take a look at the different material options for crafting your bamboo wall, and see which products are the best fit for your tropical décor theme.
Bamboo Paneling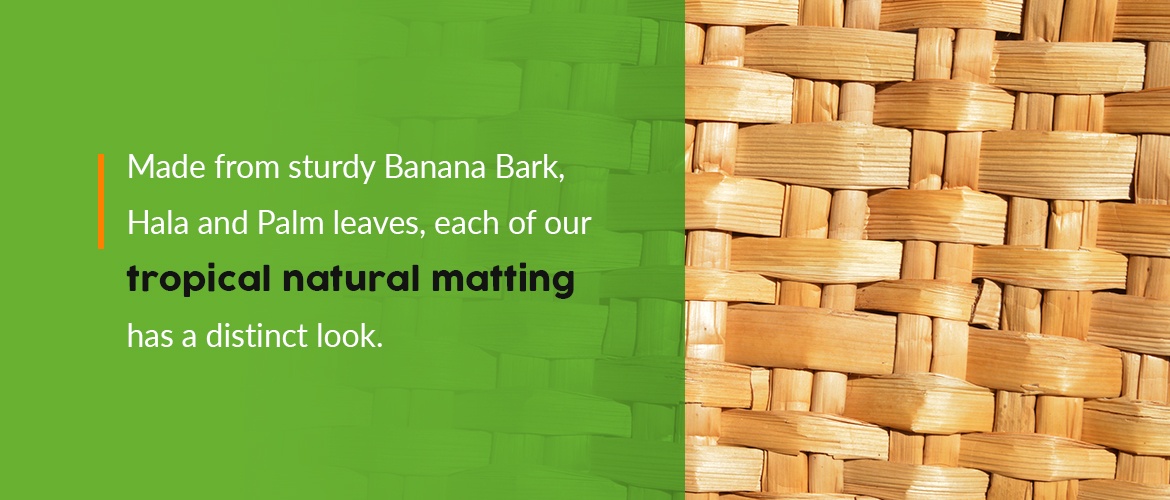 Bamboo paneling can be used to make bamboo walls or to add a natural, exotic look to your ceilings. Our paneling measures 4 feet in length and 8 feet in height. It is moderately easy to cut. We use mesh fabric to attach our bamboo strips together. We offer 11 unique styles of bamboo paneling to accommodate your décor theme. In particular, our Tatami Bamboo paneling is made from sturdy bamboo strips that have been finely milled to create a flexible and durable product. Tatami Bamboo paneling is perfect for interior use. If you are not sure which type of bamboo paneling is right for you, we also offer a sample box so you can explore our different styles.
Bamboo Poles
Our Tonkin and Moso bamboo poles are from the Anji region of China. We ensure that the bamboo is grown free of pesticides and chemical fertilizers. We only offer the best quality products to our customers! You can use bamboo poles to provide a framework for your wall or to add accents to your tropical design.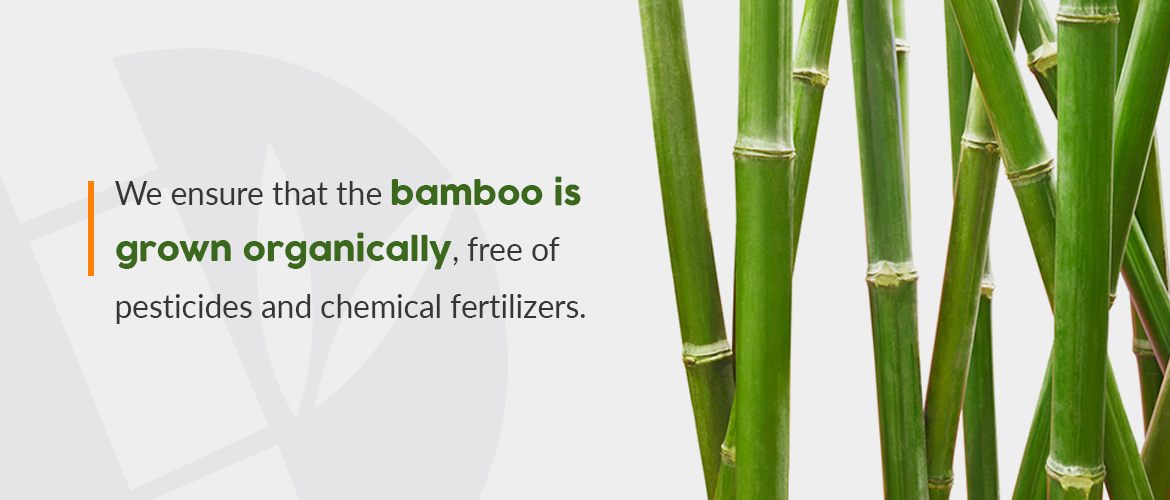 Bamboo Privacy Fencing
Bamboo privacy fencing adds decorative flair to your backyard while also providing some privacy from neighbors or passersby. You can also attach our bamboo privacy fencing to existing fencing to save time. Our bamboo privacy fencing measures 8 feet in length and comes in a variety of heights, from 2 to 8 feet tall. We use galvanized wire to hold the bamboo pieces together.
Bamboo Slats
Made from high-quality Moso bamboo, the most durable type available, our bamboo slats are perfect for designing your wall. We offer four unique color options to fit your own décor style. You can use bamboo slats as the main decoration for your walls, or you could add accents to your bamboo paneling.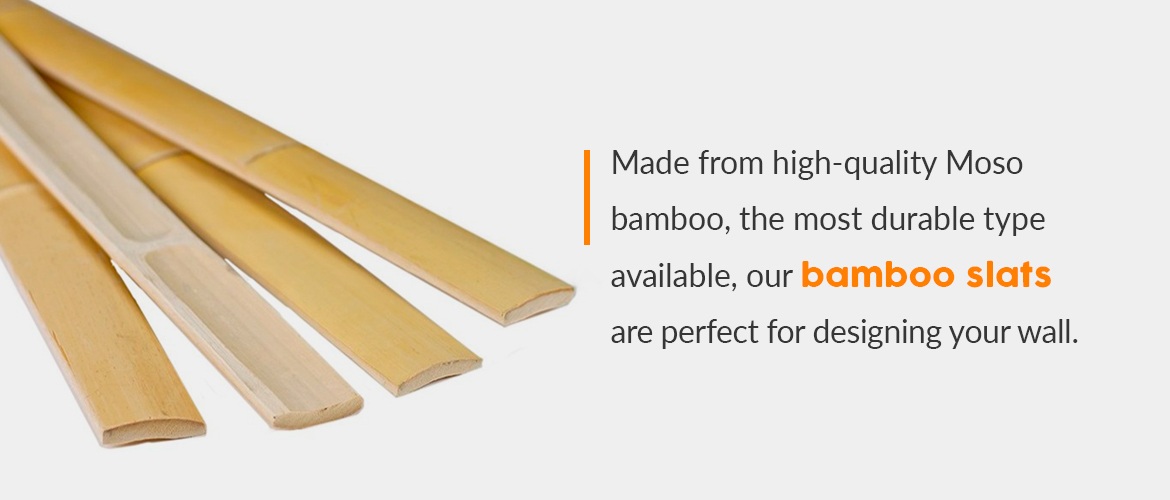 Building Tools
Besides bamboo and thatch products, consider investing in the following to create your own DIY project for your tropical décor, especially if you plan on placing it outside.
Manual or pneumatic staple gun or a hammer and nails
Half-inch staples or half-inch nails
Knife or pair of scissors
Measuring tape
Permanent market
Standard safety equipment, such as gloves, eye protection and hard hats
Posts
Bolts
Shovel
Zip ties
Cement mix
Cement mixer
Funnel
Circular saw
Lashing cord
How to Build Bamboo Walls
The materials you need for building bamboo walls depend on the method you choose to design your wall. These different methods make easy ways of creating walls of interest for structures in your backyard or in your home. Bamboo walls are an appealing alternative to other materials because of the natural, refined look it will bring to your space. If you've never worked with bamboo before, here are some tips to remember while you're installing the bamboo to fit your style.
Customizing: Our bamboo comes in different colors, types and finishes. You can also add your own touch to your bamboo by staining it.
Cutting: You can cut bamboo the most efficiently with a power-saw or a fine-bladed hacksaw. Before you cut it, put masking tape over the bamboo to prevent splintering.
Connecting: Rather than nailing directly into the bamboo, drill holes into the bamboo and then insert your screws or nails. Knot twine or string in a figure-eight pattern to securely fasten the poles together.
Before you start creating your bamboo walls, follow these precautions to prepare yourself and your materials for the job:
Rinse and dry the bamboo
Be mindful of safety risks such as fire hazards
Gather tools and materials
Measure your materials carefully
Bamboo Paneling Version 1
Using bamboo paneling is probably the easiest and fastest method for making a bamboo wall. Bamboo paneling comes in many different styles, so you can customize your wall based on your unique design. Here are the items you will need for designing your bamboo wall with bamboo paneling:
Bamboo paneling cut to the height of the wall
Clear contact cement, nails and lashing
Power drill
Clippers
Measure the area and mark where you'd like to add the bamboo paneling with a pencil. Roll paneling as tightly as you can before you cut the bamboo to your desired height. Keep in mind that paneling can be cut to any shape using a fine-toothed chop saw blade. To change the length of your bamboo fencing, bend the galvanized wire, remove the bamboo and bend the wire back in place.
Drill holes into the paneling before attaching them to the wall. Apply adhesive, such as contact cement, to the wall instead of onto the paneling. Attach the paneling to a framework of timber or lashed bamboo poles.
Adhere your paneling of choice to the frame by using clear contact cement, lashing or small nails to give your project the look you desire. Nail the panels at the end of each part of the wall as well as the center for maximum reinforcement. We do not recommend stapling your paneling into the wall if your project is long-term, as it is not a durable option.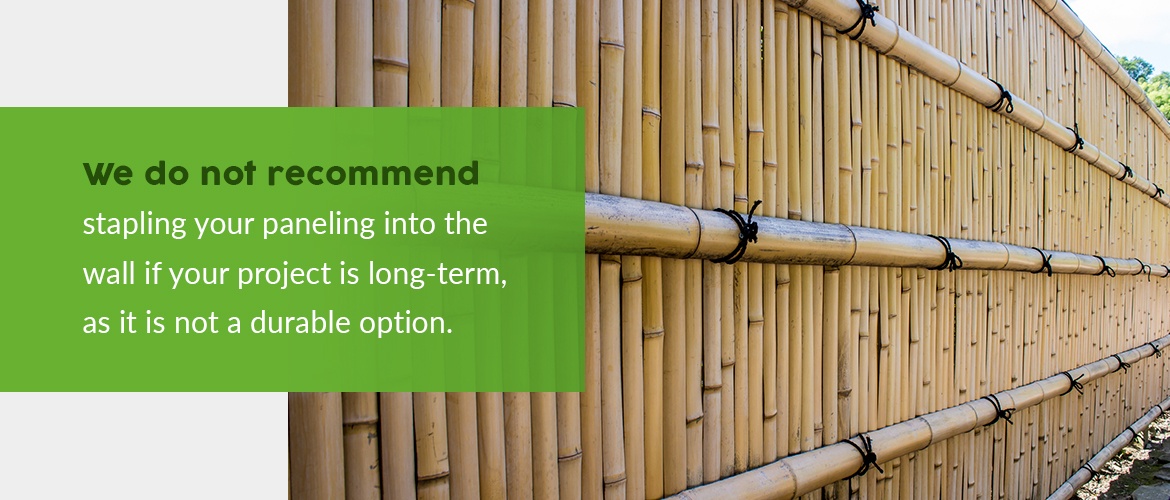 Bamboo Paneling Version 2
Here is another way to use bamboo paneling that is more simple than the previous method. You can use bamboo paneling for many projects or structures, such as sheds, playhouses and treehouses. You can use this method to design a Tiki bar, wall or Palapa. We recommend the following items to design your home or backyard with bamboo paneling:
Bamboo paneling cut to the height of the wall
2x4s for the framework
Plywood
Clear contact cement, nails and lashing
Staple gun
Measuring tape
Razor
Marker
Chop saw or razor
Cut bamboo paneling with a chop saw or razor to the desired height. When cutting the bamboo paneling, which comes in rolls, make sure you roll the bamboo as tightly together as possible. Remember to place masking tape around the bamboo to prevent splintering.
Attach the bamboo paneling to a sheet of plywood. Secure the paneling using clear contact cement and/or nails. This will make for a very sturdy wall.
Drill the holes into the plywood first before you attach the bamboo paneling.
Align bamboo panel with the plywood, then unroll the bamboo paneling, ensuring that the paneling is flat the entire time. Staple, glue or nail along multiple points of the paneling. Once the panel is attached to the plywood, you can attach the plywood to a wall or use it as a component of an outdoor structure, such as a shed, playhouse or treehouse.
Use bamboo slats to add accents. Cut slats to measured length and attach the slats along the border with a nail gun.
Weaving Bamboo Slats
Creating a wall with bamboo slats will provide some privacy as well as a distinct look to give your project extra character. Use bamboo slats to spice up an existing wall or to create a new Tiki bar for your backyard. Here are the items you will need to weave your bamboo slats together and create bamboo walls:
Bamboo slats
Frame material such as timber and bamboo poles/posts
Brad nailer
Lay down a frame of bamboo measured to the length of your choice. Use flattened bamboo boards or slats to weave the bamboo through a frame of horizontal bamboo poles spaced evenly along the length of the wall. Attach slats to the frame with nails as necessary. You can also enhance the color of your slats with stain or paint as needed.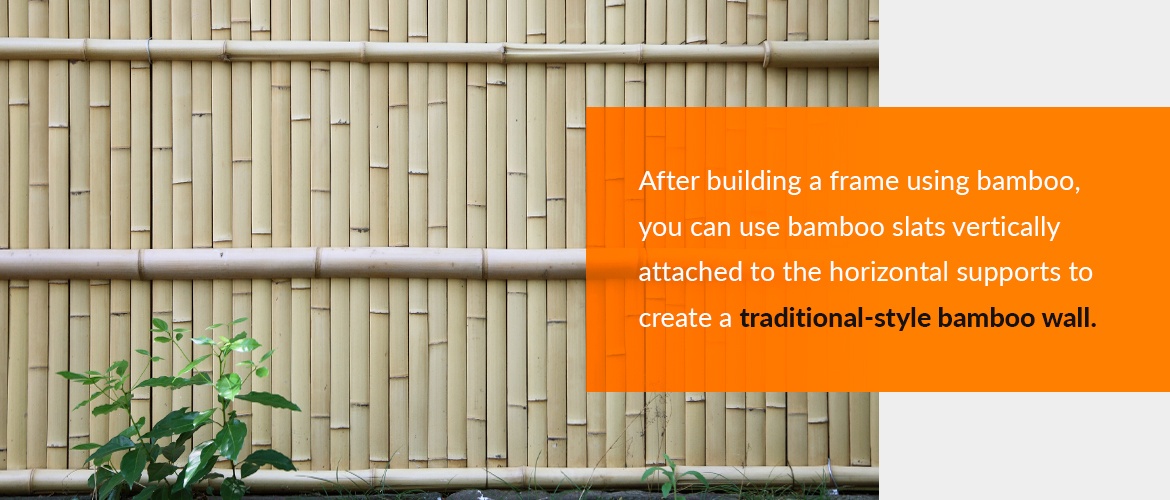 Vertical Slat Wall
After building a frame using bamboo, you can use bamboo slats vertically attached to the horizontal supports to create a traditional-style bamboo wall. Here are the materials you will need to add an accent to your walls:
Bamboo slats cut to the height of the wall
Frame material
Nails and clear contact cement
Cut the bamboo slats using a chop saw or razor. Use a brad nailer to nail both ends and the center of the slats to the frame for maximum reinforcement. Finish the process with a color-enhancing stain or paint.
Sandwiched Style/Pressure-Held Wall
This method of making a bamboo wall uses horizontal support beams or poles across a row of vertical bamboo poles. You can also use this style for fencing or to add existing material to your current fencing. Here are the items you will need to design a pressure-held wall:
Bamboo poles cut to the height of the wall
Bamboo poles for the frame
Drill holes into the bamboo first instead of inserting nails or screws directly into the bamboo. Drill holes into the wall in a zig-zag formation. Place anchors or screws inside of the holes.
Establish the frame that will contain the row of vertically arranged bamboo poles using horizontal supports. The horizontal supports are lashed to the frame holding the vertical poles together, sandwiching the poles between the support beams.
The beams are held in place due to the amount of pressure put on them. To further strengthen this type of wall, you can add clear contact cement or lashing to each of the middle poles as they cross the support poles.
Caring for Your Bamboo Wall
Although bamboo is water-resistant, try to keep it as dry as possible. Clean bamboo with warm water and oil soap only. Where you applied the bamboo, such as in the bathroom, will determine how often you clean it. For extra protection, add a stain or paint to your walls once the bamboo and the adhesive has completely dried.
Tropical Decor Tips to Help Accent Your Bamboo Walls
People travel from all over the world to relax on a beautiful tropical island to escape their stressful lives. Why leave the comfort of your home when you could have the magical wonder of tropical décor right in your living space?
Make your home feel like a lovely vacation in paradise. Add these products to mirror the relaxed style of the tropics and accent your bamboo walls.
Tropical Matting
Made from sturdy Banana Bark, Hala and Palm leaves, each of our tropical natural matting has a distinct look. Our eco-friendly mats come in various patterns, textures, colors and sizes. We also provide braids and rope to enhance the aesthetic of your tropical interior décor.
Tropical Décor
The right accessories are exactly what you need to set a tropical mood in your home. Our tropical décor products are fun accents to your home, where friends and family will meet to relax and reflect on the goodness of life. All of our tropical décor products are hand-carved and painted by skilled artisans who only use the highest quality Albesia wood. We also offer free shipping on our tropical décor products.
Tiki masks: We have various types of Tiki masks to enhance the aesthetic of any occasion. Our 20-inch, 40-inch and 60-inch Tiki masks all come in different colors, styles and looks.
Bamboo and tropical signs: Decorate your home or backyard with surfboards, flower signs or paddles. These signs are perfect for tropical-themed weddings or birthday parties.
Hanging birds: Our macaws are crafted in the United States with non-toxic polyethylene plastic. We also sell hand-carved wooden parrots and toucans.
Wind chimes: The soothing tones from bamboo windchimes will lull you into a peaceful mood. Our wind chimes are handmade from coconut and natural bamboo.
Thatch Products
Thatch invokes the ambiance of island life. Our thatch products are environmentally friendly and recyclable, and they are the perfect resource for controlling the climate of your space. We offer thatch panels and sub-panels to decorate your walls to match your tropical décor theme!
Bamboo Rugs
Bamboo rugs are essential for completing your home's tropical look. Crafted from the finest bamboo, your rug is created to last years, depending on your home's climate conditions. Our rugs are kiln-dried to prevent warping and cracking. Before shipment, each rug is inspected to ensure only the finest, high-quality rugs leave our warehouses and make their way to your new tropical paradise.
Bamboo Wall Decor
To accent your bamboo wall, you can include bamboo wall decor. Take your bamboo outside and paint your bamboo wall decor to accent your bamboo wall.
Artificial Rocks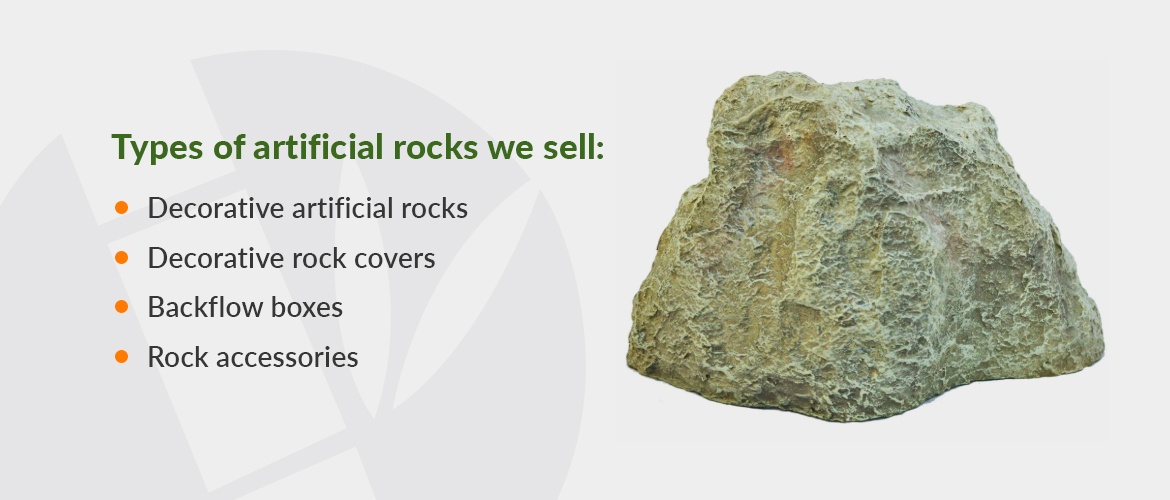 Landscaping rocks can hide those unpleasant sights of our yards. They can also be used to hide cement that we use to make bamboo room dividers. Our artificial rocks come in all kinds of shapes and sizes. These are the types of artificial rocks we sell:
Decorative rock covers
Backflow boxes
Rock accessories
Plants and Greenery
When you think about a tropical island, those beautiful flowers and lush green trees come to mind. Make sure your tropical space is filled with plants to complete your island ambiance.
Shop Forever Bamboo Products for Your Tropical Space!
Shop Forever Bamboo for products needed — slats, paneling and poles. We specialize in products for your exterior space with an emphasis on tropic décor. We are the nation's top provider of tropical décor, boasting the largest inventory in the United States.
We offer free shipping on most products. Our U.S.-based warehouse assures a quick turnaround and helps ensure product availability.
Our Customer Service Representatives are available to help you. If you have any questions, contact Forever Bamboo or call for more information at 877-912-2244.
Related Products & Information
Updated 03/06/2020