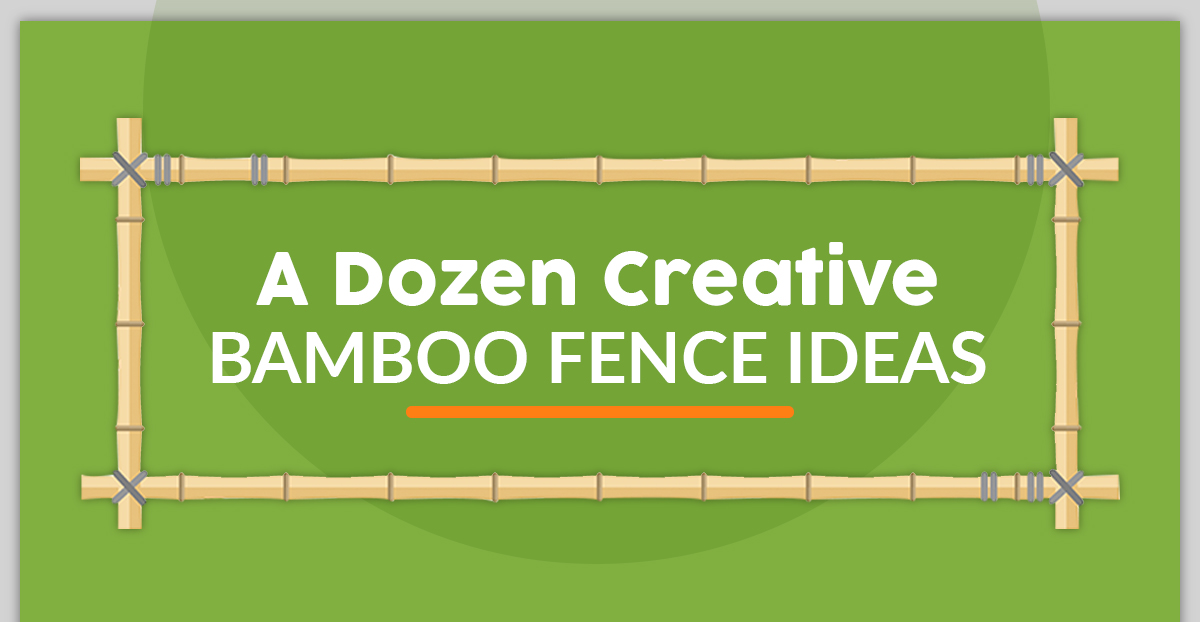 Bamboo has been prized for centuries as a useful and beautiful building material. Today, bamboo is increasing in popularity as many people discover its many benefits. Bamboo can bring the beauty of nature to any space — indoor or outdoor. One way you can incorporate bamboo into your home or business is by using bamboo fencing.
In this post, we'll learn more about why you should consider bamboo for your next project, how to use bamboo fencing and how to install a bamboo fence. Then, we'll look at 12 creative bamboo fencing ideas to get you inspired!
Jump To Sections:
The Benefits of Bamboo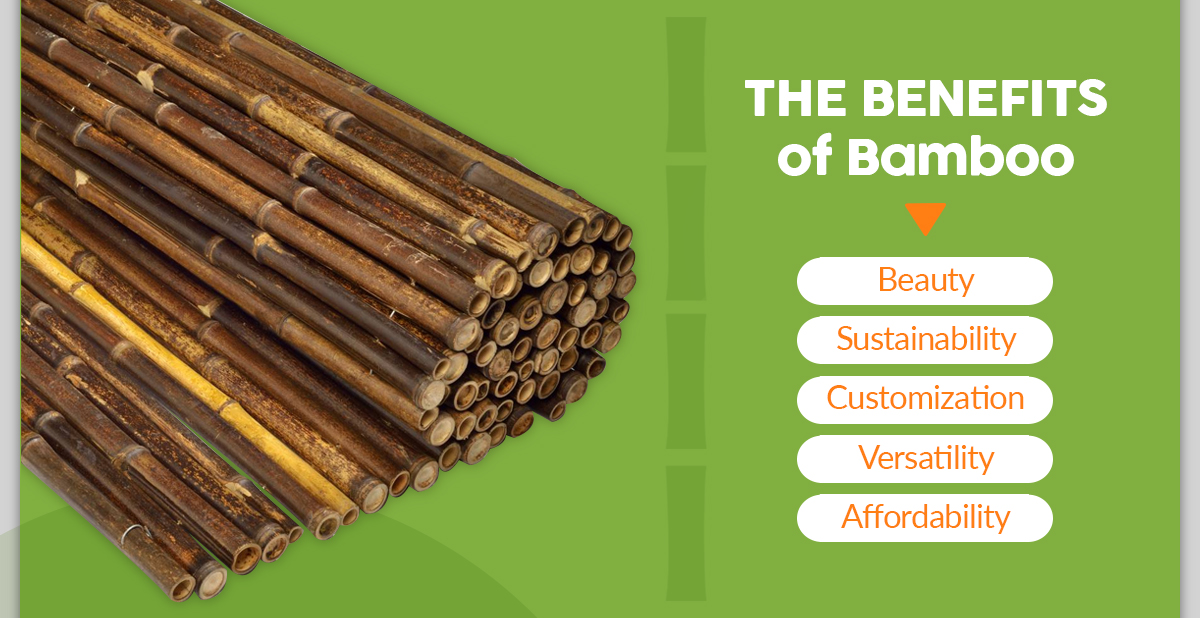 The more you learn about bamboo, the more impressed you'll become. It is a truly unique plant that offers a whole host of benefits. Let's look at a few of the reasons you should consider using bamboo instead of more ordinary building materials for your next fencing project:
1. Beauty
One of the first reasons people may consider incorporating bamboo into the design of their homes, backyards or businesses is because of its aesthetic. Bamboo has a distinctly natural beauty. While you can imagine the origins of a common piece of lumber, it no longer looks like a tree when it comes to you. Bamboo, on the other hand, looks as if it was just cut from the stalk where it grew. Every piece is unique, and when they are placed together to form a fence, they can create a beautiful focal point.
Bamboo grows best in tropical, sub-tropical and temperate climates. The American Southeast is one such region, but most people tend to associate bamboo with Southeast Asia and South America. Therefore, bamboo is right at home in an Asian-inspired home or garden or in a tropical, tiki-themed space. Bamboo can complement any interior or exterior design, however. It is a timeless material and also has a clean, modern feel. So, no matter what style your home or yard is, bamboo can add a perfect touch of natural beauty.
2. Sustainability
One of the top reasons to consider using bamboo is because of how eco-friendly it is. Did you know that bamboo is the fastest-growing plant in the world? In one case, a bamboo plant grew 42 inches in just 24 hours. When growers harvest bamboo, they cut off stalks without having to kill the plant, so the bamboo will continue to grow and thrive. This makes bamboo an exceptionally sustainable material.
In addition to its sustainability, bamboo has a positive influence on our environment for a number of reasons, such as:
Its root system can keep steep surfaces from eroding.
Because of bamboo's consumption of nitrogen, it can detoxify wastewater.
Bamboo leads to cleaner air. It can generate 35 percent more oxygen than hardwood trees do while sequestering four times the amount of carbon.
Bamboo doesn't require harmful chemical pesticides or fertilizers to grow.
If you're looking for an environmentally-friendly building material, bamboo is a stand-out choice.
3. Customization
There are many ways to customize your bamboo to achieve the look you desire. Many people picture a light golden color when they think of bamboo. This natural bamboo is the most common type you'll see, but it's not the only one. You can also opt for natural black bamboo, a different species of bamboo that is much darker in appearance. If you want something in between, caramel brown or burnt natural bamboo are both great options. Burnt bamboo features the natural golden bamboo color with darker patches at the nodes for an interesting variance in color.
You can also customize the look of your bamboo in your choice of size. Choose from full bamboo poles, half round poles, slats, paneling and more. If you get bamboo poles, you can choose from a few different heights. No matter what product you select, you can cut bamboo to fit the size you want. The many ideas listed in this post are evidence of how much opportunity there is to customize the look of your bamboo fence or other bamboo projects.
4. Versatility
Just as bamboo is versatile in its appearance, it is also extremely versatile in its function. We're focusing on bamboo fence ideas in this post, but throughout our blog and in other places online, you'll find inspiration for a limitless number of projects you can complete with bamboo. Bamboo is the perfect material for large-scale projects like fences, pergolas, furniture and more. It's also ideal for small projects like picture frames, candle holders, napkin rings and other types of decor.
Once you use bamboo for one DIY project, chances are, you'll start to think of the many ways you can use bamboo throughout your home. If you have bamboo left over from a fencing project, you won't have to worry about waste. Find a project you can do with the leftover pieces. Since bamboo is such a versatile material, you can find something that's well within your ability and will produce something that adds a unique touch to your home.
5. Affordability
The cost of bamboo materials will vary based on the particular product, the quantity you're ordering and the company you're ordering it from. However, across the board, bamboo is a more affordable product than typical timber wood. This is not because bamboo is a lower-quality material. Rather, it's because bamboo is such a hardy crop that grows exceptionally quickly. Since bamboo growers can count on continuous large quantities of bamboo, bamboo retailers like Forever Bamboo can bring bamboo products to you at a low price point.
This is great news for someone who is looking to put in new fencing in their home. Since a fencing project tends to use a lot of material, even a small difference in cost between two potential materials can make a big difference in the end. Just make sure you pay attention to the quality of the bamboo you're buying. Sometimes, the lowest price may not be the best choice. Look for an affordable price point that will still provide you with high-quality bamboo that is free of pesticides, formaldehyde and glues.
How to Install a Bamboo Fence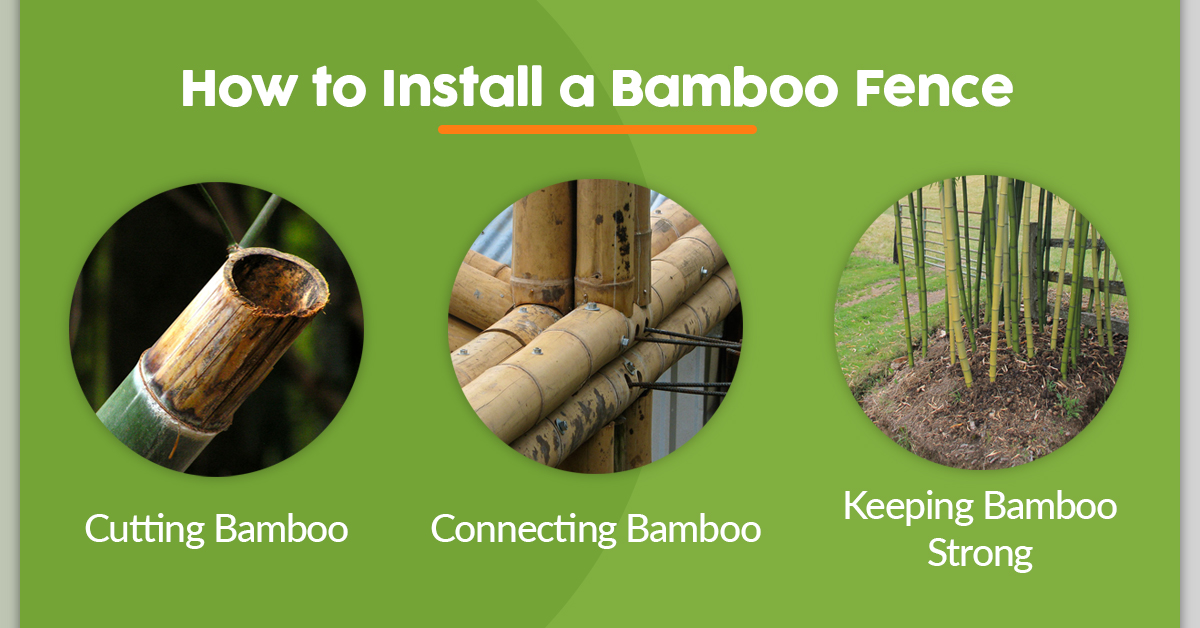 Before we jump into our list of creative fencing ideas to inspire your next project, let's go over the basics of how to install a bamboo fence. For each project on our list, we'll go over what sets that construction apart, but there are some basic aspects of the installation process that apply to most bamboo fencing projects:
Cutting Bamboo: If you purchase our bamboo fencing, it comes ready to go with a series of bamboo poles that are connected to each other by a strong galvanized wire. If you need to cut off part of a panel to fit, use wire cutters to clip the wires between two poles, and then bend the wires back. If you need to cut the bamboo itself, whether you're using fencing or individual bamboo poles, use a hand saw or table saw. To help prevent splintering, put masking tape over the area before you cut it, and then peel the tape off when you're done.
Connecting Bamboo: If you opt for bamboo fencing, the connecting is already done for you. However, you'll still have to connect the bamboo to a frame. On a chainlink fence, you can attach the bamboo to the fence with zip ties. On a wooden fence or frame, you can screw or nail the bamboo to the wood. Always drill a hole first, though, rather than nailing the bamboo directly to the wood. You can connect bamboo poles together using twine, rope or string. Wrap the string in a figure-eight pattern and knot it off.
Keeping Bamboo Strong: Bamboo is naturally strong and water-resistant, but it can be affected by the weather. Avoid planting bamboo fencing directly into soil since this can cause the bamboo to decay. It can also be a problem if your bamboo poles are open at the top and collect rainwater. To prevent this, cut bamboo at the nodes so that the top is closed off or cap the tops. You should also protect your bamboo with a sealant.
For detailed instructions on how to install a bamboo fence, see our blog article on the topic. You can install bamboo fencing as a standalone structure or supported by an existing fence or wall. No matter what the configuration of your yard currently is, you can easily incorporate a bamboo fence.
Bamboo Fence Ideas for the Backyard
First, let's look at some bamboo fence ideas you can use for your backyard. Most people want their backyard to be a haven where they can relax or host a lively summer barbecue. Your backyard may also be home to a playset, pool or other fun features. Whatever you use your backyard for, you likely want some privacy. That's why, for this section, we're focusing on bamboo privacy fence ideas that will give you full coverage and enhance the aesthetic of your backyard.
1. Wood Frame With Vertical Bamboo Fencing
One of the simplest ways to construct a lovely bamboo privacy fence for your yard is to first create a wooden frame and then use pre-made bamboo fencing to fill the frame with bamboo poles. In the example here from one of our customers, the dark, rich brown wood frame and the light natural bamboo fencing creates an attractive contrast. You could also invert the contrast by using a white-washed or light wood frame with natural black bamboo fencing.
2. One Bamboo Privacy Panel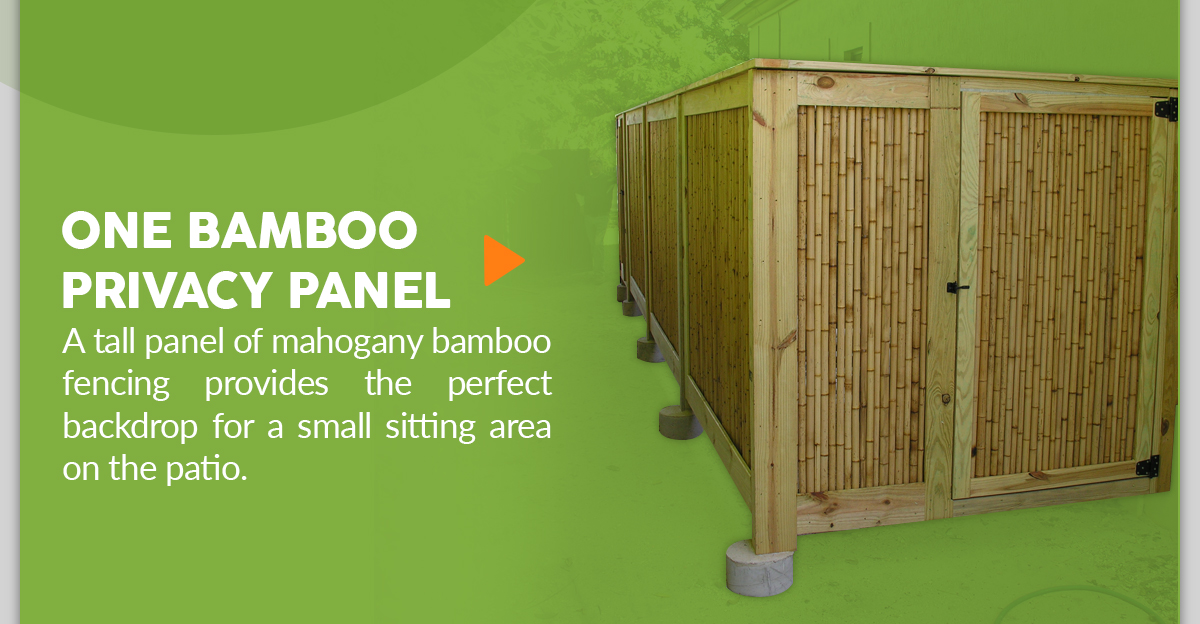 In some cases, you may want your backyard to feel more open with the exception of smaller, sectioned-off spaces. In this example from one of our customers, a tall panel of mahogany bamboo fencing provides the perfect backdrop for a small sitting area on the patio.
Building one or two bamboo panels is an excellent idea if you only want some coverage or if you already have a fence you like in your backyard, but you want to accent it with some bamboo.
3. Vertical Bamboo Fencing With Horizontal Poles
While many people choose to attach bamboo fencing to a pre-constructed metal or wooden frame, you can construct a fence completely from bamboo. In this example, vertical natural bamboo fencing is accented by thicker, horizontal bamboo poles. There are many different ways to connect pieces of bamboo. In this case, particularly if you use half round poles for the horizontal accents, you could simply attach them to the vertical fencing with glue.
4. Short Bamboo Fence Atop a Rock Wall
You can install a bamboo fence just about anywhere. This is good news for people who have a rock or concrete wall in their yard. In most cases, you won't need your fence to be quite as tall if it's on top of a rock or concrete wall, but you can construct it in any style you like.
One thing to note if you're building a fence on a hard surface like concrete is that you'll need to anchor the fence posts with metal post brackets you attach to the wall via concrete anchors or screws.
5. Balcony Privacy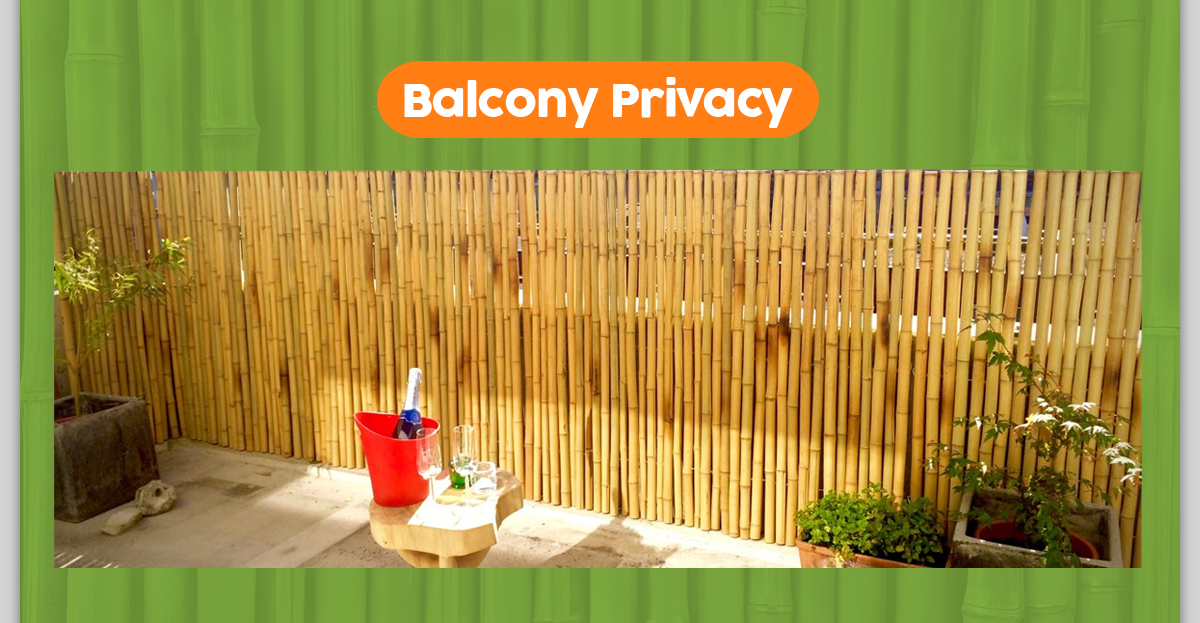 For many people who live in urban environments, their balcony or porch rather than a yard is their personal piece of the great outdoors. Especially if you live in a more populated area, you may enjoy having some privacy on your balcony. Typical railings may create a barrier for safety but won't give you the privacy or aesthetic that a bamboo fence will. You can attach bamboo fencing to your existing fence and finish it off with a board to create a flat surface on top, just like this Forever Bamboo customer did.
Bamboo Fence Ideas for the Garden
In the garden, fencing can help to set off different flowerbeds, paths, water features and other areas. The private fencing ideas we looked at would also work well in a garden, but we're going to focus on how to use bamboo fencing to create beautiful dividers and perimeters that are more open so you can still view whatever is behind.
6. Spaced-Out Bamboo in a Frame
An easy way to create a beautiful bamboo detail in any garden is to build a simple wooden frame with two fence posts and two horizontal boards positioned a distance down from the top and up from the bottom of the posts. You can stain these posts and boards any color to match your preferences. Drill holes the diameter of your bamboo poles into the horizontal boards at consistent intervals of a few inches. Slide bamboo poles through each set of holes and secure in place with glue.
7. Low Asian Design Fence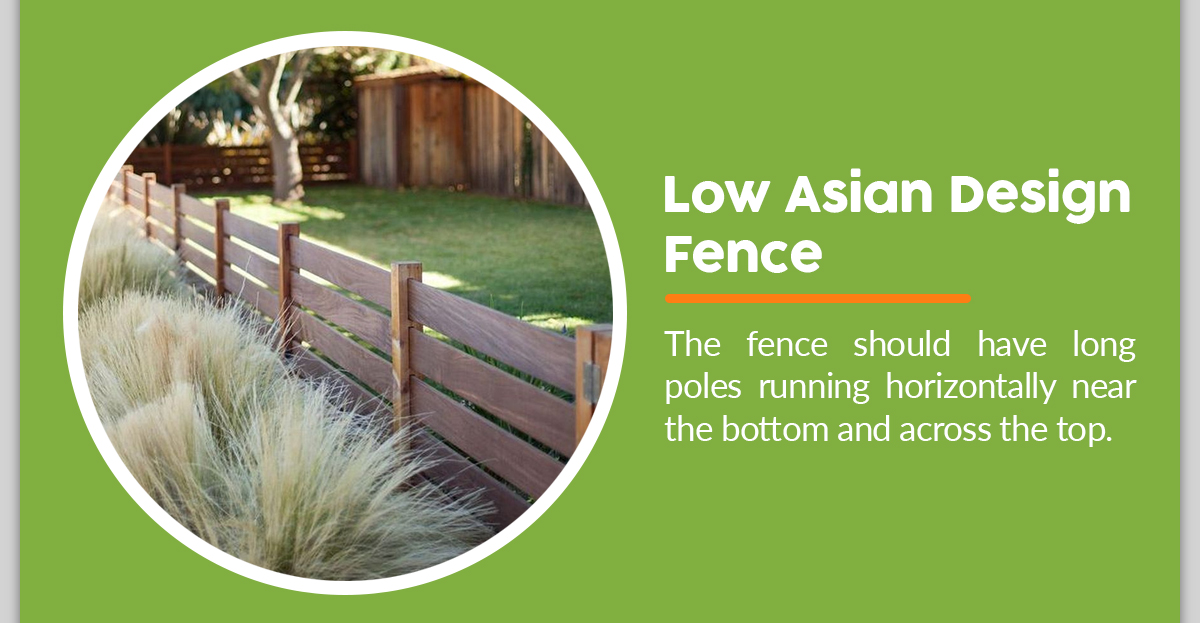 For a truly unique bamboo fence to add some Asian-inspired design to your garden path, cut bamboo poles to various lengths and connect them in an irregular geometric pattern. The fence should have long poles running horizontally near the bottom and across the top. If you want the fence for decorative purposes and not for privacy, you can keep it short. For an even more unique flair, try mixing different types of bamboo, so your fence features different shades of brown, from blonde to dark chocolate.
8. Woven Bamboo Fence
A simple design that has a very organic feel to it is a fence constructed entirely of bamboo that features two horizontal canes and a series of vertical canes. The vertical bamboo poles should be connected to the horizontal poles on alternating sides. You can use twine or screws to connect them. You may want to screw the bamboo together and then cover with twine for a decorative effect. The end result is a fence that looks the same from both sides and can add a beautiful, tropical feel to your garden.
9. Floral Trellis Pathway
Why not have your garden fence double as a trellis for beautiful vining flowers? Plants like clematis, morning glories, English ivy, sweet pea and more will love having a bamboo trellis to creep up and cover with splashes of color. Just make sure your bamboo fence features a grid of both vertical and horizontal bamboo canes with empty spaces in between. Plant your vining flowers or greenery below and watch them take advantage of the fencing you've provided.
Interior Bamboo Fence Ideas
Bamboo fencing doesn't just belong outside. You can use bamboo poles or pre-made bamboo fencing panels to construct beautiful dividers for various rooms in your home. Bring the beauty of nature indoors with these last three ideas.
10. Living Room Divider
If you have a large living or family room you'd like to section off, a bamboo room divider is a perfect solution. Try using a tall bamboo fence panel, such as 8-foot, so that it feels like a wall. Build a wooden frame and insert the bamboo fencing. One long panel may be enough, or you may prefer to create an L-shaped fencing section for even more separation. Now, you can have a separate sitting area or even a designated dining space.
11. Changing Privacy Screen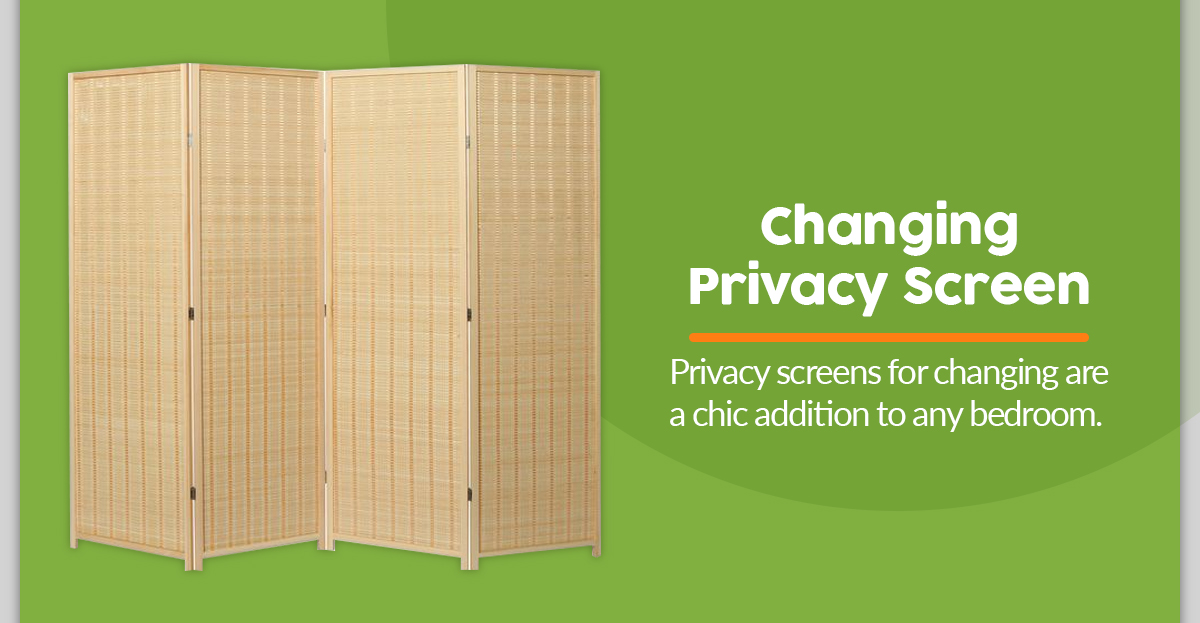 Privacy screens for changing are a chic addition to any bedroom. To build one, create a wooden frame with three or more narrow, 6-foot-tall sections connected to each other by hinges, so you can zigzag the screen for stability.
Now, add bamboo fencing panels to each frame to provide privacy and complete the look. You can stain or paint the bamboo to match your bedroom decor or stick to one of the natural colors available. If there are small gaps between the bamboo poles you want to cover, add a fabric panel to the back.
12. Bathroom Divider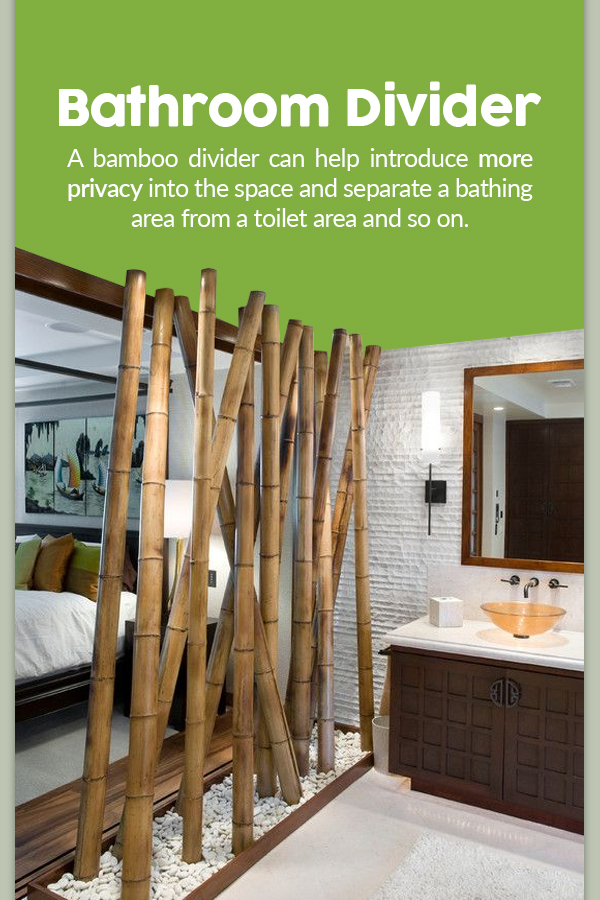 If you have a large bathroom in your home or in your business, a bamboo divider can help introduce more privacy into the space and separate a bathing area from a toilet area and so on. Even if you don't need a divider for privacy, a bamboo divider complete with rolled bamboo fencing can make any bathroom feel like a luxurious spa instead of a boring, ordinary space.
Bamboo Fencing Products From Forever Bamboo
If you want high-quality bamboo fencing and other products for your next indoor or outdoor bamboo project, Forever Bamboo has you covered. As one of the largest importers of bamboo products in the U.S., we pride ourselves on our reputation for excellence in the quality of our products and our customer service.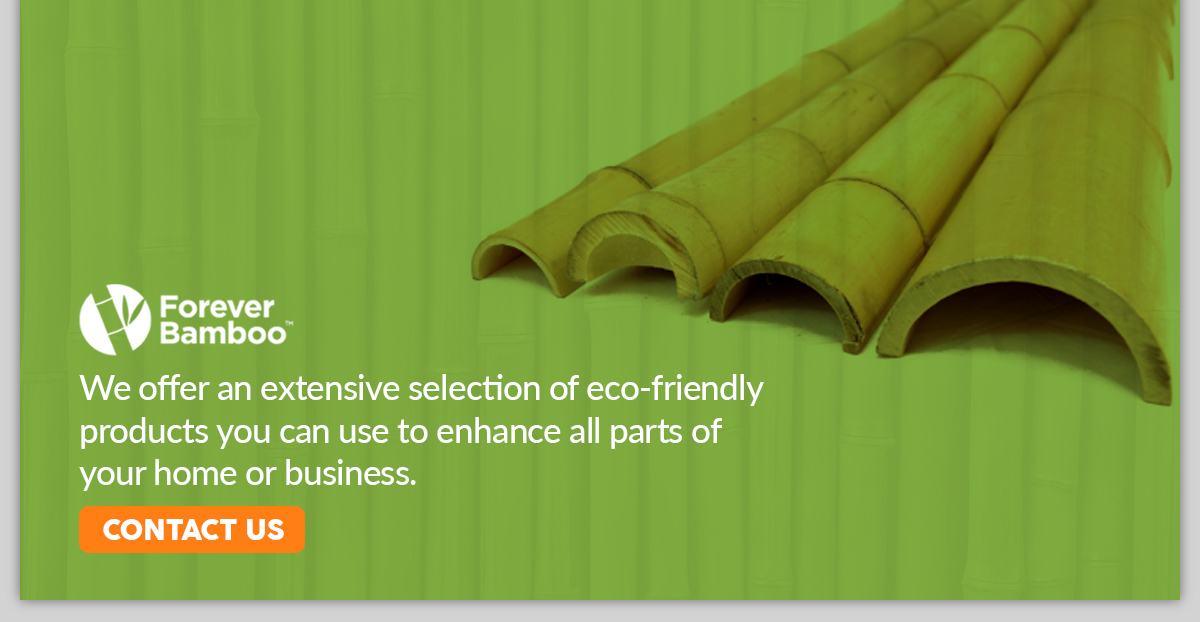 We offer an extensive selection of eco-friendly products you can use to enhance all parts of your home or business. Whether you want to turn your backyard into a tropical paradise or want to bring a fresh breath of nature inside, you can find what you need from Forever Bamboo. For more inspiration and instructions to help with your next fencing project or another bamboo project, browse through our blog or look through our product offerings. If you have any questions about our products, contact us today!