Summertime is just around the corner, and that means it's time to start getting your outdoor space ready for entertaining.
When it comes to decorating your property's exterior fixtures, you might enjoy a natural, earthy element in addition to the unique look and feel of both natural and artificial materials that create a Tiki theme or island-style aesthetic. Adding this tropical touch to your fencing is easy when you incorporate the flair of bamboo materials into your interior design or exterior property decoration. In addition to its interesting appearance and ability to provide a tropical touch for your property, bamboo is relatively easy to install and relatively simple to replace as well as sustainable, durable and convenient for use in hotels, resorts, restaurants, other businesses or private properties.
Jump To Sections:
Whether you install your bamboo slats or fencing in your yard, patio, bar, restaurant or another area, it will refresh your property with a natural appearance, sustainable element and attractive enhancement. In the previous years, you may have purchased, built or installed a bamboo fence to add a tropical flair to your property. However, over time and with seasonal changes like temperature, weather and wear, perhaps this once tan or cedar-colored fence has weathered to a silvery gray— and maybe this new "worn-in" color does not match your island-themed perceptions.
Just like any other fencing or paneling material, bamboo will wear and change over its lifespan, often fading from its original shade. But don't worry — bamboo can be easily restored to close to its original color with a few quick steps,and with the right amount of care, protection and bamboo maintenance, it will provide you with the satisfying longevity, natural style and aesthetic enhancement you crave in your decor. How can you restore bamboo to its natural color? By staining your bamboo fences, slats or poles.
Not only will staining and sealing help restore bamboo's color, but it will also ensure it is clean, durable and preserved. If you're not sure where to start, Forever Bamboo is here to help. From keeping up with maintenance and cleaning to understanding how to apply stain to restore bamboo color, here's everything you need to know about caring for and refinishing bamboo to keep it beautiful for your property decor.
How Long Does Bamboo Fencing Last?

Bamboo is incredibly strong. In fact, it's one of the most durable material options out there – not only does it resist wear and tear, but it boasts a tensile strength and strength-to-weight ratio stronger than steel. That means when you maintain it well with regular cleaning, sealing and staining, it's likely to last 20 years and beyond. There's no better material to adorn your home or business in terms of durability, cost-efficiency and quality.
Although exterior bamboo fencing is exposed to the elements and will naturally fade some due to climate and UV exposure, this fading can be reversed with attentive care and maintenance. Cleaning and staining your bamboo periodically or even as often as annually will both reinforce its natural qualities and restore the original color, priming your fencing for optimal appearance and performance for years to come.
Cleaning and Maintenance
Bamboo fencing, poles and paneling are easy to install, versatile and simple to maintain. You only need to perform certain periodical tasks to maintain their appearance and quality. Whether you have your bamboo in an interior or exterior area, cleaning your bamboo as well as staining it is an important part of maintaining your paneling or fencing for optimal quality. Here's some helpful advice for cleaning and maintaining:

When should I clean my bamboo fencing? You should clean your bamboo as needed or when showing signs of wear or debris. While the frequency of cleanings depends on the conditions your bamboo material is exposed to, exterior fencing will need maintenance because of its exposure to weather, more extreme temperatures and the elements.
What materials should I use for cleaning the fencing? When thoroughly cleaning, a bleach and water solution or fence cleaner are ideal for scouring the material. To clean bamboo paneling or fencing, mix a solution with three parts water and one part bleach or purchase an environmentally-safe wood cleaner from your local hardware store. When your exterior fencing contains tough, caked-on debris, using a power washer with a pressurized spray will help eliminate the residue your hand-cleaning can't beat.
What about small areas? You can also spot-clean when you see dirt, debris or stains — just use water and mild dish detergent for a less harsh, safer cleaner.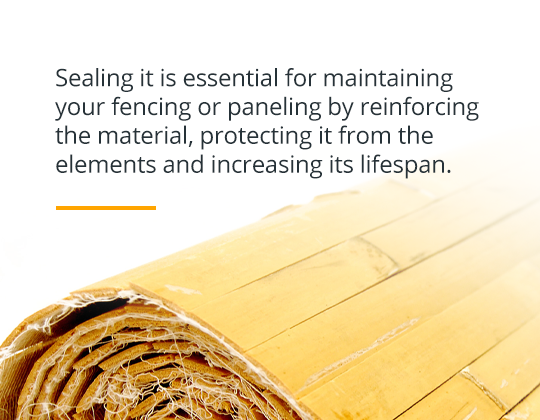 How should I clean bamboo in interior or exterior areas? When cleaning your exterior bamboo fencing, have a nylon bristle scrub brush handy for scrubbing down the surface and use a hose or power washer to rinse the material, removing any dirt or residue. For interior cleaning of bamboo paneling, you may use a soft scrub brush or non-abrasive cloth to clean and a bucket of clean water for a gentle rinse. Apply your cleaning solution with a spray bottle before scrubbing and rinsing.
How can I protect my fencing from the elements? Leave a gap at the bottom of the fence and install a spacer, such as a pressure treated lumber or 2×4, between the fence and the ground to keep your bamboo at a comfortable distance from any excessive moisture. If you have foliage growing around the bottom of the bamboo fence, you should also trim it regularly to prevent moisture and pests from the plants.
How can I maximize the lifespan of my bamboo fencing? In addition to periodically cleaning your bamboo, sealing it is recommended for maintaining your fencing by reinforcing the material, protecting it from the elements and increasing its lifespan. Many stains also act as sealants, so you can confidently restore your bamboo's color while sealing it for extra strength. Make sure to clean beforehand.
How to Restore Your Bamboo Fence's Natural Color
As a natural, attractive, affordable addition to your home or business, your bamboo fence or paneling enhances your property and adds a tropical flair. Stain will keep it looking and feeling fresh and new for years. With its sealant properties and rich, natural shades, bamboo stain will accentuate your bamboo's original color and bring out its shine for an enhanced, bright, beautiful appearance.

With a rich, oil-based stain, you can bring out the best your bamboo offers and restore its natural color while increasing the length of its lifespan. Revitalize your bamboo and draw out gorgeous color with or Total Wood Protectant (TWP) for staining and sealing bamboo fencing beautifully. With a variety of colors to suit your style and bring out your bamboo's original appearance again, TWP restores and protects your bamboo while drawing out the natural bamboo patina for better color. Depending on the original color of your bamboo fencing, you may want to pick different colors to bring out the natural color of your bamboo type.
If your property contains natural-colored bamboo fencing, Light Cedar might be your best option. With a pale yellow-tan shade, Light Cedar is a mellow stain that will enhance and enrich light and medium shades of natural bamboo, restoring them to their original light shade and taking away any fade. Light Cedar looks like a suntanned version of Natural Bamboo. This natural shades will bring back your bamboo's original color, accentuate the definition of each pole or panel and give your fencing new life.
If you're hoping to restore natural black bamboo fencing, Black Walnut will work to accentuate darker bamboo colors and restore your bamboo's luster and luminous shine with its deep brown stain. Regain your bamboo's original color and revitalize it with a new natural, nourished, healthy appearance for a property that stands out stunningly.
A popular color that is no longer readily available is mahogany. If you are looking for a reddish mahogany tone, the closest option is to apply a minimum of 3 coats of Dark Oak on natural bamboo fencing.
Bamboo stains provide an option to customize or change your bamboo's appearance and the color dramatically — as well as to reinforce your bamboo's strength, protect it against the elements, restore a rich, replenished shade of color and sometimes add a slightly different tone to lighter bamboo. With your stain applied properly, you'll be delighted with the strong performance, enhanced aesthetic and natural, restored bamboo color.
How to Stain Your Bamboo Fence
When your bamboo has gotten some wear and it's time to inspect, maintain and restore the material with cleaning, staining and sealing after a year or more, make sure to thoroughly clean and scrub your bamboo and apply your stain in the proper manner to restore its original color and reinforce its strength. Here are the right steps for preparing and staining your bamboo:
Start with the preparation of your cleaning solution consisting of detergent and water, bleach and water or bamboo fence cleaner. If necessary, mix your solution, and then pour it into a spray bottle to make application simple. Spray a liberal amount of cleaner on your bamboo material and let it soak in for roughly 15 minutes.
Using your nylon bristle brush, cloth or cleaning tool, scrub and scour your bamboo's surface thoroughly to remove all residue, oil and dirt.
After cleaning, let your bamboo fencing air-dry for two days or more before applying your stain or sealant — the bamboo must be completely moisture-free, so in addition to air-drying following cleaning, you should also make sure your exterior bamboo fencing doesn't come into contact with intense humidity, wet weather or rain for a few days before staining. When your bamboo fencing is dry, it accepts oil stain best.
If your bamboo needs a little touch-up sanding to make it smooth and even or you prefer pre-staining sanding to ensure your stain adheres best, use fine grit sandpaper or red 3M Scotch-Brite pad for a thorough job and sand the entire surface. After sanding, be sure to wipe the bamboo clean with a cloth or rag.
If you are applying sealant and stain, consider Total Wood Protectant stain. With Total Wood Protectant stain, you don't need to worry about the additional protective step — because this stain provides both sealing and staining qualities for your bamboo's best life and appearance. Before you apply your sealant and stain, check for ideal conditions. The temperature should not be below 50 degrees Fahrenheit, and the weather cannot be overly humid, as this will affect the absorption of the stain. Make sure the forecast doesn't predict rain for the next two days, because your stained bamboo also must be allowed to dry and air out properly.
Before application, mix your bamboo stain thoroughly. Keeping the fencing upright, apply your stain gently in an up and down motion with your stain brush, sponge or cloth. Another option is to use a small turbine or spray gun to apply. If you choose to use a turbine, please refer to the instructions for diluting the material before using. While staining, make sure to dress in older clothing or a smock and try to keep the stain from touching fabrics, as it will not wash out. You can re-apply your Total Wood Protectant bamboo stain in as many as three coats — just make sure to scruff each dried layer with a bristle brush between applications to encourage better drying and absorption.
When you're finished, allow your stain to air-dry for multiple days and avoid extreme moisture or humidity in surrounding conditions when drying. Your first coat of stain should take roughly three days to completely dry, and you should give an extra day or two between applications of subsequent stain coats. Double-check to make sure your bamboo is thoroughly dry before staining again. After your final application, your bamboo will look beautifully lustrous and restored to its natural color.
Why Seal to Restore Bamboo?

If you don't mind the silvery gray weathered color, no maintenance is technically required for a bamboo fence to last multiple seasons, given correct installation and appropriate climate. However, sealing and staining your bamboo poles and fences regularly can make your bamboo last for years and years while providing numerous other benefits for the appearance and life of your bamboo. If you're wondering whether sealing and staining your bamboo fence is worth the work, here are the capabilities of sealant to show you it's the best choice:
Weather Resistance: If you don't seal your bamboo fencing, it loses layers of protection and can wear and fade more quickly. When you seal and stain with a product like TWP, you provide a barrier of protection against numerous elements, including UV rays, water, weather and other exterior exposures. Our Total Wood Protectant sealant is the only stain available that offers UV protection, making it a great choice for the long-term protection of your bamboo.
Color Enhancement: Because of normal wear and sun exposure, bamboo will lose color over time, becoming silvery-gray and less lustrous. With stain and sealant, you reverse the effects of the drained color and return your bamboo to its natural shade while also nourishing and replenishing the material for additional attractiveness and wear resistance.
Longevity: With better care comes a longer life, and sealant is a big part of that. When you periodically inspect, clean and maintain your bamboo by sealing and staining, you contribute to better quality material and a significantly longer life for your fencing.
Reinforcement: Besides protecting from elements, exposure, dirt, and wear and tear, sealant also adds an extra layer of protection from direct damage to the bamboo, ensuring your fencing or paneling stays in top shape at all times.
Restore Your Bamboo Fence With Forever Bamboo
Whether you're installing new bamboo fencing or paneling to make your property pop, looking for materials to maintain your bamboo or searching for the best stain and sealant to preserve bamboo fencing, Forever Bamboo is proud to provide everything you need to make your bamboo beautiful and long-lasting. As the country's top source for tropical decor and the only tropical decor company serving locations on both the West and East coasts, we cater to your love of bamboo's natural look and enhancing qualities.
With gorgeous natural and artificial bamboo fencing panels and high-quality stain options to enhance the look and life of your bamboo fences, we're dedicated to helping you make the most of bamboo decor on your property. Our friendly, qualified, passionate professionals are available to assist you seven days a week, so browse our beautiful collection of products and place an order online or contact us today. We can't wait to be a part of your bamboo vision.