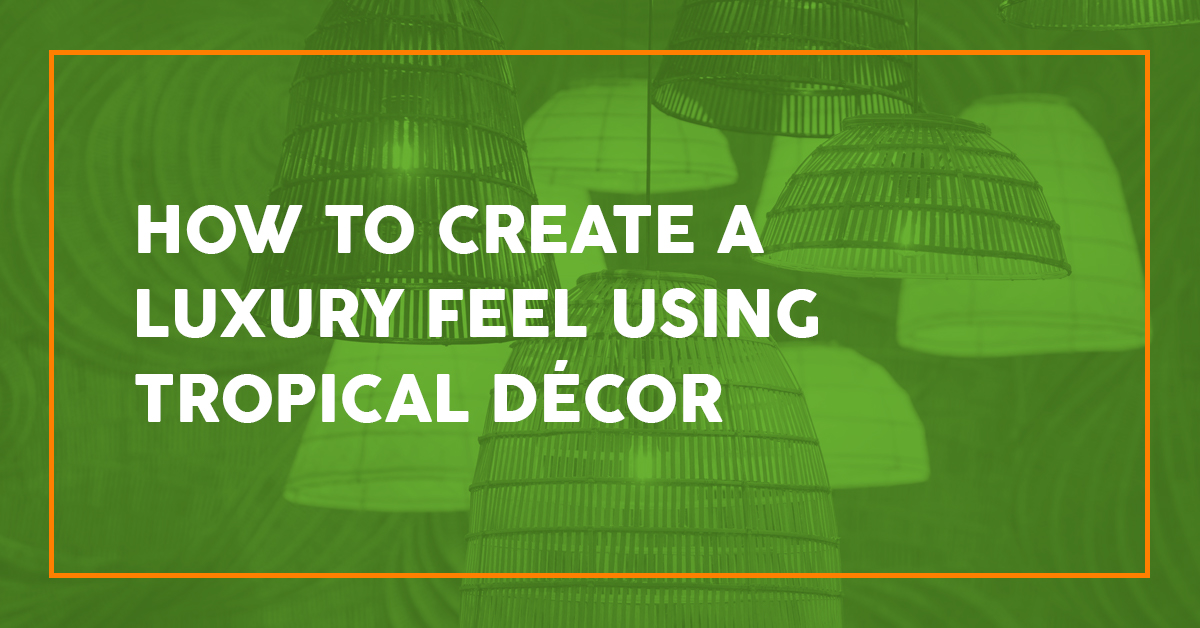 You want the tropical style for your home or business, but don't want it to feel overwhelming. You can strike the perfect balance between a tropical theme and a high-end feel with the proper décor.
Luxurious tropical décor in your business or home creates an escape that visitors are sure to enjoy. The combination of design elements makes your space suited for any guest with any style, and it can work in almost any home or business. To get this versatile look, learn how to create a luxury feel using tropical décor and furnishings.

Jump To Sections:
What Makes a Tropical Style?
A tropical style should feel relaxed and cozy. It should transport you to an island where you can sit in warm sand surrounded by gentle breezes and the soothing sounds of the ocean. Tropical island décor takes you to an adventure on secluded and luxurious beaches with textures, colors and prints that remind you of an island oasis.
With that adventure sometimes comes a bit of fun with colorful decorations that make visitors feel like they're on an exciting vacation. Traditional tropical décor that achieves this feeling includes elements such as:
In a tropical style and furniture, you'll find warm tones to remind you of sunny, island days. Natural influences come through in almost every aspect, from the materials to patterns to furniture styles. When you use tropical décor in your business or home, you want guests to feel welcomed — like they've stepped into the zen island escape of their dreams. You can easily achieve this feeling in a luxe way if you have some luxury tropical decorating ideas.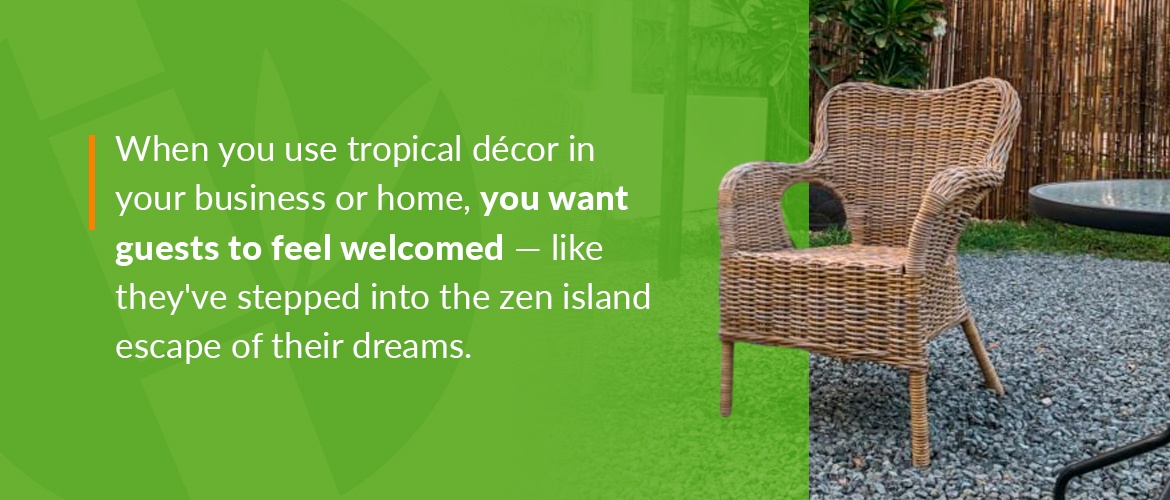 How to Create a High-End Tropical Aesthetic
For a luxe take on the tropical style, it's best to use a combination of other high-end aesthetics. Contemporary, modern and minimalist interior designs can all pair well with tropical influences. Clean and sophisticated styles mix with tropical décor to create a luxury tropical style. Classic yet understated components associated with tropical aesthetics that you can use in your interior design include:
Color: As you choose a color palette for tropical interior design, use nature as your guide. Rich shades of emerald green, warm browns or tans and deep, enchanting blues evoke aspects of nature you'd see on a tropical island. Warm neutrals play well with these cool colors, and you can even throw in vibrant accents to evoke tropical flowers.
Patterns: Again, nature is the primary influence here. Choose fabrics patterned with wide, green palm leaves or wallpaper dappled with minimalistic floral prints. From feature walls to tropical furnishings, the right patterns will give your room a warm and natural feel. Animal prints with wildlife like flamingos and birds also provide a tropical vibe with a bit more whimsy, but you can easily dress up these patterns or use them sparingly.
Textures: Tropical business or home décor isn't complete without some natural textures. Woven natural or synthetic materials, bamboo furnishings and other textural elements help complete the tropical aesthetic. They add dimension to a room and create contrast with smooth and sleek furnishings. These materials in tropical style furnishings also call back to their historical uses, even in a fresh setting, giving you a classic look no matter how you use them.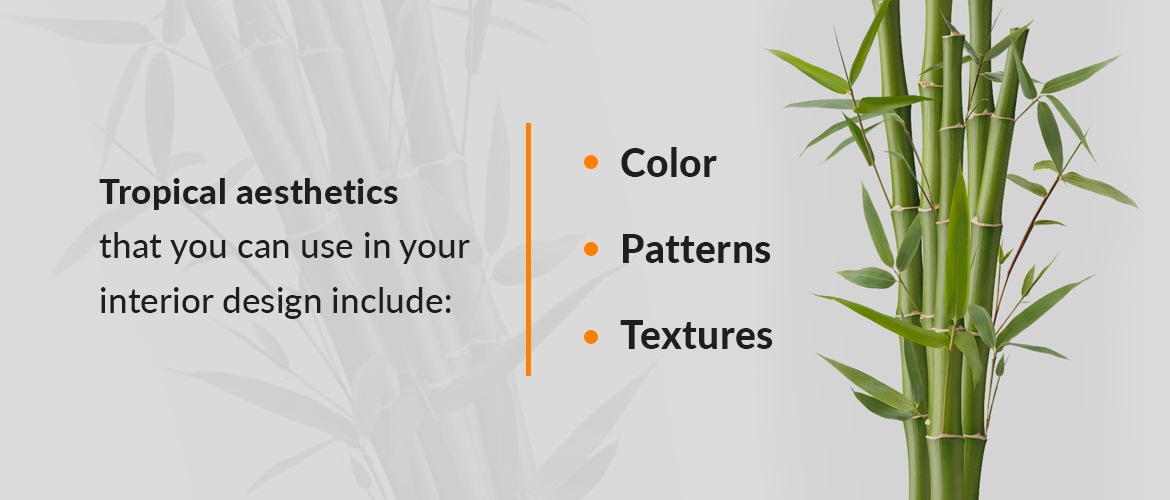 Any combination of the design aspects above will get you a tropical aesthetic, but for a luxe one, you'll need a little more variety in your space. To add high-end elements to your tropical interior design, use colors, patterns and elements such as:
Gold and other metallics for a modern look
White for a clean, minimalist feel
Mosaic tiles for a classic twist on a modern accent
Pineapple prints for a trendy, tropical vibe
Bamboo-inspired patterns to evoke the material
A contrast of light and dark elements
Handcrafted additions for a rustic-yet-chic touch
It may take a bit of planning to find the right balance for your home or business, but once you do, you're sure to have a luxe tropical style. It's an aesthetic that's easy to achieve with the right pieces, and as a bonus, it's versatile. A high-end tropical look is perfect for any space. Some locations that especially suit the aesthetic include:
Homes
Spas
Resorts
Hotels
Restaurants
Plenty of other industries can use the high-end tropical aesthetic, as well. If you want your home or business to come off as a high-quality, five-star location, luxe tropical furnishings and décor are right for you.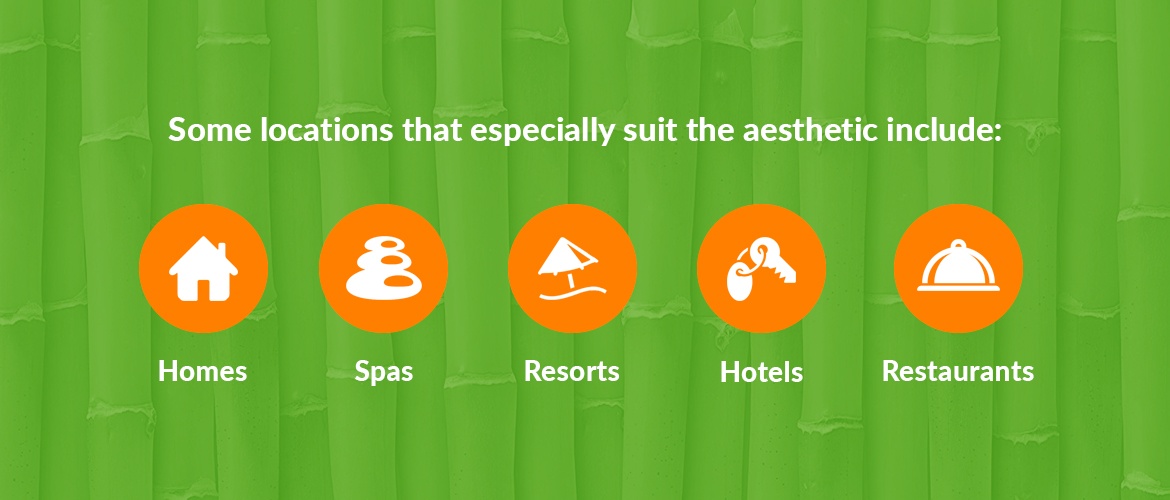 Luxe Tropical Art
When creating a high-end space in any aesthetic, art helps get that luxury feel. As a bonus, it helps spruce up your walls, fill in shelves or add interest to empty corners. You have plenty of options when it comes to tropical art, especially if you're looking for a luxe style. From the framing to what the art itself features, different elements will get you closer to a luxury tropical aesthetic.
No matter the style you're trying to achieve, the most popular place to display art is the wall. Wall art adds interest to a space and can draw a visitor's eye to different areas of a room depending on where you hang it. Tropical wall art can contain motifs such as:
Pineapples
Tropical birds
Palm leaves
Flowers
Sunsets
Beach views
For other artwork options, find paintings or photos of tropical objects. Paintings of a cabana or Palapa will invite guests to feel as if that's where they're relaxing. For minimalist art, choose pieces that match your color scheme or wall color. They'll appear more subtle, giving your room a high-end feel. They can be abstract pieces inspired by tropical island colors or paintings of popular tropical patterns. Either way, you'll get a subtle and modern look to your island art.
You can enhance the contemporary aesthetic with modern frames. Choose sleek, square frames in black or metallic colors for a touch of modern style. If you want art more on the tropical side, use matting or bamboo paneling to frame artwork. You can even paint right on certain mats, using the tropical elements as a canvas. Base your choices on the rest of your space. If it's feeling tropical enough, opt for modern pieces. If you've gone with contemporary furnishings and décor for the most part, tropical artwork will create balance.
For an additional tropical touch, you can add sculptural art throughout a space. Sculptures are perfect for filling corners or bare shelves depending on their sizes. Find metallic works that portray tropical creatures or plants, or choose traditional yet understated pieces such as Tiki masks. If you find a sculpture that's leaning more towards the tropical side than you'd like, you could always paint it one color. White or gold sculptures are subtle yet eye-catching, perfect for a high-end tropical space.
Balance spaces with a combination of wall art and sculptures. Create a unified look with similar motifs and colors or gather eclectic pieces that give your room some character. With your art, you'll also want to find a balance with the tropical décor you use, as these pieces help set the tone even further.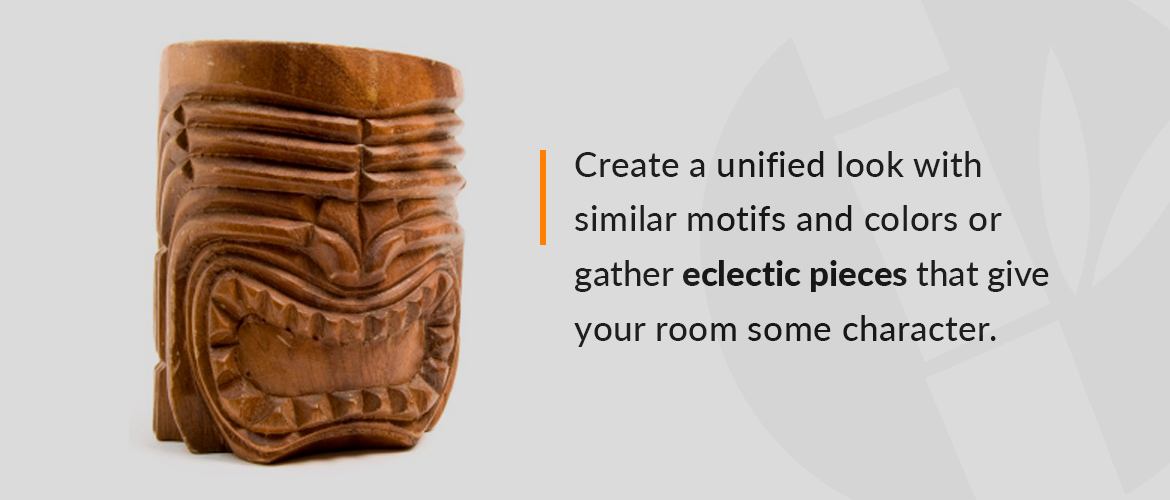 Tropical Style Décor
For pieces that aren't quite art but aren't quite furniture, you have décor. With tropical style décor, the options and combinations are endless. Use sleek, modern pieces that you may already have in combination with island-inspired decorations, such as:
Ceiling fans: You'd have to stay cool in a tropical climate. Choose fans with leaf-inspired blades for the ultimate tropical aesthetic. They provide a gentle breeze to remind visitors of an island getaway, and their appearance feels like it's right out of a cabana on the beach.
Exposed beams: While you're adding detail to your ceiling, consider adding or revealing beams. Exposed beams can give a room a natural feel that's the perfect setting for a tropical aesthetic. They're an on-trend décor option, as well, making them perfect for contemporary tropical spaces. Go with unfinished wood beams for a look inspired by nature.
Plants: Bring the outside in with houseplants that give a tropical vibe. Go with real or realistic artificial plants if you don't have a green thumb — either way, you're sure to create an oasis. Tropical indoor plants often have wide leaves or brightly colored flowers. Introduce varieties such as palms, peace lilies, orchids, ficus or bird of paradise for a natural and tropical touch to your décor. They also add a lovely pop of color to neutral-based palettes. Overload areas that don't feature a lot of furniture, such as dining rooms, with plants to get lost in a tropical jungle.
Other outdoor elements: Get creative with your tropical decorating by bringing in exterior design features. Shutters, normally found outside to block the sun in tropical climates, create intriguing tropical décor. For large areas with tall ceilings, such as lobbies, recreate cabanas or Tiki huts with bamboo fencing and umbrellas or thatch roofs. The impressive display will be eye-catching while giving a luxurious, relaxing feel.
Lighting: Warm lighting helps give any space a tropical feeling, but use your lighting fixtures to evoke the luxe theme even more. Install impressive basketweave or Abaca cloth shades on lamps and chandeliers. These tropical light fixtures are the perfect combination of functional and stylish. Tropical rooms should feel warm while modern spaces are bright. Combine the two with natural lighting from large windows that make visitors feel as if they're relaxing outside.
Antiques: What once had function can now be displayed like art. Many antiques have a high-end and unique feel to them, which you can play up with a tropical theme. You can even replace traditional tropical elements with artistic antiques. Evoke tropical bird patterns and prints by placing vintage birdcages throughout a space. If you like the classic tropical touches, you could always add a decorative hanging bird to the cage.
Flooring: For a tropical feel, opt for unfinished wood flooring. With plenty of high-end furnishings and decorations in a space, the unfinished wood floors serve as a canvas for the luxe tropical style. If you prefer finished floors, place bamboo rugs or other decorative flooring options for a touch of tropical right under your feet.
Walls: Whether you use wallpaper or paint, your walls can become an integral part of your luxe tropical design. Integrate the patterns we've mentioned above for a unique feature wall that features palm leaves or floral patterns. You could go all out and use the design on every wall in a room, but for a high-end look, it's best to keep it minimal. Paint other walls white or pull colors from the pattern on your feature wall. Remember that the lighter the colors you use, the more open and airy a space will feel, which is perfect for a tropical vibe.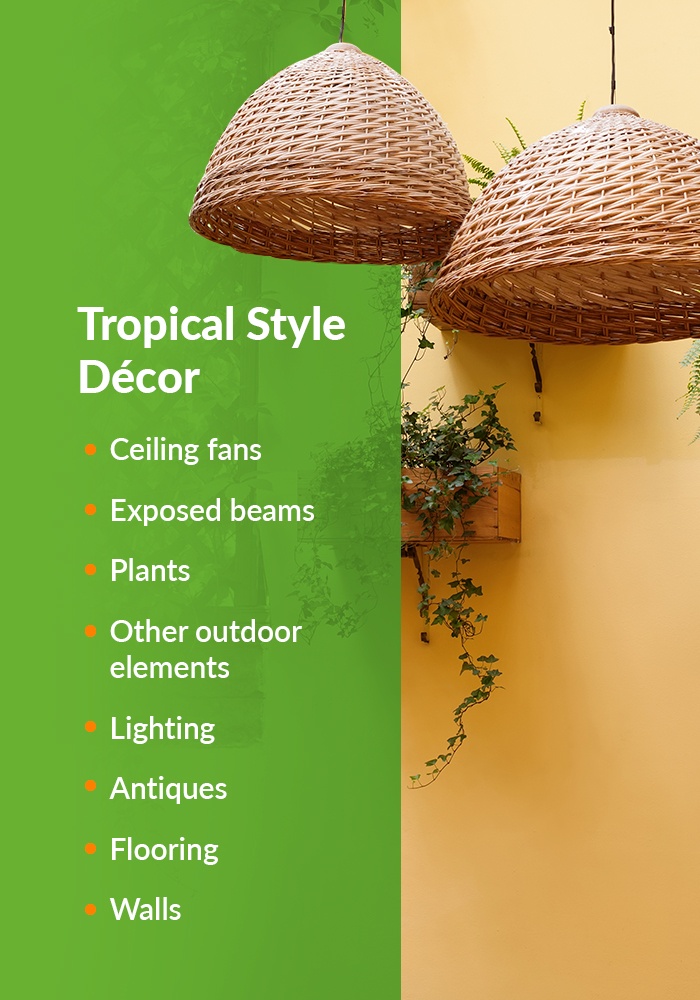 You don't need to use every piece of tropical island décor for your home or business. Instead, mix and match with high-end pieces to create balance. If your walls and floors are drawing from tropical inspiration, install sleek touches to even out the island-inspired with luxury.
If you already own décor that fits your taste, consider giving them tropical facelifts. DIY a project or take pieces to a professional for a tropical makeover. Use materials such as: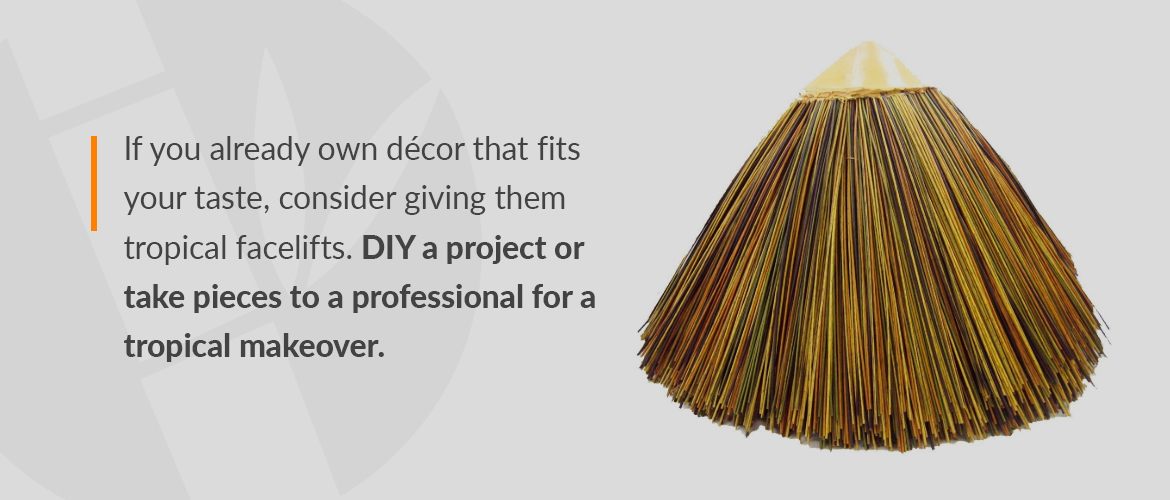 These materials provide the perfect colors and textures for any range of tropical decorating ideas. Make lampshades, decorate plant pots and add touches of tropical inspiration throughout your room. While the décor can fill a lot of space, one of the most substantial parts of any interior design is the furniture.
Luxury Tropical Furniture
For high-end additions to your tropical interior, choose pieces that combine natural and sleek materials. A driftwood base with a glass tabletop or furnishings that combine metal and wood give your tropical style décor a touch of modern luxury. Add contemporary and island touches throughout your space to get a luxe look, with tropical style furnishings such as:
Chairs: Bamboo seating or wicker basket-style chairs make a great fit in any space. Top with cushions or throw pillows in a color scheme or pattern that goes with your tropical oasis. Place in interior spaces for a warm and inviting room or use in exterior areas for a modern patio or garden. If you want a classic yet high-end look, choose Chippendale style bamboo chairs. Their elegant, curved lines pair with the natural vibe of bamboo. Find white varieties or paint your furnishings for a high-end, natural and classic look.
Other seating: A great way to create a luxe space is to provide ample and comfortable seating. Lounge chairs and benches offer guests luxurious comfort, and when you choose bamboo varieties, you get a tropical style, as well.
Tables: When it comes to luxury tropical décor, you have a lot of options with tables. Give your current, contemporary tabletops a tropical treatment with matting, which is available in different styles and colors. Decorate with a bamboo table for an even more striking tropical option. Add a warm touch to corridors with a hallway table, or get something sleek yet natural with square and rectangle bamboo tables.
Shelves: Accent a luxe tropical room with subtle shelving. It's the perfect place to put your tropical art. Find single- or double-shelf bamboo varieties for your walls. These shelving options are great for smaller spaces or areas of a room that need a touch of tropical décor. For a more dramatic touch, find ladder-style bamboo shelving to get a more tropical look.
Privacy screens: Whether you use them near changing areas for practical purposes or to add something decorative to a space, privacy screens are an excellent tropical option. Privacy screens in any style give a high-end and vintage feeling, but with the proper materials, you'll also enforce your tropical aesthetic. Find bamboo varieties or spruce up privacy screens you already own with some tropical matting. Depending on the style you choose, a privacy screen can be a subtle addition or the focal point of a room.
Storage: Who doesn't love storage solutions? When they fit with your design aesthetic, that makes the pieces even better. Install storage solutions like bathroom racks, wine racks or nightstands, all made of bamboo for a tropical vibe. Decorate with modern touches or use them in a luxuriously decorated room for the luxe tropical look.
Beds: Different styles of beds can suit a high-end tropical aesthetic. Choose a four-poster bed with metallic posts for a modern, luxe feel. If you're looking for something more tropical, get hand-carved posters or a headboard with tropical matting. For a lovely cross between the two styles, install a light and flowing canopy. The airy fabric will give the sense of being in a cabana on the beach while still maintaining a luxury feel.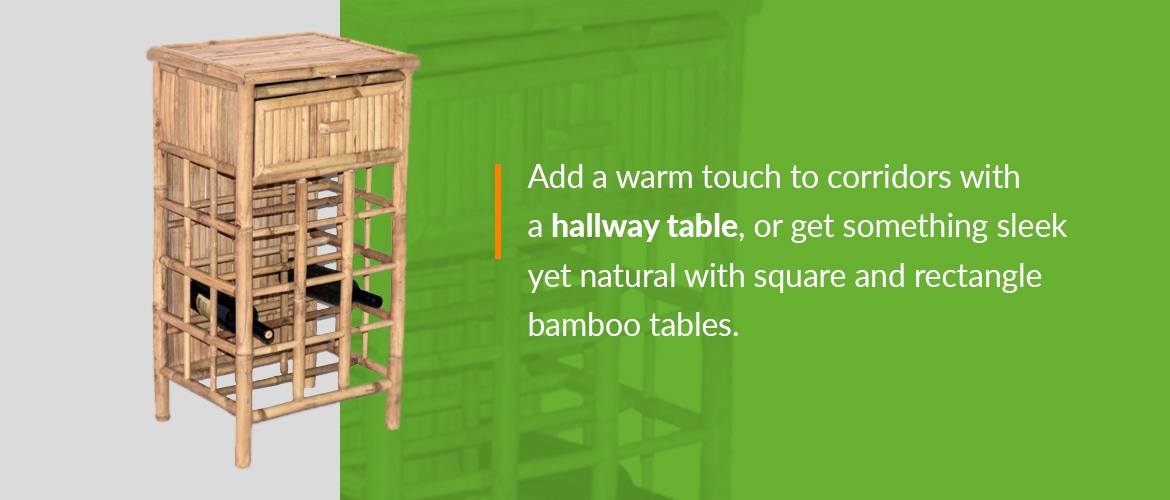 If you find that bamboo and other natural materials don't provide the right color for a luxe tropical design, you can always paint or stain them. Go with bright white for a clean and airy feel or touches of black to create a modern aesthetic. Match your space's color palette for a cohesive look or get creative with a mix of colors for a contemporary feel. No matter what colors and furniture you'd like to use for your luxury tropical decorating, some general tips will help you create the perfect space.
Tips for Creating a Luxe Tropical Island Design
Regardless of what pieces you want to incorporate into your tropical home décor or business design, there are some steps you should take to create the perfect balance with warmth and luxury. To get luxe, tropical island décor, be sure to:
Choose materials appropriate for your climate
Use furnishings durable for exterior use when used outside
Weatherproof and seal materials that need it
Find the perfect balance between sleek and island-inspired
Be open to crafting your own art or furnishings
Take inspiration from vintage poolside decor
Think about what high-end style you're going for
Factor in the aesthetic of your property
As you choose tropical furnishings and decorations, think about how you want them to work together. Do you want a minimalist space? An eclectic combination of tropical and luxury details? Are you interested in a high-end look, a classic tropical style or a perfect mix of the two? Your tastes will largely influence your style decisions, but don't forget about your needs or those of your guests. Tropical furnishings can still be functional, meeting all of your needs at once.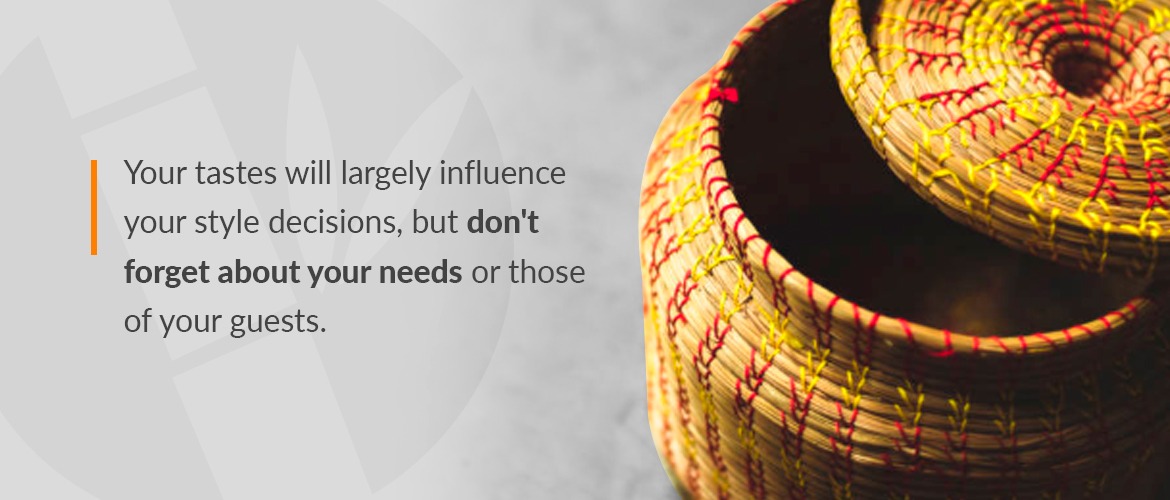 Now that you know how to get a high-end tropical aesthetic in your home or business, you can start looking for pieces to create your dream design.
Create Your Luxury Tropical Space With Forever Bamboo
If you're ready to create a high-end tropical oasis, we're ready to help. At Forever Bamboo, we offer the materials and products you need to furnish a tropical island design. Whether you need bamboo furniture, matting, decorations or other products to make your luxury tropical design a reality, we have them in the largest supply.
Browse our selection of island-inspired products to find inspiration for a tropical design. Contact us at 877-912-2244 when you're ready to bring your luxe tropical getaway to life!