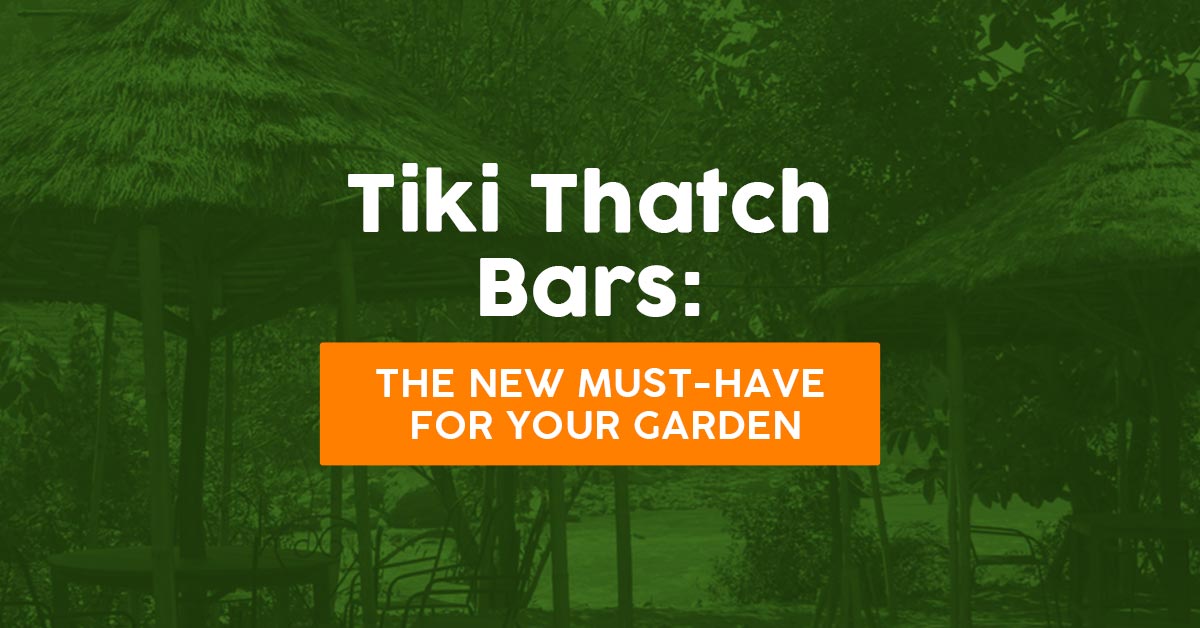 Whether you're looking to host the perfect summer gathering or add a touch of paradise to your backyard, a thatch roof Tiki bar is the way to go. Functional, sustainable and visually pleasing, it's the perfect way to convert your garden into a relaxing haven.
However, a Tiki bar is more than just a hut with a roof — it also needs comfortable seating, tropical decorations and good lighting. If you don't know where to begin with decorating, we have plenty of garden design ideas for you. Learn how to upgrade your garden with our list of Tiki bar essentials!
Benefits of Tiki Thatch Bars
A Tiki bar is a tropical-themed bar used for serving food and island-inspired cocktails. It's often decorated with extravagant tropical accents like plants and flowers, surfboards, Tiki carvings and lights.
Thatch is a common roofing material for Tiki bars. This natural grass is a popular choice for its sustainability and aesthetic appeal. If you're looking to transform an ordinary backyard into the ultimate tropical escape, thatch provides multiple benefits for your Tiki bar:
It's eco-friendly: A thatch roof contains dried vegetation, which is biodegradable, sustainable and free of toxic substances. Thatch is an excellent way to incorporate eco-friendly building practices into your next home project.
It's aesthetically pleasing: A Tiki thatch bar provides an exotic getaway without having to leave your backyard. Decorative accents like lights, pottery and tropical flora enrich the aesthetic of your space.
It provides natural climate control: A thatch roof provides insulation and shade for your Tiki bar. The material enables hot air to flow through the roof, minimizing humidity and heat in the bar. Thatch is also an effective insulator that helps regulate cool and warm air throughout the seasons.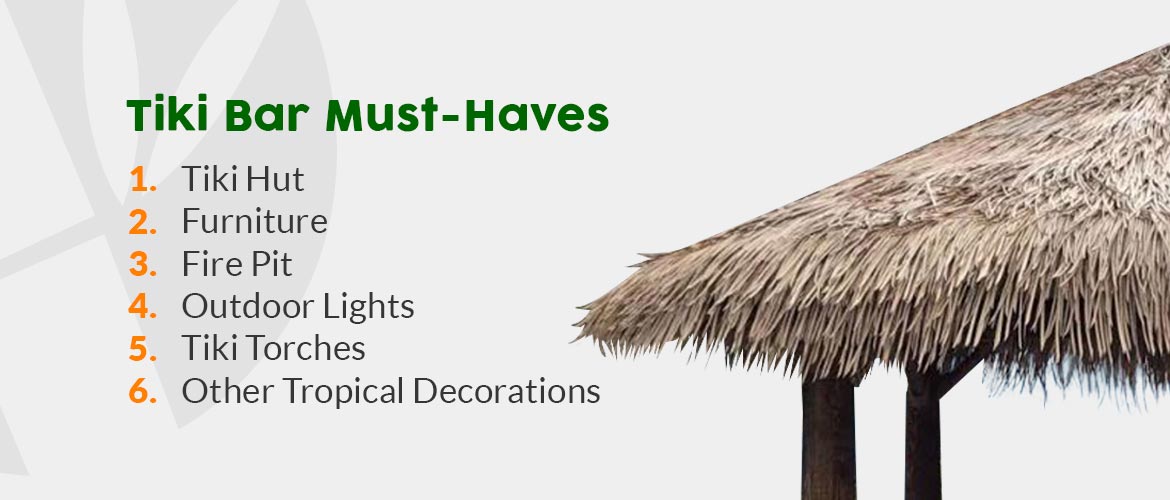 Tiki Bar Must-Haves
Looking for outdoor area ideas to enhance your Tiki bar? Browse the list below for some creative must-haves!
1. Tiki Hut
Perhaps the most important part of a Tiki bar, a Tiki hut provides shelter from the sun, heat and elements. It also adds a tropical charm to your garden or backyard. If you're handy, building a hut yourself can be a more cost-effective and rewarding option.
Once you have the necessary supplies and a design in mind, it's surprisingly easy to build. You can even wrap the face of the Tiki bar with bamboo slats to tie the island look together. Shade your guests from the sun while impressing them with your DIY skills!
2. Furniture
Once you've completed your Tiki hut, it'll be time to add some furniture. Determine how you want to occupy the space with tables and seating. Perhaps you'd like a dining table with some accompanying chairs or an exterior sofa with end tables. Maybe some bar stools would better achieve your desired aesthetic.
Sun loungers or lawn chairs can also capture the Tiki theme while providing comfortable seating for your guests. If your budget allows for it, consider adding different types of furniture for multiple seating options. Whatever you decide, try to choose furniture that's comfortable, functional and aesthetically pleasing all at the same time.
3. Fire Pit
Consider adding a fire pit to host the ultimate luau! Steel bowls and pre-made stone fire pits allow you to host fires safely around the Tiki bar. Gathering around the glow of a fire with friends and family is the perfect way to enjoy a warm summer night. Depending on where you live, you may even be able to use this fire pit well into fall and winter.
4. Outdoor Lights
A Tiki bar needs ample lighting, especially if you plan on using the space into the night. Light up the area with some bistro or string lights, flood lights, lanterns or any other exterior lighting you see fit. You may need more or less lighting depending on the size of your exterior space, so be sure to plan accordingly.
5. Tiki Torches
Tiki torches are another great way to add some evening lighting — and a stellar tropical vibe — to your Tiki bar. These can be an alternative to string lights, or you can use both for a layered lighting effect. If you decide to include Tiki torches, remember to position them far enough away so they don't ignite the thatch roof.
6. Other Tropical Decorations
Adding some tropical-themed accents is the perfect way to complete the island look. You can use these ideas for inspiration or add any other features you see fit! Here are some decorations to consider:
Signs: Hang some tropical signs on the wall of your Tiki bar for a unique island aesthetic. Whether it's flowers, palm trees, inspirational quotes or humorous signs, wall hangings can enhance your space.
Tiki masks: Nothing captures an island theme quite like Tiki masks! Tiki masks have a rich history and tropical charm and are available in multiple sizes, patterns and colors. They're also lightweight and easy to hang.
Plants and flowers: Tropical botanicals are an excellent way to enrich your space with a natural, earthy feel. Consider adding potted plants and colorful flowers for a charming summery vibe.
Surfboards: Decorating your space with colorful surfboards adds a rich tropical flair. Some lightweight surfboard signs are just as effective and far easier to hang up!
Wind chimes: Accent your garden space with some charming bamboo wind chimes. Soothing island tones are an ideal way to welcome and relax your guests.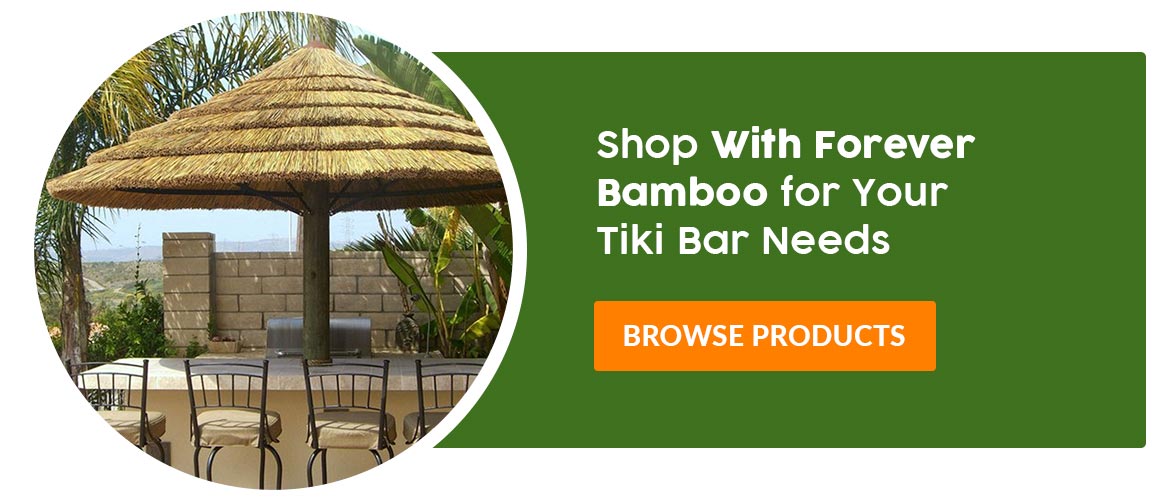 Shop With Forever Bamboo for Your Tiki Bar Needs
Forever Bamboo is your go-to for creating the ultimate Tiki bar. Our online store offers thatch products, furniture, tropical decorations and any other essentials you desire. Green building materials like thatch and bamboo provide a sustainable and aesthetically pleasing option for any home project.
While bamboo products and thatch are our specialties, we also know that the right accessories are crucial for any backyard paradise. Our tropical decor options are a fun, unique way to enrich your space and greet guests with a peaceful island vibe.
When you turn to Forever Bamboo for your Tiki bar essentials, you can create an amazing exterior space for everyone to relax and enjoy life. Browse our products and order your Tiki bar must-haves today!