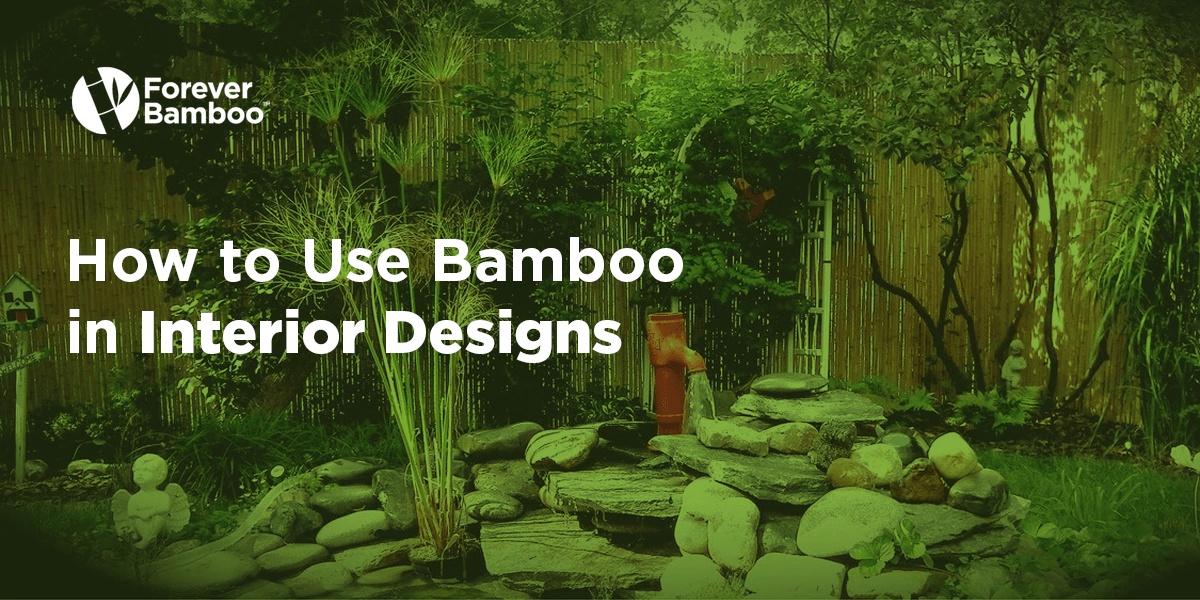 Sustainable interior home designs are growing in demand. People who want to decrease their environmental footprint want a trendy solution. If you want your home to be eco-friendly and have a stylish design, certain materials can help you achieve your interior design goals. Bamboo is a popular material option for sustainable interior design because it's one of the fastest-growing materials and can help decrease deforestation. This grass is adaptable to various weather conditions, and varying temperatures and climates rarely affect its growth.
Bamboo is a fantastic renewable resource to use in your home, but its sustainability is not the only reason the material is so popular. Bamboo is aesthetically pleasing and a lovely neutral color that can integrate into your home's interior design. These are just some of the many reasons to use bamboo products in interior design. You can update your living space with modern interior design trends by incorporating bamboo. Add a warm and light feel to your house by following these bamboo decor ideas.
Jump to Sections:
Top Trends in Interior Design
Home decor and design trends are constantly evolving as styles and values shift. Recent trends expose a theme that elevates unique taste and utilizes materials that support a more sustainable lifestyle. Check out some of the trending home decor ideas that can transform your home into your dream living space:
Cottagecore: The cozy and charming aesthetic of cottagecore is a popular style for a variety of people. If you like to embrace your home's welcoming features, cottagecore may be the perfect trend for your home. To achieve this look, you can add vintage or reclaimed furniture to your living area, along with touches of wholesome and rural decorations. Use warm and rustic tones throughout the home to create a whimsical and homey feel.
Ocean hues: If you are attracted to the beach aesthetic with cool aquas, blues and teals, adding ocean hues to your home is a trend you'll want to incorporate. This tranquil color scheme pairs perfectly with natural-material furniture like bamboo or rattan. Invite the beach and ocean into your home by adding peaceful elements and blue ocean hues.
Eco chic: Your home can be eco-friendly and stylish at the same time. You don't have to stick with a rural style to be eco-friendly. Various materials are sustainable and will make your home chic. Mix earthy tones, like greens, warm oranges and tans with sustainable bamboo furniture to convert your home into an eco-chic living space.
Contemporary country: Muted floral prints and warm hues combine to create a contemporary country style. This design trend is for people who want an inviting home atmosphere along with rural inspiration.
Rustic vogue: If your home has unique features like visible wood beams and built-in pieces, rustic vogue is a great style option to consider. Similar to cottagecore, this home design trend utilizes reclaimed materials and prairie-like decorations that make your home inviting.
Vintage: When you add the vintage look to your home, you can revamp styles of the past. Retro and antique furniture are key aspects of a vintage-style home.
Earthy tones: Colors that are earthy and natural are on trend right now for home designs. Incorporate colors like green, rust, bronze and dark red to warm up your house.
Home office: Home offices are becoming a focal point of the home. Take extra time designing and adding details to your home office to make it stand out.
Statement headboards: Make your headboard the focal point of the bedroom. Be bold and choose a colorful or distinctive pattern.
Houseplants: Bring luscious greenery into your home to facilitate fresh air and a natural environment. Adding houseplants is a popular trend that can update various interior design styles.
Global influence: Get creative with your home design and incorporate items and designs with global influence. Earthy colors, wooden or bamboo furniture, and touches of other textures can develop your vision of a global-inspired living space.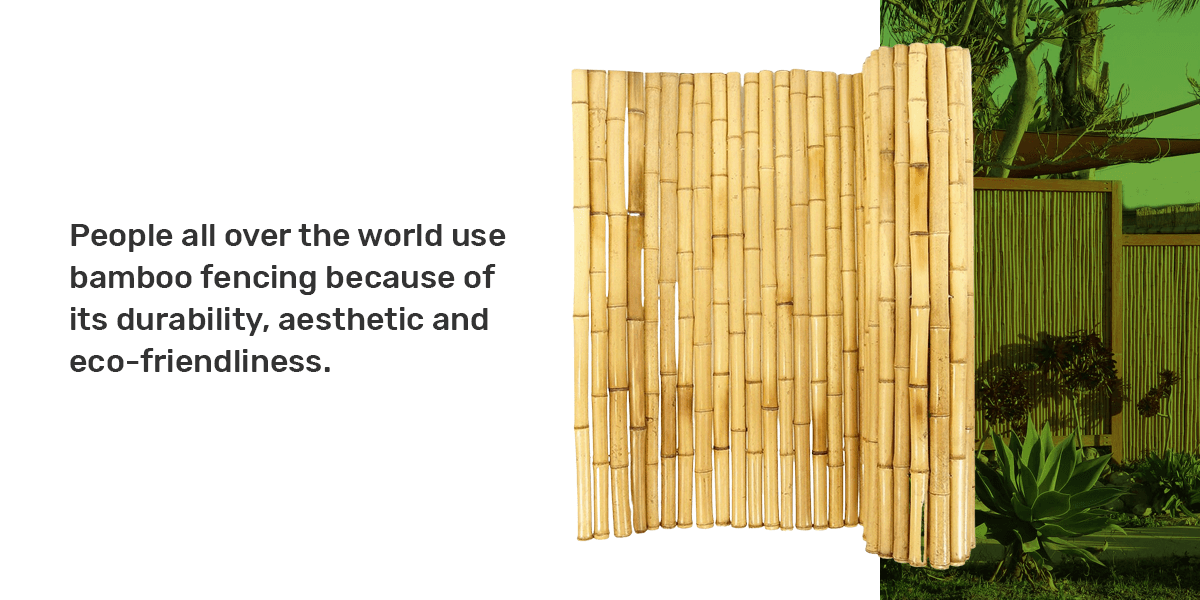 Bamboo Products for Interior Use
Bamboo furniture and products are perfect for inside and outside your home. This material is durable and stylish, and it incorporates well into an array of home styles. You can select from a variety of bamboo products for your home's interior. Check out the different products and items that contain bamboo:
Using bamboo in your home can make a room feel exotic and eco-friendly. This strong material can withstand different elements in your home and can match various styles.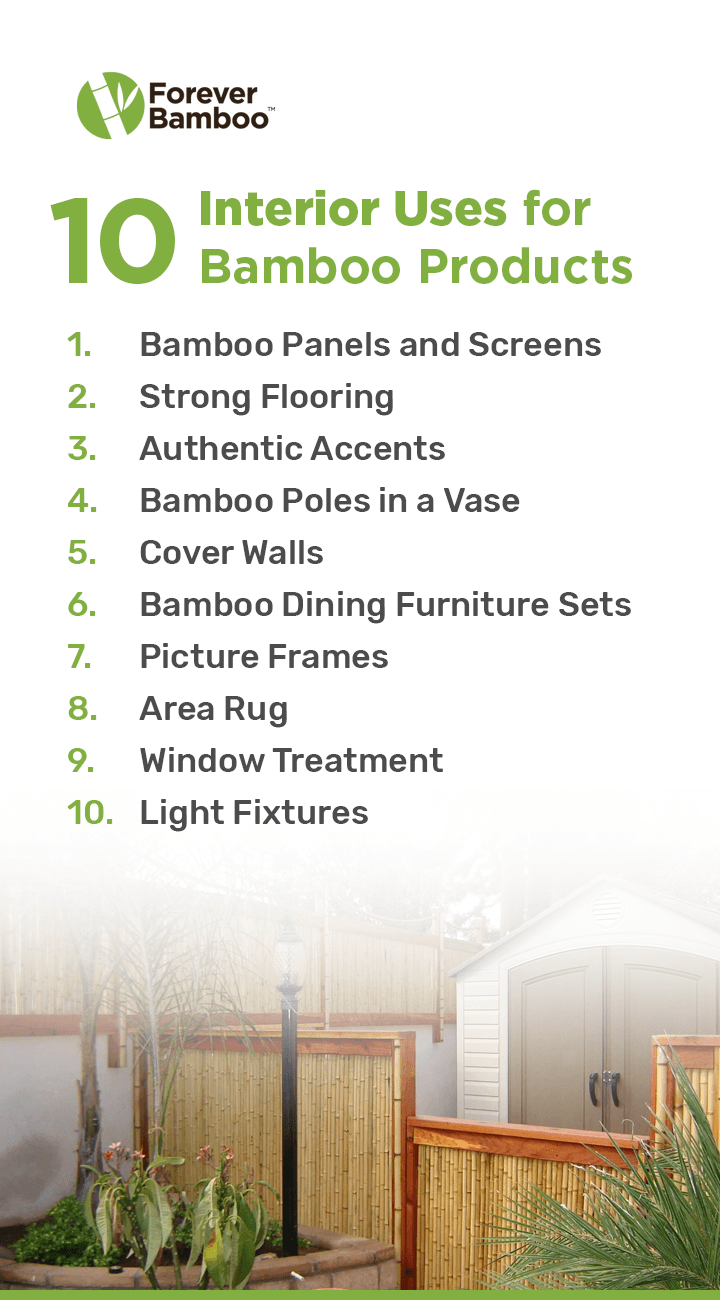 10 Interior Uses for Bamboo Products
With the wide variety of interior products available, it's important to know how to use bamboo products inside your home. With bamboo, you can update your home to match current interior design trends. If you're looking for new interior applications for bamboo products, take a look at these 10 bamboo decor tips:
1. Bamboo Panels and Screens
Bamboo panels and screens have various uses inside your home. Bamboo paneling uses durable strips of bamboo, and you can place these panels or screens so they reach from the ceiling to the floor or create natural room dividers. A tropical interior design trend you can incorporate is using bamboo panels and screens to create your own Tiki lounge and bar.
2. Strong Flooring
Bamboo flooring will stand out among other homes and provide lasting durability in your home. Manufacturers can produce various types of bamboo flooring that look similar to traditional wood floors or find unique designs to incorporate into your home. The varying looks of bamboo flooring make it easy to accommodate many different home styles when using this material on the floor.
You can install bamboo flooring yourself if you are familiar with installing regular hardwood floor planks, or you can contact a professional to get the job done. Using bamboo floors in your home can be less expensive than other flooring options, and it is a better choice for the environment because of the sustainability of the material.
3. Authentic Accents
Do you love the look of bamboo products but don't want to overload your home with the material? You can choose to incorporate a few bamboo accent pieces to bring an organic look into any room. Because bamboo is neutral in color, it can mesh well with various styles and themes. Bamboo decor is an option for people who want to add a tropical or laid-back aesthetic to their home interior.
Some bamboo accents you can choose from are:
Add smaller details like bamboo picture frames, mirrors or cup coasters to accent the larger bamboo furniture in the room.
4. Bamboo Poles in a Vase
A simple yet appealing decoration for your home is a large vase with a few long poles of bamboo. This decor idea is minimalist and easy for many people to recreate. There's no need to add any greenery or flowers — the clean and sleek lines of the bamboo poles are enough for decoration.
5. Cover Walls
A different way to cover your walls with a natural-looking material is to use bamboo fencing on the walls. Bamboo fencing is typically outside in backyards or patios, but you can also use it to create an accent wall in your home. Other bamboo fencing interior applications are covering the front of an inside bar, making a changing screen or using it as a room divider. Bamboo fencing is an embellishment that can add a tropical or airy feel to your home, and there is no limit to which rooms can incorporate this material.
6. Bamboo Dining Furniture Sets
Spruce up your dining room or kitchen with a bamboo dining furniture set. Bamboo table and chairs look beautiful and stay strong throughout their time in your home. A bamboo dining chair and a bamboo dining table are the perfect combinations for a tropical dining room or kitchen.
7. Picture Frames
Put a unique twist on presenting your photos by using bamboo picture frames. This is a wonderful small detail to include in the design of your home if you're going for an exotic or natural look. Of all the tropical interior design trends, bamboo picture frames are one element that can tie a whole room of bamboo products together.
8. Area Rug
Place bamboo area rugs in various rooms in your home. A bamboo area rug in your living room is a gorgeous addition to your tropical interior. You can also purchase bamboo rugs in other sizes, like a runner or accent rug.
9. Window Treatment
Window treatments can revamp a room, and you can make similar updates with bamboo blinds. The natural texture of bamboo will surely impress. Give this design trend a try in various rooms in your home.
10. Light Fixtures
Update the light fixtures in your home with bamboo lamps and ceiling lights. Light fixtures are an essential design element in any home, and bamboo fixtures are beautiful pieces to include in your living space.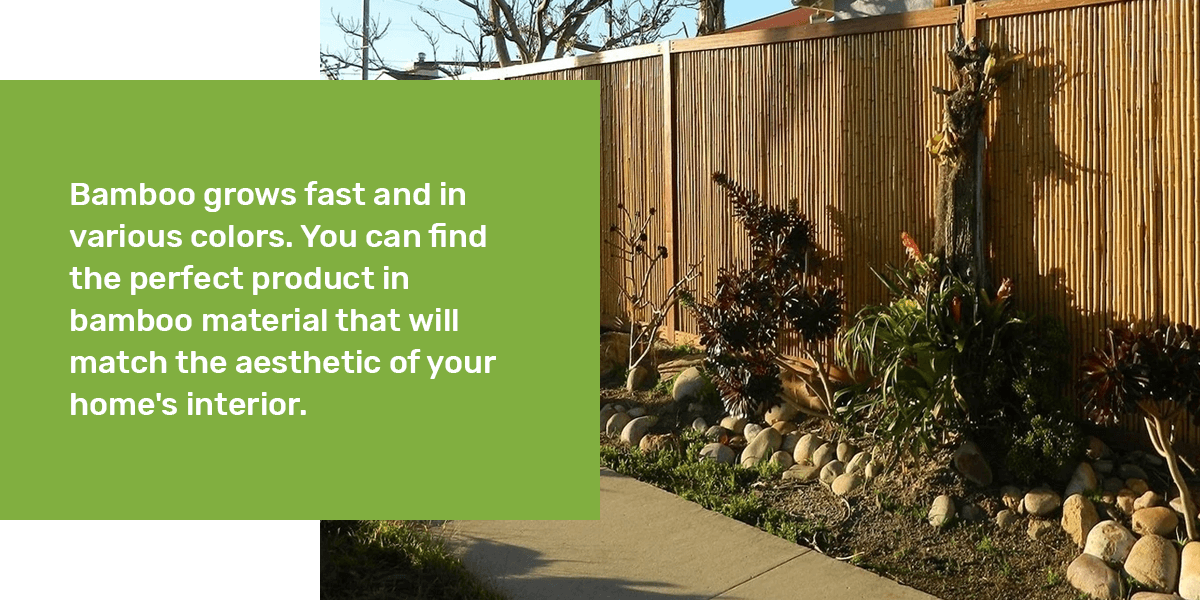 Why Should You Use Bamboo in Interior Design
Designing the interior of your home is an exciting and creative process. You decide what your theme or style is and work with different pieces and products to make your vision come to life. As you look through different products and materials, think about what aspects of design are most important to you. If your goal is to be more sustainable and purchase products that will look great and last long in your home, bamboo is a material you'll want to use in your interior design.
With bamboo's steady rise in popularity for home decor, various bamboo products are on the market for inside and outside your home. You can create a relaxing and welcoming space with bamboo items and design materials. Bamboo grows fast and in various colors. You can find the perfect product in bamboo material that will match the aesthetic of your home's interior.
Where to Shop for Interior Bamboo Products
Many stores offer building materials, home decor and other bamboo products to utilize for home renovations and decorations. With the number of places you can find bamboo products, it's crucial you find the best place for high-quality bamboo material. If you're in the market for new bamboo items to update your tropical or natural-themed interior or want to know where to buy bamboo products for home interior design, check out Forever Bamboo.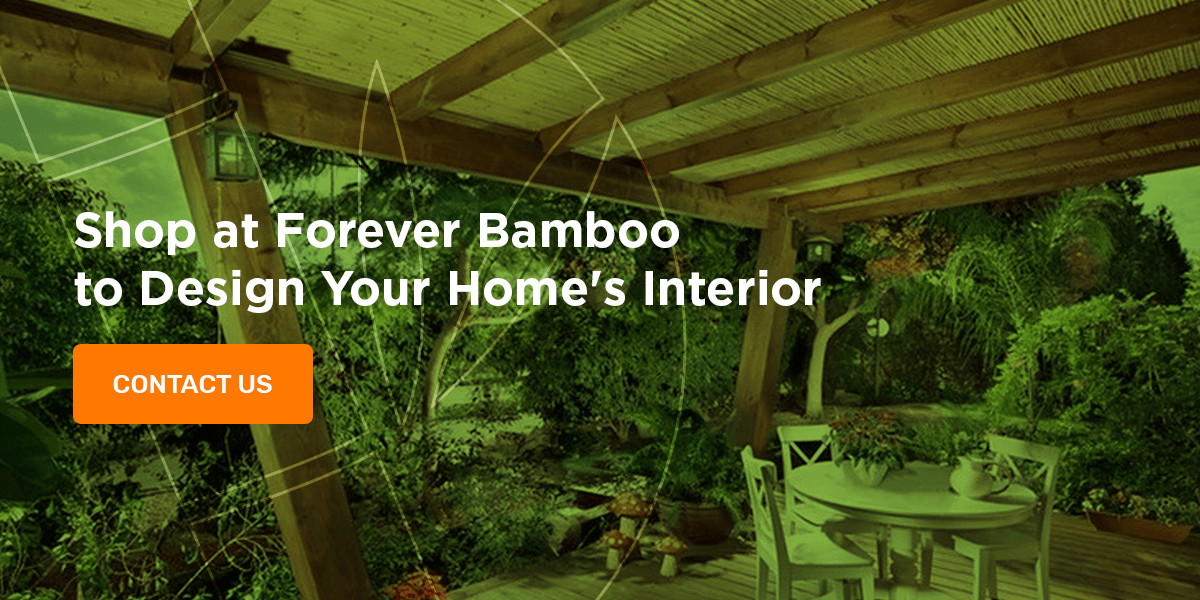 Shop at Forever Bamboo to Design Your Home's Interior
At Forever Bamboo, we supply a range of high-quality bamboo products to update various rooms in your home. We pride ourselves on gathering eco-friendly materials to help others create their personal tropical home oasis. Forever Bamboo works with residential customers to find the perfect bamboo items to transform their homes. As one of the largest bamboo suppliers in the nation, we offer a wide selection of products for your home.
If you have any questions about our products, contact us to learn more about why bamboo is an excellent material for interior home decor.