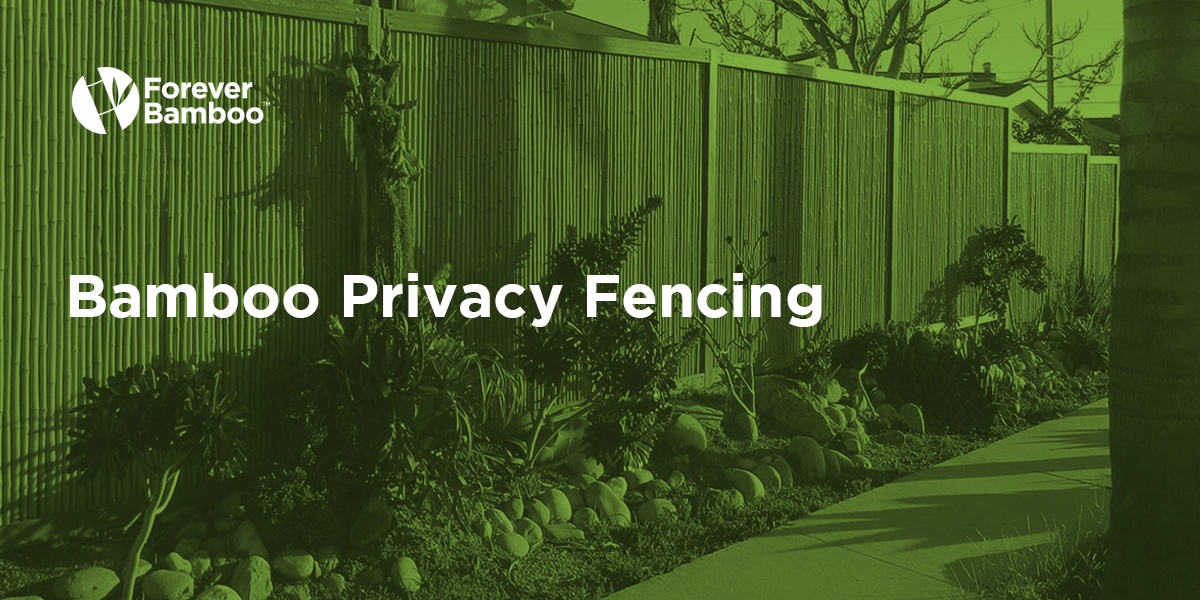 Being able to enjoy your backyard in private is one of the greatest joys of owning a home. However, many houses are so close together that it can be challenging to feel a sense of seclusion in your yard. Fortunately, you can upgrade your backyard and increase your privacy with a number of fencing options.
Below, you'll learn how to improve privacy in your backyard, different types of privacy fencing, the benefits of bamboo privacy fencing and where to get high-quality bamboo products. Keep reading to discover how to turn your backyard into a private tropical oasis.
How to Improve Privacy in Your Backyard
Every backyard could use a bit more privacy. Whether you want to host more intimate dinner parties, create a zen meditation space or sunbathe by your pool, improving your backyard's privacy is a great first step. Luckily, you have numerous options for increasing the privacy of your outdoor space and enhancing your backyard experience overall.
If you're interested in improving your outdoor living area, take a look at the backyard privacy ideas below for some inspiration:
Classic Fences
Adding fences is typically the first solution that comes to mind when we think about increasing backyard privacy. From white picket fences to wood or stone fences, they've been common in neighborhoods across the nation for decades. Classic fences are great because you can choose from a variety of styles, designs and heights.
Modern Fences
If you like the look and practical advantages of a fence but want a more contemporary look, consider installing a trendy, modern fence. For instance, corrugated metal is currently one of the most popular modern fencing options available. The unique texture of corrugated metal will help your home stand out, while the material's durable, industrial quality will do an exceptional job of shielding your backyard from onlookers.
Living Fences
This type of fencing, constructed from plants such as hedges, has been a staple of privacy landscaping for centuries. Recently, living fencing has become more popular among homeowners. Planting hedges, shrubs or trees along your property lines can provide your yard with year-round screening and a more natural aesthetic.
In addition to being visually pleasing, living fences aren't usually restricted by municipal ordinances regarding height. This lack of restrictions means you can plant trees as tall as you'd like. If you're more pressed for space, you can plant fast-growing columnar evergreens or sheared hedges as a simple way of blocking sightlines or separating adjacent yards.
Bamboo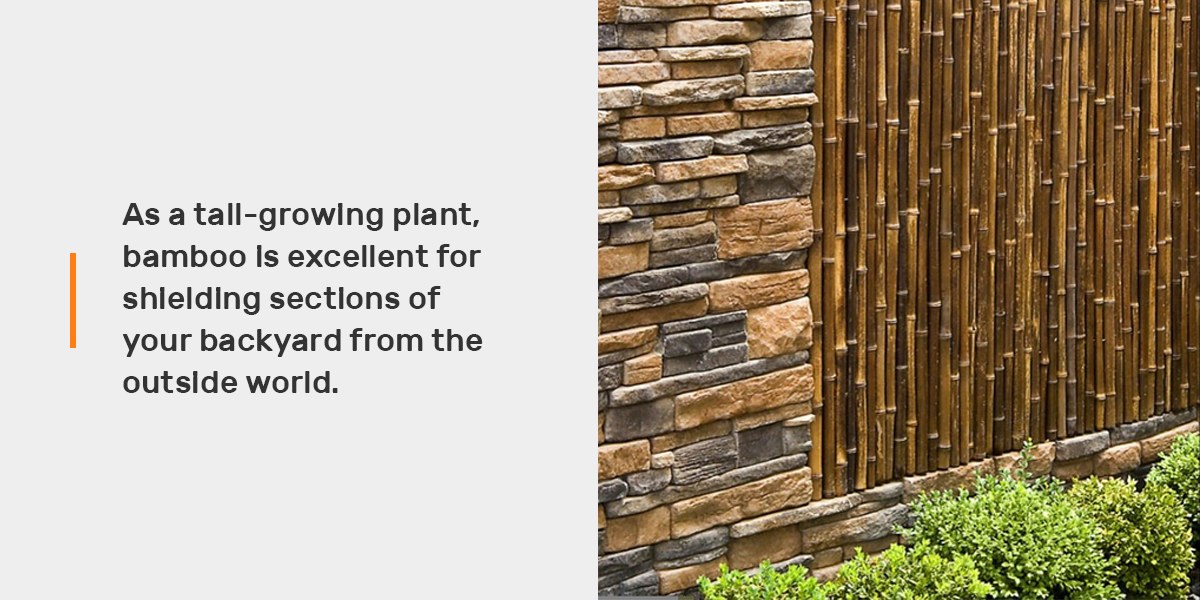 This plant is one of the best for building backyard privacy because it easily fills in any gaps you may have around your fences, pergolas or other privacy structures. As a tall-growing plant, bamboo is excellent for shielding sections of your backyard from the outside world. Either plant bamboo on its own or use it to fill in spaces to create a tropical, secluded backyard retreat.
Private Enclaves
If you have a beautiful, wide-open backyard, chances are your yard doesn't offer a ton of opportunities for privacy. Build some seclusion into your backyard by transforming a corner of your yard into a private enclave. For example, border your patio with a line of small trees, shrubs, traditional privacy screens or another material to create an outdoor space that's welcoming and cozy.
A Trellis
Installing a backyard trellis is a lovely way of addressing your yard's privacy problem. The aesthetically pleasing structure will disrupt sightlines while allowing for soft breezes and dappled sunlight to stream through. Choose from simple or elaborate trellis designs and decorate them with climbing plants, flowering vines and more — you can even have your trellis custom-built if you don't want to go the store-bought route.
Concealing Curtains
Just as easily as you use curtains to boost privacy in your home, you can use them outdoors. Putting up opaque panel curtains in your backyard will help establish a sense of an outdoor room by blocking your view of neighbors' houses. Some of the best spots for hanging curtains outside are along the sides of a porch, in a corner area or around a pergola.
Types of Privacy Fencing
Now that you're familiar with many of the ways to give your backyard more privacy, it's time to discuss specific fencing material options. Find the right kind of fence for your yard based on details, such as design, durability and price. Check out the different types of privacy fencing below before choosing the best type of privacy fencing for your backyard:
Wooden Boards
Using wood as your backyard fencing material gives you a lot of flexibility in terms of style, color, design, height and shape. For example, you can get staggered wooden boards stained in a wide range of shades, including black, yellow, red, green and more. With the proper construction and regular maintenance, you'll be able to enjoy your wooden fence for years to come.
Here are the pros of wooden boards:
A local hardware store will have plenty of style, color and design choices.
Typically, wooden fences are long-lasting.
Using wood is relatively inexpensive.
If you have woodworking knowledge, constructing a DIY wood privacy fence is a cost-effective and convenient option.
The following are potential wooden board cons:
Because wood is a common material, your backyard design won't stand out.
These fences can be susceptible to damage if you don't maintain them properly.
If you're not able to DIY, installation can be costly.
Vinyl (PVC)
PVC, or vinyl, is a sturdy, reliable and low-maintenance fencing alternative to wood. As an extremely strong and artificial material, vinyl lasts longer than wood and won't ever rot, warp or attract pests. Although vinyl isn't a natural material, installing a vinyl fence can give your backyard a more modern, sleek and sophisticated look.
Check out the pros PVC has to offer:
It's a low-maintenance material, requiring only soap and water to stay clean.
It's available in a wide range of colors and heights.
Typically, PVC is inexpensive and will save you money over time because of its durability.
These are the drawbacks of PVC:
A vinyl fence resists paint, so you won't be able to change your fence's color once you install it.
PVC is a plastic-based substance, meaning a PVC fence isn't a sustainable or environmentally friendly choice.
Metal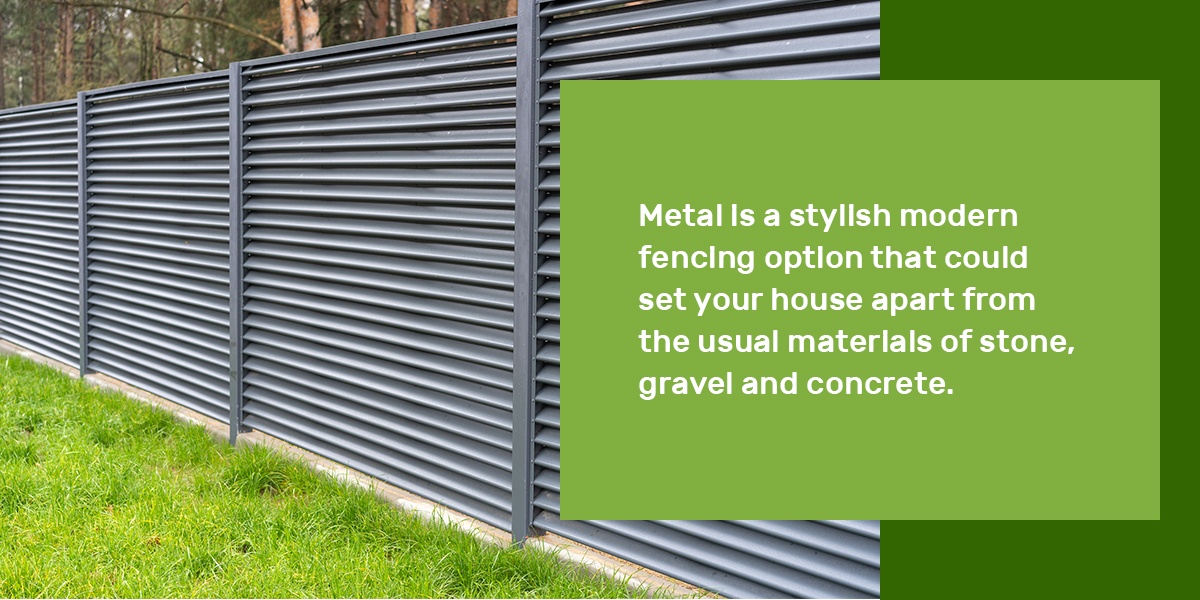 This material is a stylish modern fencing option that could set your house apart from the usual materials of stone, gravel and concrete. Typically, metal fencing has small openings between the different poles, helping you to shield your yard from onlookers without completely taking away from the view. Most often, you can find sheets of metal at a local home improvement store.
Check out the pros of using metal fencing:
Buying sheets of metal is typically budget-friendly.
A well-designed metal fence can be very visually appealing.
It's incredibly durable and long-lasting.
It's low-maintenance and won't fade or discolor.
Before purchasing metal for your fence, consider the potential cons:
Depending on your metal fence design, there may be gaps between poles.
Unless you plan on cutting the metal yourself, metal fence installation costs can be high.
Stone Wall With Fencing
A stone wall topped with fencing can provide both privacy and aesthetic appeal. The stone wall section can serve to interrupt sightlines and add seclusion, while the openwork fencing adds visual intrigue. Using an ornamental, openwork fence for the top of the stone wall also helps the enclosure feel less claustrophobic.
Here are the specific pros of using a stone wall with fencing:
If you're indecisive, stone fencing allows you to incorporate a couple of different materials into your design.
Customize your structure with anything from lattice to a picket fence topping.
This format gives you the best of both worlds — durable stone with elegant fencing.
Stone is a strong material that provides a high degree of privacy.
However, a stone wall topped with fencing does have its drawbacks, including:
Depending on your top fencing choice, maintaining this type of fence could require a decent amount of work.
With multiple materials and intricate installation, stone fencing can get quite expensive.
Panels
If your backyard features a defined area, such as a small patio, deck or outdoor kitchen, the space will most likely be easier to screen than the entire yard. Constructing an enclosure around the defined area will help you cultivate a more intimate setting for entertaining and enjoying the wonderful weather. To close off smaller areas and create privacy, use panels.
The following are the pros of panels:
This option creates a great deal of privacy, making you feel as if you're in your own world outside.
It's possible to choose from a variety of panel styles, including lattice, pergolas and more.
Adding curtains to your panels can give them a touch of elegance.
Most panels are relatively easy to move or reposition if you want to redesign your outdoor living space.
These are the cons of panels:
Using panels for backyard privacy doesn't typically work if your yard doesn't already have a defined area.
If you only put panels around one defined area, the rest of your yard is still exposed.
The price of panels greatly varies depending on your choice of material and design.
Some types of panels are more decorative than sturdy.
Hedges
Lining your property with hedges or another type of greenery is a great way to give your backyard more privacy organically. Planting a line of hedges allows you to close in your yard while maintaining its natural beauty. If you're a gardener, you'll love caring for and maintaining your living backyard fence.
Here are a few advantages of having hedges:
It's possible to choose hedges or trees of any height to fence in your yard.
These plants maintain the natural look of your yard.
A living fence made of hedges is far more eco-friendly than a fence made from artificial materials.
Think about the cons before planting your hedges:
Maintaining your hedges includes regularly watering them, trimming them and monitoring the soil.
Many types of shrubs require a temperate climate to thrive.
Growing a long, high hedgerow takes a significant amount of time and money.
Bamboo
Installing bamboo privacy fencing is a gorgeous way to fill in fencing gaps and block views while staying on budget and protecting the environment. Whether your yard has a tropical design or just a natural aesthetic in general, bamboo supplies the perfect sustainable solution for enhancing your privacy.
These are the basic pros of bamboo:
Using bamboo for fencing is an extremely eco-friendly choice.
There's a wide variety of bamboo colors and styles.
A bamboo fence will give your backyard a warm, tropical and relaxing feel.
This type of fencing is remarkably inexpensive.
It's easy to install for DIYers.
Keep a few bamboo cons in mind:
A bamboo fence often has natural gaps, which detracts from the privacy it provides.
This plant often grows rapidly, meaning you must be careful about where you plant it and how you maintain it.
If you live in a cold climate, your bamboo might not grow well.
Benefits of Bamboo Fencing for Backyard Use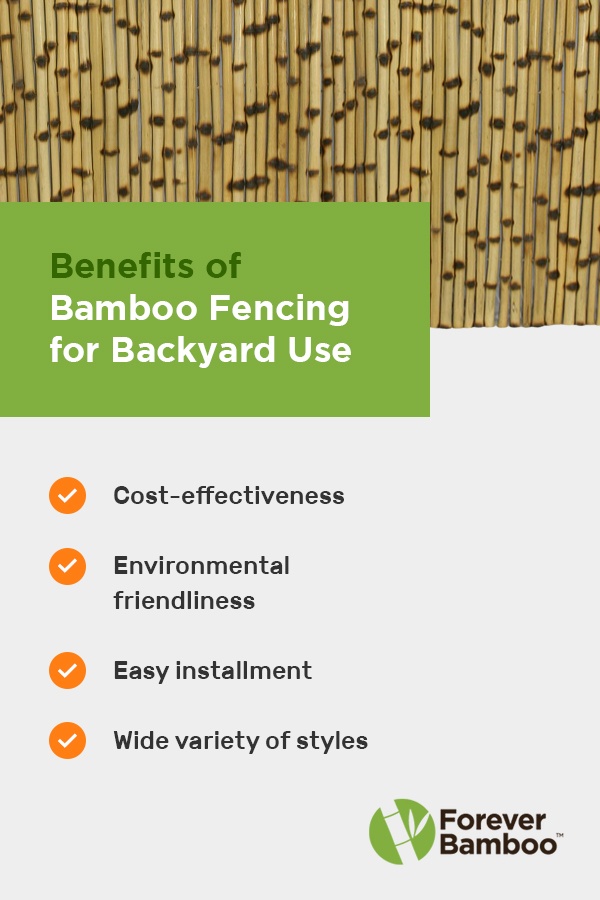 This plant offers an attractive way to shield your backyard from view while adding a decorative element to your yard. A bamboo fence can grow up to about 60 inches, giving your backyard a solid, non-transparent privacy barrier. As a natural material, the beauty of bamboo will also boost your backyard's atmosphere.
The secret to unlocking all the benefits of bamboo lies in knowing when to use bamboo fencing. Although bamboo naturally has some gaps, planting bamboo can still offer your backyard a moderate amount of privacy — certainly more than something like a chain link fence. This plant grows tall and strong, making it well-suited for blocking off smaller sections of land and creating backyard hideaways.
When used right, bamboo fencing provides several benefits:
Cost-effectiveness: A bamboo fence is quite inexpensive when compared with traditional privacy fencing materials like hardwood or stone. It's also a relatively easy DIY project, so you'll save money by installing it yourself.
Environmental friendliness: Unlike the trees used to make wooden fence boards, bamboo is a grass that grows remarkably fast, preventing deforestation. Because bamboo is sustainable and easy to replace, it's an environmentally friendly building material.
Easy installment: Even those with limited skills can install bamboo fencing on their own. Choose between individual poles or rolls of bamboo fencing, neither of which require a skilled contractor, multiple helpers or even a post hole digger.
Wide variety of styles: This fencing is available in a range of styles, colors and heights. Pick from short fences, tall fences, natural bamboo, deep-black bamboo, rich honey-hued bamboo and more. Customize your yard's look even more by picking between whole bamboo poles and split bamboo.
How to Install Bamboo Fencing
If you're ready to install your own bamboo fencing, you may want to start by having your property surveyed. Getting your yard surveyed will ensure your bamboo fence is completely on your property, not encroaching on any neighboring land. Once you're ready to install your bamboo fencing, all you'll have to do is set up the framework for your bamboo and attach the fencing panels with mounting screws.
Easily add bamboo fencing to an existing fence in your backyard by attaching the bamboo to the posts or framework already provided. From a wooden or chain link fence to a brick or stone wall, you can include bamboo fencing on nearly any backyard structure for a bit of extra decoration and privacy.
Shop Bamboo Privacy Fencing at Forever Bamboo
Begin your bamboo fencing project by shopping at Forever Bamboo. In addition to numerous bamboo fencing rolls, we carry Australian timber oil products that will keep your bamboo fence looking amazing year after year. Plus, find other tropical-themed outdoor decor items to complement your beautiful bamboo fencing and complete your backyard's look.
Get the best tropical building materials around and enhance the privacy of your yard by shopping at Forever Bamboo today.