Keep it Cool with a Tropical Party this Summer
A party is always a great time that will create plenty of fond memories. A tropical party is a great theme for birthdays, retirements, pool-side parties, reunions, and many other special occasions! A great way to show that your party is tropical themed is to use thatch skirts and thatch umbrellas.
Thatch is traditionally used to roof buildings, umbrellas, and other structures but it can be used for parties as well. Use it to line your tables as a table skirt or use it as wall cover-ups! Nothing screams tropical like the golden tones of thatch adorning tables, chairs, and umbrellas. This breezy material is easy to decorate with while adding decor to your party.
Pick Thatch to Use
There are quite of number of thatch styles and shapes you can choose from. The Mexican palm thatch is a warm yellow/tan color thatch with a plush look. It is the most popular type of thatch used by resorts, homes, and businesses. African reed thatch is another popular choice with its beautiful blend of greens, browns, and yellows. It has a "cleaner" and more structured look. The Tahitian style thatch is a gorgeous style with muted grays and beiges. This style is commonly seen in the South Pacific tropical beaches. If you want a longer lasting style, there are artificial thatches that come in many styles as well. Any style is a great choice, but if you're looking for a more traditional tropical look, we recommend the Mexican, Tahitian, or artificial.
Table Skirting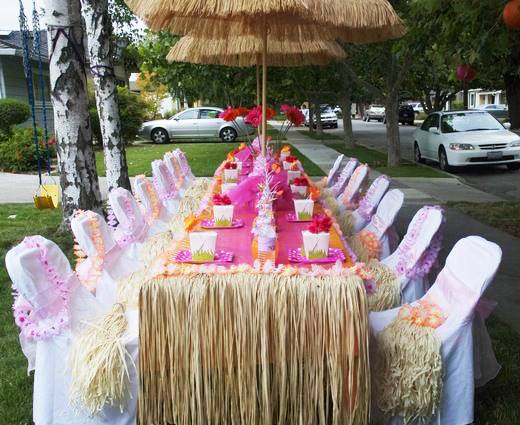 One of the best ways to use thatch panels is to use it as table skirting. This instantly updates your tables for a tropical party. The colors of thatch is also a great complementary shade since it is neutral. For use as a table skirt, we recommend runner rolls since they already come in a long roll. This makes it perfect for lining longer tables and bars and it can be easily layered for a more plush look. For a thicker look, you could use the thatch panels as well. This makes it the perfect backdrop for any color scheme you choose for your tropical party! Popular colors range from magenta, bright pink, yellow, turquoise and orange. With a color in mind, start thinking about other types of decor to use such as flowers, leis, tiki masks, tropical signs, and other tropical decor!
Add Thatch to Walls/Fencing
Also, add these runner rolls or panels to fencing for an instant wow factor. Covering your walls or fencing will make your guests instantly feel like they're in a tropical environment.
Tiki Bar
If you're ambitious, use our thatch to create a beautiful tiki bar. Add a roof and make it a tiki hut to add a little character to your backyard while keeping you out of the sun Getting a premade one can be expensive. Thankfully, it's relatively easy to make a completely free standing tiki hut yourself!
Umbrellas
Thatch umbrellas are another way to decorate your tropical party! These beautiful umbrellas provide shade to your guests during under the warm summer sun. The umbrellas also add height and texture to any space. A Mexican thatch umbrella will instantly upgrade your party with its plush and luxe look.
Need supplies? At Forever bamboo our products are high-quality and affordable. Contact us with questions or to get a quote!