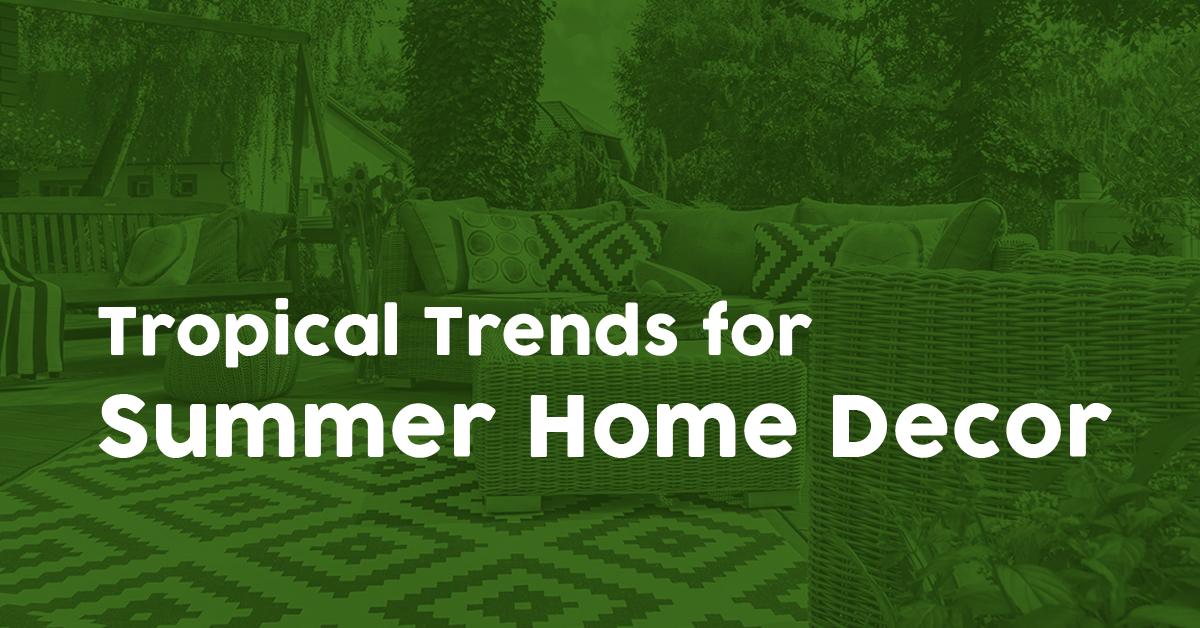 The weather's getting hotter, and you'll naturally want to prepare your home decor for summer as soon as possible. Begin by varnishing wood furniture, dusting off your Tiki torches and pulling colorful accessories from your garage or attic. As you do so, you may realize you're missing a few essential items. If you wish to follow this summer's style guide for tropical-themed decorations and design, read on for the most popular and pervasive trends.
Transform your home or business into an oasis by gathering one or two — or all — of them and enjoy summer in paradise. You won't even have to board a plane!

Poolside Paradises
In an attempt to escape the summer heat, many people opt to take a refreshing dip in the nearest pool. However, the water won't be much relief if there isn't any shade or comfy lounge chairs to sink into. Turn pool areas into cozy wonderlands with the latest fads.
Thatch Umbrellas and Huts
Provide some poolside shade with thatch products for tropical decor. For example, round thatch umbrellas or Tiki huts are great for use in backyards, theme parks, zoos and resorts, converting typical pools into a vacation getaway. They'll also help protect benches, tables and lounge chairs from the elements.
Choose from high-quality products like Seagrass, African Cape Reed and Mexican Palm thatch. Some of these materials act as insulators to moderate cold and warm air. When guests sit under round thatch umbrellas and Tiki huts, they'll likely be cooler thanks to both the shade and insulation.
Tiki Torches
Are you wondering how to make your home feel tropical? Festive lighting can add a hint of paradise to exteriors. Use Tiki torches to line walkways, light patios, illuminate pool areas and gardens. Doing so will help guide the way at night and keep guests safe. Plus, they produce a warm, welcoming glow wherever you place them, providing an everyday paradise for families, tourists and guests. Insert Tiki torches in the ground, put them on tables or hang them from ceiling beams to create magical lighting effects.
Tropical Patio Furniture
Another popular staycation summer trend is tropical patio furniture. From leaf-print cushions to wicker lounge chairs, beachy seating is in. Furniture in bright oranges, teals and yellows can also make spaces feel more tropical. Give your family or guests a comfortable place to sit, enjoy the ambiance and soak up the sun by investing in comfortable chairs and tables. Ensuring they're high-quality will make the experience even more luxurious.
Bamboo Fencing
Complete your tropical oasis with rolled bamboo fencing, available in caramel brown,  black and natural shades of beige, tan and yellow. Even a few feet of fence can add a tropical touch to your interior or exterior space. Install them on top of wood or chain-link fencing for some extra privacy and tranquility. You can even place bamboo fencing within your resort, home or business to create a more tropical-themed interior space.
Bamboo is also 100% renewable, with some species growing up to 35 inches per day. The plant's quick growth rate means it's one of the most affordable and eco-friendly fencing materials available today.  Plus, our products grow organically, without pesticides or chemical fertilizers. Therefore, if you want to reduce your carbon footprint, our bamboo fencing is an excellent choice.
Bold Colors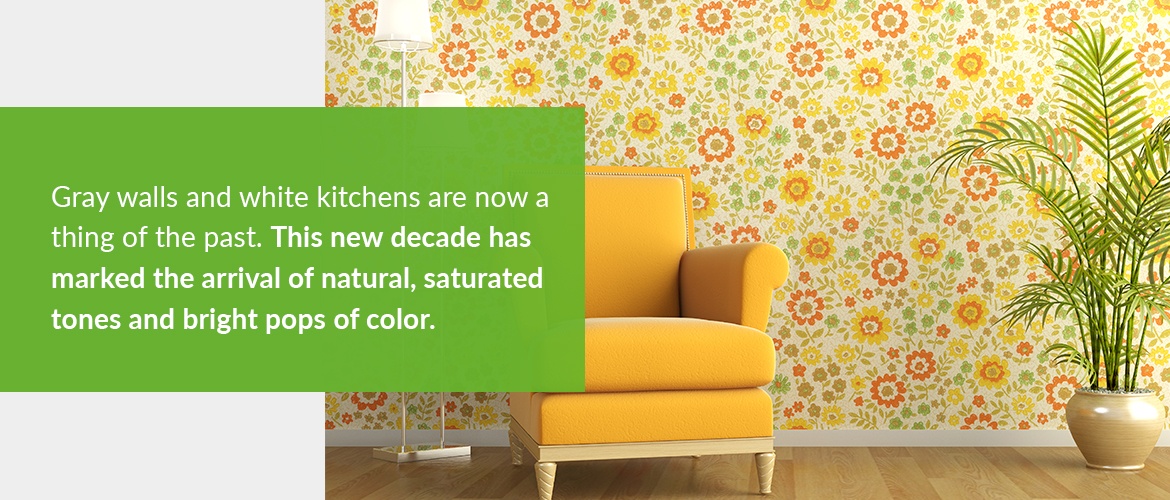 Gray walls and white kitchens are now a thing of the past. This new decade has marked the arrival of natural, saturated tones and bright pops of color. Of course, this lends itself well to trending tropical decor and paradise themes.
Accent Walls
Bright colors may be trending, but that doesn't mean an entire room must be lime green or hot pink to create a tropical oasis. Instead, consider painting one or two walls a bolder color. You might also paint the accent wall the same color as the others, but a few shades darker to add a vibrant pop to the room. These accent walls will liven up interior spaces and create a focal point without overwhelming guests, employees or residents.
Colorful Accessories
Create a cohesive space by adding accessories that complement the color scheme. For instance, if the walls are a bright turquoise blue, consider decorating with throw pillows of similar shades and one or two other colors like light apricot or green. You can also introduce more color with vases, throws, rugs, wall art and other decorations. Even furniture, curtains, drawer pulls and coasters can help enhance the tropical atmosphere if they're the right colors.
Bright Patterns
Adding a tropical-print wallpaper to one — or all — interior walls is also entirely acceptable this summer. Coat the entire bathroom in palm-leaf print or choose a tribal motif to create an accent wall in the lobby, bedroom or common area. You might also take a more subtle approach and incorporate bold, vibrant design with accessories and decorations. Abstract motifs also lend themselves well to tropical spaces, adding a smattering of pattern without being overly busy.
You can incorporate patterns with tiles, too. Cover bathroom floors with bold, colorful tiles or use small ones to create a colorful, tropical backsplash in kitchen areas. Bright tiles also work well on patios, in garden walkways and around pools.
Beachy Furniture
If walls, accessories and floors already display bold colors, furniture can serve as a natural contrast. Placing neutral or light-colored furniture in these areas will break up the patterns and colors, giving the eyes a place to rest.
Light, Natural Woods
While a darker wood like cherry or mahogany may make a home feel like paradise, lighter-colored woods are trending right now. Birch, ash, bamboo and other light woods are an excellent addition to both exterior and interior tropical spaces. Even reclaimed or limed oak can create a rustic, airy feel with the right amount of palm greens and tropical ornaments.
Rattan and wicker furniture are also making a comeback. From beds to lampshades, these natural, rustic materials can complement a tropical-themed resort, home, business space or common area.
Swinging Chairs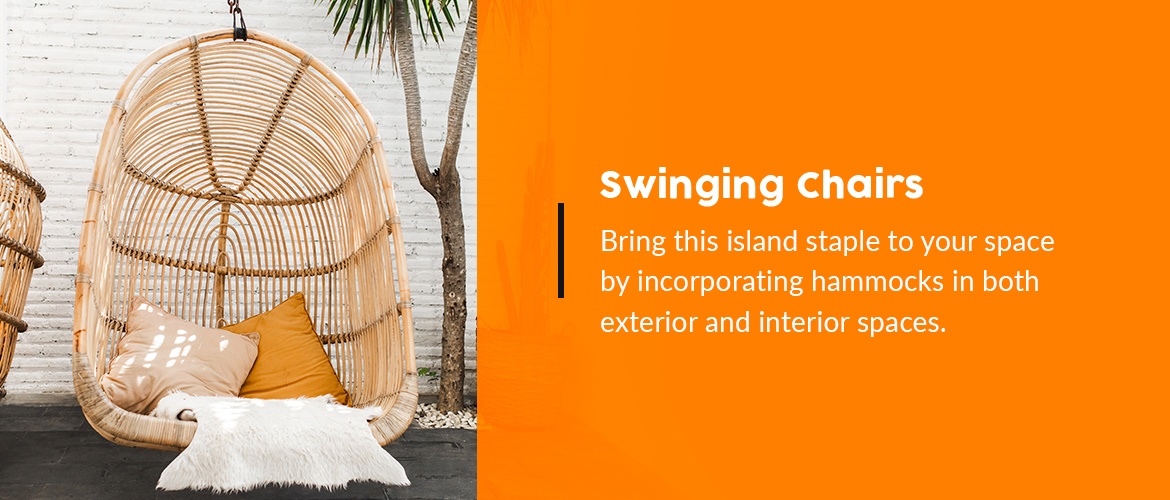 A hammock strung between two palm trees is the height of tropical luxury. Bring this island staple to your space by incorporating hammocks in both exterior and interior spaces. For a more refined and elegant aesthetic, consider a swinging chair instead. Hang from ceilings or rafters or find a chair that comes with a stand for a functional tropical flair your guests, employees or family members will enjoy.
Canopy Beds
While regal canopy beds with heavy tapestries and clunky headboards may have fallen out of fashion, modern versions are holding their own, especially regarding tropical trends for summer home decorating. Opt for a natural wood frame in place of metal or acrylic and drape it in breezy, sheer material. You might even wrap growing vines around the posts for a wilder, jungle oasis feel. For a simpler, calming look, keep the frame bare and add accents with pillows and warm lighting.
Sustainable Materials
Sustainable materials are a major staple in nearly every home decor trend right now. Indeed, more than two-thirds of shoppers consider sustainability before purchasing an item. Moreover, one-third are even willing to pay more for sustainable products. Thus, if you want to create an earth-conscious tropical paradise, it's smart to choose sustainably sourced and eco-friendly materials. You might accomplish this by upcycling, repurposing and making specific design elements by hand.
Rainforest Vibes
Sandy toes and salty skin aren't the only things that come to mind when people envision a tropical paradise. Rainforests have an alluring appeal, too, especially regarding decor. From zebra prints to living greenery, emulating the Amazon with tropical decor for summer is just one more way designers are hopping on this trend.
Rain Showerheads
Nothing screams rainforest quite like rain showerheads. These unique fixtures are a must-have in any tropical-themed bathroom and make showering a luxurious experience. Typically, you install the head on the shower's ceiling, although some newer models may affix to the wall. As most homes have a stereotypical showerhead with a thin stream, adding a rain fixture will upgrade your shower and make many feel as if they're vacationing on an exotic island or showering in the rainforest itself.
Tropical Interior Plants
From orchids to bamboo, tropical plants are practically essential to complete summer tropical trends and create a rainforest aesthetic. If you have enough room, incorporate larger plant varieties — like palm trees and elephant's ear — into your exterior and interior design scheme. However, it's also possible to place smaller plants throughout a home, resort or business and still create a tropical atmosphere. Consider the temperature, space, humidity and sunlight exposure a plant might require before deciding on greenery.
Animal Prints
Embrace the wild side of the tropics by incorporating animal prints in and around your space as well. From tiger-print cushions and pillows to cheetah-print rugs and accessories, there are numerous ways to add little pops of color and pattern to a space. You might even consider covering the walls or an accent wall in a light, neutral shade of zebra print. Combined with other motifs, textures and greenery, prints can quickly add flair and turn rooms into tropical escapes.
Industrial Metal
While patterns and greenery may be trending, no one wants to get lost in a jungle of a room. After all, you want guests, visitors, family and others to feel comfortable and be able to relax. Thus, in the same way that light-colored furniture can break up a room, industrial metal can keep it from becoming overly busy and obnoxious.
Try combining a dark green sink with brass hardware or white kitchen cabinets and drawers with tribal-print pulls and handles. You might also outfit spaces with glass and industrial metal by adding large mirrors and shiny side tables, light fixtures and appliances.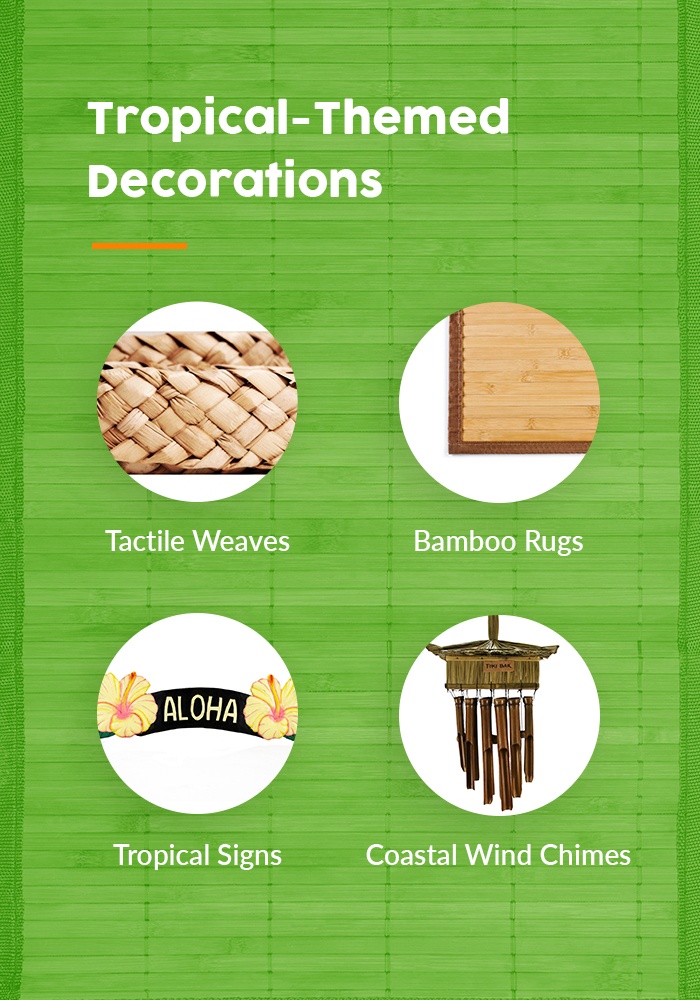 Tropical-Themed Decorations
Of course, animal prints, bright wallpaper and plants are all technically tropical-themed decorations. However, depending on the space you're transforming, you may want to include a few more essential items. The following pieces will help create a more cohesive tropical atmosphere and add the finishing touches to interior and exterior oases alike.
Tactile Weaves
The boho aesthetic and wall hangings aren't new to 2020, but they're still trending and make for great tropical decor for summer home decorating. Hang tapestries, woven mats and similar art pieces and even braided Seagrass on walls as decoration.
You might also plant your tropical flowers and greenery in woven baskets and place them around the home, business or resort. You can incorporate the light, caramel tones of bamboo by placing woven mats throughout a space. Use them as table runners, placemats and even wall or ceiling decor, cutting the material to your desired length to fit each space.
Bamboo Rugs
Use bamboo rugs to prepare for wet feet and dripping swim trunks as people return from the pool. Instead of deteriorating or becoming frayed over time, these rugs can withstand daily use. Placing them on interior floors will extend their life. However, they're quite versatile and will add a touch of tropical elegance to bathrooms, hallways, kitchens, living areas and lobbies alike.
Tropical Signs
It seems every Tiki bar has an "It's 5 o'clock somewhere" sign — and yours wouldn't be complete without one, either. Set the mood and make guests feel welcome with bamboo or wood signage that encourages them to kick back and relax — with or without a piña colada in hand. Hang them from ceilings, walls, rafters, the sides of your bar or place them on shelves.
Coastal Wind Chimes
The sound of seashells or bamboo clinking together isn't likely going out of style anytime soon. The unique melody can lull almost anyone into a relaxed state of mind that naturally comes from spending time in the tropics. Thus, coastal windchimes made this year's list of tropical trends for summer home decor. Hang a natural bamboo wind chime in your Tiki bar, over the back deck or right inside a breezy window to enjoy classic island sounds all summer long.
Bamboo Tropical Decor
If you're wondering how to make your home or business feel like paradise with bamboo furniture, signage, wind chimes, Tiki huts, round thatch umbrellas, fencing, matting, rugs or Tiki torches, look no further. At Forever Bamboo, we are proud to offer all these products and more. Our U.S. warehouse has one of the largest selections of green building materials in the industry. Cost-effective and versatile, our products can be a perfect addition to your tropical summer decor.
As the world becomes more environmentally aware, we also understand how valuable sustainability and durability are to our customers. That's why, when it comes to sourcing our bamboo, we only partner with suppliers who maintain ethical business practices and a low environmental impact. Our team will work with you to recommend products that will complement your home or business.
As you shop, don't hesitate to reach out to our support team with any questions or comments you might have. We'd love to hear from you. Give us a call at 877-912-2244.