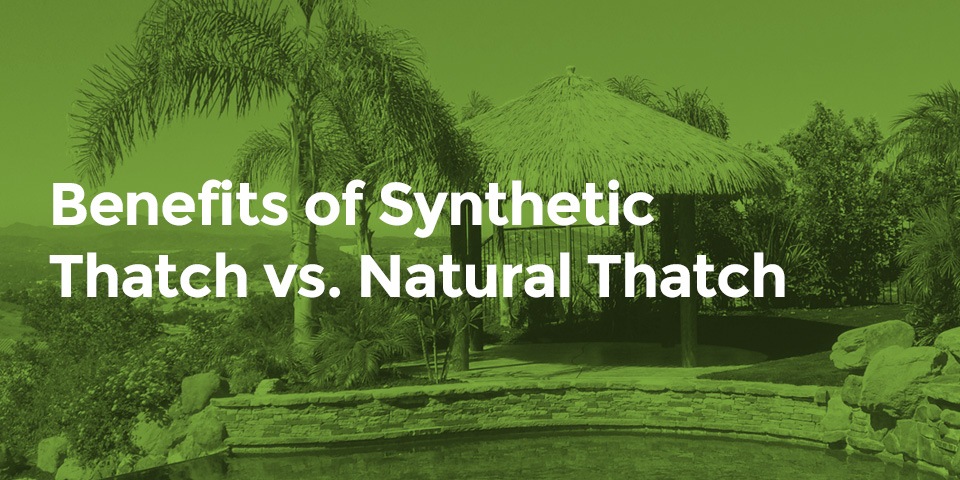 Are you trying to decide on a functional thatch for adding a tropical touch? Both synthetic and natural options have their advantages. If you've only used natural roofing before, consider some of the ways artificial thatch stands out as a quality décor alternative. Discover how you can use synthetic material to make your home or business look even more beautiful.

Jump To Sections:
Types of Thatch
If you want the timeless, tropical look on an outdoor tiki hut or bar, the organic appearance of natural and synthetic thatches will fulfill your need. When it comes to these types of roofing, you have multiple options for each. First, you must decide whether synthetic vs. natural thatch will work better for your application. Then, browse through artificial or natural alternatives to make your final choice.
1. Natural Thatch
With natural thatch, you have three on-trend types — Mexican palm, Tahitian palm and African Cape Reed thatch. These varieties of roofing materials give you different looks. To create these roof coverings, panel makers dry out natural materials, such as reed grass or palm leaves, and sew them together into panels. Since they come from plants, slight color variations commonly occur.
African Cape Reed thatch: The longest-lasting of the most common thatch options, this variety made from grass can last up to 10 years in ideal conditions.
Mexican palm: Mexican palm thatch comes from dried palm leaves that make ideal roofs for Palapas.
Tahitian palm: When you keep it in an ideal climate and adequately care for Tahitian palm thatch, also known as Fiji thatch, it can last up to 10 years.
2. Artificial Thatch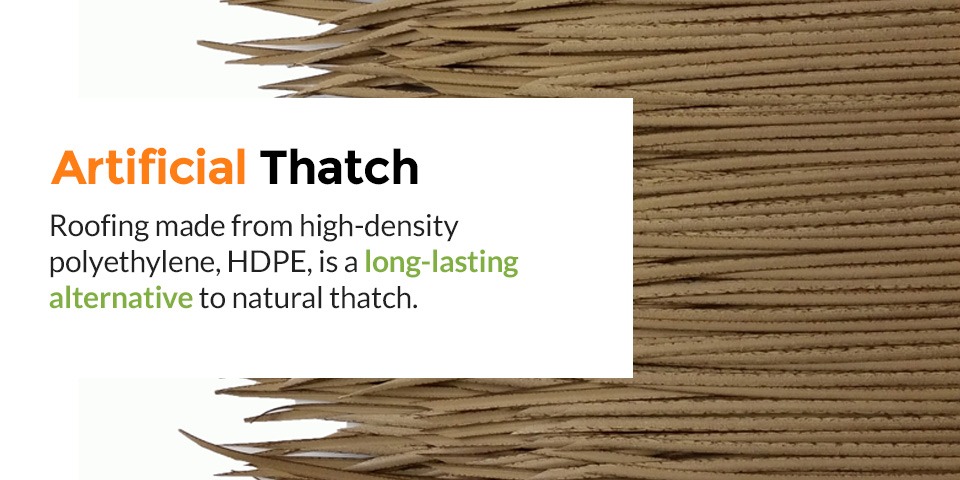 Compared to natural products made from drying out plants, synthetic roofing comes from specially crafted plastics. The use of this material doesn't detract from the appearance of the covering, but instead helps extend the thatch's lifespan.
Roofing made from high-density polyethylene, HDPE, is a long-lasting alternative to natural thatch. This synthetic material is so durable that Viro thatch and Viroreed come with a 20-year manufacturer's warranty. We also have recyclable plastic Baja palm thatch that looks like natural Mexican thatch, but lasts longer.
Pros and Cons of Artificial Thatch
Familiarity with artificial roofing options only serves as an introduction to determining if this choice will be best for your home or business.
1. Material
So, what is synthetic roofing made from? Synthetic or artificial thatch is a material derived from an engineered high-density polyethylene, HDPE. While it is a synthetic material, it is recyclable and has little to no maintenance requirements. This HDPE is an excellent alternative to natural thatch for those who want a great natural-looking thatch roof or umbrella, but do not have the time for, or would prefer not to worry about, maintenance.
Yes, artificial thatch is a plastic material, but it does not look fake. At a distance, few can tell the difference between synthetic and natural thatch products. The construction of the faux roof covering contributes to its other benefits, such as longevity, low maintenance and environmental friendliness.
2. Longevity
Compared to natural versions, extended lifespan is one of the notable benefits of artificial thatch. Even compared to African Cape Reed thatch, which can last up to a decade in ideal conditions with perfect care, synthetic options outlast their natural counterparts for twice as long. With 20-year lifespans common for faux thatch, this option becomes a good choice if you want a long-term investment.
The secret behind the longevity of synthetic thatch is its durability. The HDPE material can withstand many natural elements that tear through thatch made from dried plant matter. Sun, rain and pests do not cause the same level of damage to artificial thatch as they do to natural products.
3. Maintenance Level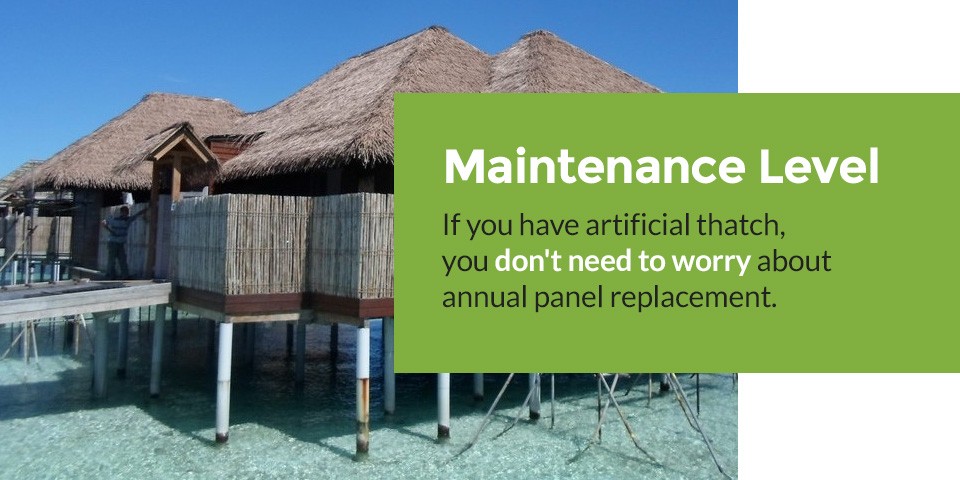 Those who choose natural thatch must have a genuine appreciation of the use of organic plant materials. However, this comes with the need to replace thatch panels regularly, as they wear out from exposure to the elements. If you have artificial thatch, you don't need to worry about annual panel replacement. If you have high roofs or hard-to-reach places, synthetic thatch that does not need regular maintenance may be a better option.
For commercial operations such as resorts or golf courses with multiple thatch-covered roofs, synthetic panels may be the best choice for your facilities. You won't have to spend as much money or time for crews to check and repair the thatched roofs, and the coverings will last longer.
If you're a homeowner who wants to boost your home with a tropical look, you can get the appearance of an island retreat with synthetic thatch. By choosing artificial thatch, you won't add the chore of climbing on top of your cabana or outdoor bar to check the thatch and replace it. The covering will last longer, too. Unless you plan to remove your tropical accents after just a few years, artificial thatch will be a better investment for your backyard.
4. Variety
Artificial thatch does not rely on plant growing seasons or availability. Because it comes from manufactured and formed HDPE, panel makers can create synthetic thatch to look like many different types of natural panels. You can get the look of naturally frayed Mexican palm or the appearance of straight African Cape Reed thatch.
In addition to the variety of options you have, the final products have a more consistent appearance compared to natural thatch. With any product made from drying plant matter, the final look depends significantly on the natural variations in the greenery used. With artificial thatch, you will enjoy more color and texture consistency, though it will still look natural.
5. Environmentally Friendly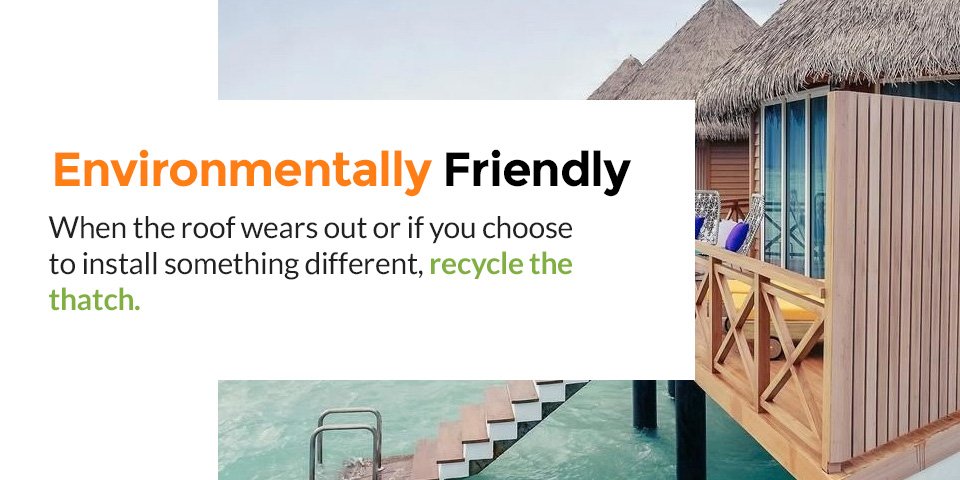 If you feel concerned about the HDPE construction of artificial thatch, don't be. The material is 100% recyclable. When the roof wears out or if you choose to install something different, recycle the thatch. Few other roofing materials offer the same ability to stay out of landfills.
Because you don't throw away your artificial thatch roofing material at the end of its long life, the product's carbon footprint lessens considerably, even compared to natural alternatives. Because you must purchase and replace natural thatch more often, its carbon footprint increases due to more delivery trips.
6. Resistant to Damage
The problem most people have with natural thatch is its susceptibility to damage by the elements and pests. Because normal use can so easily damage it, natural thatch requires frequent replacement.
Artificial roof coverings, on the other hand, don't make good homes for mice or insects, nor do these cabana or umbrella toppings wear away as quickly from exposure to the sun, rain and wind.
7. Fire Resistance
With synthetic thatch, you have the option to purchase fire-rated products. Depending on where you live, you may not need to install fire-rated thatch around your home, but for businesses, the extra protection will help keep your business and customers safe.
For commercial ventures, you likely will need to buy fire-rated thatch for your structures. If you wanted to have fire-retardant natural thatch, you would need to purchase a separate treatment to apply to the thatch.
8. Price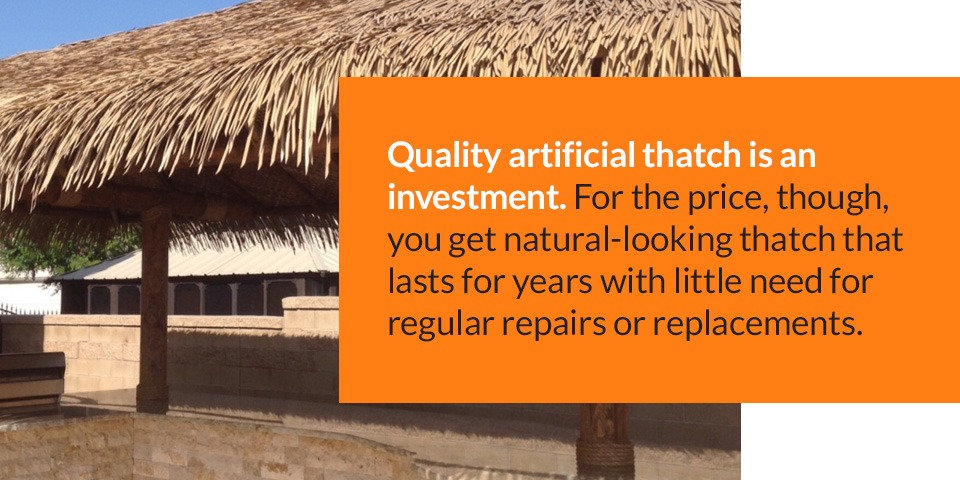 Quality artificial thatch is an investment. For the price, though, you get natural-looking thatch that lasts for years with little need for regular repairs or replacements. You get a return on your initial investment in years of use from the beautiful synthetic thatch for your exterior accent roofs.
If you want a long-lasting thatch that stands up to the elements and looks great, you'll want to consider synthetic thatch products for your home or business. This type of thatch holds up well for decades, with little effort needed to keep it looking top-notch.
Pros and Cons of Natural Thatch
Natural thatch has its advantages, too. Depending on your project, these positive attributes may make natural thatch a better option for you. Also, carefully weigh the benefits and disadvantages of synthetic vs. natural thatch before finalizing your decision.
1. Look and Feel
The coloring and feel of natural thatch do not compare to artificial, but you must be close enough to the thatch to touch it. At this proximity, though, you can readily tell the differences between natural and synthetic thatch.
If nothing will do but natural thatch from dried palm leaves or Cape Reed grass, choose natural roof coverings for your exterior projects. For interior projects, you can also use natural thatch to get the look you want without worrying about the elements causing premature damage to the material.
2. Insulating
Natural African Cape Reed thatch has an added benefit of insulation. During the heat of summer, it keeps the space under it cooler. In the winter, areas protected by a thatched roof feel warmer. The key to these effects lies in the dried reed grass that allows hot air to move up and out of the space under the thatch. This air movement keeps the thatch-covered area cooler in the summer, which is a benefit in places where the African Cape Reed grass grows natively.
Despite these soothing effects, this type of thatch does not provide waterproofing, though it does somewhat resist rot.
3. Water Resistance
Installing multiple layers of natural thatch on a roof allows water to move off the roof, keeping the area underneath dry. Mexican palm thatch is an excellent option for this. People once used Mexican palm thatch to create rain capes to keep themselves dry during the torrential downpours of the rainy season. Today, you can install natural Mexican palm thatch on your exterior structures to help provide similar rain protection.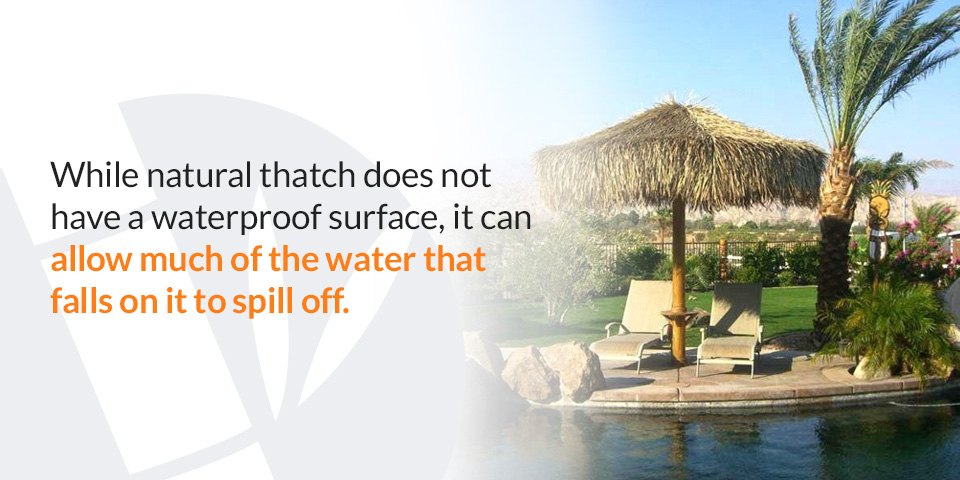 While natural thatch does not have a waterproof surface, it can allow much of the water that falls on it to spill off. For improved waterproofing, you need to treat the thatch with a surface protectant that provides both fire resistance and waterproofing.
4. Maintenance
If you want to install your natural thatch on an exterior umbrella or Palapa thatch structure, you will need to replace panels regularly as they become worn from exposure to the sun, wind and rain. Even in places where these types of thatch appear on structures, replacing the roof covering parts is a regular chore. Your climate and care level will determine the longevity of natural thatch.
To cut down on care, use natural thatch for interior accent pieces or incorporate the cost of replacement panels into your budget.
5. Lifespan
Depending on the climate you have your natural thatch in, you may get up to a decade of use from it. However, this is only half the typical life of synthetic thatch. Synthetic roof coverings don't depend on environmental factors to achieve their long lives, but natural thatch roofs do.
Unlike synthetic thatch materials that almost all share long lives, several factors affect how long your natural thatch will last. First, the type of thatch you choose makes a difference. African Cape Reed thatch and Tahitian thatch last up to 10 years. This maximum lifespan relies on ideal climate conditions and care. Natural thatch can wear down faster when exposed to sun, rain, wind and pests. The fewer of these factors you expose the material to, the longer it lasts.
6. Fire Susceptibility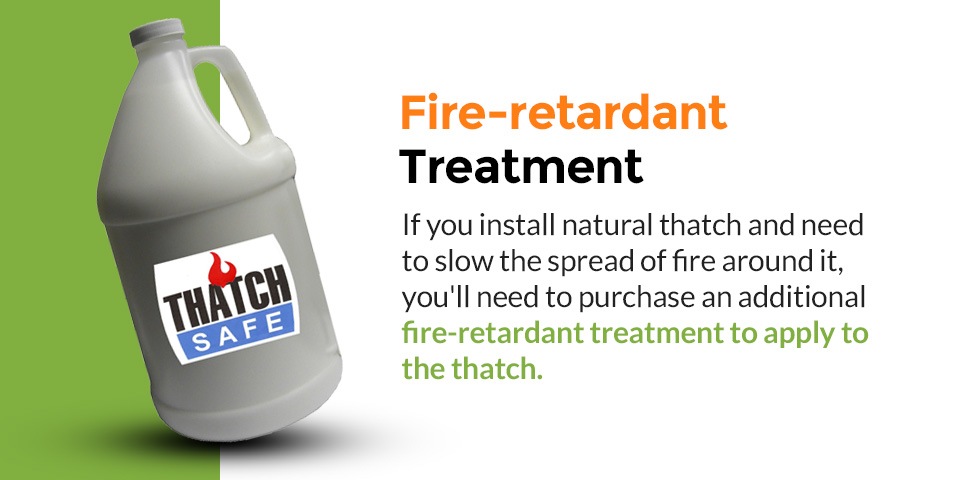 While you can install organic natural thatch almost anywhere, bear in mind it can catch fire and burn quickly. If you install natural thatch and need to slow the spread of fire around it, you'll need to purchase an additional fire-retardant treatment to apply to the thatch. If you replace any natural panels during regular maintenance, you need to apply the liquid to those panels, too.
Artificial vs. Natural Thatch
Comparing artificial to natural thatch on a head-to-head basis may help you select the ideal material. Browse these basics to see how these roof toppings compare.
1. Uses
Natural thatch's only use is as a roofing material. Meanwhile, you can install artificial thatch on roofs, walls or privacy panels. To preserve its longevity, you should install natural thatch inside, where it performs better, but synthetic options last just as long when used with interior or exterior applications.
2. Lifespan
If you need a thatch with a long lifespan, choose faux. With warranties of 20 years, you will have an excellent long-term option for permanent fixtures in your home or business. The longest-lasting natural thatches, African Cape Reed and Tahitian palm, only last for 10 years in ideal conditions, while Mexican palm thatch will last up to five years.
3. Problem Resistance
Weather, pests, sunlight and fire can devastate your thatch-covered structures. Natural thatch can become damaged from all these factors. This likelihood for harm requires inspection and repairs of natural thatch on at least an annual schedule.
Artificial thatch made from HDPE does not wear out the same way natural products do. By resisting damage, you can keep your structures made from faux thatch looking beautiful for years with little effort.
Choosing the Type of Thatch That's Best for You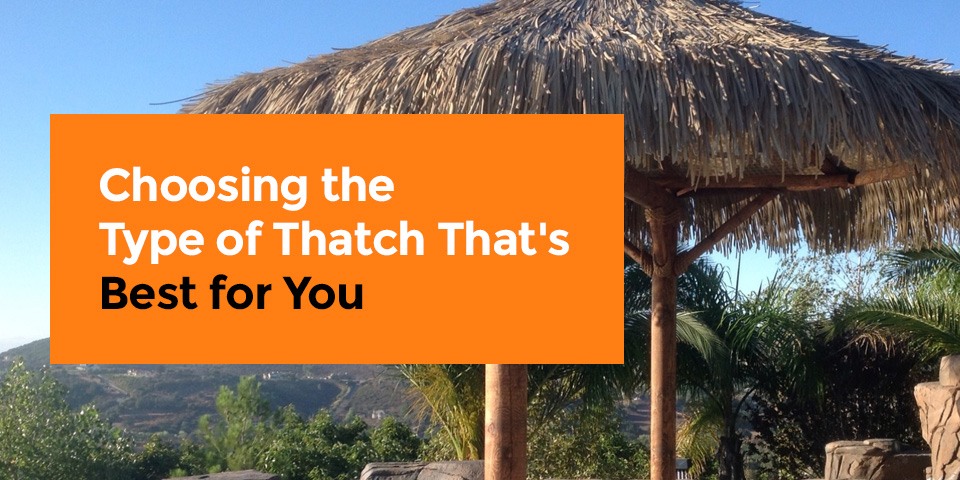 When deciding between the pros and cons of synthetic and natural thatch, you have options to match the type of décor you need. Several applications can make one thatch a better choice than the other. However, your budget, location and use will help you decide which type of thatch is best for your project.
1. Synthetic Thatch for Home Patio Covers
If you want a tropical look around your home's pool or patio, synthetic thatch gives you the perfect vibe without the extra care natural thatch requires. Decide how long you will have the exterior feature in your backyard. For fixtures you will have in place for more than 10 years, artificial thatch will be a better deal. Shorter-term projects can use natural thatch because it will not last as long.
Additionally, if you have the structure near your home, untreated natural thatch could catch fire and spread to your house or garage. Choosing fire-rated synthetic thatch saves you the extra steps of purchasing and applying a treatment agent.
2. Artificial Thatch for Resort Dining Covers
Commercial applications for outside dining include using thatch to create tropical-looking umbrellas over tables on a patio. The umbrellas filter out strong sunlight while adding to the ambiance of the resort or restaurant. If you have multiple tables, installing and caring for natural thatch will prove to be a time-intensive undertaking. Each year, you'll have to have someone install fresh thatch to replace worn panels on the umbrellas. Synthetic thatch will last longer.
Depending on local fire codes, you may have requirements for your dining area to prove any structures near diners have appropriate fire ratings. With synthetic thatch, you have the option to purchase fire-rated roof toppings to match the look of either palm or reed.
3. Synthetic Thatch for Tiki Bars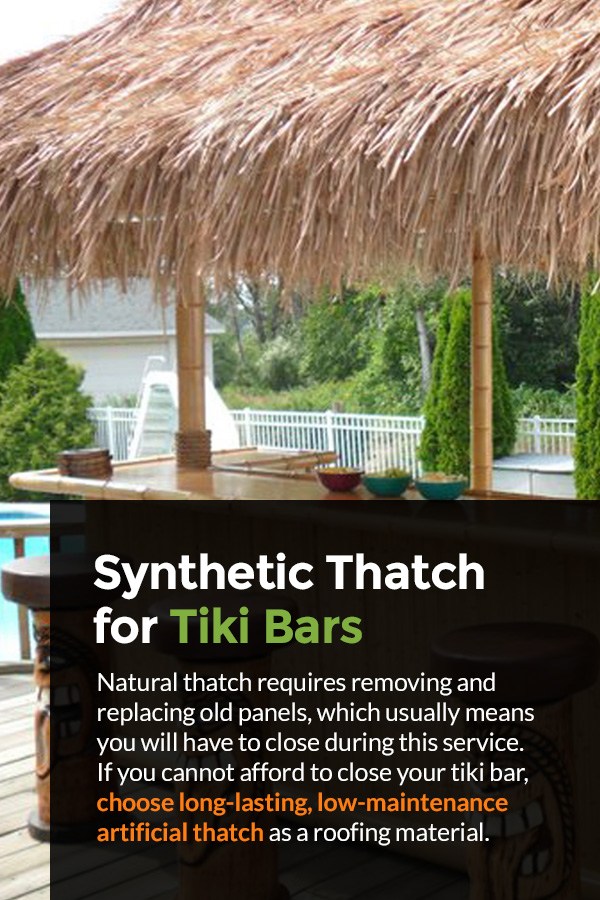 Whether your restaurant has an interior bar or a poolside service, adding a synthetic thatch roof will offer you and your customers several benefits. For exterior tiki bars, your bartender can stay cooler under the shade of a thatch roof. Additionally, if you serve flaming tropical specials, you don't want natural thatch that could catch fire. Artificial will be a better choice, especially if you choose fire-rated options.
Restaurants must do everything possible to keep pests away. Unfortunately, natural thatch too closely resembles the plant matter bugs and mice favor. Faux alternatives don't attract such pests.
If you have a tiki bar near a pool, the extra moisture from patrons splashing and the heat of summer can wear away natural thatch. In warmer climates, you could have the poolside bar open almost all year long. Interior bars don't have to close during the year at all, but you will need to shut down the bar for periodic maintenance of natural thatch.
Natural thatch requires removing and replacing old panels, which usually means you will have to close during this service. If you cannot afford to close your tiki bar, choose long-lasting, low-maintenance artificial thatch as a roofing material.
4. Natural Thatch for Interior Accent Pieces
Often, resorts and theme parks have gift shops that continue the motif of the location. For places with a tropical or safari vibe, using thatch-covered umbrellas inside a gift shop is a way to maintain that décor option. Because these accent pieces are in the protected area of a gift shop, you can use natural thatch for them.
Since shops frequently rearrange their displays to spotlight various products, the natural thatch-covered umbrellas will likely get regular attention. The shop workers can replace any worn panels, but because the thatch does not have exposure to weather that can prematurely wear it, the umbrella coverings will last longer than if you installed them in the elements.
Artificial and Natural Thatch at Forever Bamboo
After evaluating the pros and cons of artificial thatch and natural options, browse through our selection at Forever Bamboo. We have long-lasting faux thatch that replicates the appearance of either palm or reed grass. If you still prefer the texture and look of natural roof coverings, we have those, too. Whether you want a Tahitian palm thatch to cover a bar in your tropical oasis, or you want African Cape Reed thatch to give your space a safari feel, we have you covered.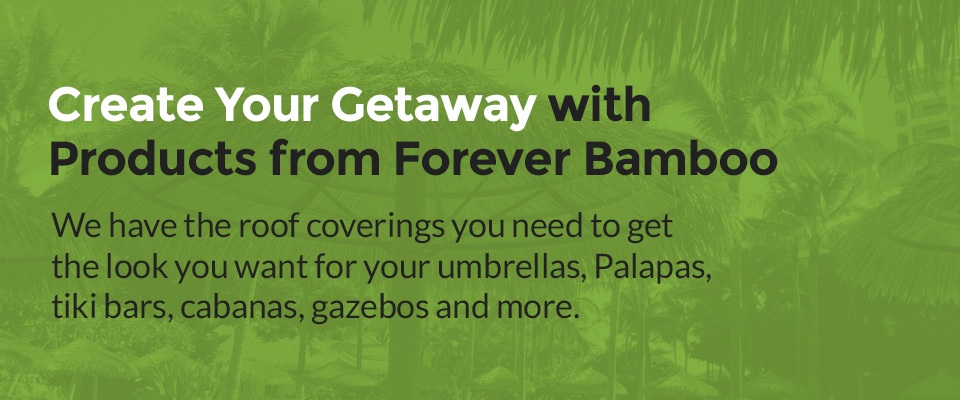 Create your getaway with thatch roofs for your outdoor elements. We have the roof coverings you need to get the look you want for your umbrellas, Palapas, tiki bars, cabanas, gazebos and more. Explore your options at Forever Bamboo.