When it comes to the most classic roofing materials on the planet, thatch stands out for its popularity throughout history. What makes thatch roofing so appealing, though? Thatch offers consistent performance and attractive looks. With our different thatch options, you can create your own tropical escape in your backyard or business.
Want to cover one or more of your exterior structures with Mexican Palm Thatch, Tahitian Thatch, African Cape Reed Thatch, or Artificial Thatch? Keep reading to learn more about thatch and its best qualities.
Jump To Sections:
What Is Thatch Roofing?
The term "thatch" traditionally refers to a collection of grasses, reeds and other plant-based materials interwoven for strength and resilience. For example, Mexican Palm thatch is constructed by expertly weaving palm tree fronds and leaves. This process creates a brand-new thatched product and keeps the fronds and leaves from separating prematurely.
When used in roofing construction, thatch helps block the elements, such as water and sun. Many people have rediscovered sustainably sourced thatch for its best properties in recent decades.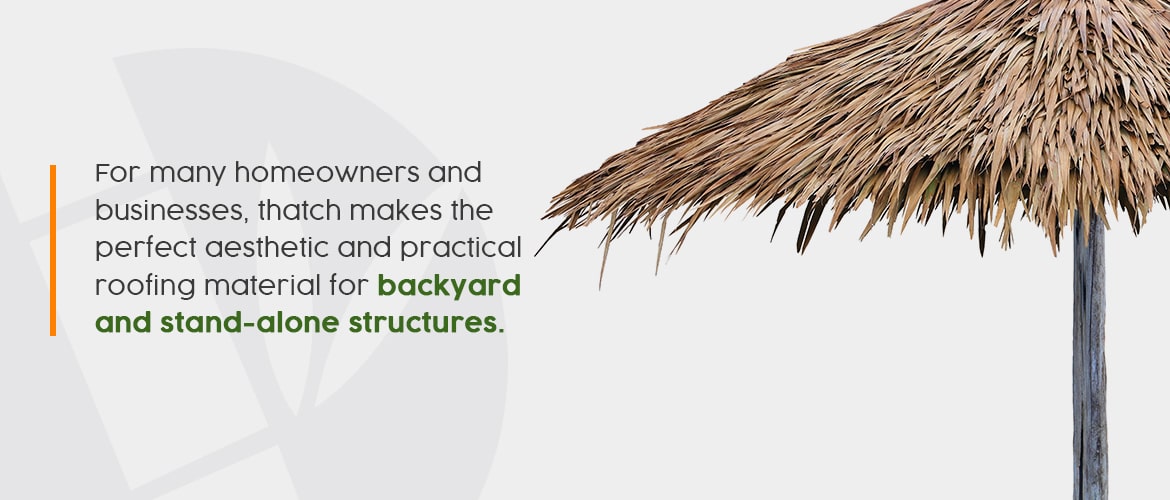 Where Can Thatch Be Used for Roofing Projects?
Both naturally occurring and synthetic thatch are eye-catching roofing options. For many homeowners and businesses, thatch makes the perfect aesthetic and practical roofing material for backyard and stand-alone structures. These can include palapas, gazebos and cozy bungalows.
Is Thatch Fire-Resistant?
Natural thatch roofs are not automatically fire-resistant but can be treated with fire-rated thatch sealant. Applying this sealant effectively reduces the chance and overall impact of a fire. Roofs treated with fire-rated thatch sealant produce about half as much smoke as their non-treated counterparts. Some products, such as these Viro Java 3L thatch panels, are fire-resistant without needing sealant and are a great fit when it comes to commercial projects.
Is a Thatch Roof a Good Choice?
For many people, thatch roofs provide an opportunity to bring a tropical, exotic or oasis-like aesthetic to their backyards, commercial spaces and other outdoor areas. Thatch continues to be a go-to choice for many homeowners and business owners eager to bring a fresh, attractive vibrancy to their properties, and covering your roof with thatch materials can help you achieve the structure of your design dreams.
How Long Does a Thatched Roof Last?
A natural thatched roof's longevity depends largely on climate. In dry regions with moderate climates, Mexican Palm Thatch can last up to five years, and one to two years in more humid or harsher climates. Tahitian Thatch can last five to seven years, and African Cape Reed Thatch can last eight to ten years. If guaranteed durability is what you're looking for, our Artificial Viro Thatch panels come with a 20-year warranty! To get the maximum value out of any thatch roof, invest in a high-quality product that features expert weaving. With the best thatch product possible, you'll have a great foundation to meet your exterior structural and landscaping needs.
What Kinds of Thatch Are Available?
Forever Bamboo offers several reliable thatch products:
Mexican Palm thatch
African Cape Reed thatch
Tahitian and Fiji Palm thatch
Artificial thatch
Fire-rated thatch sealant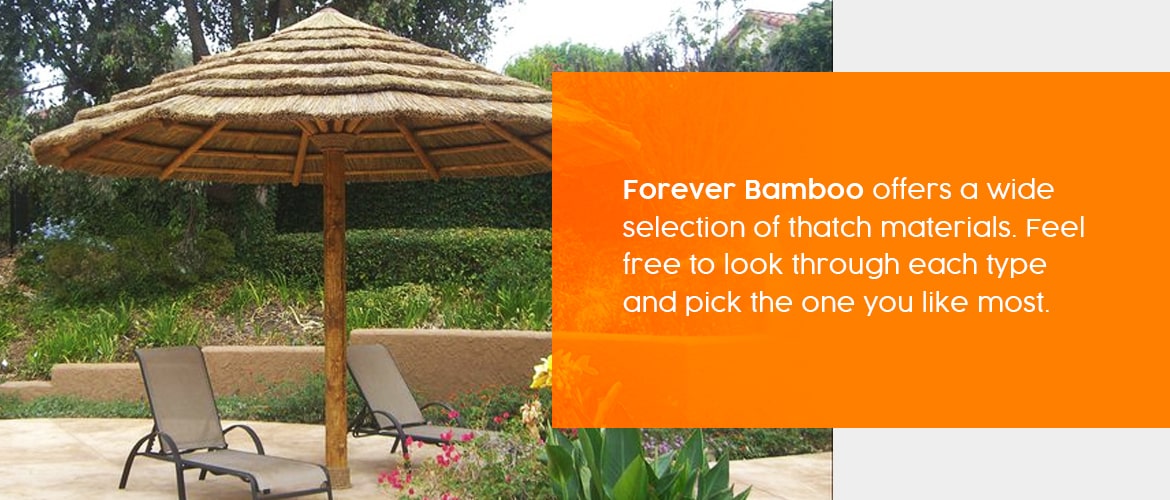 Where Can You Buy Thatch Roofing Materials?
Putting up a dependable thatch roof requires that you find thatch roofing materials you can rely on. As with any project, your materials' quality significantly impacts the final results.
Forever Bamboo offers a wide selection of thatch materials. Feel free to look through each type and pick the one you like most. If you have questions, call our team at 877-912-2244 to get knowledgeable answers about thatch roofing.