Tropical accents like tiki masks, signs or statues can instantly add an island flair to your backyard.
Install brightly colored adornments in a tiki bar or under a thatch umbrella for an authentic "Margaritaville" experience.
Line a pool or a walkway with tiki torches and you'll feel like you have been transported to an exotic island and forget you are conveniently at home.
A tropical themed backyard should have one main area of focus with supporting accents throughout the scene. By hanging a bright colored "Aloha" sign to offer decorative signage throughout your yard.
Build a border along pathways or in the garden. Bamboo borders add for an environmental alternative to wood that adds the extra touch of a tropical feel to your yard.
Edging in a garden is a great décor piece to enhance the overall feeling of a tropical paradise. Flower beds and gardens are a great place to put bamboo, giving it a warm feeling to the area. If you plan on installing bamboo edging outdoors in direct sunlight it is a good idea to treat bamboo with a clear sealant to extend the lifespan
Place this under your outdoor furniture or strings of twinkle lights for night-time ambiance.
Fencing comes in various sizes and colors and can be used for just about anything. Install it over an existing fence to add life and color in a few steps. You can use it to panel a do-it-yourself tiki bar or to give your backyard additional privacy. A bamboo fence is strong, durable and easy to install. This fencing can even be used as an animal enclosure or to divide a patio or garden.
Bamboo poles are versatile building blocks that can be used for many projects. Choosing to decorate your canopy with bamboo rather than wood will give the tropical feel that your yard needs.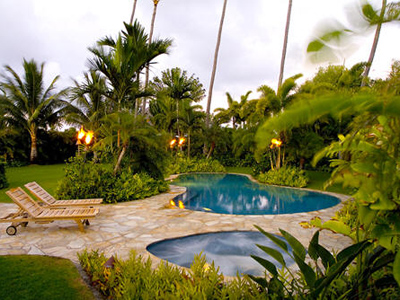 Contact Us
Forever Bamboo offers many different options for tropical décor. The team at Forever Bamboo is available Monday through Friday to process orders and respond to customer requests. Find out why we're the number-one supplier of tropical decor to homes and businesses across the country.
If you have any questions contact Forever Bamboo or call for more information at 877-912-2244.