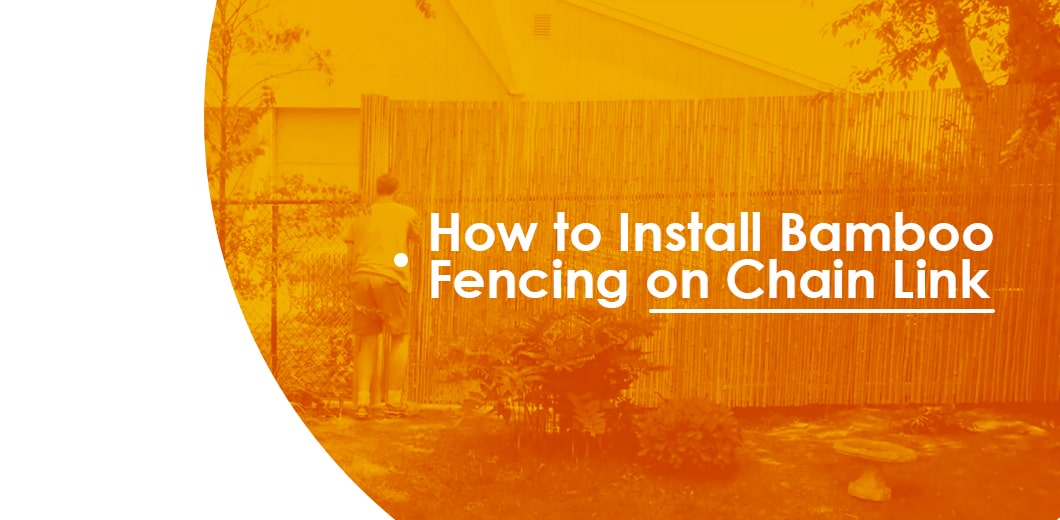 Beautiful fencing stands out — it shows that you care for your property and want to create a private, atmospheric space.
Whether you want to upgrade your commercial or residential property, durable, attractive fencing is a quick way to boost your curb appeal and your property value. But if you already have a fence installed, replacing it with new materials can be expensive and time-consuming. Many property owners are faced with a dilemma — do they stay with an outdated chain link fence, or do they invest large amounts of time and money into installing an entirely new fence with new materials and designs?
Fortunately, installing bamboo fencing over existing chain link is a moderately easy project that instantly upgrades the look and atmosphere of your yard. Beautiful, eco-friendly and strong, bamboo is the perfect way to transform your space, and you don't need to tear down any existing chain link to build a new fence with this durable and versatile material.
Jump To Sections:
How to Install a Bamboo Fence on Chain Link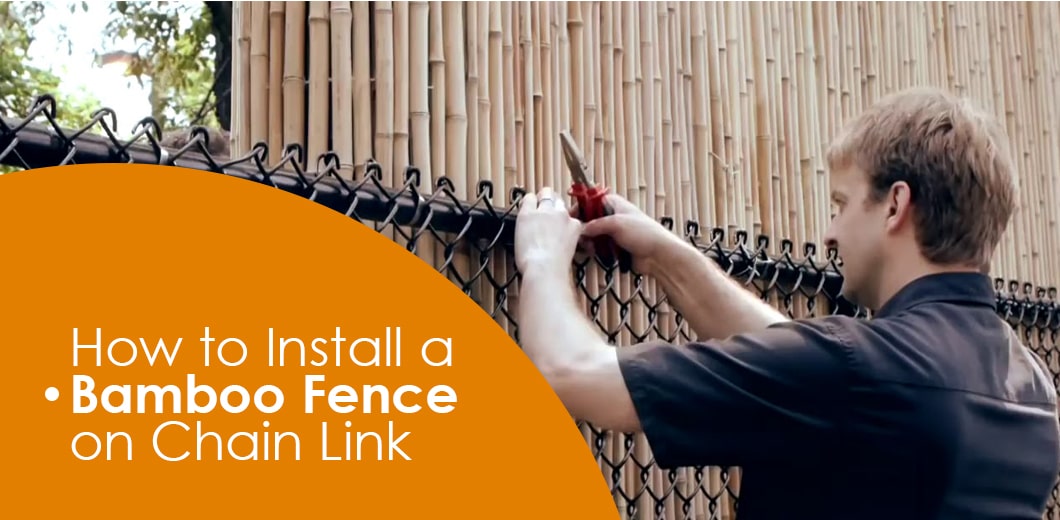 To build a bamboo fence, you don't have to hire a team of professional contractors or tear down your existing chain link fence. If you enjoy DIY projects, you can easily install a bamboo fence using your old chain link fence as a strong frame.
To install a bamboo fence over an existing wire fence, use rolled bamboo fencing. While it is possible to create a fence using individual bamboo poles, the process is tedious, more expensive and takes much longer to complete. It is also best to work with a second person to assist you as you install your fence.
The first step is to gather the required tools:
A chop saw
A pair of pliers
14 to 16 gauge galvanized tie wire or zip ties
Once you have the type of bamboo you want and the tools you need, you can begin your DIY bamboo fence installation. For the best results, follow these steps:
With your assistant, straighten out the roll of bamboo and eliminate any kinks that you see. It's difficult to deal with creases and kinks once the bamboo is installed, so try to get rid of as many as you can before you begin.
Working with your assistant, roll the bamboo out against the chain link fence. Make sure that the roll is level and 1 inch above the ground. To help keep the roll level and raised, try setting the bamboo on a 1-inch thick spare piece of lumber.
Using galvanized steel tie wire or zip ties, secure the bamboo roll to the chain link fence every twelve inches, altering top to bottom as you go.
Make sure the bamboo is level and straight, and trim any excess or visible wire poking through the bamboo.
If you want to hide the chain link completely, you can repeat the process on the opposite side, covering any visible parts of the chain link with another roll of bamboo.
The capping of the fence should be at the top when installed to prevent water damage.
Installing bamboo over chain link is quick, moderately easy and well worth the time investment. Once you're done, step back and enjoy your new, beautiful and environmentally-friendly bamboo fence.
Why Install Bamboo Fencing on a Chain Link Fence?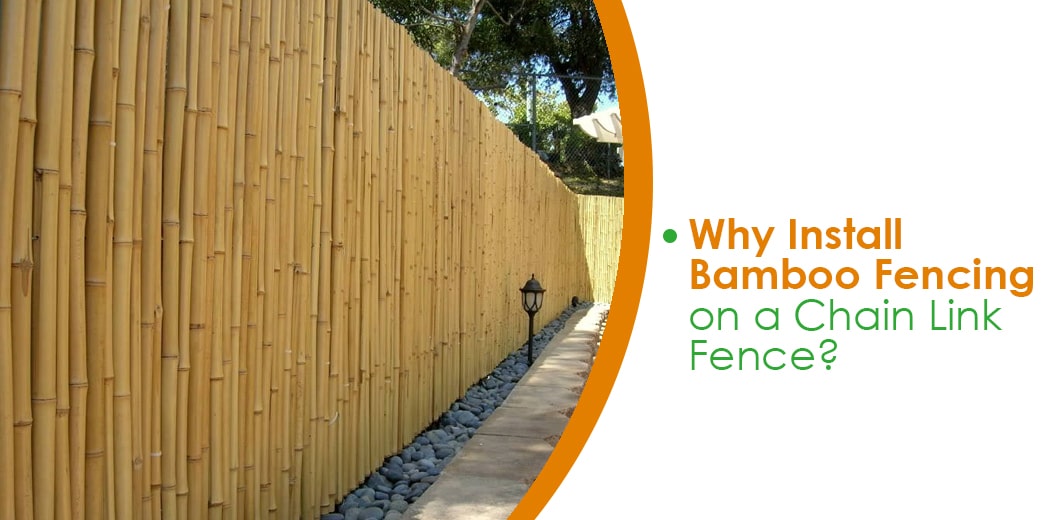 As a building material, bamboo comes with many appealing advantages. However, if you already have a chain link fence installed, you might wonder if the benefits outweigh those of chain link, specifically.
Installing bamboo fencing over existing chain link provides many benefits, including improved aesthetics, cost efficiency and increased privacy.
1. Improves the Look of Chain Link Fencing
The main benefit of bamboo over chain link comes down to aesthetic appeal. Chain link is not known to be one of the most attractive fencing materials — while it is functional, it is not designed to look beautiful.
Alternately, bamboo is known for its beauty and charm. Installing a wall of bamboo over a tired and worn chain link or wire fence breathes new life into your space, boosting property value and curb appeal.
In addition, bamboo can be easily customized to create a wide variety of looks and designs. While chain link has only a few variations, bamboo is available in a broad range of colors, heights and styles, keeping your property looking fresh and on-trend.
2. Easily Installed
Unlike other forms of bamboo fences, installing bamboo over chain link is a simple and moderately easy process.
You don't have to be a professional or hire a contractor to install bamboo over chain link. If you have a free afternoon, some high-quality bamboo, pliers and wire, you can quickly change the look of your property.
The ease of installation is one of the most appealing elements of installing bamboo over chain link — it takes what would otherwise be a time-intensive, tedious process and makes it accessible to anyone who loves a DIY project.
3. Saves Money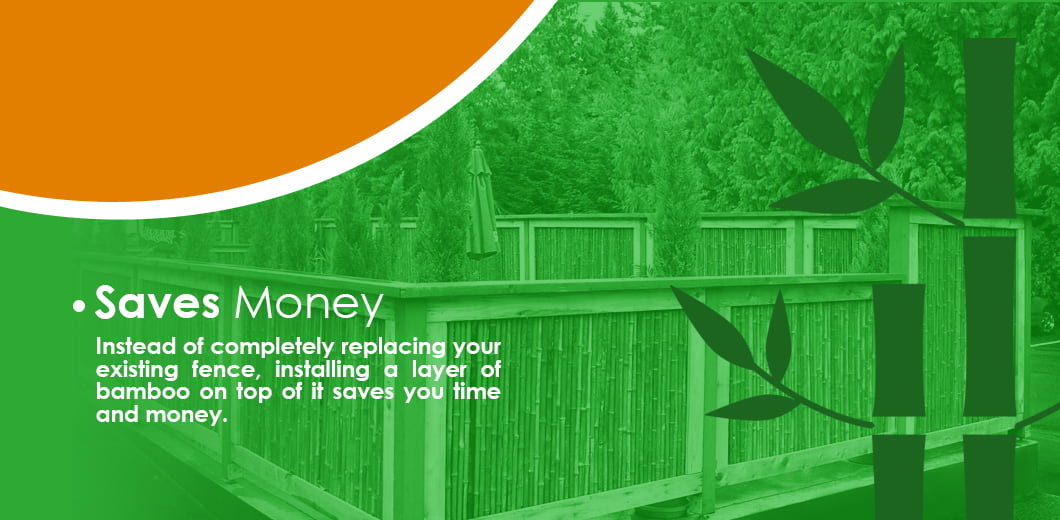 Instead of completely replacing your existing fence, installing a layer of bamboo on top of it saves you time and money.
Removing and replacing a fencing system requires significant effort, time and monetary investment. First, you must remove the existing fence, which is often time consuming and difficult work. After you've removed the old fence, you must install the new bamboo fence. However, installing a new bamboo fence from scratch is more difficult than attaching one to an existing framework — it requires more precision, and often takes a significant amount of time.
Alternatively, using bamboo fencing as a chain-link fence cover is much more affordable, and due to bamboo's strength and durability, it saves you time and money in the long term as well as the short term.
4. Increases Strength
Chain link fences aren't designed for incredible strength.
They are easily climbed, dented and warped — while they are functional, they are not known for their durability. Alternately, bamboo is prized for its strength. Installing bamboo fencing over chain link makes the fence more difficult to climb, and it increases its strength, whether from impact or the elements.
Be sure to choose the correct size of bamboo fence to suit the size of your existing chainlink fence. The bamboo fencing should not be taller than the chainlink fence for safety and stability.
5. Improves Privacy
Chain link fences aren't known for their privacy-enhancing properties.
Comparatively, bamboo provides some privacy, like many natural materials. Whether you are looking to increase the privacy of your backyard or your business, covering your chain link with bamboo fencing increases the privacy of both you and your guests or customers.
Where to Install Bamboo Fencing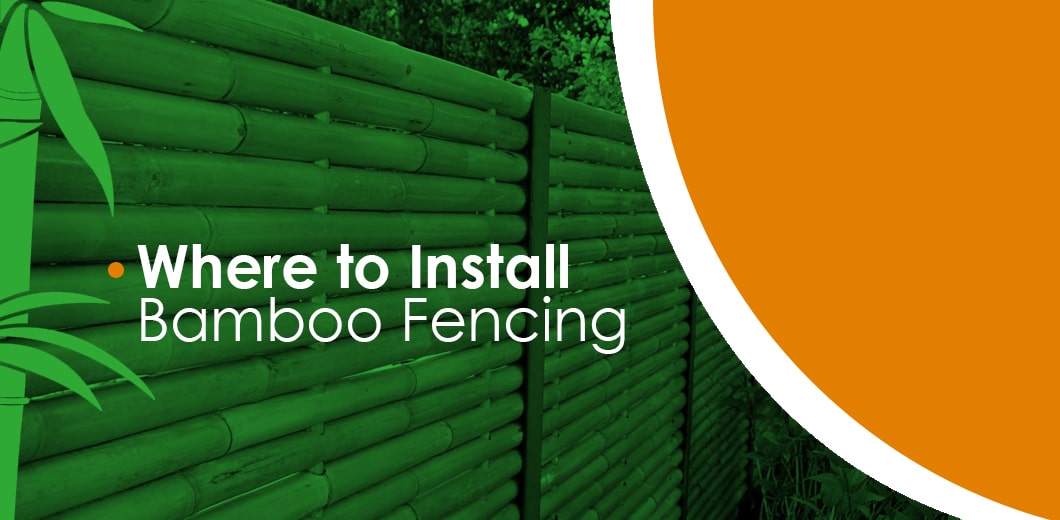 Bamboo fencing makes a lovely and atmospheric addition to any space. However, you might wonder if bamboo is the right choice for your property — what are the contexts where bamboo shines the most?
Below, we've gathered a few of the most popular settings where bamboo fencing is installed. However, bamboo's versatility means that it can work with almost any theme or design.
1. Personal Yards
Bamboo fences are gorgeous additions to personal yards and properties.
If you are looking for an upgraded backyard fence, you can't go wrong with warm bamboo — not only is the material eco-friendly and durable, its distinct appearance creates an attractive, relaxing atmosphere.
You don't have to live in a warm climate to enjoy the look of a bamboo fence. Bamboo is a surprising and charming addition to yards in cooler climates, and although you might have to put in a little extra work to maintain the fence during cold winters, the resulting peaceful atmosphere will be well worth the effort.
2. Tranquil Resorts
Bamboo is a natural choice for tranquil and relaxing resorts.
As a building and fencing material, bamboo easily creates a tropical mood. Especially if your resort is near water or has an Asian, Caribbean or tropical theme, bamboo is a perfect choice for fencing. Bamboo fences help immerse your guests into a different world, one where they can relax and enjoy a stress-free vacation.
Even if your resort does not have a distinctly tropical theme, bamboo can still be an attractive and appropriate fence material — bamboo carries a connotation of far-away and carefree destinations, which works for just about any kind of resort.
3. Atmospheric Restaurants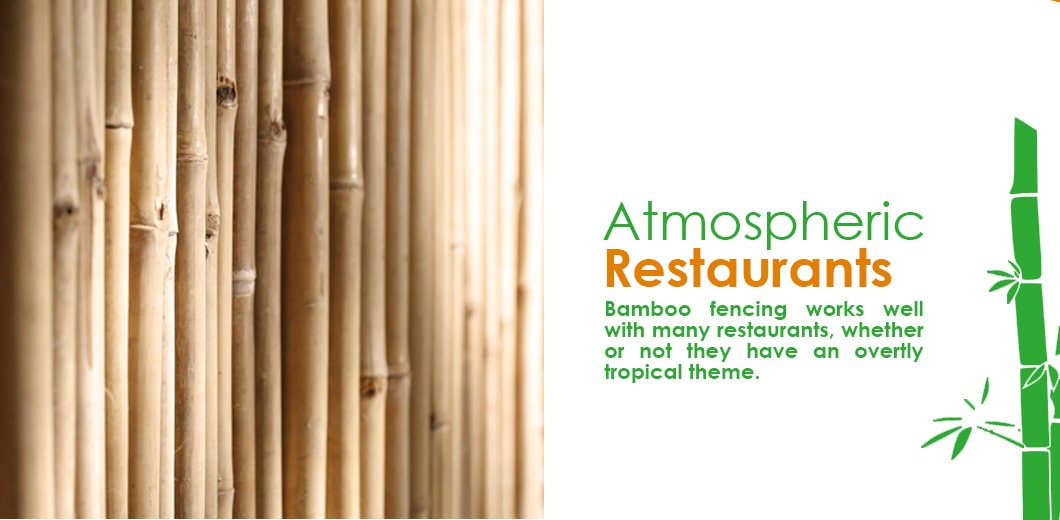 Bamboo fencing works well with many restaurants, whether or not they have an overtly tropical theme.
If you own a restaurant that specializes in Asian-inspired cuisine, bamboo is a logical fencing choice. Not only does bamboo effortlessly fit into the theme of your restaurant, but it amplifies it — bamboo fences transform exterior eating areas and design of your building into an immersive experience. If your restaurant has a tropical theme or is near a body of water, bamboo is also an excellent fencing choice. It will help tie together different aspects of your decor, uniting the restaurant's design and creating a pleasing, cohesive atmosphere.
Even if your restaurant isn't tropical, it can still benefit from a bamboo fence. Bamboo can bring a quirky sophistication to elegant eateries, providing interesting and modern contrast to many decor themes.
4. Zoos and Safaris
A golden bamboo fence is a wonderful choice for zoos and safari parks.
Bamboo's warm tones of yellow and brown go perfectly with the fun, exciting atmosphere of animal-themed parks. In a zoo, guests want to enter a new world — when they see animals on exhibit, they want to be able to picture the animals' natural setting and environment. Bamboo fences help create a unique world for your park, one where you might see exciting and beautiful wildlife around every corner.
Whether bamboo lines the paths through a zoo or the enclosures of a safari park, this versatile wood will create an enchanting atmosphere that will delight your guests.
5. Theme Parks and Mini-Golf Courses
Theme parks are another excellent location for bamboo fences.
While your theme park might not include overtly tropical or overseas atmospheres, a bamboo fence can still blend in with the existing design of your park. When used in fencing and landscaping, bamboo creates clean, pleasing lines — if your park features many colorful signs, rides and decorations, the simplicity of bamboo fencing will minimize any visual noise and create a more stress-free environment.
Mini-golf courses are known for their elaborate obstacles and decorations. Take the theme of your course up a notch with contemporary and fun bamboo fencing. Not only will the bamboo add a fun touch to your course, but a tall bamboo fence will help keep stray golf balls from flying off your property.
6. Relaxing Pools
If you manage a pool property, bamboo is the perfect fencing material.
Because bamboo creates a tropical impression, it can make any pool feel like a warm, relaxing, tropical paradise. Bamboo fences also offer some privacy, which people often expect at a pool.
A bamboo fence will also coordinate with any other furniture or architectural design around the swimming pool — whether you have draping thatched umbrellas or streamlined, modern chairs, a bamboo fence will effortlessly blend into the background and support any type of style.
Benefits of Bamboo Fences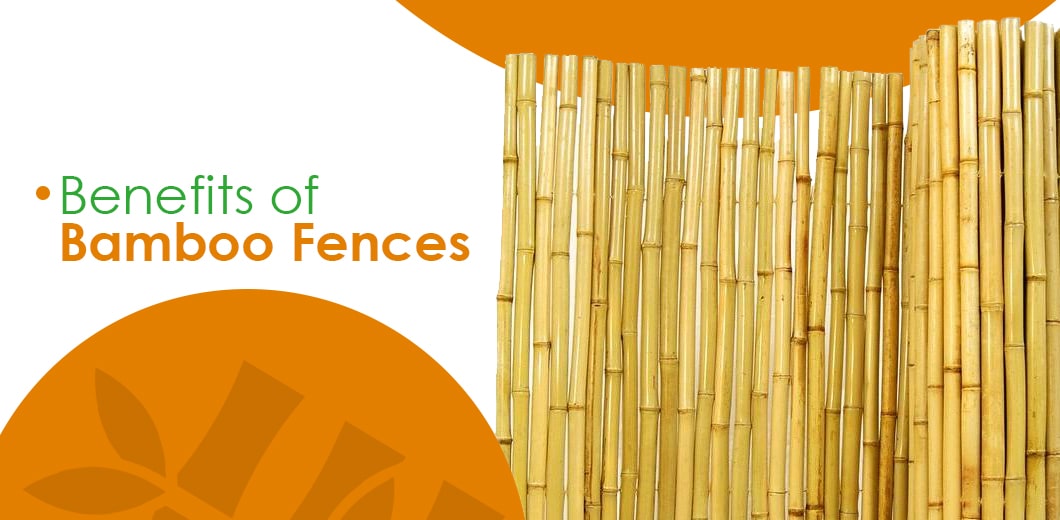 Across the world, many cultures have relied on the beauty and durability of bamboo for a variety of uses — from musical instruments to artwork, bamboo is a highly versatile material. However, bamboo particularly excels as a building and fencing material.
Whether you are looking for a fence that is an intricate work of art or simple and practical, bamboo is the ideal material. Using bamboo in place of traditional hardwood lumber is a fantastic way to keep your landscaping lovely and environmentally friendly. Bamboo is an excellent fencing material that is as pleasing on the eye as it is on the budget.
1. Aesthetics and Atmosphere
One of the primary benefits of bamboo is its beautiful appearance. If you are aesthetically conscious, bamboo makes the perfect fencing material — with a pleasing texture and color, bamboo can transform ordinary gardens or patios into gorgeous spaces with sophistication and taste.
Part of bamboo's visual appeal is in its versatility. Depending on the type of bamboo, its natural color and shading can look simple or complex, and it goes with just about any furniture, design or architectural theme. Bamboo's unique, all-natural aesthetic looks different from traditional hardwoods, creating a distinct atmosphere and appearance.
When installed, most kinds of bamboo are a light shade of yellow-brown. However, over time and exposure to the elements, the wood begins to silver, creating a lovely and soft effect. Bamboo goes well with all types of landscaping, from a backyard vegetable garden to lush and vibrant flower beds.
Bamboo is also excellent at cultivating atmosphere. Bamboo fencing can create Asian-inspired or tropical themes, bringing a tranquil, relaxing atmosphere to any space. Because of its tropical connotations, bamboo instantly warms up a design theme, bringing a peaceful and contemporary look to your property.
2. Eco-Friendly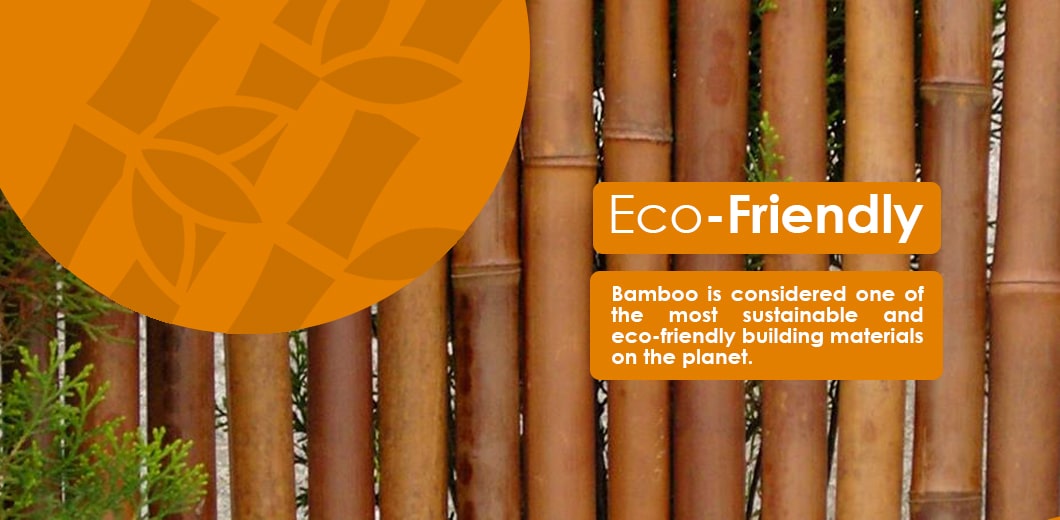 Bamboo is considered one of the most sustainable and eco-friendly building materials on the planet.
As opposed to hardwood lumber, bamboo is not a type of tree — it is a strong, tall grass, and it grows faster than any other plant in the world. Because it renews itself so quickly, it is a highly sustainable resource. Every two to three years, bamboo can be harvested and used. Alternately, it takes a standard cedar tree anywhere from 30 to 50 years to reach a harvestable size.
A natural forest only yields about 20 percent of the yield of a bamboo forest, and manufacturers can harvest a bamboo forest many times without negatively impacting the environment. Highly renewable, bamboo crops help reduce the rate of global deforestation, making them one of the most environmentally-friendly building choices on the market.
Bamboo is a renewable resource — it can be harvested without killing the bamboo plant, and some bamboo species can regrow up to 35 inches every day. Bamboo also releases 35 percent more oxygen into the atmosphere than trees, absorbing greenhouse gases and producing clean, fresh air.
3. Stronger and Harder Than Wood
Bamboo may be a grass, but it is much stronger than most trees.
This tough plant has a greater tensile strength than steel, and it has a fantastic strength-to-weight ratio. Resistant to sun and the elements, bamboo fences hold up in a variety of conditions, from hot and humid weather to cold winters filled with snow. While the exact lifespan of a bamboo fence varies based on its location and environmental conditions, it is strong enough to withstand a wide range of elements and environments.
Bamboo is widely used in a large variety of industrial applications including bridges and road construction, which further proves its durability and strength. If you switch to bamboo fencing, you won't sacrifice the strength of your metal or hardwood fence — if anything, you will most likely improve on it.
4. Cost-Efficient
Because bamboo grows so quickly, it can be harvested often and regularly. This means that bamboo is widely available and more affordable than many hardwoods, and it costs less than other fencing materials such as vinyl.
Installing a bamboo fence is also easier than working with many other fencing materials, which means that you can complete the project without hiring extra help. Using bamboo allows you to save on installation costs, which means you can invest in other areas of your property.
The total cost of installing a bamboo fence depends on how much fencing you need, the style and color of the bamboo and the height of the fence you want to install. However, for most projects, bamboo is a more cost-effective material than other leading fencing materials, and the DIY-aspect of bamboo fences makes it even more attractive for people working on a budget.
5. Easy to Care For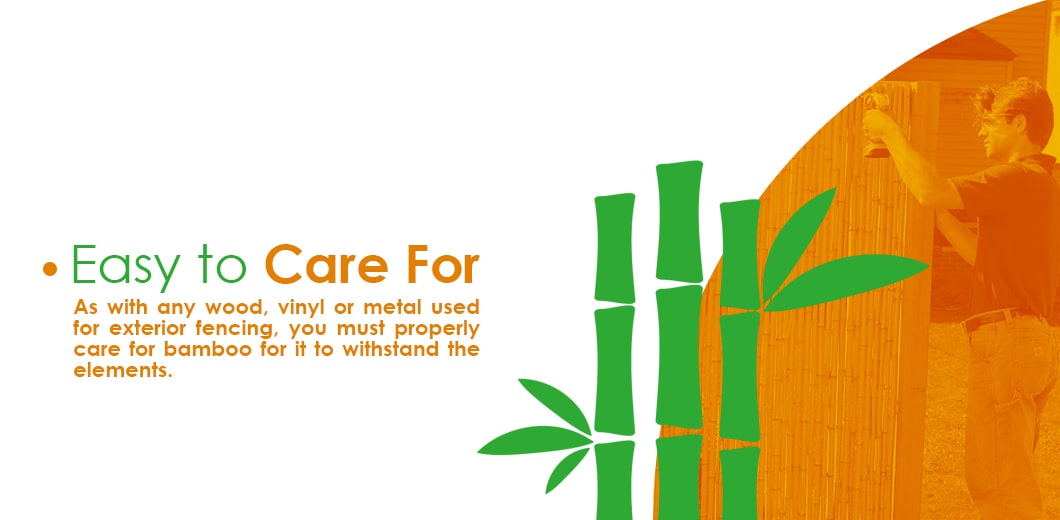 As with any wood, vinyl or metal used for exterior fencing, you must properly care for bamboo for it to withstand the elements. However, when compared to other fencing materials, bamboo is an undemanding wood that can last for many years when cared for well.
To prevent cracking or weakening over time, apply a few layers of bamboo sealant as soon as you install your bamboo fence. Not only will this give the bamboo a beautiful, glossy finish, but it is an easy way to extend the life of your fence. Continue to reapply the sealant as the fence ages, and if you don't like the elegant silvering of bamboo over time, you can use a UV-resistant sealant to prolong the yellow-brown color as long as possible. Occasional cleaning with soap and water is also helpful in combatting fading.
With just a few steps, you can keep your bamboo fence gleaming and looking like new for a long time.
6. Highly Versatile
Another benefit of bamboo is that it's available in a wide range of appearances and styles.
With over 1,000 different species, bamboo comes in a vivid spectrum of colors, styles and heights. Whether you are building a short garden fence or a tall privacy screen, you can find a type of bamboo that is perfect for your needs. The rich, honey color of natural bamboo is gorgeous on its own, but if you prefer to experiment with different tones, you can select from many different hues, including natural black, caramel brown and natural burnt.
Let Forever Bamboo Help You Build the Best Bamboo Fence
Whether you are hoping to upgrade a chain link fence in your backyard or around your restaurant, bamboo is a beautiful, durable, eco-friendly and easy way to change the look of your property completely. To build the best fence, however, you need the best materials.
At Forever Bamboo, we are the nation's leading provider of tropical decor, and we pride ourselves on our eco-friendly, high-quality range of bamboo fencing. Get started by browsing our wide selection of bamboo fencing, and if you have any questions, feel free to contact us. We look forward to helping you build a new, beautiful bamboo fence.