San Diego, CA. In an effort to support education, Forever Bamboo reached out to Temple Beth Orr's Early Childhood Center in Coral Springs, Florida to see how they would be able to help promote eco-friendly learning in the classroom. Temple Beth Orr's ECC provides children ages 6 weeks to 5 years with a warm, loving environment that encourages exploration and creativity in a collaborative atmosphere. With the leadership of veteran teachers Judi Lowe and Lois Kutchera, students participated in free choice activities that stimulated brain development and creativity.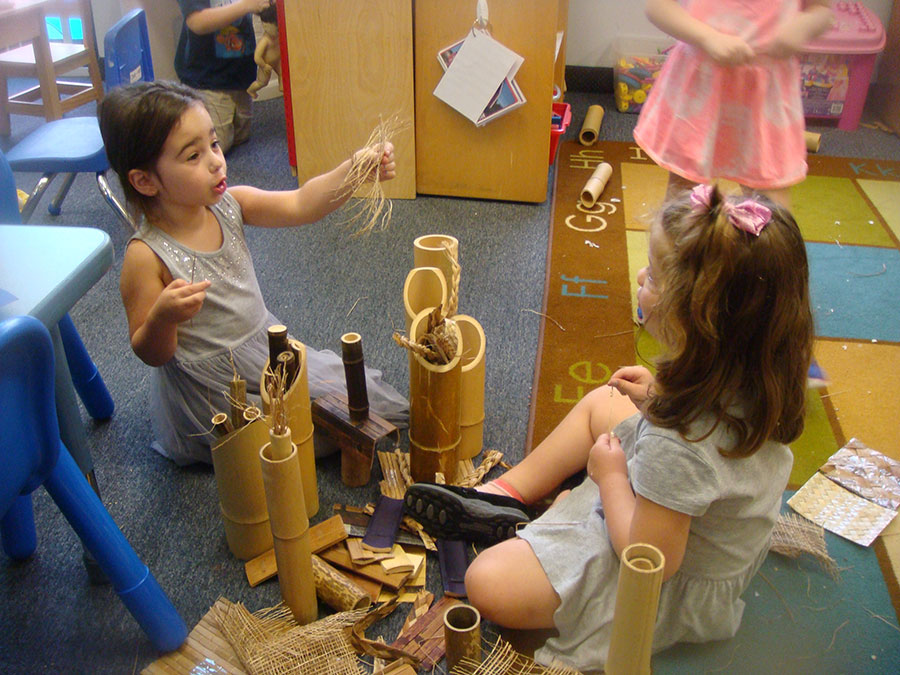 Forever Bamboo gathered an assortment of bamboo products and matting products that were cut and sanded into various sizes and shapes. Two large boxes were donated to the 4 and 5 year old classes to give the students an opportunity to explore and learn with decorative bamboo poles, slats, paneling, tropical matting, braids, and ropes. "We asked the students to use their imagination which welcomed an opportunity to build. In doing that they utilized their cognitive thought process, motor skills, and social skills," said Judi Lowe, educator at Temple Beth Orr ECC.
The donated green building materials helped foster creativity through the manipulation of objects that provoked group learning. Students in both classrooms worked together in groups to express thoughts and invention that encouraged turn taking and communication. The eco-friendly environment that was introduced by the teachers played a crucial role in making a lasting impression on the students and within the classroom. During the free choice activity, students created musical instruments, vases, cities, fire stations, and playgrounds with the bamboo and matting materials. Bamboo slats and Lauhala weaving pieces were also used as tools to incorporate the Reggio Emilia educational approach within the activity. The earth-friendly environment supported physical, emotional, and social growth. By learning social responsibility, the students were able to decipher the importance of working together as a community.
All the donated bamboo and matting items will be used for future incoming students to showcase the importance of going green. "A child is more likely to develop an understanding of eco-friendly benefits at an early age. The staff at Forever Bamboo was very happy to see the students at Beth Orr's ECC make a connection to the environment through an in class learning experience. The teachers did an amazing job leading the activity and had just as much fun with the bamboo as the students did," said Jackie Neiman, Community Outreach Coordinator at Forever Bamboo.
Save