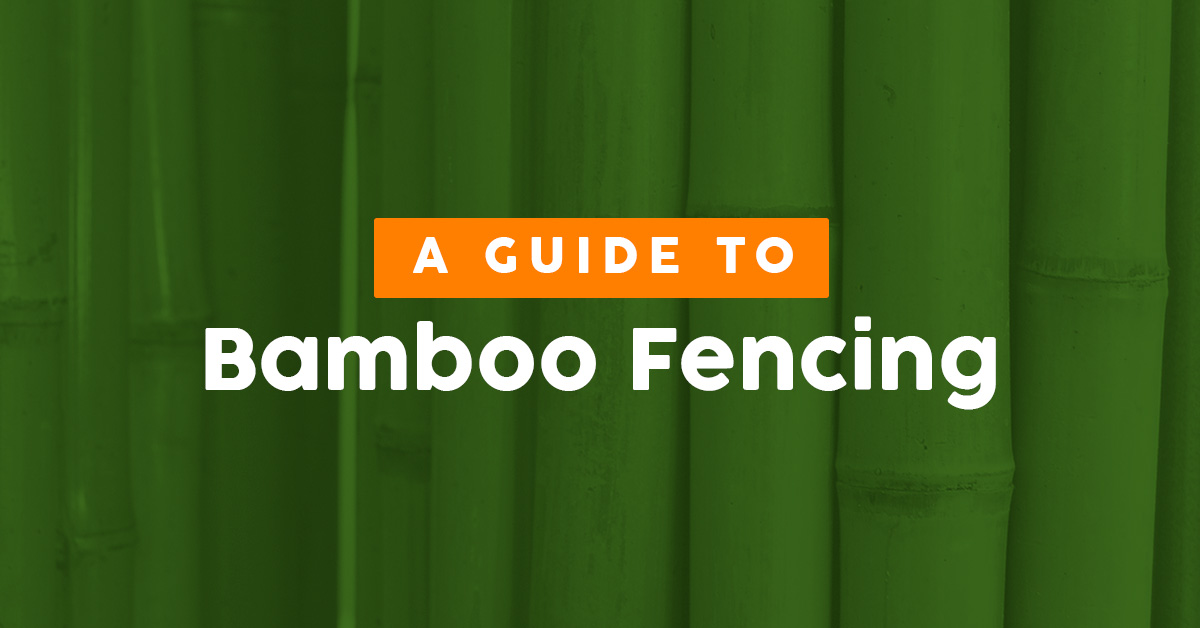 People worldwide have used bamboo for construction, furniture making and other applications for thousands of years. Many factors make it a natural fencing material for properties today:
Convenience: We sell bamboo fencing in convenient rolls that are easy to work with and install, depending on your project difficulty.
Privacy: Bamboo fencing's light, natural look creates intimate backyard spaces that don't feel closed off or isolating. Many of our customers will install a bamboo fence on top of an existing chain link or wooden fence — a fast and economical way to add some privacy to your patio while adding a vibrant tropical theme your guests or customers will enjoy. While the fences have natural spacing between each pole, they still add another level of privacy and look much better than a traditional chain link fence.
Aesthetics: Bamboo adds a beautiful tropical touch to any interior or exterior space. Bamboo rolled fencing provides an island-themed backdrop for any pool, backyard or patio. We sell a wide variety of bamboo fencing and other bamboo products that enhance the ambiance of any residential or commercial setting.
Sustainability: Sustainability is one of rolled bamboo fencing's most significant selling points. Unlike many conventional building materials, bamboo is 100% renewable — plants can be harvested without being killed and regrow up to 24 inches in a day. Choosing a bamboo pole fence over wood will reduce your carbon footprint and prevent soil erosion. Most bamboo is grown organically, without pesticides or chemical fertilizers.
Longevity: Since it's so strong, you can rest easy knowing that your bamboo fence might last over 20 years when you maintain it! Using an optional sealant finish will help preserve the look of your fencing and provide additional protection against the elements when installed outside. And if you decide to move in the future, simply roll it up and bring it to your next place. Bamboo fencing is a cost-effective option for both renters and homeowners alike since you can conveniently move it and enjoy it for years to come.
Value: In part because it is easy to grow and ship, bamboo is one of the most affordable fencing materials available today. With a bamboo fence, you'll stretch your budget further while creating a unique and attractive interior or exterior space
Types of Bamboo Fencing
One of the beauties of bamboo is its natural variation. Bamboo comes in a diverse range of sizes and shades, and no two pieces of bamboo are the same. Our inventory features several types of bamboo fencing:
At Forever Bamboo, we sell many different types of bamboo fencing to meet the needs of any home or business owner. Because bamboo is a natural product, individual pieces exhibit subtle variations in size and color — part of bamboo's unique tropical appeal!
We offer a selection of bamboo sealers and stains to enhance the beauty and longevity of your bamboo fence rolls. Browse through our bamboo fence sealer options to find the perfect match for your bamboo.
Explore our inventory of natural, black and burnt bamboo fencing rolls and accessories online, or contact us today for assistance.
How to Install Bamboo Fencing
Bamboo fencing installation varies in difficulty depending on where you want to place it. A few methods include:
Zip ties: It's relatively easy to install your bamboo fencing over any existing chain link. It only takes zip ties to connect it to the chain-link securely.
Drill and screws: You can also use a drill and screws to cover a wooden fence with a bamboo roll.
Wooden planks: To use a fencing roll on its own, you must make a wooden frame before installing it. Putting a bamboo fence roll-on masonry requires putting up wooden planks and following the same steps as wooden fence installation.
Bamboo Fencing Applications
Our bamboo rolls are a highly versatile material that you can use to complement any interior or exterior style within your home or business. Try out bamboo for the following uses:
Attach to existing surfaces for a simple touch. Use bamboo fencing on chain link, wood fences, concrete, drywall, cement or under countertops and gates.
Build new structures with a distinct, tropical charm. You might create a treehouse or playhouse for the kids, or a Tiki bar ideal for entertaining guests or even a home for your pet!
Enhance your company's presentation. Bamboo fencing is excellent for conventions and tradeshow backdrops. And when you're celebrating your company's successes, don't forget bamboo fencing for the ideal tropical-themed party.
Conceal unsightly yard elements. Use bamboo fencing to cover pool equipment, trash bins or air conditioning and heating units to create a cohesive space.
Add an interior privacy screen. Our bamboo panels can be used as a privacy screen or room divider, adding a chic touch to your living room, bedroom or kitchen.
Commercial and Wholesale Bamboo Fencing for Your Business or Resort
Transform your business or resort into a tropical oasis with bamboo fencing. Bamboo is an environmentally friendly material that can add a tasteful and exotic flair to the interior and exterior of your business or resort. More affordable and lightweight than solid wood alternatives, bamboo fence rolls can also give you more for your money. To take this a step further, we offer wholesale purchasing offers to buy wholesale bamboo fencing at a reduced per-unit cost.
Get in touch with us today to learn how our commercial bamboo fencing materials can provide a warm and inviting experience for your business while maximizing your investment!
Rolled Bamboo Fencing for the Home and Garden
Bamboo fencing rolls from Forever Bamboo make enhancing interior and exterior areas easier for any DIY enthusiast. Bamboo installation will take a bit of skill. Still, our fencing rolls come with the poles already connected —save yourself some time and effort by selecting our convenient assembly and avoiding the hassle of attaching the poles yourself. Consider using rolled bamboo fencing for home projects like:
Add bamboo garden fence panels. Use bamboo as fencing to keep animals out of your garden or elevate your yard's beauty. Opt for rolls in shorter heights to divide your garden plots so you can still see your plants.
Use bamboo as an accent for a privacy fence. The natural spaces between your bamboo fencing won't allow for privacy as a divider on its own. However, attaching bamboo to your existing fence in a complementary color will help create a private and peaceful backyard retreat.
Build patio railing out of a bamboo fence. You can opt for a shorter roll or cut the rolls to attach to your already-existing deck railing. You might also start from scratch by adding an all-new bamboo railing for a luxurious look to your backyard.
Bamboo pole fences offer homeowners and renters unlimited decorating possibilities. Appreciate the outdoors to the fullest by adding a bamboo fence roll to your exterior space. Even small changes can turn your backyard into a different environment. Divide or complement interior spaces with the bamboo roll of your choice. Transform a wall or create new boundaries in a room.
How to Care for Bamboo Fences
A few periodic tasks will help you care for your bamboo fence's optimal appearance and quality. Follow these relatively easy steps to maintain bamboo to enhance this stunning décor element in your home or business.
How Often to Clean Bamboo Fencing
How often you should clean your fence depends on its placement and exposure to the elements. For example, exterior railings may need a bit more attention than interior bamboo décor. Check exterior bamboo fences after extreme weather and spot-clean them when necessary. If your bamboo fencing doesn't experience as much exposure to the elements, yearly cleaning and maintenance may be sufficient.
How to Clean Bamboo Fencing
When it's time to clean your fencing, use one of these products or solutions:
A bleach and water solution
A detergent and water solution
A bamboo cleaner
An environmentally safe wood cleaner
If you're using a solution, combine three parts water with one part bleach or mix a mild dish detergent with water for a safer clean. Put your cleaning product into a spray bottle, apply it to your fence and then scrub and rinse it.
Use a non-abrasive option like a cleaning cloth, nylon brush or soft scrub brush with the cleaning solution of your choice to work on debris, dirt and oil on your fence. Softer brushes work well on interior railings, while exterior walls may require a nylon brush or something a bit sturdier for dirt removal.
If you find that scrubbing isn't removing excess debris, you can use a power washer on exterior fencing to spray the debris and make cleaning even easier. Just ensure that your fencing is installed securely before using a pressurized stream of water to clean it.
How to Maximize the Lifespan of Bamboo Fencing
While the conditions where you install your fencing will ultimately determine the amount of time it lasts, caring for your bamboo fencing can help maximize its lifespan. Thoroughly cleaning your fencing occasionally and doing sporadic spot-cleaning and checks can help your bamboo fencing last longer. Following other bamboo care tips, such as sealing your fencing, will also help. Bamboo sealants can reinforce the natural strength of your bamboo fencing and protect it from the elements.
How to Stain and Seal a Bamboo Fence
Part of how to care for bamboo includes staining it if it has become worn over time. Even if you just want a new look for your bamboo fencing, you can get the right results with bamboo stain and sealant products and follow these steps to create your stained bamboo fencing:
Apply bamboo cleaner and let it sit for 15 minutes.
Scrub the surface to remove oil and dirt.
Let the fencing air-dry for one to two days.
Make sure the fence doesn't come into contact with humidity or water.
Sand the fence's surface with fine-grit sandpaper for touch-ups or to help the stain adhere.
Use a combination seal and stain to combine two steps into one.
Follow the application guidelines for your product.
Allow your stain to air-dry for multiple days.
You may find that your fencing needs a new stain or sealant every one or two years based on your fencing's environment and exposure to the elements. We recommend using Total Wood Protectant for a sealer and stain in one product that comes in a variety of stain shades, such as:
Bamboo Fencing for Sale
Forever Bamboo is the country's largest supplier of tropical fencing products, including bamboo fence panels. We have a wide variety of bamboo fence panels and other tropical décor for sale. Based in San Diego, we maintain an extensive inventory of in-stock products and offer fast shipping to customers around the world. Check out our sales and specials to browse exclusive deals and items for your home or business. At Forever Bamboo you can expect to find high-quality items within your budget to make your interior and exterior space stand out.
Got a question about any of our bamboo fencing rolls? Our knowledgeable staff is available five days a week to help by phone or email for both residential and commercial inquiries. Call us at 877-912-2244 from Monday through Friday for live assistance. Contact us today for a fast and easy quote on your quality bamboo fence.