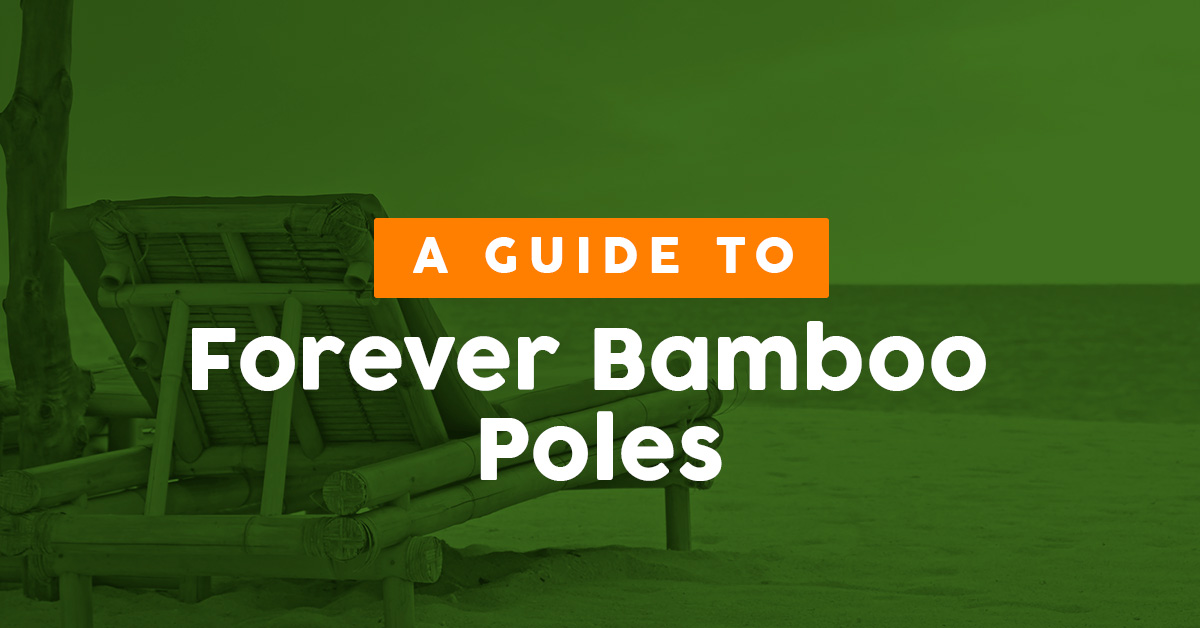 We want to offer bamboo that's as high-quality as possible, so each product is inspected and hand-selected. After selection, the bamboo is harvested and sent to a factory for export preparation. The bamboo soaks in a solution of sodium borate that helps deter insect damage and fungus. Weather permitting, the bamboo poles will then sun-bleach, where the green shades will fade to a yellowish-tan hue.
When the bamboo turns the right color, it is dried in a kiln and stored in a dry place to reduce moisture content. At Forever Bamboo, all our bamboo poles are thoroughly inspected and selected to create the best product for our customers.
Are you looking to purchase bamboo poles? If so, you've come to the right spot. Forever Bamboo has the best bamboo poles, ranging from large to small sizes.
Why Use Bamboo Poles?
Bamboo offers numerous advantages to businesses in a variety of industries and residential properties. Popular in commercial settings and homes alike, bamboo has eco-conscious and aesthetic value. Some benefits include:
1. Natural Beauty
Bamboo is a popular decorative material in both commercial and residential settings. Homeowners and corporate design teams alike use our bamboo products to create stunningly beautiful décor. From outdoor patios to tropical resort terraces, bamboo can enhance any area with natural beauty.
2. Durability
Bamboo is known for its longevity and durability. It can withstand harsh weather conditions, and some species have a higher tensile strength than steel. We select the highest quality bamboo poles and inspect every order before shipping to help ensure durability. We also ensure our bamboo products are all-natural, meaning they're free of formaldehyde, glues and harmful pesticides. With proper care and protection from the elements, your bamboo poles can have an even longer lifespan.
3. Eco-Conscious Material
Bamboo also offers substantial environmental advantages. It is grown organically and renewably, and it is the fastest-growing woody, evergreen, perennial plant in the world. The fast growth rate helps accommodate the bamboo demand. Bamboo also releases 35% more oxygen than trees and contributes to preventing soil erosion.
For many businesses, the environmentally conscious nature of bamboo is a great aspect to advertise — this is even more true if your customer base typically values brands that implement eco-friendly practices.
4. Natural Versatility
Bamboo is also incredibly versatile. Whether you're buying bamboo poles for large or small-scale projects, you can put the finished structure in an exterior or interior location without any issues. You can complete several different projects for various atmospheres and locations, like a decorative divider for a resort or a strong bench for a theme park's tropical area. We offer 5-foot, 8-foot and 10-foot bamboo poles in various colors to meet your unique needs.
Bamboo Pole Applications
Bamboo poles are ideal for do-it-yourself projects, like decorative backdrops, canopies and room dividers. When bamboo poles are displayed with island décor and outdoor furniture, they will encourage a space of peace and relaxation. Bamboo is a more environmentally friendly option than other wood products, and it offers a pleasing aesthetic to any exterior or interior project.
Our natural bamboo poles are great for a Tiki hut or Tiki bar construction or decoration. Turn your backyard or terrace into a stunning tropical getaway with an impressive bamboo Tiki bar or smaller bamboo accents. Our selection of bamboo poles has something for every home or business and for any project scale.
Browse our photo gallery for application examples and design inspiration!
Benefits of Using Bamboo Poles
There are numerous reasons to buy bamboo poles for both the inside and outside of your home. Bamboo is an essential alternative to other materials because of its eco-friendliness — it's a highly renewable material that can often replace harmful materials, like plastic, in various products. When you're searching for poles to use in your upcoming interior or exterior project, bamboo poles are one of the best options you can use.
Bamboo is also stronger than other building materials, so you can get more durable products for your home while still having a beautiful-looking material. Check out some of the projects you can incorporate bamboo materials in around your home:
Outdoor garden: You want your plants to continue to grow and for your garden to look beautiful. You can support your plants and add natural materials to your garden by including bamboo poles as supports for your plants. Bamboo is a robust and hard material, making it perfect for keeping stems upright and preventing plants from being knocked over by outdoor elements.
Backyard fencing: Bamboo poles are a great way to add some privacy to your backyard. If you're looking for a natural-looking fence, bamboo is a great option. Installing a bamboo fence is a transformative exterior project that will be durable and look more visually appealing than a traditional chain link or wood panel fence.
These are just two ways you can use bamboo for your property to replace wood or other traditional materials.
How to Care for Bamboo Poles
Even though bamboo is extremely durable, it can deteriorate over time if it's not properly cared for. Here are some bamboo pole care tips to extend the life of your Forever Bamboo products:
How to Clean Bamboo Poles
One of the best ways to take care of bamboo poles is to keep them clean. How often you'll need to clean the material depends on its exposure to the elements. Interior bamboo poles may only need an occasional cleaning to wipe away dust, while exterior applications may experience exposure to dust, dirt and debris that you'll need to clean. It's a simple process once you see how to care for bamboo poles, and it's worth it for maintaining a stylish appearance.
To clean bamboo poles, use a mild dish detergent mixed with water. Spray that solution or a bamboo cleaner onto the poles. You can scrub away dirt with a nylon bristle brush or a non-abrasive cleaning cloth if there isn't a significant debris build-up. Tougher jobs may need a pressure washer for quick and simple cleaning. Just ensure your bamboo poles are secure enough for the pressurized cleaning process.
Depending on your application, you'll want to ensure the furniture, structure or equipment with your bamboo poles won't be damaged during the cleaning process. For instance, you wouldn't want to use a pressure washer if your bamboo poles surround a garden or electrical equipment.
How to Prolong the Life of Bamboo Poles
Cleaning and checking your bamboo poles on occasion will help prolong the life of the material, depending on where and how you install them. Remember also to use a bamboo sealer to help your bamboo poles last as long as they can. Our eco-friendly bamboo sealers are formulated to ensure your natural bamboo poles remain protected from UV rays, mildew, mold and fungus.
Keep a clean and stunning look on all your bamboo creations with a yearly application of a stain and sealant product. Taking this step will help ensure your bamboo's longevity. Our premium bamboo sealers come in several different shades to match your design preferences. At Forever Bamboo, you'll find Total Wood Protectant (TWP) in these nature-inspired colors:
Choose the stain that complements the style of your home or business. Lighter colors are bright and refreshing for a tropical theme, while darker colors are warm, relaxing and inviting. Before you apply the stain, be sure to clean the bamboo poles and allow them to dry for a day or two. Apply the stain in up to three layers, allowing each coat to dry between applications and sanding off any excess before the next application.
Commercial and Wholesale Bamboo Poles for Your Business
Bamboo offers several advantages to your facility. Zoos, theme parks, water parks and resorts use bamboo for fencing, screening and tropical décor to help transport their visitors to exotic settings. Since we offer bamboo poles in various bundles and sizes, you can design, plan and create various decorative, functional projects that utilize bamboo poles.
Here are some ways you can use wholesale bamboo poles to your advantage:
Build a stunning array of structures to improve your business' tropical theme.
Make handrails out of bamboo poles for a unique look that will solidify your style.
Enhance your outdoor lighting with bamboo poles arranged to create stylistic lighting.
Offer a meditation garden featuring benches made with bamboo.
Offer a retreat to a Zen garden, complete with benches constructed from bamboo poles.
Create decorative gutters with halved bamboo poles.
No matter how you incorporate decorative bamboo poles, you can expect the following advantages of choosing Forever Bamboo for your needs:
Vast inventory: There's something for everyone at Forever Bamboo with our enormous supply of bamboo pole products. Our all-natural and decorative options give your space a Tiki feel while blending beautifully with your interior and exterior style. Browse our wide selection of half-round poles, natural black poles and bamboo poles to discover why we're the Nation's #1 Provider of Tropical Decor.
Fast shipping: Enjoy fast shipping when you purchase from Forever Bamboo. We'll take just two business days to process your order before quickly shipping out items for your convenience. Our wide selection of inventory ensures your product is available when you need it.
Helpful staff: Our highly trained and friendly team will provide you with the assistance you need. Located conveniently in San Diego, we also offer fast turnaround times to answer any questions you might have.
Eco-friendly: You can know you're getting durable products that are great for the environment when you shop at Forever Bamboo. Our naturally grown bamboo products will transform your residential or commercial space into a tropical resort.
For most of our bamboo products, we can also provide free shipping, which helps reduce costs. For commercial inquiries, get in touch with us today.
Where to Buy Bamboo Poles
Bamboo poles are an excellent material for your home's or business's exterior or interior. This material is visually appealing, strong, great for the environment and perfect for projects big or small. Choosing to work with bamboo is an intelligent choice, and knowing where you can find the best bamboo poles for sale will improve your decision.
The best place to buy bamboo poles is Forever Bamboo. With a large selection of high-quality materials for your indoor and outdoor products and other decor items, you can transform your property with one of the best materials on the market.
If you're in the market for bamboo poles or want to learn more about our products, check out the different types of bamboo poles and products we carry and see what will be the best option for your upcoming project.
Your Source for Quality Bamboo Poles
At Forever Bamboo, we're a trusted source for quality bamboo poles and tropical décor. Across the world, companies from various industries choose to buy our bamboo poles — not only for their quality but also for the service they come with, courtesy of our experienced team of customer support specialists. We also provide all our clients with fast shipping and order processing, plus access to an unmatched inventory. Try before you buy with a sample box! Place your order within 45 days of purchasing your samples and get $25 off. This makes your sample box FREE!
Contact our dedicated customer service specialists with any questions by calling 877-912-2244 today!