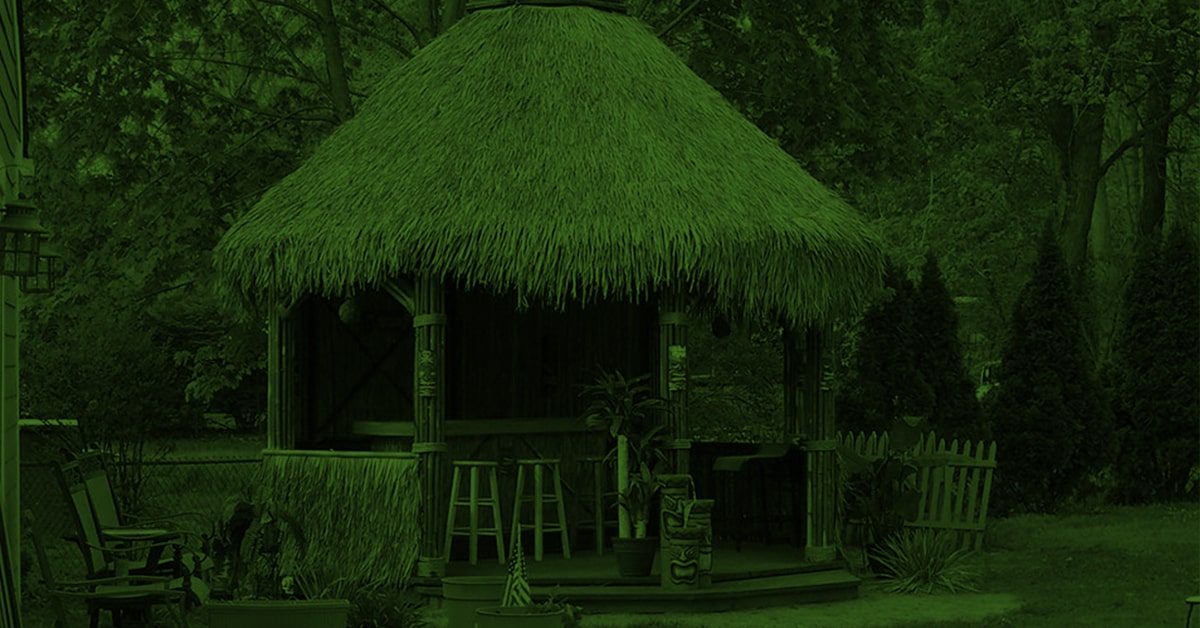 Tropical drinks, Tiki masks, thatch-covered roofs and kitschy décor are as much the essence of the classic Tiki bar experience as relaxation and entertainment. But where did this iconic movement begin? Put on your favorite Hawaiian shirt, plop an umbrella in your drink and bring your imagination — let's dive into the history of Tiki bars and discover top decorating tips to bring your own Tiki getaway to life!
Jump To Sections:
What Is a Tiki Bar?
A Tiki bar is a tropical-themed entertainment space for relaxing and enjoying cocktails, inspired by romanticized ideas of South Pacific culture. Guests enjoy sipping fruity, rum-based drinks like the classic Mai Tai, Halekulani and Zombie in colorful Tiki mugs under the shade of a Palapa canopy or traditional Tiki hut.
Tiki spaces are as unique as their owners — and no two Tiki bars are alike! People with a passion for the Tiki lifestyle love adding their unique personality to the bar with décor from global travels, Tiki mug collections, fun signage and more.
Tiki pop culture started in the 1930s with commercial bars and restaurants, but today's residential Tiki spaces can be found in homeowners' backyards, patios, gardens and basements as beloved personal paradises. The Tiki lifestyle is all about escapism. When you step into a Tiki lounge, you should feel like you've been transported to the tropics, surrounded by bamboo, coconuts, beachy vibes, island music, flavorful drinks and nautical details.
History of Tiki Bars and Tiki Pop Culture
One of the earliest Tiki bars that would set the tone for an entire movement was the "Don the Beachcomber" bar, established by Ernest Gantt in 1934 in Los Angeles. Gantt, who later legally changed his name to "Donn Beach," decorated the bar with numerous artifacts collected from trips to the tropics. Beach served various exotic rum-based drinks and brought in popular musicians and entertainers. The bar was so successful that it expanded to 25 chain restaurants and began the Tiki explosion in popularity.
Another famous bar was Trader Vic's, created by Victor Bergeron in 1937. Trader Vic's partnered with Hilton Hotels and expanded to many hotel locations. Many early Tiki bars popped up attached to hotels as restaurants and bars offering cocktails, Asian and Polynesian menus, music and live entertainment. Trader Vic's also started marketing Tiki mugs, cocktail mixes and other pop culture items, which expanded the marketability of the Tiki bar business culture.
The Tiki movement touched culture all across America — from thatched roofs appearing on car dealerships to South Seas-inspired bowling alleys. The original Tiki bars thrived for about 30 years during the Atomic Age, enjoying a peak of popularity in the early 1960s. Tiki bars started to fade away in the 1970s.
The 1990s saw a revival of Tiki love, and a new generation of Tiki fans embraced the culture. Folks began installing personal Tiki bars in their backyards with pools, creating themed man caves in basements and living up the "work hard, play harder" lifestyle with friends and family. Fans of retro culture, Rockabilly, vintage décor and tropical vibes have continued this ever-evolving trend. Today, great Tiki bars live on in commercial and residential locations worldwide.
Ideal Tiki Bar Locations
Tiki bars can be tiny or enormous, indoors or outside, personal or business. The choice is yours! Most home bars serve a dual purpose — a recreational spot to enjoy chilled drinks and a display area to show off tropical décor, artifacts and personal collections.
Forever Bamboo Tiki huts and Palapas are moderately easy to install depending on your project difficulty, making them the ideal option for a wide variety of setup locations:
Shoreline boat docks
Backyard patios
Poolside pads
Outdoor kitchens
Garden sitting areas
Finished basements
Recreational garages
Home theaters
Man caves
Tiki huts are also perfect for commercial applications, offering countless benefits to business owners and trade professionals. Set up impressive trade show displays. Create shaded areas at outdoor facilities. Add valuable seating outside restaurants, resorts, bars and more!
Tiki Bar Design and Décor
Tiki bar design is like making a cocktail — it's a mixture of several unique historical, cultural and thematic elements that, when combined, create an immediately recognizable aesthetic flavor. Tiki design is a magical blend of tropical décor, Polynesian island style, retro midcentury elements, escapism and all things "Tiki bar" — the drinks, the mugs, the swizzle sticks, the little umbrellas in the drinks, the whole experience from the bartender pouring to an empty mug.
Designing an authentic Tiki atmosphere is more than simply serving drinks under a thatch-covered hut. Tiki décor has a distinctive look that feels like it's been collected from faraway lands over several decades. With the right design foundation and island accessories, your Tiki bar will resemble a favorite haunt of sailors and sirens straight out of the 1960s.
Create Your Own Tiki Bar Oasis
First thing's first — the Tiki life is made in the shade! Every tropical retreat needs an island-inspired covering to enjoy drinks and relax. Every Tiki bar starts with three foundational elements:
Bar and beverages: No Tiki bar is complete without an actual bar — it's in the name, after all! A long countertop serves as a landing zone for barstool seating and serving drinks that transport guests to a tropical paradise. Storage behind the bar can house a sink, rum, assorted liquors, barware and everything else you need for authentic Tiki beverages.
Seating and furniture: Tiki bars certainly need stools at the counter, but the best retreats include additional lounging areas to converse and dine. Imagine bamboo tables and comfortable seating around the pool, garden or fire pit for a cohesive Tiki look throughout your backyard. Our high-quality bamboo furniture immediately sets the tone for your expanded tropical oasis.
Tiki huts and Palapas: Cover your bar and seating areas to keep your guests cool with Tiki thatch umbrellas or Palapas. These thatched-roof, open-sided structures are also called Tiki huts. You can convert an existing or new bar area into an island experience with one of our large Tiki hut kits, which include all the materials you need to set up your own shelter — lodge poles, roof framing, lodge poles, thatch covering and instructions.
Once you've established the basics, it's time for accessories! Forever Bamboo is your one-stop shop for everything you need to complete a personalized Tiki look:
Carved Tiki masks: Tiki masks were originally used in ancient Polynesian and Hawaiian culture, representing various deities and spiritual traits. For an authentic aesthetic, hang a few decorative Tiki masks around the bar.
Tiki mugs and vessels: Traditional Tiki mugs are ceramic and shaped like hand-carved, wooden Tiki masks. Tiki drinking vessels can also resemble coconuts, skulls, Easter Island statues, totems, pirate-themed objects and more!
Bamboo details: Line the front and back of your bar with our eco-friendly, cost-effective textured bamboo paneling. Bamboo is the ultimate tropical backdrop to show off your Tiki mugs, signage and themed barware.
Tropical signage: Add a pop of color and a sense of humor to your Tiki oasis with eye-catching Tiki signage. From carved bamboo floral "Aloha" signs to more comical bathroom signs, great signage makes it clear that everyone is on island time at your Tiki bar!
Beachy and nautical objects: You don't need to be located near the coastline to enjoy the beachy Tiki lifestyle. Make your own "beach" seating area outside with sand underfoot, seashells and driftwood, or turn your bar into a pirate's cove with mermaids and a treasure chest.
Looking for even more ideas to take your Tiki hut to the next level? These popular tropical decorations enhance the sights and sounds of any Tiki paradise:
Kitchy midcentury modern art
Island-inspired knick-knacks
Hanging tropical birds
Bamboo wind chimes
Water features
String lighting
Tiki torches
Surfboards
Paddles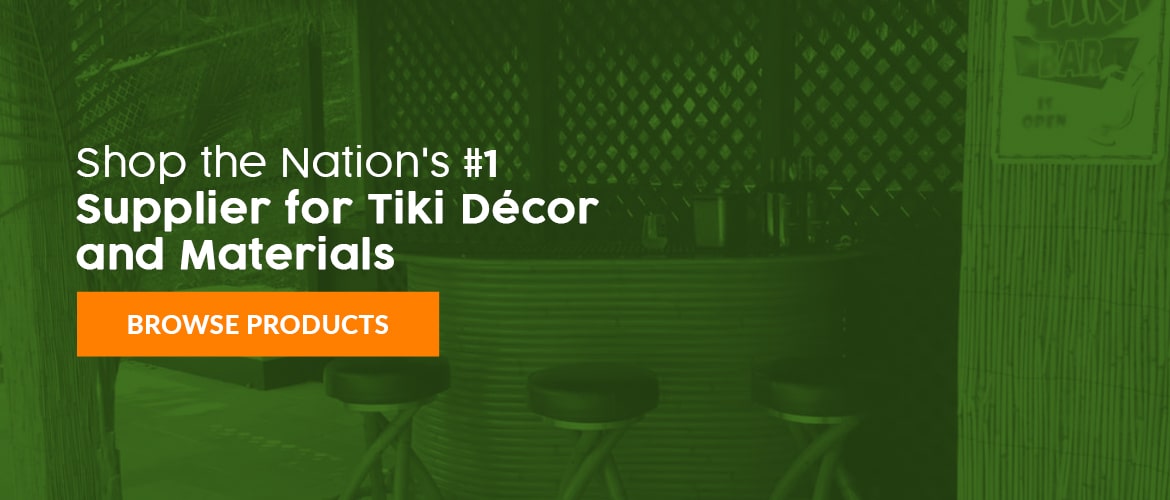 Shop the Nation's #1 Supplier for Tiki Décor and Materials
You can count on Forever Bamboo to provide the highest quality, eco-friendly Tiki materials for your bar — from huts and umbrellas to bamboo products and decorative signage, we have everything you need to create a Tiki experience from start to finish.
Shop the industry's largest inventory of tropical décor and start designing your tropical paradise today! Looking for advice and specific product information? Complete an online contact form or call our highly trained customer service team at 877-912-2244, available five days a week.