In 1933, the Tiki movement began in California with Don the Beachcomber and a small bar located in Hollywood. Within a couple of months the bar picked up in popularity attracting tourists and even celebrities such as Walt Disney. Don's goal was closely connected to the concept of escapism. Tropical themed drinks and décor such as bamboo, thatch, and tiki masks helped create an authentic island feel. Thanks to Don the Beachcomber, tropical wall art became extremely popular throughout the United States. The tiki trend even inspired the famous Enchanted Tiki Room attraction located at both Disneyland and Disney World theme parks.
Trader Sam's Tiki Bar is filled with tropical décor pieces that capture the spirit of the tiki movement during the 70's and 80's. Throughout the entire bar/restaurant you will see bamboo paneling, poles, slats, Luahala matting, and tropical signs. The elaborate lighting and visual effects bring to life a Polynesian tiki experience that still attracts guests from near and far.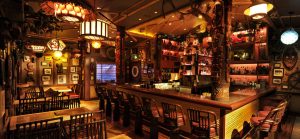 Forever Bamboo – Home of the Tropical Wall Art
At Forever Bamboo, you can find the largest selection of tiki wall décor items in all different colors, styles, and sizes. Our tiki masks are great for both indoor and outdoor spaces and will capture the eyes of your guests all year round. Each mask is hand painted and carved to make each product as unique as possible. A sturdy nylon string is also attached to the back of each mask to make installation simple and effortless. 20 and 40 inch masks look great when installed on tiki bars covered by bamboo slats or poles. If you want to make a bolder statement consider tropical signs with popular phrases such as "Aloha", "Take a Leaky", "Welcome to Paradise", and "Tiki Bar". For extended longevity we suggest coating your tropical wall art with a clear polyurethane varnish to prevent weathering if used outdoors.
Build your very own Trader Sam's tiki bar in your home with Forever Bamboo's one of a kind tiki wall décor available on our website 24/7.
Save