Many popular tropical resorts have the perfect tiki bar setup to capture the true spirit of the islands. Palm matting is an eco-friendly and durable option to bring the feeling of a tropical vacation to your home.
Uses of decorative tropical matting:
Walls – Palm matting can easily be installed on walls as a tropical alternative to wallpaper.
Ceilings – Add palm matting to your ceiling to offer the room a tiki hut feel to the entire room.
Cabinets – Palm matting can be wrapped around a kitchen island or used to cover the outside of a cabinet.
…and more!
Tropical matting can be installed easily to give a tropical uniqueness to a room. Simply measure the correct size of where you would like to place the matting and apply it using strong adhesive glue or a staple gun.
A common type of tropical matting is Lauhala. Lauhala matting is a hand-woven eco-friendly material that is constructed from sturdy Hala palm leaves. Instantly transform your outdoor bar into a tiki atmosphere with Lauhala weaving mats that are both sturdy and 100% eco-friendly. When looking for the perfect tropical decorative material, consider Forever Bamboo's one of a kind Lauhala matting.
Each mat has hues of tans, honey, and golden browns that look beautiful when applied to tiki bar fronts. Every mat is unique with color because of the natural texture. However, matting products are available in distinctive patterns, textures, colors, and sizes. The Hala leaves are woven into a one-inch checkered pattern that gives the matting a unique tropical look. Large tourist attractions such as Disney's Trader Sam's Tiki Bar, use tropical décor products, bamboo, and matting to capture the tiki culture that was popular during the 50's and 60's. At Forever Bamboo, you can find all the products displayed to build your very own tiki oasis.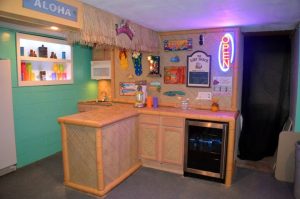 Easy Application – Lauhala Matting
Whether you decide to decorate your tiki bar, floor, or cabinet with tropical matting the process of applying it is made easy. Lauhala mats are comparable to wallpaper and can easily be applied to hard surfaces such as tiki bar fronts and walls. There is very little hardware that is required for the application process. If you want to alter the size of the matting, simply take sharp scissors or knife and cut according to size for your project's needs. You can apply the matting with a staple gun, nails, or glue to any hard surface and allow drying for at least 24 hours. Lauhala matting looks great with tropical décor products such as tiki masks, wooden paddles, and tropical signs. Tropical wainscoting is also ideal for Hawaiian inspired parties and can be used as placemats or table decorations. Compared to other popular fibers such as sisal, Lauhala matting is the most reliable green building material.
Since Forever Bamboo's tropical matting is multi-functional, it can be used in both indoor and outdoor spaces. Bamboo slats are a beautiful addition when it comes to enhancing Lauhala matting surfaces further. Slats can be used as a finishing trim to border each matting piece applied to solid surfaces. No matter the application, Lauhala matting will help enhance any home or business space.
Tropical matting is also available in Bac Bac, Lampac, Bamboo, and Virosurface.
If you have any questions contact Forever Bamboo  or call for more information at 877-912-2244.
Save