The nice thing about building a palapa is that you don't necessarily need special palapa thatch to create the traditional thatched roof. Most people know what palapas are, but many know them by other names such as tiki huts or chickees. They are structures that don't have walls, only a roof and anywhere from one to four supporting posts. The simple design of palapas means you don't need any bamboo wall panels when you are assembling materials, and you'll only need enough thatch to cover the roof.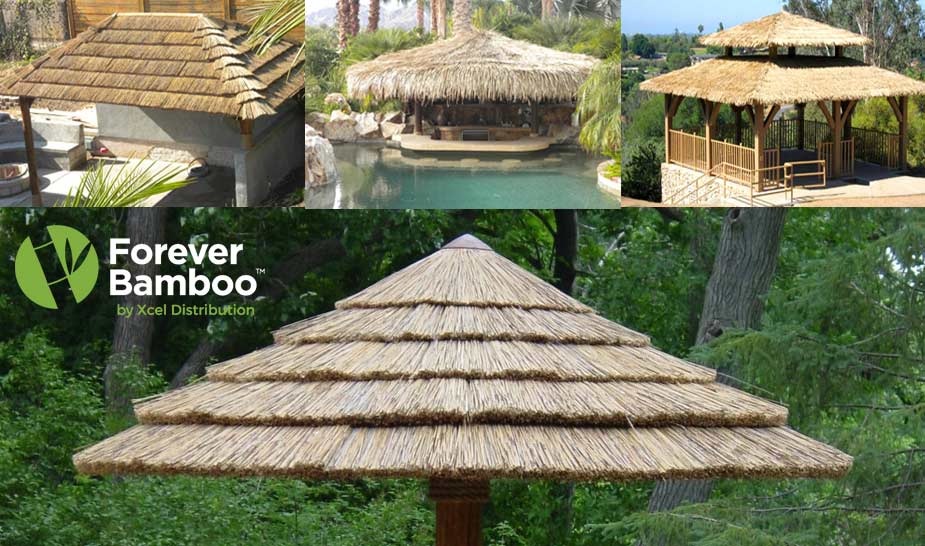 Palapa Thatch – Tropical Huts from Mexico
Palapas bring the tropics to mind, though these huts originated in Mexico, not Hawaii. Where they got their start doesn't matter. Constructing a full-sized palapa in your backyard or creating a much smaller one in a family room or bar area creates a relaxing tropical atmosphere. Authenticity enhances that south-of-the-border vibe, so using authentic thatch for the roof is essential. A genuine Mexican palapa will have a shaggy look because Mexican palm is typically used, more for its effectiveness in keeping tropical rains and intense sunlight from penetrating the roof than for aesthetics. Still, you will get a realistic look to your palapa as well as weather protection by using Mexican palm thatch.
When you come to Forever Bamboo to stock up on materials for a palapa, you'll have your choice of authentic-looking thatches including Mexican palm thatch in addition to Tahitian palm thatch and a durable artificial thatch that lasts even longer than natural thatch products, and it is eco-friendly. Any of these selections are terrific choices for palapa thatch, and they are as easy to install as they are attractive. Many of our thatch products ship for free, and we can help estimate how much thatch you'll need to complete your palapa, just a few of the endless benefits of getting your tropical building materials from Forever Bamboo.
Related Products & Information