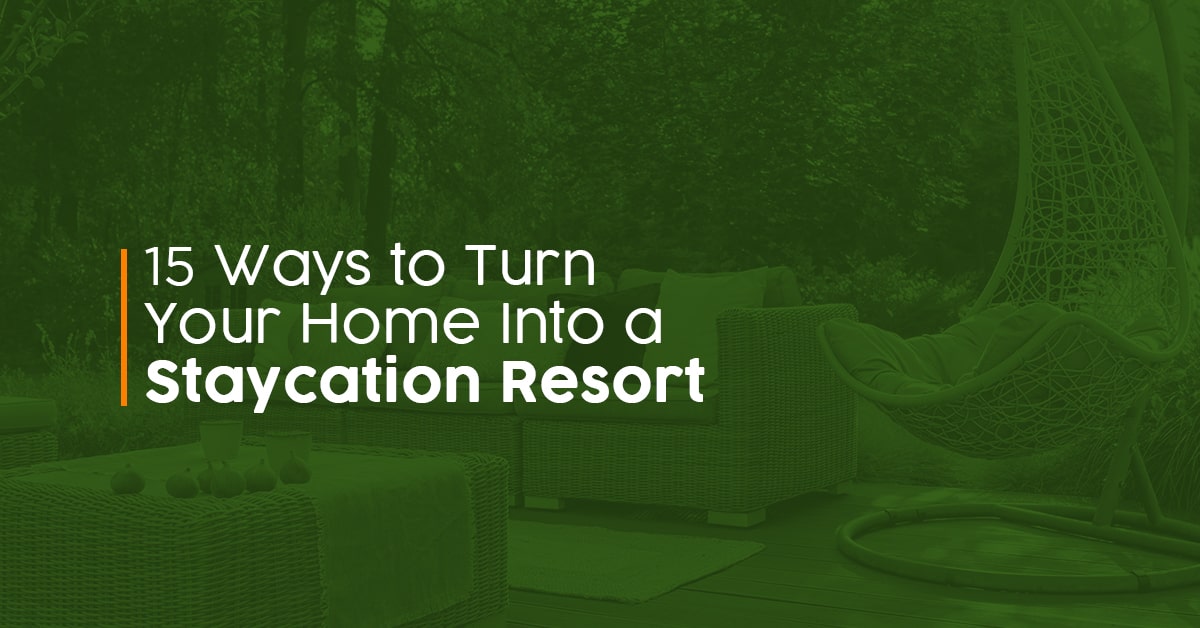 If you want to feel like you're on vacation at home, there are numerous ways to transform your space into a relaxing staycation oasis. Adding new elements to your home can make staying in more enjoyable for you and your whole family. Regardless of why you're having a staycation, incorporating resort-style decor into your home can give you a reason to relax. Make your house feel like paradise by turning it into a staycation resort.
Jump to Sections:
How to Enjoy Your Home Like It's a Resort
If you transform your home to resemble your favorite resort, there may be more incentive for you to set aside time for yourself to relax. If you're ready to start laying back and relaxing at home, it's time to start having more staycations.
What Is a Staycation?
A staycation is when you act like you're on vacation, but you stay at home. People may choose to stay at a hotel in their hometown for a staycation, but it's just as easy to spruce up your home to feel like you're at a resort.
Why Should You Staycation?
Staycations are a great option for people who want to sit back and relax without having to travel far away. You can have fun enjoying activities at home and exploring your city through the lens of a visitor. Here are five additional benefits of a staycation:
Save money: Vacations and traveling can quickly become expensive, especially if you're traveling with a big family. Staycations are a cost-efficient way to relax and enjoy yourself.
You don't have to take time off from work: You can take your staycation on the weekend or when you don't have to go to work. You could also save some of your paid time off and money for your staycation.
Help your local economy: While you're on your staycation, you can visit your favorite local restaurants and shops. Your local economy and small businesses will be thankful for your continued support.
Simple to plan: Planning a vacation can require a lot of organizing and discussion, but planning a staycation is easy and can be less stressful.
More time to relax: Going on vacation calls for a lot of traveling. Whether it be by plane or car, traveling can take a lot of energy out of you and your family. Staycations are alternative vacations to traveling. They offer more rest time because the travel time is eliminated. You'll have more time to relax and enjoy yourself.
Check out our video: 15 Ways to Turn Your Home Into a Staycation Resort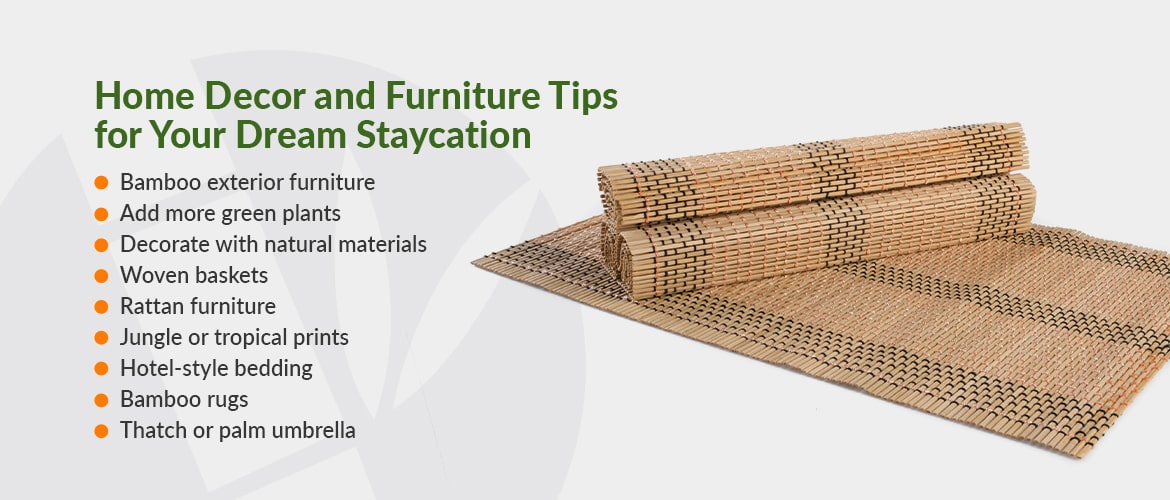 Home Decor and Furniture Tips for Your Dream Staycation
You can make your home feel luxurious with a few additions to your interior and exterior decor for your staycation. If you need decor ideas to make your home feel like paradise, check out these staycation design tips:
Bamboo exterior furniture: Bamboo furniture is durable exterior furniture and will give your backyard the tropical makeover you need. Bamboo furniture is resistant to exterior elements and great for entertaining guests or just you and your family. Shop for bamboo table and chair sets, lounge chairs, side tables, shelving and more.
Add more green plants: Vacation destinations that are warm and lively have luscious greenery and plants that thrive off of the climate in the area. Houseplants are an easy way to make your living space feel like your own tropical paradise. If you're worried about how to take care of these house plants, you can always opt for faux plants that can still give you the vacation vibes.
Decorate with natural materials: Natural materials can create a bohemian-style or tropical look. Hotels commonly use materials like bamboo, leaves, rattan and other natural woods to style their space. The various textures and natural hues are a lovely addition to your home.
Woven baskets: Styling baskets with palm leaves or other natural materials can add to the tropical or vacation theme you're implementing in your home.
Rattan furniture: Rattan bed frames will make you feel like you're snuggling in your favorite cozy Airbnb. Other rattan furniture like chairs, nightstands and lamps can transform a bedroom into a tropical getaway.
Jungle or tropical prints: Decorate your home with jungle and tropical prints. Nothing says paradise like palm leaves, flamingos or tropical flowers.
Hotel-style bedding: Replace your comforter with a cozy, beach-inspired set. Choose a set with vibrant colors and patterns or a luxurious and simple bed set to feel like you're at a five-star hotel.
Bamboo rugs: Contribute to a natural look when you redesign your home with a bamboo rug. These pieces are perfect for various interior spaces because of their durability, sustainability and elegant look.
Thatch or palm umbrella: Add a palm or thatch umbrella to your backyard or patio furniture for a tropical ambiance.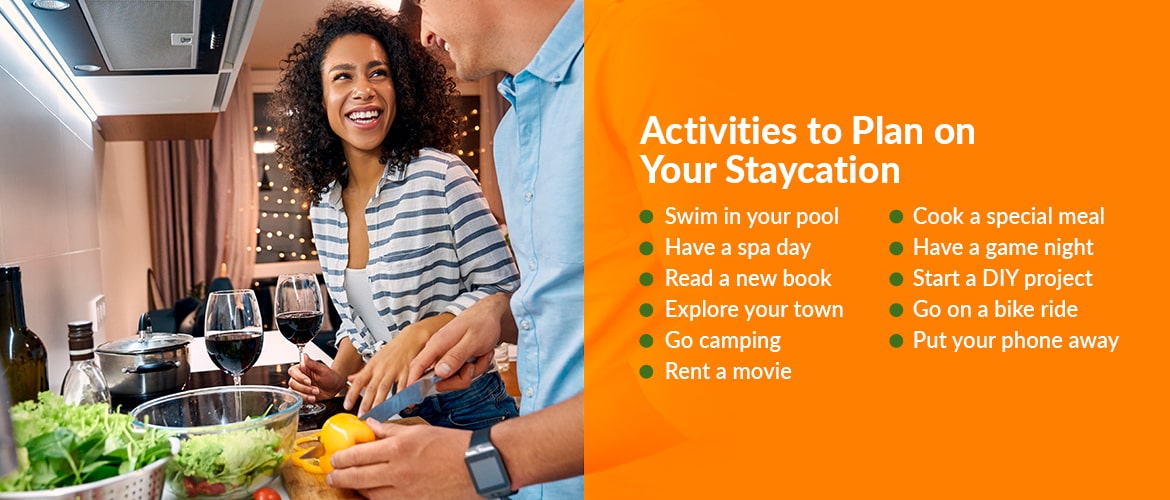 Activities to Plan on Your Staycation
As you're organizing your staycation, you'll begin to plan your itinerary of events and activities to enjoy during your time off at home. You can find fun activities both in your home or around your city. It's important to have an open mind when considering a staycation — staying in your hometown can be a great time when you experience it as a tourist.
Try out some of these fun activities and other tips for hosting a staycation:
Swim in your pool: If you have a pool at your house, take the day to lay out and swim. You can even deck out your backyard with tropical decor and furniture to transform your backyard into a resort-style space.
Have a spa day: You might not be as pampered as you would be at a real spa, but you can still unwind and treat yourself to a home spa. Stock up on some sheet masks, manicure and pedicure supplies, lotion and candles to create your own spa day for your staycation.
Read a new book: Reading a book on vacation can be more relaxing than reading on a normal day. Is there a book that you've been dying to read recently?
Explore your town: Since you'll be in your own town, take the time to explore parts of the city you've never been to before. See if there are any historical sites, new restaurants, cool districts and other activities that sound fun to try on your staycation.
Go camping: Whether you travel to a campsite or set up your tent right in your backyard, camping is an easy way to have fun on your staycation. Make a fire, roast some marshmallows and gaze at the stars with your family.
Rent a movie: A movie night during your staycation is a great way to relax. You can purchase some fun movie snacks like popcorn, candy and soda, and find an old-school or new movie to watch.
Cook a special meal: If you find cooking relaxing, try making a new meal during your staycation.
Have a game night: Host a game night during your family's staycation. You can play cards, Jenga, Monopoly and more!
Start a DIY project: Use some of your staycation to start tackling a DIY project you've always wanted to complete. Paint an old dresser, knit a new blanket or apply wallpaper for an accent wall in your home.
Go on a bike ride: Get outside and go for a bike ride with your family. You can cruise around the neighborhood or travel to a nearby store or restaurant.
Put your phone away: Vacations are great because you get to unplug from reality and focus on yourself. Store your phone away and refrain from looking at emails or social media.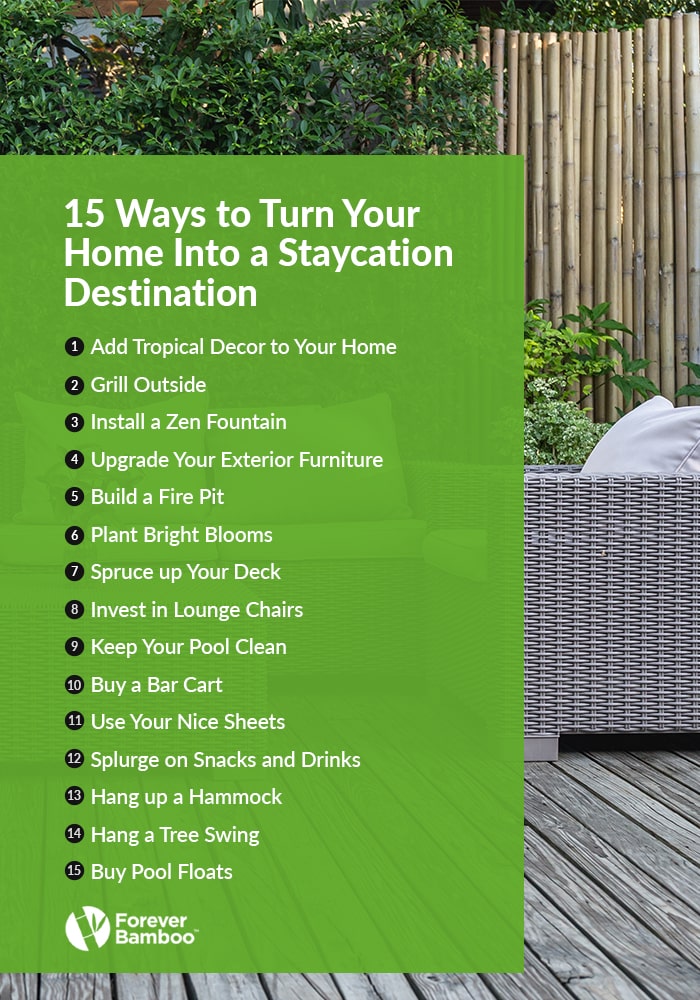 15 Ways to Turn Your Home Into a Staycation Destination
Convert your home into your personal paradise with island decor and resort-style transformations. Making different upgrades to your home can make your vacation at home feel like the real deal. Learn how to change your scenery at home so you and your family can appreciate your time off during your staycation. Check out these 15 tips on how to upgrade your home for rest and relaxation.
1. Add Tropical Decor to Your Home
Place tropical decor on the inside and outside of your home. You can decorate your backyard with bamboo tables and chair sets, tropical decor and Tiki umbrellas to create your staycation oasis.
2. Grill Outside
Eating outside at a restaurant when you're on vacation feels special, and you can create the same atmosphere in your backyard during your staycation. Cook up your favorite meals on your grill and set up an exterior table for you and your family to enjoy dining outside.
3. Install a Zen Fountain
If you want to make an upgrade to your landscaping to remind you more of a luxury resort, look into installing a Zen fountain outside. You'll feel at peace listening to the calm water flowing in your backyard.
4. Upgrade Your Exterior Furniture
Make your backyard feel more like your favorite resort by upgrading your exterior furniture. You can add new lounger chairs, benches, exterior sofas and more to make it a cozy getaway.
5. Build a Fire Pit
Adding a fire pit to your backyard is an awesome way to create a hangout spot for your family and guests. Adding some comfy chairs to sit around and share stories is a fun way to enjoy nights during your staycation.
6. Plant Bright Blooms
Changing your view is an exciting part of visiting a new location. Revamp your yard by planting some new flowers and greenery. You can visit your local home improvement store or greenhouse to see what plants thrive best in your area and for other helpful gardening tips.
7. Spruce up Your Deck
It's easy to feel like you're on vacation when your deck is clean and looks like paradise. Take time to add an upgrade to your deck and give it a deep clean that's resort-worthy.
8. Invest in Lounge Chairs
One of the best parts about going on vacation is kicking your feet up and laying back on a comfortable lounge chair. Pick up some bamboo lounge chairs for your staycation and lay in the sun to relax.
9. Keep Your Pool Clean
Keep your pool as crystal clear as your favorite resort's swimming pool. Run through a maintenance list to make sure everything is in check before your staycation.
10. Buy a Bar Cart
Fancy a cocktail? Make your own mini-bar with a cute and trendy bar cart. Supply it with all of your adult drink necessities and have fun on your staycation.
11. Use Your Nice Sheets
Hotels can have some of the most comfortable bed sheets you've ever felt. Take out your nicest bed sheets for the weekend of your staycation. The detail may seem small, but you'll surely appreciate this taste of luxury.
12. Splurge on Snacks and Drinks
You're saving a good amount of money by taking a staycation, so splurge a little bit on your favorite snacks and drinks. Get high-quality ingredients for your meals to treat yourself during your time off.
13. Hang up a Hammock
The perfect addition to your staycation paradise is hanging up a hammock. You can take a nap, read a book or simply gaze at the sky. Whatever you decide to do, your hammock will be the ultimate way to relax during this time off.
14. Hang a Tree Swing
Kids want to be involved in many activities during their free time, and what better way to enjoy the backyard than with a tree swing. All you need is a sturdy tree, strong rope and some wood. Your kids will be swinging and having fun all day.
15. Buy Pool Floats
If you have a pool, purchase some festive pool floats for your staycation. Look for all the fun options, like unicorns, pretzels, dolphins and more that will make pool time feel like vacation time.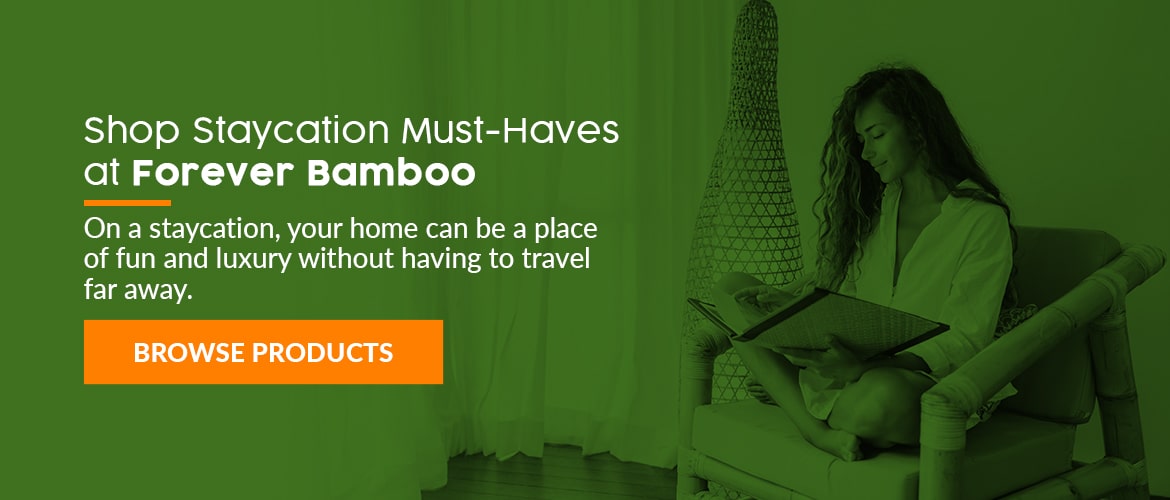 Shop Staycation Must-Haves at Forever Bamboo
On a staycation, your home can be a place of fun and luxury without having to travel far away. It's easier than ever to shop for new exterior furniture and supplies online. As you look for new ways to upgrade your backyard for your next staycation, shop for tropical exterior products at Forever Bamboo.
We specialize in providing high-quality bamboo products and materials to build the tropical getaway you desire for your home. If you're looking for bamboo furniture, building materials and other decorations that will add to your tropical theme, we provide an array of products that will fit your needs.
Shop our inventory today to prepare for your staycation. If you have any questions about the products we offer and the materials we use, contact us to learn more.