We all know a few homes in the neighborhood with a perfect lawn, gorgeous trees, a tidy home exterior and beautiful outdoor decor. These are the homes with curb appeal. Good curb appeal makes a home more attractive and valuable. If you are wondering how to improve the value of your home, we have easy tips you can use to boost your curb appeal by adding to your landscaping and outdoor decor.

Jump to Sections: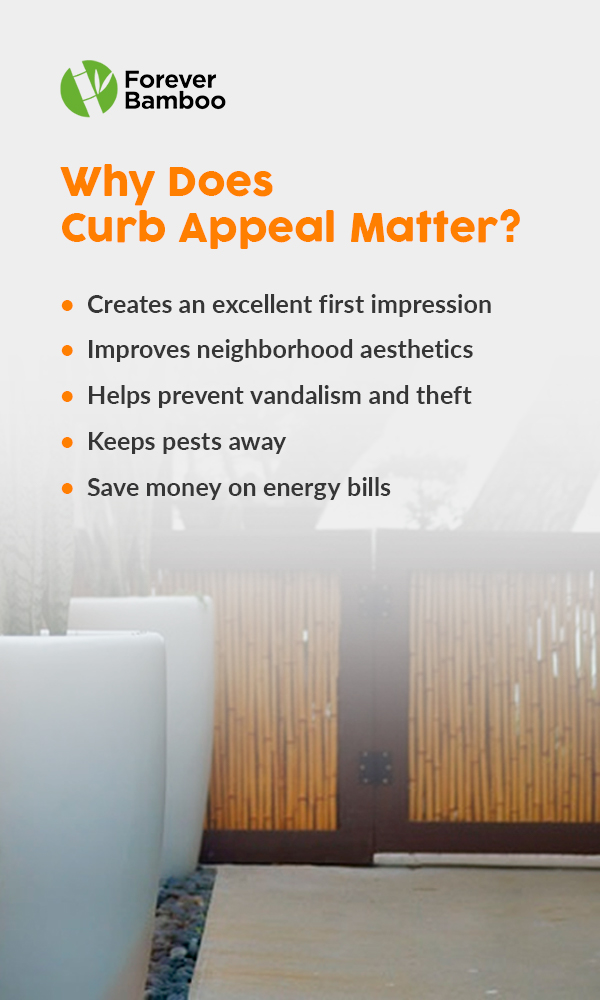 Why Does Curb Appeal Matter?
Curb appeal is a general term referring to the level of a home's attractiveness when looking from the outside. The main aspects that make up good curb appeal can vary regionally. It usually involves the excellent condition of all exterior home elements, a tidy lawn and neatly arranged plants. It's also important to consider a color scheme and style that fits in with the neighborhood.
Curb appeal is significant for anyone trying to sell their home or buy a new one because it markets what else is inside. Even if you don't want to sell your property, curb appeal can enhance your investment's value and set it apart from the rest of the homes in your neighborhood. Here are some of the ways your curb appeal can improve your home's value:
Creates an excellent first impression: Your home's curb appeal is the first impression someone forms when approaching the house. Curb appeal boosts your property's visual value, makes your home more appealing to neighbors and visitors, and is a source of pride for many homeowners. When they see the outside's pristine condition and well-coordinated color palette, guests may assume the inside has much of the same beauty and tidiness.
Improves neighborhood aesthetics: Since your home is such a significant investment, maintaining it is the best way to enhance its value over the years. Keeping up with your curb appeal also helps improve your overall neighborhood's appearance. When you keep your property well maintained, you can enhance your community's general atmosphere.
Helps prevent vandalism and theft: Trimming your trees and bushes and fixing broken doors can keep your home safe from break-ins. Overgrown trees and bushes on your property can give criminals a place to hide. To best protect your home from vandalism and theft, you may want to install bright lighting outside. It may also help to lay a gravel pathway that makes a loud crunching sound when someone steps on it.
Keeps pests away: Taking care of your lawn can protect your home against harmful bugs and rodents. Like burglars, pests often hide in tall bushes and grass. As a result, they can damage your home and contaminate your property. Mowing your lawn eliminates their hiding spots and keeps them away from the yard.
Save money on energy bills: Strategically placed trees and bushes can block the sun and keep your home cooler all year long. Plant trees in the pathway of the sun to reduce cooling costs from your HVAC system. To further reduce your energy costs, make sure you trim your trees near windows, solar panels and outdoor air conditioning condensers.
How Outdoor Landscape Designs Can Improve the Value of Your Home
According to the American Society of Landscaping Architects, landscaping can potentially raise the value of your home by 15% to 20%. By keeping your lawn short and planting colorful flowers, you can make your property more appealing. With a manicured lawn and trimmed trees for shade, you can also enjoy your outdoor living space and host your friends and family outdoors.
Trends in interior and exterior design come and go, but landscaping with trees and plants will remain in style for years to come. As the greenery grows, it'll only become more beautiful as long as it's well maintained. Mature trees and shrubs increase a home's value even more because of the shade they provide.
Landscaping and outdoor design can make a home more attractive and inviting for guests. Landscaping and curb appeal can ultimately improve your quality of life and make your overall neighborhood more visually appealing.
Ways to Enhance Your Curb Appeal
There are many ways to boost your home's curb appeal, and some are DIY projects just about anyone can complete themselves. The decorative elements you put outside can make your overall living space more beautiful. If you want to know how to enhance your curb appeal, try these easy outdoor design tips:
1. Beautify the Front Door
One of the most critical and overlooked aspects of your home's exterior is the front door. As the main entryway into your living space, the front door is symbolic of what's inside. Your front door should be clean and in good condition, and consider adding a pop of color with fresh paint. A colorful door is full of personality and visual interest and is very trendy right now. Add a wreath to contribute to the door's cozy, inviting quality, and change it out to match the seasons.
2. Perk up Your Siding and Trim
Is your house looking a bit drab? Perhaps the siding is a little dirty, or the exterior colors of the home look a bit outdated or uncoordinated. It may be that all you need is a good cleaning of the exterior of the house. Or maybe it's time for a fresh coat of paint on the siding and trim. Research different homes in your neighborhood with your architectural style to find colors that go well together and choose a color palette that expresses your personality. New exterior colors give the home a wow factor and are sure to up your curb appeal. '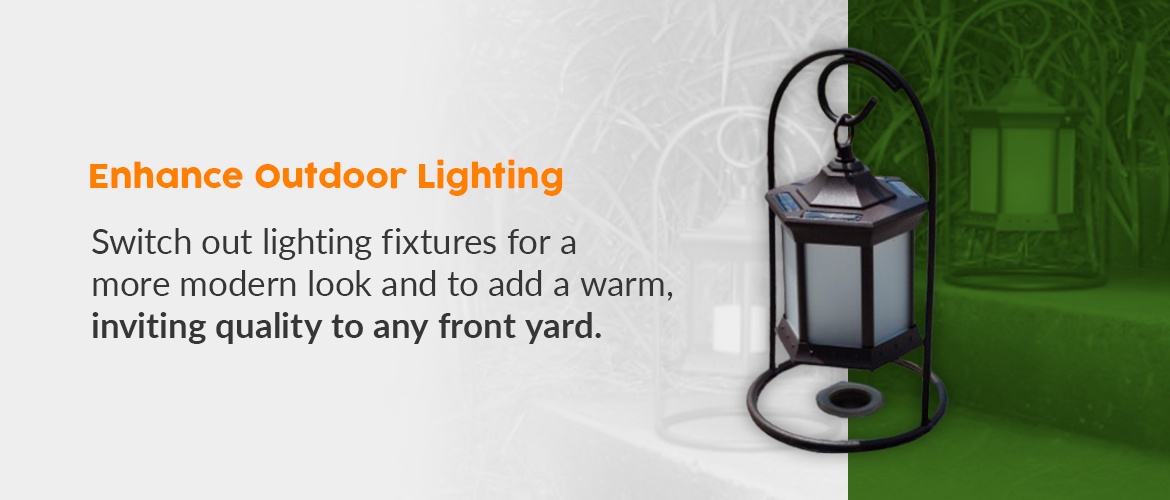 3. Enhance Outdoor Lighting
A quick and easy curb appeal fix is to update the exterior lighting. Switch out lighting fixtures for a more modern look and to add a warm, inviting quality to any front yard. Make sure to replace burned-out lightbulbs right away to make it easier for visitors to see outside. You can also consider adding other options for porch lighting, pathway lighting or solar garden lights to increase the overall curb appeal of your home after dark. Adding quality lighting also helps to prevent criminal activity on your property.
4. Consider Outdoor Seating
Adding outdoor seating helps your home look more welcoming and appealing. If you have a porch in the front, consider setting up a porch swing, benches, and a table and chairs set. Even a small patio can benefit from a simple chair or bench. All these comfortable seating options make your house appear more pleasant and give you a relaxing outdoor living space to sit and enjoy the fresh air. You can also use this space to entertain guests and host family gatherings.
5. Plant Some Flowers
Adding a few flowers to your front yard is one of the most straightforward curb appeal tips. Flowers add a pop of color and enhance the look of any home. You can go big with a fully landscaped flower garden or add a few smaller window boxes or planters. Take this idea a step further by choosing blooms in coordinating colors that go well with your home's color scheme. Coordinated landscaping will add to the curb appeal even more by creating an eye-catching design for you to enjoy.
6. Consider Adding a Tree
If your yard has plenty of room, consider adding a tree or larger shrubbery. A well-placed tree in the front yard adds shade, helps with climate control and can frame the home to make it look more welcoming. Many flowers need to be replanted every year, or even seasonally, but trees and shrubbery last for years and improve the curb appeal and home value as they grow and mature. A home with mature, well-manicured trees and shrubs is considered highly appealing and valuable.
7. Trim the Greenery
If the trees and shrubs in your yard are starting to look a little overgrown, perhaps it's time to give them a trim. You can do this yourself, or hire a professional, especially if you have large trees that need work. Trim the overgrowth to give your trees and shrubs a visually appealing shape and remove any dead branches or oddly shaped growth.
For the most inviting effect, you want your greenery to frame the front of your house rather than hide it. Trimming the foliage also makes your yard appear more healthy and well maintained.
8. Keep Things Clean
Cleaning isn't just for a home's interior. Give your curb appeal a boost with a thorough exterior cleaning now and then. Use a pressure washer to clean doors, windows, walkways, porches, siding and roofing. You may also want to sweep your patio or deck and wash your outdoor furniture. Follow the manufacturer's instructions for cleaning any upholstered or wood furniture because they usually require special care. Keep any clutter, such as tools and toys, to a minimum, and store what you can in a garage, shed or deck box.
9. Update Your Walkway
The path leading up to your front door is a significant aspect of your overall curb appeal. This part of your home leads your guests to the front door, giving them a comfortable place to walk instead of stepping on your lawn. Power clean your walkway to remove dirt and debris. You may even consider redoing the cement or brickwork if the path looks a bit outdated or run down. Amplify the inviting nature of the walkway by lining it with flowers and small solar lights.
10. Pave the Driveway
Paving or repairing the driveway can also go a long way towards a better curb appeal. A crumbling, cracked driveway can bring down the overall look of a home. It also makes it more challenging to park and wears down your vehicle over time. Consider refinishing or repaving your driveway, especially if it's in your front yard. If a repaving job is out of the question for now, you can still have the driveway power-washed and keep it clutter free.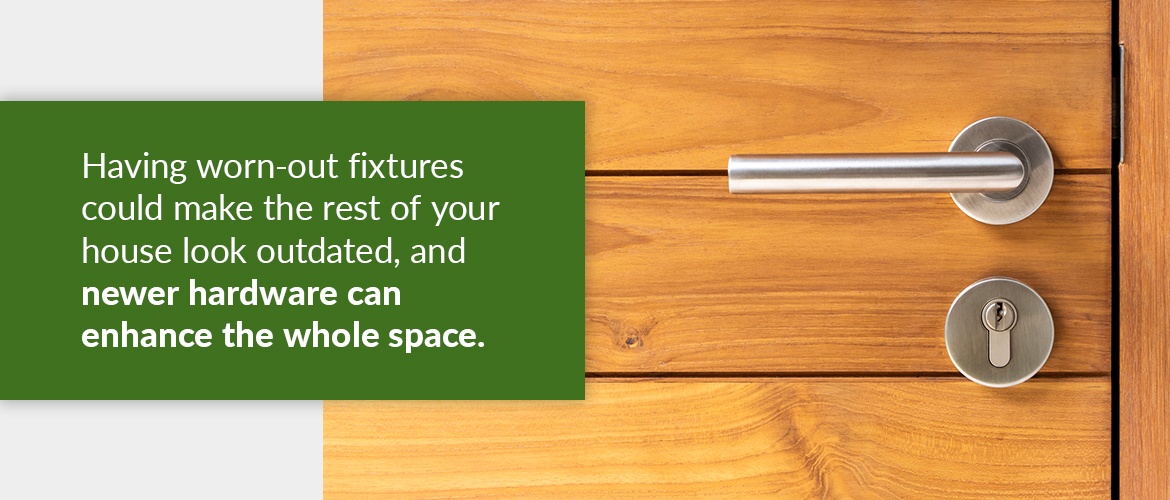 11. Replace Fixtures and Hardware
Do you have mismatched or outdated looking hardware and fixtures on the front of your home? This seemingly small detail can make a significant impact on the home's curb appeal. Having worn-out fixtures could make the rest of your house look outdated, and newer hardware can enhance the whole space.
Choose some new house numbers, doorknobs and door knockers. You may also want to add a new mailbox to the entry area. The fixtures should fit in with your property's design style and coordinate with each other for a cohesive look.
12. Open up the Curtains
This tip may seem like a simple fix that doesn't affect curb appeal, but it can make a difference. If you always have curtains, blinds, shutters or other window coverings closed, it can make the home look less welcoming. Of course, you may want to close the curtains at night or any time you want more privacy. However, opening things up more often makes the home appear brighter and more inviting. This tip is useful if you are expecting visitors and want to create an inviting atmosphere.
13. Put Out the Welcome Mat
Make your entryway more inviting with a welcome mat. This outdoor decorative element comes in various colors, textures and patterns that reflect your unique design style. Choose a new mat that adds some style and personality to your front door, welcoming visitors to your home with an encouraging message or colorful motif. The added benefit of putting out a welcome mat is that you'll keep more dirt out of your house. As a result, you'll enhance the appearance of your interior and exterior property.
Outdoor Decor to Help Your Design
One of the easiest ways to up your home's curb appeal while adding lots of personality is to use some outdoor decor elements. Adding some decorative pieces as focal points makes your yard and home entry look unique and inviting.
Eco-friendly outdoor decor made from bamboo is an excellent choice for many exterior home projects that can significantly boost curb appeal. Bamboo is available in a wide variety of products for your yard and landscaping. As a fast-growing plant that generates less waste during the manufacturing process, it's a sustainable alternative to wood products. You can use it for fencing, poles, landscaping edging and other exterior projects. Each of these elements adds a natural, sophisticated and modern look to any home.
Depending on your design preferences, you may also want to boost your home's curb appeal with the following decorations:
Bamboo windchime: This product can be an excellent addition to your outdoor patio or lawn. The soothing sound from the wind chime creates a relaxing atmosphere for you and your guests. This decorative element contains bamboo and coconut material to give your exterior property a unique appearance.
Artificial rocks: Whether you have an outdoor garden or need to cover up an unsightly part of the lawn, consider putting decorative artificial stones outside. These durable decorations can add a bit of color and texture to your exterior living space.
Thatch umbrellas: If you'd like to have some additional shade in your backyard, you might want to decorate with thatch umbrellas. Like bamboo, thatch is an eco-friendly, sustainable product. An umbrella can help provide some privacy in your outdoor living space while creating a safe, refreshing place for you and your loved ones to gather.
Bamboo is perfect for modern outdoor landscape designs, offering a calming, natural appearance that looks great with a variety of home and landscaping styles. Bamboo has a Zen-like quality. When added as a landscaping element, it contributes to the lawn's beauty and serenity. These stylish elements are sure to boost the curb appeal of any home.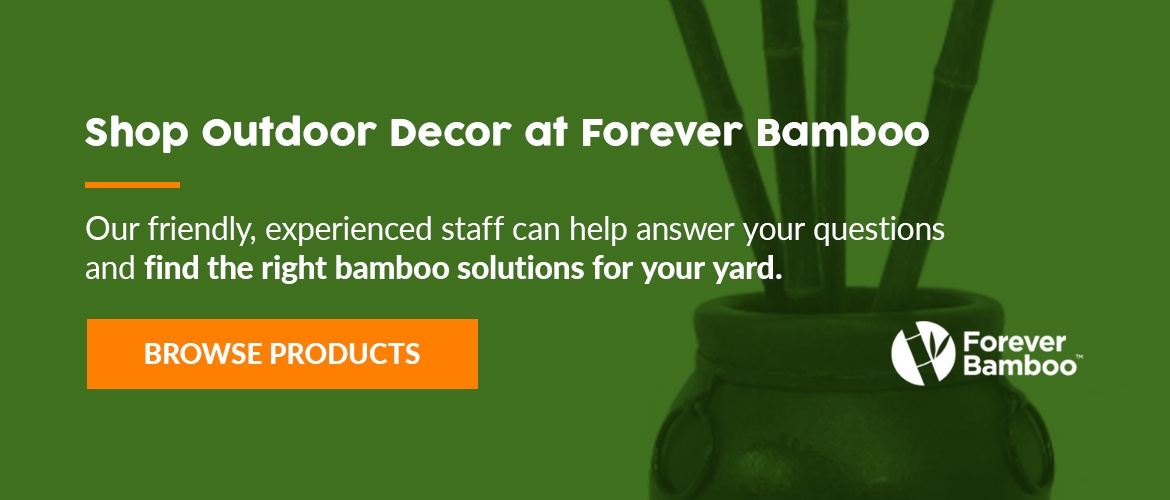 Shop Outdoor Decor at Forever Bamboo
There are many great ideas for outdoor design to boost curb appeal that you can easily take on yourself. Add beautiful bamboo elements, such as fencing, landscape edging and blinds to enhance the wow factor of your front yard and entryway and improve the value of your home in the process.
Shop Forever Bamboo for the best selection of high-quality bamboo products for your home and yard. Our friendly, experienced staff can help answer your questions and find the right bamboo solutions for your yard. Browse our selection today or contact us for more information.