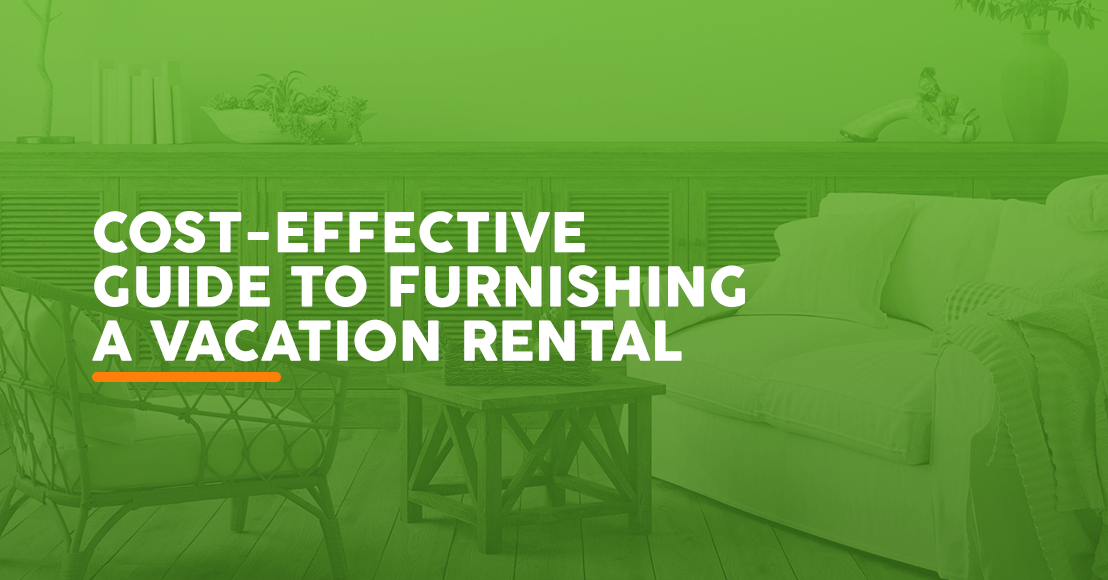 If you own a vacation rental property or are thinking of buying one, you probably know one of the biggest challenges is finding furnishings and decor to make it inviting for guests. Buying all new furniture right away can offset your initial rental profits, but there are ways to make a rental property beautiful and still maintain your budget. Consider this your guide for how to decorate a rental property with cost-effective methods and ideas for tropical-themed decor for rental properties.
Jump to Sections:
The Importance of Appearance in Your Vacation Rental
In the realm of vacation rentals, appearance is incredibly important. Renters are paying to stay in a home away from home, and they expect it to be in good condition with furnishings and decor that are appealing and put them at ease. The appearance of your rental property also serves as a valuable marketing tool because your online listing will include several photos of the place.
Renters will be more likely to book a property that has lots of photos displaying quality, appealing furnishings and decor throughout the home. A vacation home that looks great will leave renters satisfied with their vacation experience and more willing to leave positive online reviews or give word-of-mouth recommendations.
When you are furnishing and decorating your vacation rental property, you want the overall design to appeal to as many people as possible without being overly personalized. Choose high-quality furnishings and decor in soothing neutrals to appeal to a wide range of potential renters. Select an overall interior design style that matches your regional area, the architectural style of the home and design elements you like.
Avoid being overly personal with more unique pieces, bold colors and artwork, or photos of you and your family. Personal photos and decor that only appeal to certain people can make a renter feel uneasy in the space — like they are intruding on someone else's home. Renters want to stay in a home that feels welcoming and cozy and has everything they might need during their stay. Your home should include a full range of furnishings and decorations, be appealing to a wide variety of guests and stand out from the competition.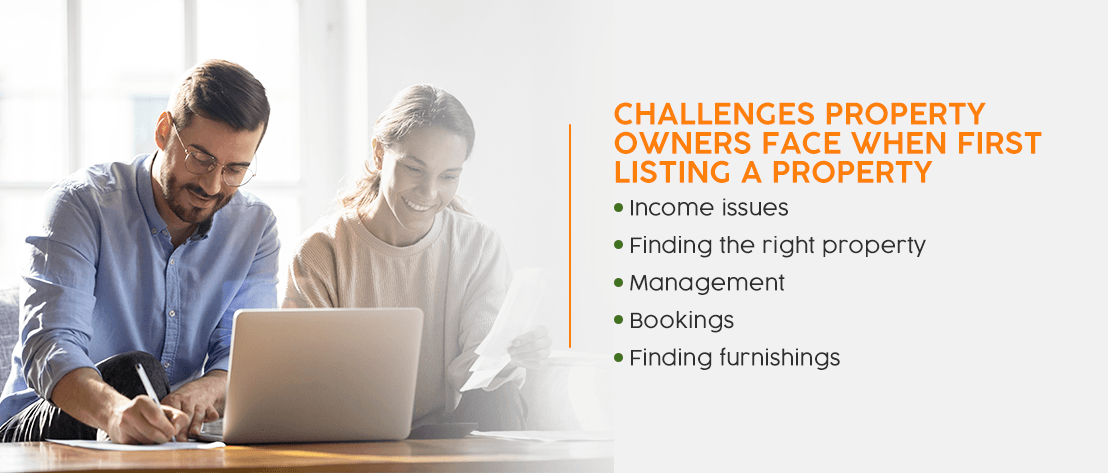 Challenges Property Owners Face When First Listing a Property
Owning a vacation rental property can be a great investment that is fun and rewarding. However, it is not without its challenges, especially if you're starting out with a new listing. For many vacation rental property owners, these are the top challenges:
Income issues: It may be hard to get started with a vacation property because of concerns surrounding making enough income. The owner may worry the property won't bring in enough income to make the investment worth buying and maintaining.
Finding the right property: If you don't already own the vacation property you want to rent, it can be a challenge to select the right one. If this will mainly be an investment instead of a vacation home for your family, you have to think like a property investor and keep renters' needs in mind.
Management: Taking care of a vacation property can be time-consuming, including the cleaning and setup and managing guest inquiries, reviews, bookings and advertising. You can do it all yourself, or hire a management company to handle it, but the choice isn't always easy.
Bookings: One of the biggest challenges for property owners at any stage is getting enough bookings. Competition is fierce, with lots of choices online for vacation homes. To be successful, you need to know how to list and advertise your property and attract the right renters.
Finding furnishings: If you have a brand new vacation rental, it can be a challenge to find all the furnishings and decor to complete the look right away. The added expense of buying new furniture and decorations needs to be budgeted for so the home can look attractive to potential renters. Fortunately, there are ways of saving money and furnishing your rental quickly and effectively.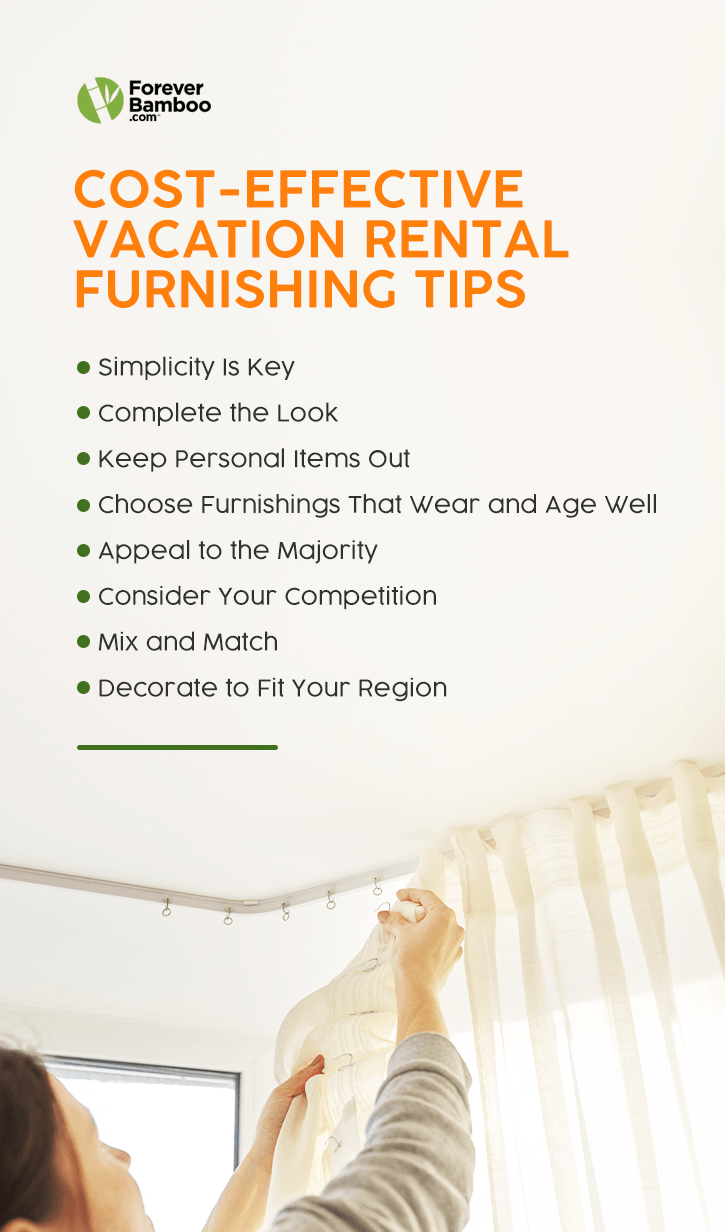 Cost-Effective Vacation Rental Furnishing Tips
If you just purchased a vacation property and are ready to furnish and decorate, these tips for rental decor can help. Some of the top rental property decor trends value simple looks and vintage pieces that can save you money. These property rental decor tips can help you choose the right furnishings to attract renters while maintaining a more reasonable budget:
1. Simplicity Is Key
When it comes to DIY rental decorating, it's best to keep things simple. A vacation home should feel relaxing and soothing instead of overwhelming and cluttered. Start with the basics in terms of furniture, including:
Beds
Nightstands
Dressers and vanities, if necessary
Kitchen table and chairs
Couches
Living room chair or recliner
Coffee table
TV stand
End tables
Floor lamps
Keep accessories and decor items to a well-edited minimum. This maintains the relaxing vibe of the vacation home and leaves a little room for renters to add their own personal touches. The benefit of keeping furnishings and decor to a minimum is that you'll save money and avoid creating excess clutter in your vacation home.
2. Complete the Look
While you want a simple, minimalist look, be sure not to veer too far and create a home that appears stark or empty. Rooms can have art on the walls, a few books on the bookcases, rugs on the floor and more to complete the look and make it cozy. Treat the home as if you live there long term, and think about the details you would like to have. This may include:
Curtains and other window treatments
Coat racks near the door
A welcome mat at the door
Hooks for towels in the bathrooms
Hangers in the closets for guests to use
Organizational hardware in kitchen drawers
A few pieces of interest on a mantel or shelf
Other special touches throughout the home
These are the small details that can add up to make your renters feel at home and encourage them to keep coming back.
3. Keep Personal Items Out
Renters want to be able to relax in the vacation home and not feel like they are intruding on someone else's life and home. It's best to keep personal items like family photos out of a vacation rental to keep the decor generic and appealing to more guests.
If you plan to use the home for yourself or your family for part of the year, you can create a space in the home to store personal belongings. That way, you can use them when you are there, and hide them away for guests. Depending on the size of the house and the amount of personal items you'd like, you could use a trunk or closet, or even a whole room that is kept locked when rental guests are there.
4. Choose Furnishings That Wear and Age Well
It's important to remember you'll have many different people in and out of the home, possibly with pets, children, or people who may not be as careful as you are with your furnishings. The majority of renters will likely treat your place with care, but accidents can happen. It's best not to use priceless antiques, special family heirlooms or overly expensive furnishings in this case.
Spend your money on quality furnishings that are likely to last for a long time and not need frequent replacements. In this way, a little extra money upfront can save you more in the long run. Don't start with furniture that's wobbly, creaky or difficult to use, such as a stiff recliner or a dresser with drawers that stick. Your furniture should be sturdy and user-friendly so it can sustain normal wear and tear.
Choose finishes and materials that can improve with age instead of being ruined by a small chip or ding. Certain kinds of stone countertops, salvaged wood flooring and furniture, and other similar materials develop a patina over time with use, making them more beautiful. These materials are also long-lasting, meaning you won't have to pay to replace them soon.
5. Appeal to the Majority
In your own home, your decor can be as quirky as you like. But in a vacation rental, it's best to trend towards more crowd-pleasing choices. You can still decorate your vacation rental with furnishings and decor you like. Overall, try to err on the side of more neutral choices and items that have wider appeal. The safest choice may be to keep in line with appropriate regional decor.
6. Consider Your Competition
It's a good idea to pretend to be a renter in your area and check out your competition for vacation rental properties. In fact this is one of the best tips for how to improve a rental property listing. Use photos included on rental booking websites to examine other rentals in your area and see what their decor looks like. You may even want to read reviews to see what kind of comments renters leave about the furniture. If they mention a furniture brand or type that is satisfactory or unsatisfactory, you can plan your selections accordingly.
There's no need to copy the competition, but you can take some notes from the best choices in terms of what they offer and the details that make their properties shine for potential visitors. See if there are any ideas you can improve on to offer more value for your guests. Additionally, look for decor and furniture styles you like. You can then try to find similar styles at a discount.
7. Mix and Match
Save your budget by spending on key items, and mix and match your splurges with your saves. You can even mix and match styles so you're not overspending on making everything match perfectly. Splurge on quality furnishings where it matters, such as beds and sofas, and save on the smaller details like end tables and decorative items. Shop around and use multiple sources to find great deals.
8. Decorate to Fit Your Region
You want your vacation rental to fit in with the surrounding geography and culture. After all, travelers may come from far away specifically to enjoy the unique qualities of the area.
For example, a mountain home in Colorado could be perfectly decorated with rustic, chunky wooden furniture and primary colors. A beach home in Hawaii or Florida would look perfect with lighter, airy colors and furnishings and decor that make use of local materials like bamboo and seashells. Keep things tasteful with little hints of the regional culture throughout the home.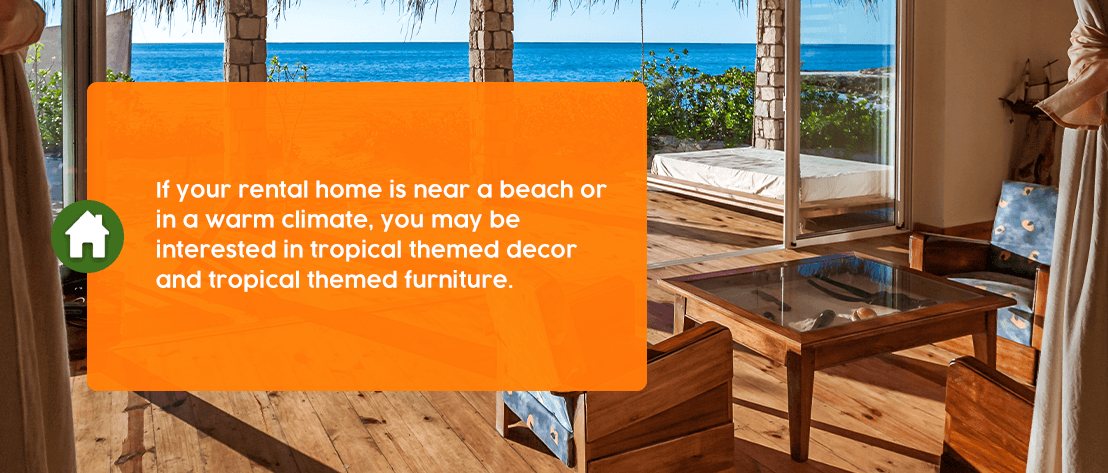 Where to Get Furnishings for Your Tropical Getaway
If your rental home is near a beach or in a warm climate, you may be interested in tropical-themed decor and tropical-themed furniture. In these properties, bamboo products are a great way to introduce some thematic flavor into the decor. Bamboo has a soothing, natural quality that's suitable for many areas — even those outside tropical climates. Bamboo is also eco-friendly, which will appeal to more sustainably-minded renters.
Bamboo products can be used in a wide variety of ways in rental homes, including:
In all these applications, bamboo is a stylish choice. Many of these decorative elements can be used both on the interior and exterior of a vacation rental property to add perfect tropical vacation vibes. Tropical decor for rental properties like tropical signs, hanging birds, Tiki masks and bamboo windchimes can also give a relaxing, resort feel no matter how close you are to the beach.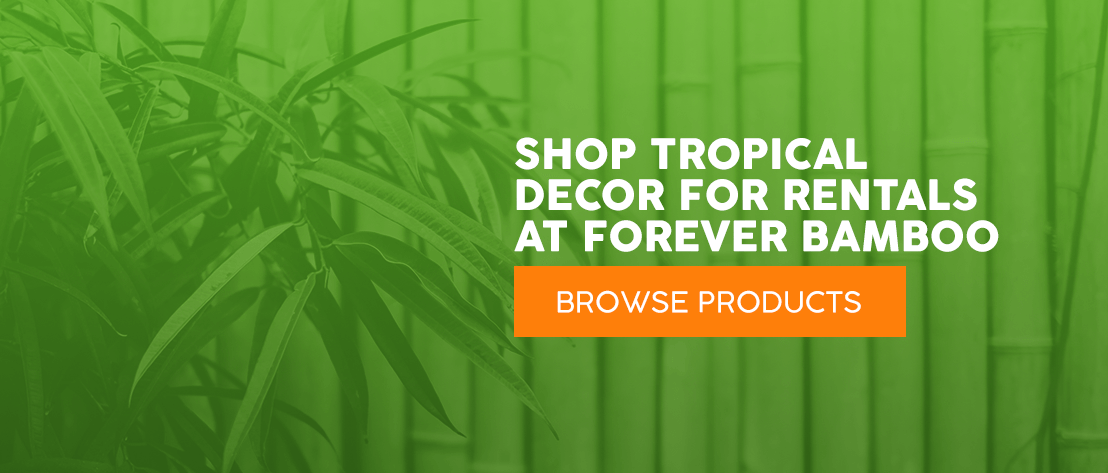 Shop Tropical Decor for Rentals at Forever Bamboo
For more tropical design ideas for rental properties, browse the selection at Forever Bamboo. We are proud to offer a variety of high-quality bamboo products that are sure to add a tropical feel to any home. Make your new vacation rental home feel like an island paradise with bamboo fencing, poles, paneling, rugs, garden borders, as well as thatch and matting products and tropical decor.
Forever Bamboo is the nation's top provider of tropical decor, and we offer free shipping on many of our products. Our customer service representatives can help you with any questions you may have and assist you in finding the right bamboo products for your tropical getaway rental. Contact us online or call 877-912-2244 with any questions today.