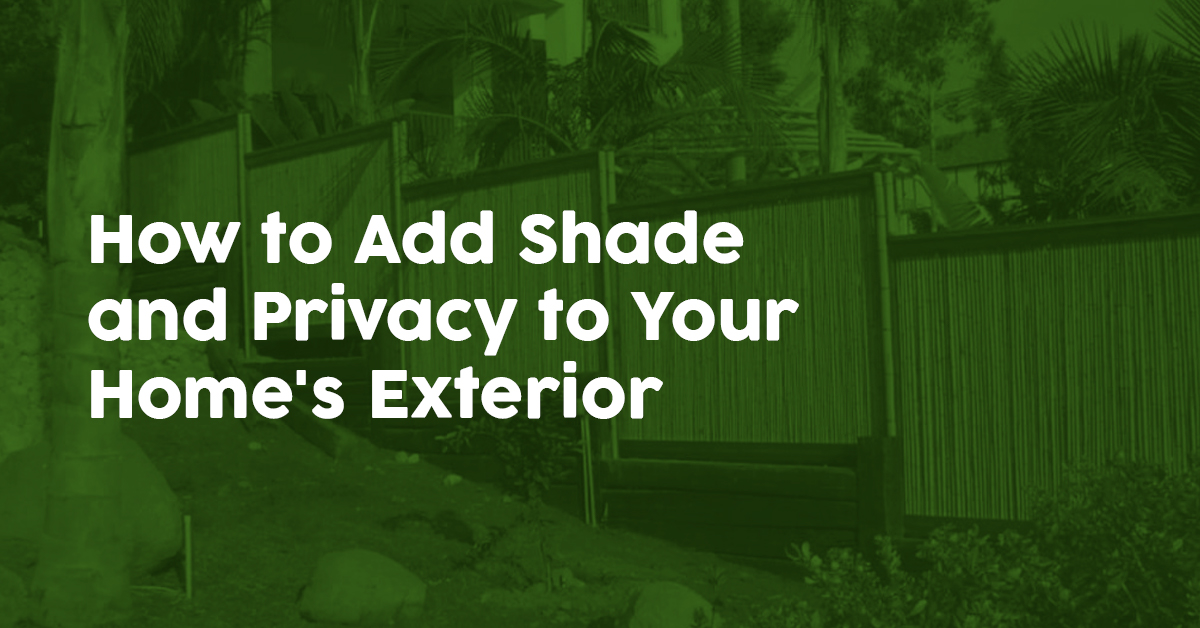 A backyard should be a comfortable oasis. You should be able to escape there after a long day without squinting through the sunshine or worrying about the wandering eyes of nosy neighbors. If you want to turn your backyard into a concealed haven, you need to know how to add shade and privacy to your home's exterior.
When it comes to learning how to add privacy in an appealing way and creating shady areas in your yard, there's a lot to consider. This guide includes things to think about as you design your perfect backyard and unique ways to add some quiet and shade.
Jump to Sections:
Improving Your Home's Privacy
Maintaining a bit of privacy and security in your backyard will help you feel more comfortable. No one wants to worry about neighbors' prying eyes while relaxing outside. But if your yard borders a neighbor's or a roadway, you could feel like passersby will see you. Learn how to improve the privacy of your home with these tips to maintain a secluded retreat.
1. Note Direct Lines of Sight
The best way to learn how to add privacy to your backyard is to see what's out in the open. Look at your home from the perspective of your neighbor's house and the street. What places would passersby be able to see or see into? From there, you'll have an idea of what you need to cover with fences, walls or different structures. Remember that if you're in your yard or home and you can see someone outside, they can see you. Places you may need to cover for some privacy include:
Windows
Doors
Decks and patios
Pools or hot tubs
2. Lock What You Can
Part of maintaining as much privacy as possible in your backyard is keeping out unwelcome guests. If you can lock something in your backyard, do so to get security and privacy for your home. Install locks or use existing ones on entryways and places like:
Gates
Sheds and garages
Pool areas
You may need to install additional features in your yard to use locks. Consider tall fencing options to go around the entirety of your yard and install a gate that you can lock to keep the space safe.
3. Balance the Coverage
Before installing fencing, walls and curtains to isolate every area in your home and backyard, consider balancing the coverage. You don't want to put excessive cover by entryways into your home. That could allow intruders to enter your home unseen. Instead, stick with adding coverage around the borders of your yard and using sparse coverage in other locations.
How to Add Shade to Your Backyard
Knowing how to increase shade coverage makes your backyard a much more usable space. In the shade, you could feel a temperature difference between 10 and 15 degrees Fahrenheit, noticeably improving the comfort level. Sit outside and enjoy your backyard no matter how bright it is when you learn how to shield the sun at home with these tips.
1. Consider the Sun's Movement
The sun spends the day traveling across the sky, and therefore across your yard. Think about the sun's path throughout the day to determine how to add shade to your backyard. You may even wait for a day with clear skies and watch every hour or so to see what areas of your yard need the most coverage.
2. Cover Areas You Like to Use
Unless you use every square foot of your yard to relax and entertain in, it doesn't all need shade. Prioritize areas you like to use in your backyard. These are places like the poolside, patios and decks that, without shade, can become hot and uncomfortable to use.
3. Remember Your Plants
If you have plants in your backyard, factor them into your plans to add shade. Some plants thrive better in sunlight, while others need indirect exposure. Cover plants that need it and let different ones have their time in the light. If you require shade in a specific area of your yard, but your plants need light to thrive, consider moving them. As a bonus, taller plants will increase the shade coverage in your backyard.
Tropical Elements for Backyard Privacy and Shade
Get a bit of shade and keep out nosy neighbors, all while maintaining a stylish, tropical look in your backyard. If you've ever dreamed of stepping out your back door into a private oasis, now's the time to create one. Tropical elements complement each other well, and when you use them throughout your backyard, you add shade and privacy to your home's exterior. Incorporate one or more of these elements and products for backyard coverage.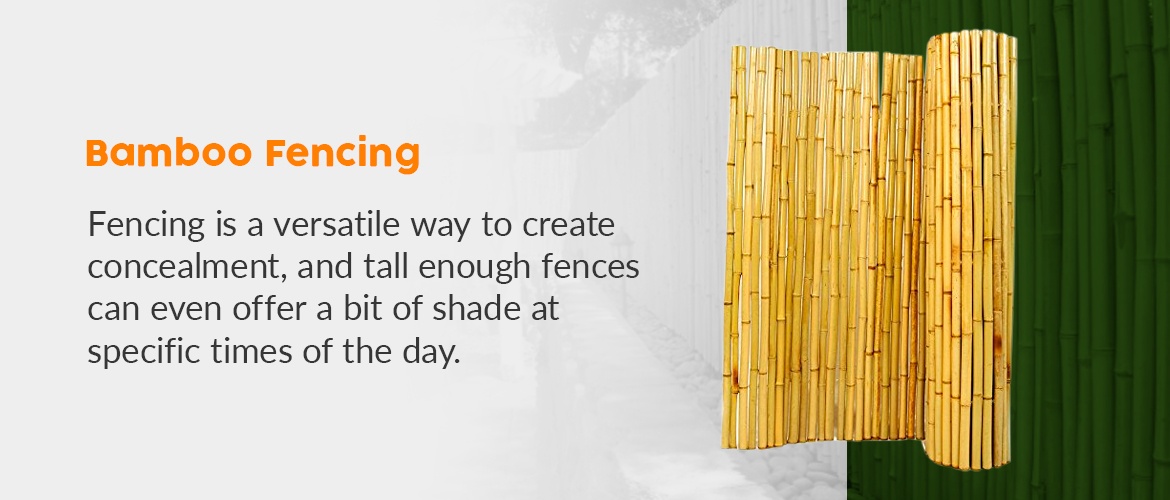 1. Bamboo Fencing
One of the best ways to add some privacy to your backyard is fencing. Bamboo makes the perfect addition to the tropical oasis that's right outside your door. Create a border around your backyard, or use it in sections where you need the most privacy. Fencing is a versatile way to create concealment, and tall enough fences can even offer a bit of shade at specific times of the day. You'll also enjoy other benefits of fencing in your backyard, including:
A decorative touch
A safer environment for pets and kids
A sound barrier
A clear marker of your property line
Bamboo fencing, in particular, is eco-friendly and pest-resistant. That, along with its quality and durability, makes it suitable for exterior applications. If you're considering bamboo to have natural-looking fences for some privacy, you'll find various heights and colors to consider. Decide between these shades for your bamboo fencing.
Once you install the fencing, apply Amteco Total Wood Protectant (TWP) to help maintain the material. From there, care is simple. Check the fencing after extreme weather conditions, and clean it when necessary. After about a year, depending on its exposure to the elements, you can re-seal the bamboo to maintain its appearance and durability.
Homeowners with tropical backyards prefer bamboo to other materials, primarily because of its appearance. Traditional wooden or plastic fences are too clunky for an oasis feel. They're typical and expected in a backyard, but bamboo shakes up tradition and transforms a backyard into your personal paradise. Thanks to TWP's variety of colors, you can also stain natural bamboo fencing to suit your yard's design scheme.
2. Bamboo Poles
For smaller areas of your yard or to complement bamboo fencing, use bamboo poles. The material comes in various heights from 5 to 8 to 10 feet. Bamboo poles create versatile structures to provide some privacy in your yard and similar backyard fence advantages. Their durability and flexibility make them suitable for various uses throughout your yard. Incorporate bamboo poles with these projects and tips:
Increase the height of sections of fencing that border a neighbor's yard.
Create a privacy screen by a hot tub or pool.
Add a wall to outdoor structures or patios for extra shade and some privacy.
If you have a flat surface, like a low wall, where you'd like to add a bit of privacy and tropical style, consider split half-round bamboo poles. Their split style makes them moderately simple to attach to flat structures. The material provides extra height and coverage from the sun and passersby. Apply TWP to whole or split half-round bamboo poles as you would on bamboo fencing. That lets you customize natural bamboo poles and provide extra durability against the elements.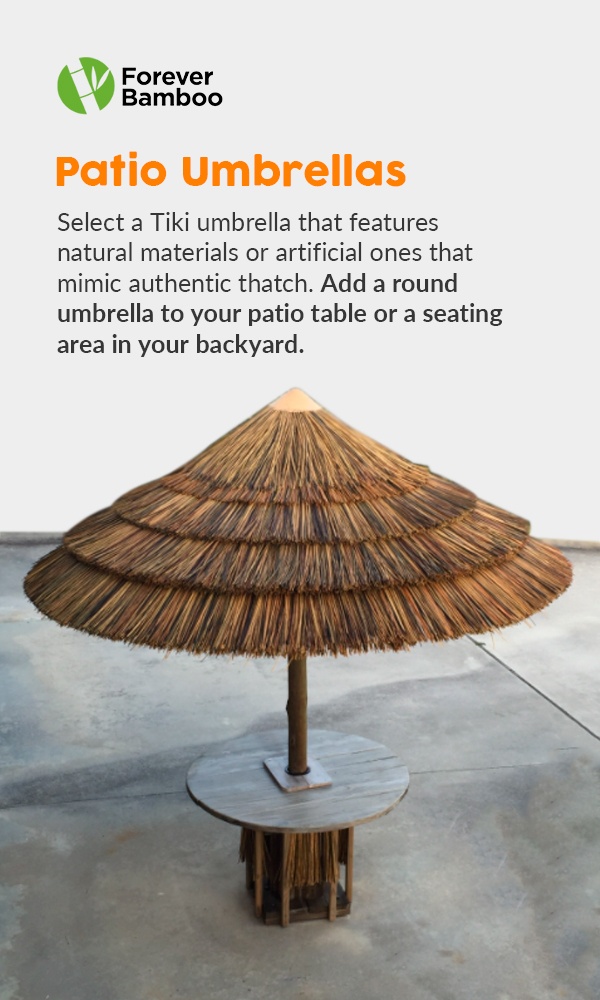 3. Patio Umbrellas
You want to sit and relax on your deck or patio without worrying about the sun. In that case, an umbrella will come in handy. Select a Tiki umbrella that features natural materials or artificial ones that mimic authentic thatch. Add a round umbrella to your patio table or a seating area in your backyard. No matter where you put it, you can select from these products to shade the sun.
Viroreed has a clean, layered look. The artificial thatch replicates authentic materials but can withstand exposure to extreme elements. The maintenance-free design resists rotting, decaying and shedding.
Viro Java palm thatch mimics natural grass materials. Like Viroreed, Viro thatch doesn't require maintenance. It's also 99% waterproof, making it suitable for various conditions.
Tiki grass features a natural, textured appearance. The foldable design makes it easy to close and store a Tiki grass umbrella when you're not using your backyard.
African Cape Reed thatch features neatly trimmed panels in a tiered design. The material overhangs the umbrella frame to provide you an extra bit of coverage.
Mexican palm thatch offers a classic tropical look. Its textured appearance is the result of a hand-woven design. The tan and golden brown hues within the material complement anything from natural bamboo to chocolate brown shades. It comes in an artificial variety, as well, for a maintenance-free design.
4. Pavilions and Canopies
These shade structures suit larger yards that have enough space for them. If you're lucky enough to have the room for a pavilion or canopy, you create a functional and versatile area in your backyard. Use it as an entertainment space, a poolside seating area or a place to enjoy the outdoors without sitting in the sun. To make a tropical pavilion or canopy, add elements like these.
Thatch has helped people create shade structures for centuries, so you can trust it to offer coverage in your backyard. Install thatch for shade protection on top of pavilion structures, either to create a roof or decorate an existing one. Thatch comes in various textures and materials that have different lifespans, depending on where you live. You could also enjoy your material longer, depending on where you live, with synthetic thatch.
Bamboo poles add dimension and texture to an exterior shade feature like a pavilion or canopy. Attach split half-round bamboo poles to an existing structure, or consider creating one out of bamboo poles. Order varieties that match or complement different bamboo elements in your yard, like natural bamboo or natural black bamboo poles.
Curtains add a flowing, resort-like feel to your shade structure. Select from a wide array of fabrics and patterns to find what suits your style and your backyard. When you add curtains to the sides of canopies or pavilions, you increase shade coverage and privacy.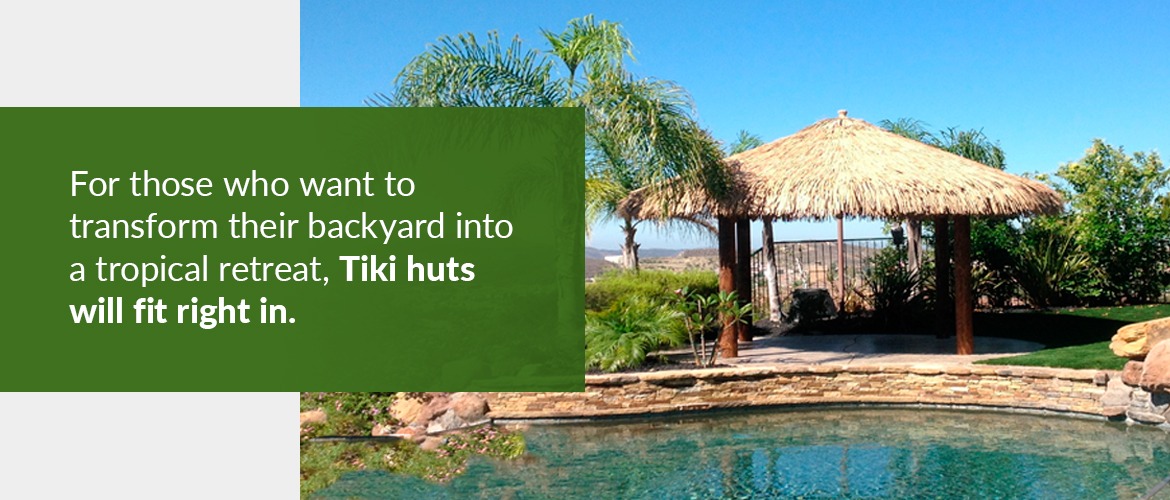 5. Tiki Huts
Emphasize the tropical design of your backyard with Tiki huts for shade. These shade structures may not suit every home, but for those who want to transform their backyard into a tropical retreat, Tiki huts will fit right in. The huts are smaller than the average pavilion, making them suitable for smaller yards, decks or patios.
A Tiki hut kit will make installing your shade protection a moderately more straightforward process. You'll only need one other person to help you assemble and install your shade structure. Watch your backyard transform into a themed tropical escape right before your eyes. You can even enhance the motif by adding a Tiki hut over a Tiki bar area for a whimsical touch.
6. Plants and Trees
Rely on greenery to create natural shade improvements for your home and add privacy. This solution will be ideal if you select evergreen trees or live in a climate where trees keep their leaves year-round. Otherwise, you'll lack shade or seclusion during late fall and winter. You'll also have to find trees that suit the aesthetic you want for your backyard, which will be tricky with some styles. A tropical motif, for instance, doesn't complement evergreen pine trees.
Luckily, tropical plants can provide a bit of shade and privacy. Tall palms and ferns have leaves that spread out and create protection from the sun. Plant them around the border of your yard to enhance the seclusion you already have with fencing and various structures.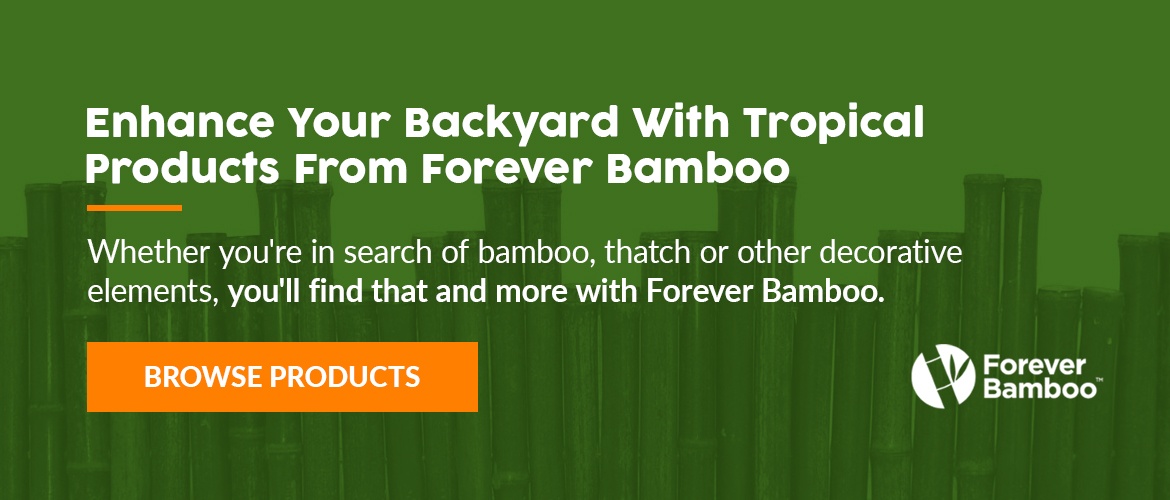 Enhance Your Backyard With Tropical Products From Forever Bamboo
Turn your backyard into a paradise with products from Forever Bamboo. We offer a collection of tropical décor that provides a natural touch and adds shade and some privacy to your home. Whether you're in search of bamboo, thatch or other decorative elements, you'll find that and more with Forever Bamboo.
Browse our assortment of natural and tropical products to find what you need to create a backyard oasis. Need help finding the right décor for your home? Contact us at 877-912-2244, and our knowledgeable team will assist you.