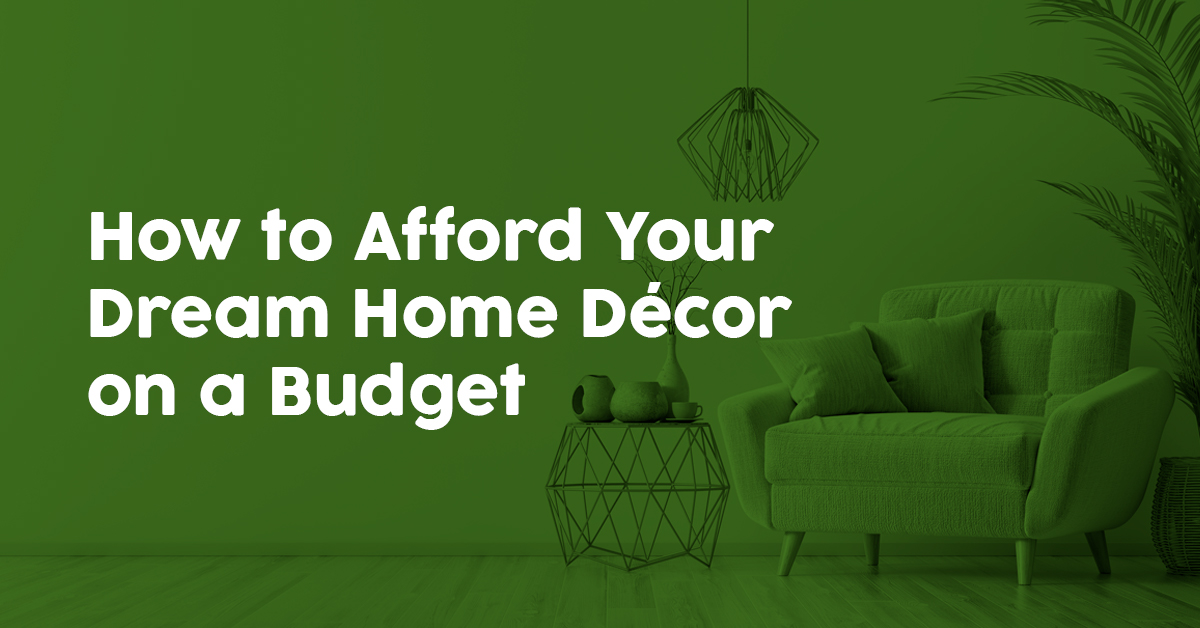 For whatever reason, you're tired of your current décor. Perhaps it's out of date, you need a change of scenery or it doesn't match your style anymore. No matter why you want to give your home a makeover, you likely want to get a look you can afford. You have some ideas, but you also have a limited amount to spend. To make your dreams a reality, learn how to decorate your home on a budget. So, where do you begin? That's where we can help.
We've gathered everything from tips to managing your budget and design inspiration to help you redesign your home. Discover how to afford your dream home décor on a budget below.
Jump To Sections: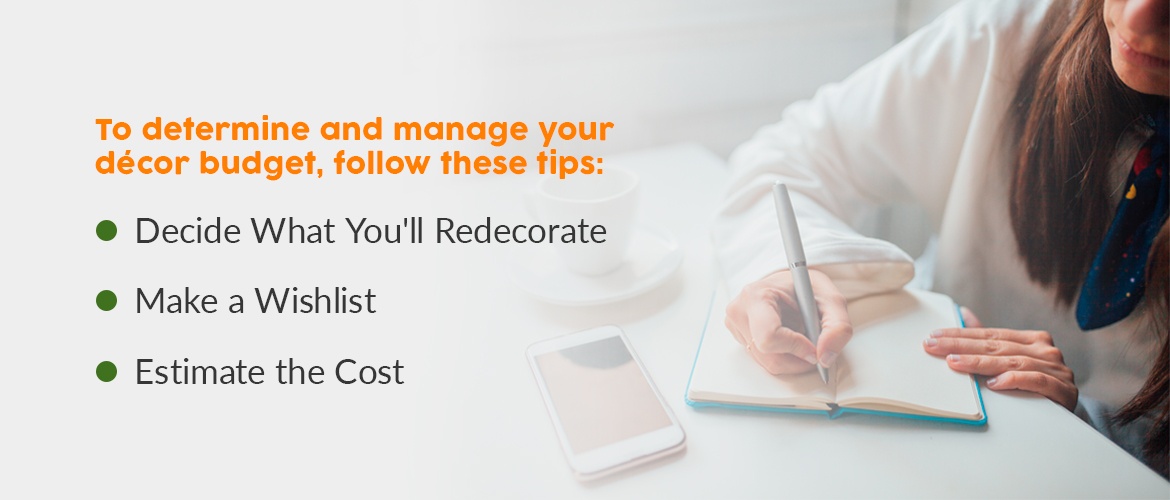 How to Determine and Manage Your Décor Budget
Your décor budget will depend on how much you have to spend. Because you're looking to know how to decorate your dream home, you'll need an adequate amount of money to get everything you want. But you still need to maintain your budget and avoid going over. Estimate what you'd be able to spend, and try to factor in some wiggle room if your project gets more expensive than you expected. To determine and manage your décor budget, follow these tips.
1. Decide What You'll Redecorate
Creating your home décor budget starts with deciding what room or rooms you'll decorate. Common spaces to redecorate include:
Bedrooms
Home offices
Living rooms
Sunrooms and patios
Remember, bathrooms and kitchens can rack up a higher redecorating budget, primarily if you replace plumbing, counters or countertops. Keep your redecorating plans simple to have a significant impact while staying under budget.
To manage your décor budget, you may need to prioritize one room. Choose a space where you spend a lot of time, such as a bedroom, or one where you often entertain guests, like the living room. If you want to redecorate your entire home on a budget, plan an amount for each room.
2. Make a Wishlist
If you shop without a plan in mind, you could go over your budget. Look around your room and decide what you need. Your preferences, the purpose of the room and any items you want to keep will also factor in. Consider these categories for your décor wishlist.
Seating: Couches, chairs and ottomans are functional pieces that also serve as decoration. If you don't want to get new couches or chairs, add decorative accents to your furniture. Pillows or blankets bring in your new theme without breaking the bank.
Surfaces: Depending on the room, you could add side tables, coffee tables or a dining table. Keep possible future redecorating ideas in mind and select versatile pieces for different styles.
Lighting: Lights are essential for any room, so use them to add a decorative touch. Floor and table lamps are easy to find in your style and simple to put in your home. Chandeliers are more complex to install, but they'll dramatically change the look of your room.
Wall décor: Decide if you want hanging art, wall molding or other decorative accents for your walls. These elements make a room feel complete. They're among the most versatile decorative items, meaning you're sure to find options that suit your style and budget.
3. Estimate the Cost
With a wishlist in mind, you'll be able to estimate the cost of your redecorating project. Look up general estimates for items or find specific décor you want for accurate prices. Add up the total and see if the result fits into your budget. You may have to compromise on some items or look for affordable home décor alternatives.
Get Design Inspiration
To create your wishlist and budget, get design inspiration for your redecorating plans. Having a decorating direction will help you stick to your finances. You'll avoid buying pieces that you won't need later with a specific look in mind. Try these recent home decorating trends.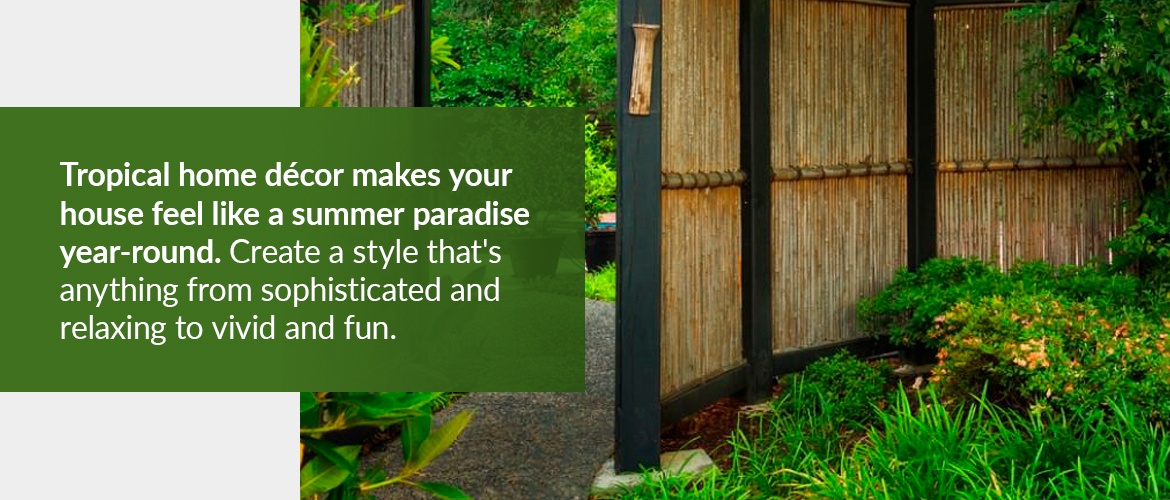 1. Tropical
Tropical home décor makes your house feel like a summer paradise year-round. Create a style that's anything from sophisticated and relaxing to vivid and fun. You could also combine a tropical home décor theme with others to create a unique look for your home. Whether you have a straightforward tropical style or mix it up, elements of tropical home décor include:
Vivid colors
Leaf-patterned furnishings
Thatch
Tropical plants
2. Coastal
You don't need to live near the ocean to use affordable beach house décor. Much like a tropical motif, a coastal design brings the summertime vibe to your home all year. You could even combine elements of both to make a tropical island oasis. To bring in the coastal feel, use these design features:
Blue and white accents
Whitewashed wood tones
Natural touches
Nautical artwork
3. Modern
A modern style includes a variety of interior design themes. You could go Scandinavian with simple lines or industrial with eye-catching, machine-inspired touches. For affordable home décor, select a contemporary, minimalist style that requires little decoration. Whatever substyle you pick, add elements like these for modern interior design:
Black and white neutrals
Dark wood tones
Metallic accents
Sleek, straight lines
4. Classic
Classic home décor ranges from vintage-inspired to timeless. This option could be right for you if you want longevity in your design or a flexible style you can adjust parts of down the line. Incorporate these and other elements to get a classic look:
Neutral colors
Light wood tones
Rounded accents
Floral prints
5. 20th-Century Themes
Art Deco and midcentury modern styles are among some of the popular designs from the 20th century. They combine everything from a vintage feel to modern accents. Get 20th-century inspiration for your home décor with features such as:
Vivid colors
Geometric patterns
Mirrored elements
Curved features
6. Eclectic
Eclectic interior design may suit your home if you have varied tastes. If you can't choose one theme for your interior remodel, take your favorite elements from multiple. The result could become anything from industrial-chic to a transitional look. Choose a statement piece, pattern or color for your room in an eclectic style and add other features that tie into it.
Make Your Older Furniture Look New
Work with existing furnishings or furniture to create affordable home décor. Putting a bit of time and energy into your old furniture is the best way to transform your space and decorate your dream home while staying within your budget. Tap into your creativity and try these ways to make your old furniture look new.
1. Transform Wood and Other Materials With Stain
Refinishing furniture like tables or dressers is one of the easiest ways to create affordable home décor. Wood furniture or wood substrates take well to stain and breathe new life into your existing pieces. You could also stain materials like bamboo to create tropical designs for home décor. Depending on the material and the type of furniture you want to refinish, you'll have a few moderately simple steps to follow.
Sand off any existing coating to expose the wood surface and ensure the stain will adhere.
Clean the surface with an appropriate cleaner. For bamboo, use a solution of water and bleach or water and detergent.
Air-dry the surface for at least two days or until it's completely dry before applying the stain.
Work in ideal conditions to ensure a quality finish. Don't work in humid or cold conditions, as that affects how the stain will dry.
Apply the seal in a thin coat before staining the surface and allow it to dry.
Apply the stain with a brush or sponge, wiping excess stain with a rag. Work with and against the wood grain to get adequate coverage.
Apply another coat of sealant once the stain dries. If the color isn't your preference yet, apply another coat.
For a convenient furniture makeover, use Total Wood Protectant (TWP) that serves as both a sealant and a stain. That eliminates a step because you'll only have to apply one product. TWP comes in various shades to help you transform your wood or bamboo furnishings, so consider the following.
2. Use Matting or Panels
If you want affordable beach house décor, go tropical. Natural and synthetic paneling and matting are moderately simple to apply to your furniture or room. The result is an inexpensive tropical décor transformation that uses your existing furnishings. Add products like these throughout your home for an exotic feel.
Thatch adds a textured and more overt tropical touch. Use a product like a Mexican palm thatch runner as table skirting or facing for a bar to get a Tiki feel.
Bamboo paneling comes in a variety of textures and colors. Add it to hard surfaces with contact cement or construction adhesive to create wainscoting or wall and ceiling coverings.
Tropical matting often features a woven pattern of natural or synthetic materials. Homeowners can select smaller rolls of the material for affordable tropical home décor.
3. Add Texture to Furniture in Other Ways
Not every piece of furniture that needs a revamp will have broad, flat surfaces. Or maybe they do, but you want to add more. In either case, use materials on the legs, frames and trim. Twine or jute creates furniture that goes with coastal or shabby-chic designs. For a tropical result that suits various looks, consider bamboo poles.
Split half-round bamboo poles attach moderately easily to flat surfaces. They'll save you money and time on cutting full poles in half. Instead, all you'll have to do is attach them with a construction adhesive or a similar method.
If you have bamboo poles leftover from your project, you can still use them in your home. Try different ways to use bamboo indoors. Decorate planters or place them freestanding in corners to add subtle, yet affordable, tropical touches.
4. Attach Mirrors to Furniture
For a 20th-century-inspired home, make your surfaces shine with mirrors. Mirror materials are inexpensive, and you can cut them to fit various furnishings. As a bonus, mirrored surfaces can make a room feel bigger, enhancing your budget redesign.
Attach the reflective surfaces with strong construction adhesive or whatever suits the service you're putting them on. Add a sophisticated DIY touch to areas like these:
Doors
Wardrobe drawers
Dresser drawers
Tops of side tables or coffee tables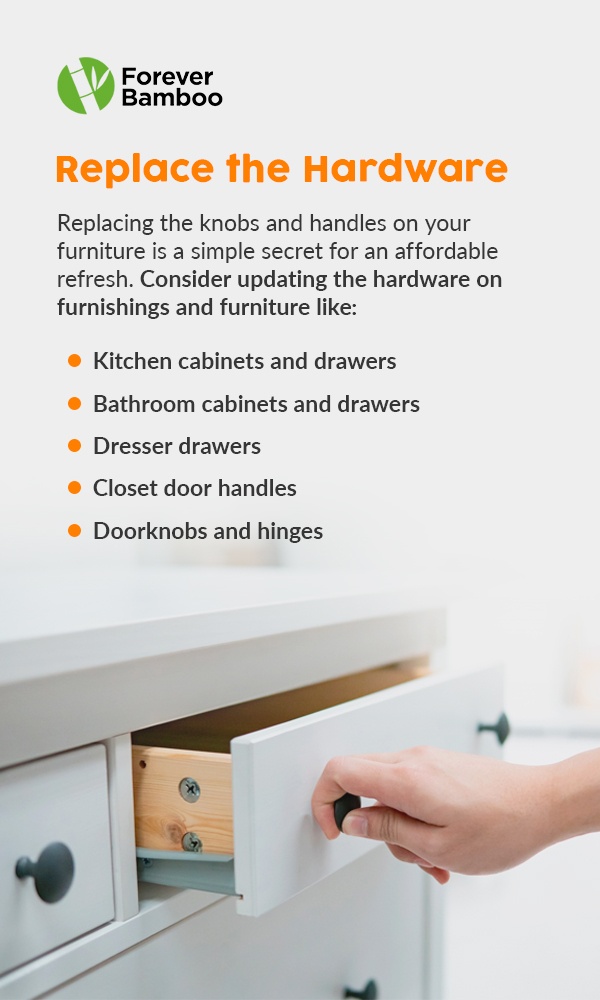 5. Replace the Hardware
Replacing the knobs and handles on your furniture is a simple secret for an affordable refresh. Combine this step with refinishing or adding matting for a complete transformation. When you replace the hardware, you only have to pay a small price for new handles or pulls. Most pieces of hardware are straightforward to swap out, and all you'll need is a screwdriver or drill. Consider updating the hardware on furnishings and furniture like:
Kitchen cabinets and drawers
Bathroom cabinets and drawers
Dresser drawers
Closet door handles
Doorknobs and hinges
Choose a hardware material that suits your new theme. Sleek, straight metal options fit into an array of modern designs. Unique ceramic or painted hardware complements classic décor. For a tropical theme, use split half-round bamboo poles for unique, textured handles and pulls.
6. Reupholster Your Furniture
Seating with cushions offers an opportunity to create new décor on a budget. Reupholstering your furniture requires a bit of time, upholstery fabric and tools, including scissors and a staple gun. If you've never sewn or reupholstered furniture before, you may want to pick a solid color. That means you won't have to deal with pattern matching, and you can focus on the process itself. To reupholster a chair, follow these general steps.
Remove the old fabric, disassembling the chair as needed. Take photos of the chair and label pieces "top," "front" or "back" to help with reassembly.
Replace the batting if it's worn or stained. Repair any internal components, like springs, if needed.
Refinish the frame and legs if you like. Now would be a good time, since you won't accidentally stain your new fabric.
Cut your new fabric to fit the seat. Use the old material as a guide if it's intact. If not, measure the cushion and have enough excess fabric to cover the sides and back.
Apply the new cover, placing it onto the batting. Pull the fabric tight and staple it to the frame. Go around the surface, ensuring the material is taut and wrinkle-free before you staple.
Depending on your skills and how much time you have for this project, you could get fancy. Make welting, the covered cord that goes over the seam of a chair. Or, choose a complex pattern that complements your theme. For a tropical feel, for instance, find fabric that features motifs of palm leaves and tropical florals.
7. Layer Textiles or Fabrics
Not every piece of furniture is a cinch to reupholster. Instead, go an easy and affordable route. Layer materials over surfaces like flooring, headboards and tables. The result is a simple DIY that you can quickly swap if your tastes change over time. Layer these types of textiles throughout your home.
Rugs tie in your theme while covering old flooring. No need to rip up existing floors when you can cover them in a rug that complements your new style.
Tablecloths or runners cover the surface of larger dining tables. Use tablemats or cut fabric down to size for side tables. Pick a unique pattern or a color that ties into the rest of the theme.
Blankets can become semipermanent decorative additions to areas like headboards. Drape them over the vertical surface for the look of a brand-new bed with minimal effort.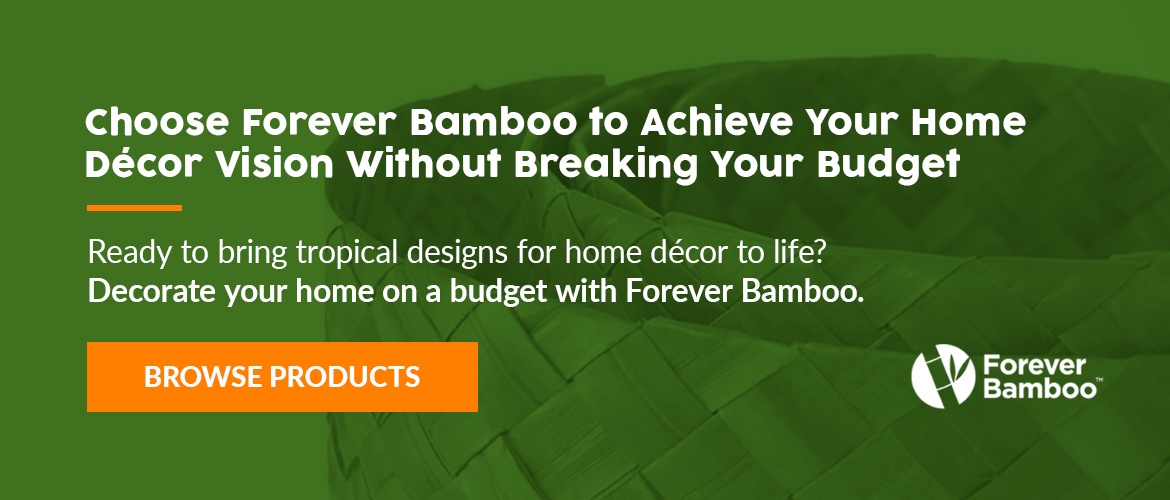 Choose Forever Bamboo to Achieve Your Home Décor Vision Without Breaking Your Budget
Ready to bring tropical designs for home décor to life? Decorate your home on a budget with Forever Bamboo. We offer an assortment of tropical products that'll let you transform your home into your private paradise. Free shipping is available on a selection of our products, including bamboo sealer, thatch products and tropical decorations.
Browse our wide array of tropical products today. If you need help finding something for your redecorating plans, give our knowledgeable team a call at 877-912-2244.