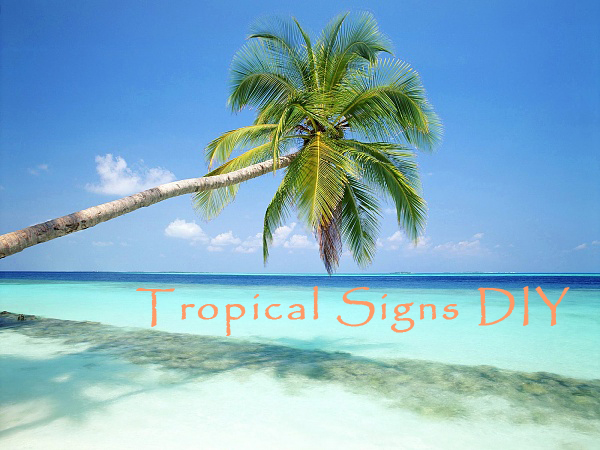 Welcome to our first DIY of the year! We'll start off with a very simple yet fun project that is easily customizable! Many of our tropical decor signs come with sayings painted onto them, but did you know we offer blank ones as well?
Tropical Decor Signs For All Occasions and Spaces
Use your personal signs to decorate tropical or beach themed rooms. Add them over your bed, kitchen, or desks to add a fun pop of decor. The signs are also great for sprucing up your office as well. The tropical decor signs also work well for themed parties. With a blank sign, the party can be more customized and exclusive. If it's a birthday, add the person's name wishing them a wonderful birthday or use them as signs to direct guests! Designate areas with customized signs such as "Gift Area", "Kids Play-Room", "Restroom This Way", etc. Use the signs also for events such as "Girls Night Out" (or even a "Girls Night In"!), "Bob's Luau", "Dave's B-Day",etc.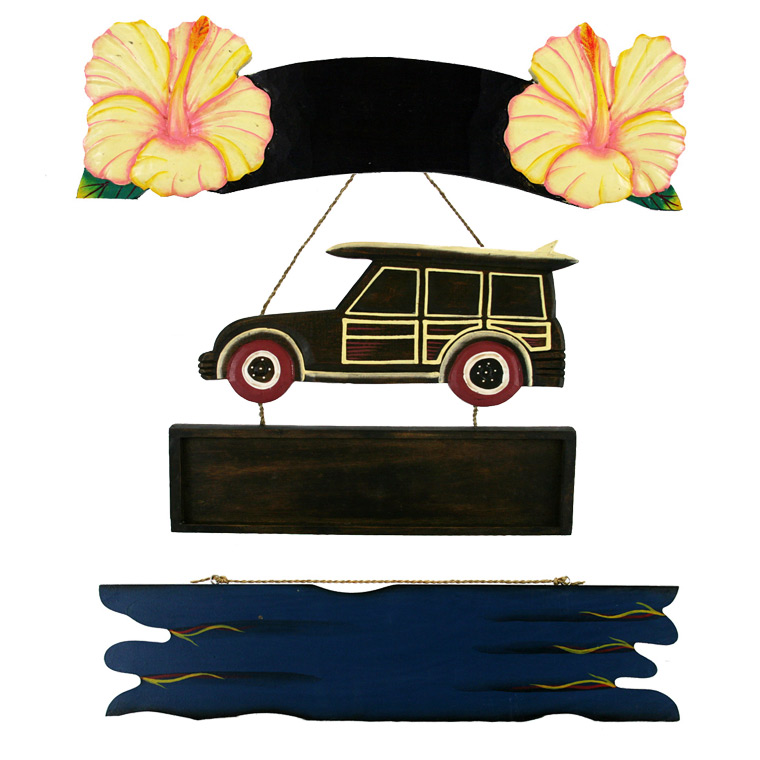 Material Needed and Instructions
All you need a blank tropical decor sign, paint, a paint brush, and a finishing spray. What kind of paint you will use will depend on where you place your signs. Generally acrylic paint is great overall even if it is exposed to sunlight. Just make sure the signs aren't handled roughly. Acrylic enamel holds up well to outdoor elements, abrasions and stains. Another option is to use latex paint if you're using your signs mainly indoors. Paint brush size is highly dependent on your choice of font thickness. Make sure you get the correct paint brush for the paint you choose.
Materials:
Blank Tropical Decor Sign (Hibiscus, Blank Palm Tree Sign)
Paint (either Acrylic, Acrylic Enamel, or Latex Paint)
Paint Brush
Setting Spray
Instructions:
Take your Blank Tropical Decor Sign and lay it on flat surface. Make sure the surface is covered with newspaper or anything that protects it from paint.

Use complementary colors of your choice to paint words or a picture onto your Tropical Decor Sign.
Use even pressure to apply the paint onto the sign.
Air-dry the sign for at least 36 hours. 48 hours is ideal.
Spray a protective finish on your sign so it'll have a longer life-span. Use a spray such as the Krylon Crystal Clear acrylic paint finish.
Enjoy your new and beautifully customized tropical decor sign!
If you're struggling to figure out what to paint on your sign, you can use our signs for inspiration. These make great gifts too! Paint "Mr. & Mrs." for a wedding, an age for a birthday party, or your last name to put outside your home.
Our knowledgeable, friendly professionals are ready and happy to help with all your questions and requests, so explore our high-quality products, place an order, contact us online or give us a call today at (877) 912-2244.