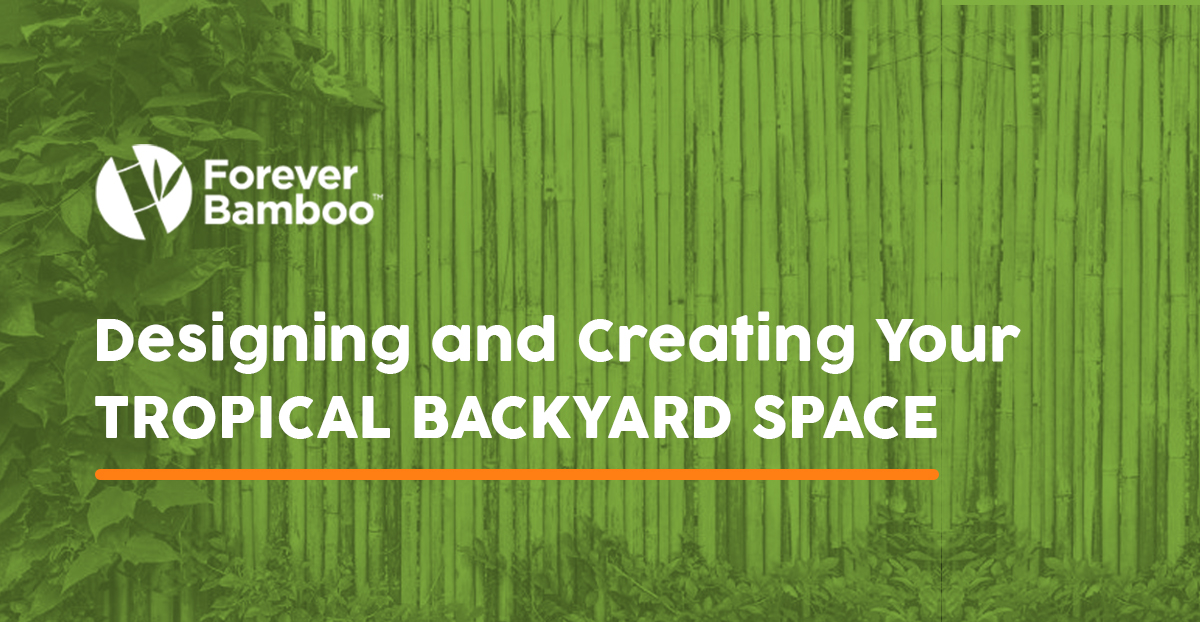 Do you dream of relaxing in a tropical paradise whenever you need to escape? If you look at your backyard and envision lush landscaping, an inviting seating area and a colorful Tiki bar, you've come to the right place. Whether your yard is small or large, you can create a piece of paradise with the right plants, decor and furnishings. In this post, we'll share tips for creating a tropical backyard DIY-style. After you design your tropical outdoor space, you'll look forward to spending time in the yard, and you may find it hard to leave.
Jump To Sections:
How to Plan a DIY Tropical Garden
Tropical backyard decorating can be an exciting and gratifying process. But, before you run to the nearest nursery and buy every colorful plant you see, you'll want to come up with a plan. Here are a few factors to consider when dreaming up your best tropical backyard landscaping:
Yard conditions: You'll want to consider certain aspects of your yard such as climate, topography and soil. Some plants will thrive in the regional climate and soil, while others may not do so well. You can use a climate zone map to determine if a particular plant grows well in your area. Also, think about the levels of shade and sunlight in your yard, as some plants require full sun, while others need deep shade.
People and animals: Consider who will use your yard. Do you have children or pets who will spend a lot of time in the yard? Or do you plan to entertain guests at your Tiki bar mostly? Consider how your design will affect those who use the yard the most.
Plant care: You'll also want to think about how much time and effort you're willing to spend caring for your tropical garden. For example, if you don't think you have a green thumb, you might choose undemanding plants like hostas. On the other hand, if you love gardening or can hire someone to handle garden upkeep, your options are nearly limitless.
How to Create a Tropical Outdoor Space
Ready to transform your backyard into a balmy escape? Here are twelve tropical backyard ideas to inspire the metamorphosis.
1. Create Layers of Green
When you think of a tropical paradise, do you imagine greenery bursting from every nook and cranny? When it comes to tropical landscaping, you can't have too much green. The idea is to create a space that resembles a rainforest teeming with vegetation, so you'll want to put plants wherever you can. As a result, you'll have a yard that's lush, soothing and cool with shade.
What plants should you choose? Although you can grow tropical plants in the ground if you live in a tropical climate, you don't have to live where it's warm year-round to enjoy a range of exotic plants. If you live in a cooler climate, you can choose potted tropical plants, so you can move them into the house when it gets cold.
Generally, tropical plants do best in heat and humidity, but you'll still want to research the specific plants you choose and find out what conditions they need. Here are a few tropical landscaping plant ideas to add to your oasis: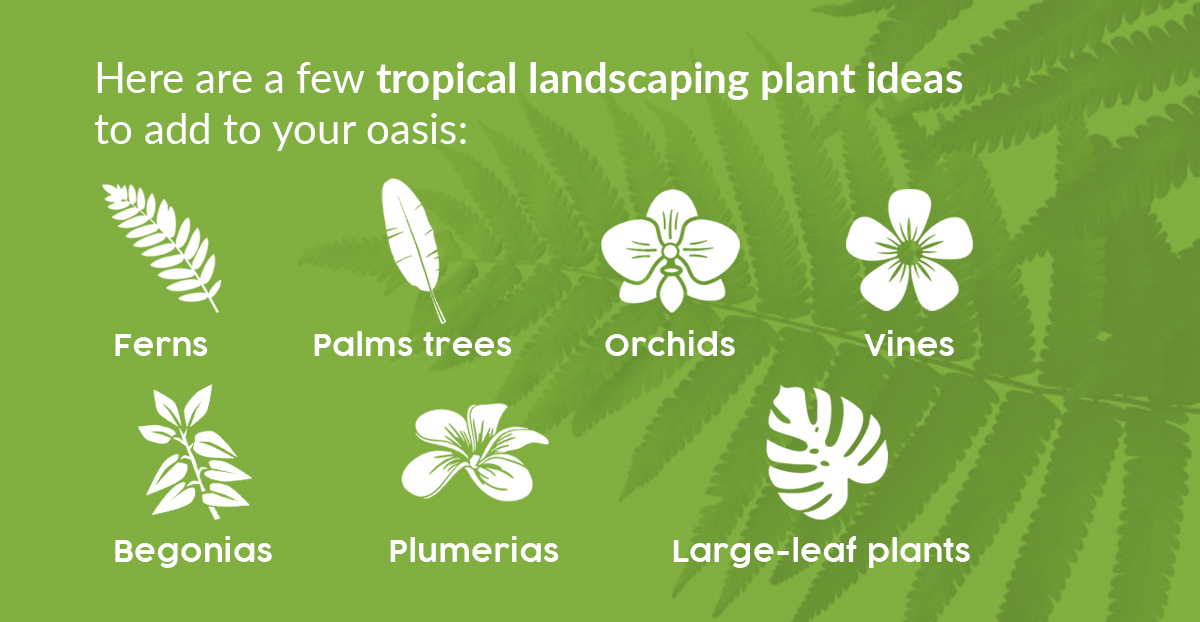 Ferns: Ferns add fullness to a garden and cover the ground with green. You might use ferns to line pathways or fill in spaces. Ferns are also hardy plants, so they don't require tons of attention.
Palms trees: Would a tropical haven be complete without palm trees swaying in the breeze? Classic palm trees include date palms, palmetto palms and windmill palms – to name a few. However, there are thousands of species of palm trees, and certain palms can even stand up to the cold.
Orchids: Orchids add an exotic look and splash of color to a backdrop of green. You can hang orchids in baskets from trees or use potted orchids as tabletop accents.
Vines: Consider growing mandevilla vines with pink trumpet-shaped blooms, bright bougainvillea or sweet-smelling jasmine on a trellis. A trellis will support the vines and help them grow toward the sky. You can build a trellis by using bamboo poles to create a grid and inserting them into the ground.
Begonias: Begonias feature clusters of white, pink or red flowers and large wing-like leaves. They add a tropical touch to a yard and grow best in bright, indirect light.
Plumerias: Plumerias are native to tropical regions and used in making Hawaiian leis. These fragrant flowers comes in shades of white, yellow, pink or red. They pop against greenery and perfume the air. Plumerias can be planted outside in tropical climates, but should otherwise be grown in a container so they can be brought inside when needed.
Large-leaf plants: Create the look of the rainforest by adding bold, large-leafed plants like philodendrons, elephant ears or gunnera. Consider ligularia and hostas for smaller spaces.
Are you starting to feel inspired? Here are a few more ideas to help you create your tropical backyard:
Make layers: Strive to create a yard brimming with layers of plant life. Include tall shade trees like palms, followed by midsize shrubs and low-lying plants like ferns. Add bamboo edging to your tropical garden to enhance its beauty.
Add variety: You can create visual interest by adding a variety of shapes, colors and sizes of plants. Aim to mix various shades of green and different leaf shapes.
Choose the right planters: When it comes to decorating your tropical garden, every detail counts – including the planters. Choose simple planters that don't detract from the colors and drama of the plants, or consider making bamboo planters using bamboo poles, a drill and wire.
2. Infuse the Space With Soft Lighting
Add lighting to your exterior space to enhance the ambiance and make it safer for nighttime gatherings. Consider draping strands of lights or lanterns from trees, fences or trellises. To stick with a tropical vibe, line pathways with Tiki torches, or arrange them in patio corners. Space the torches out evenly with about 6 to 8 feet in between so people can move around safely, and avoid placing them too close to trees or overhangs. You can make Tiki torches from items in your home like mason jars or wine bottles for extra charm.
3. Incorporate Water Features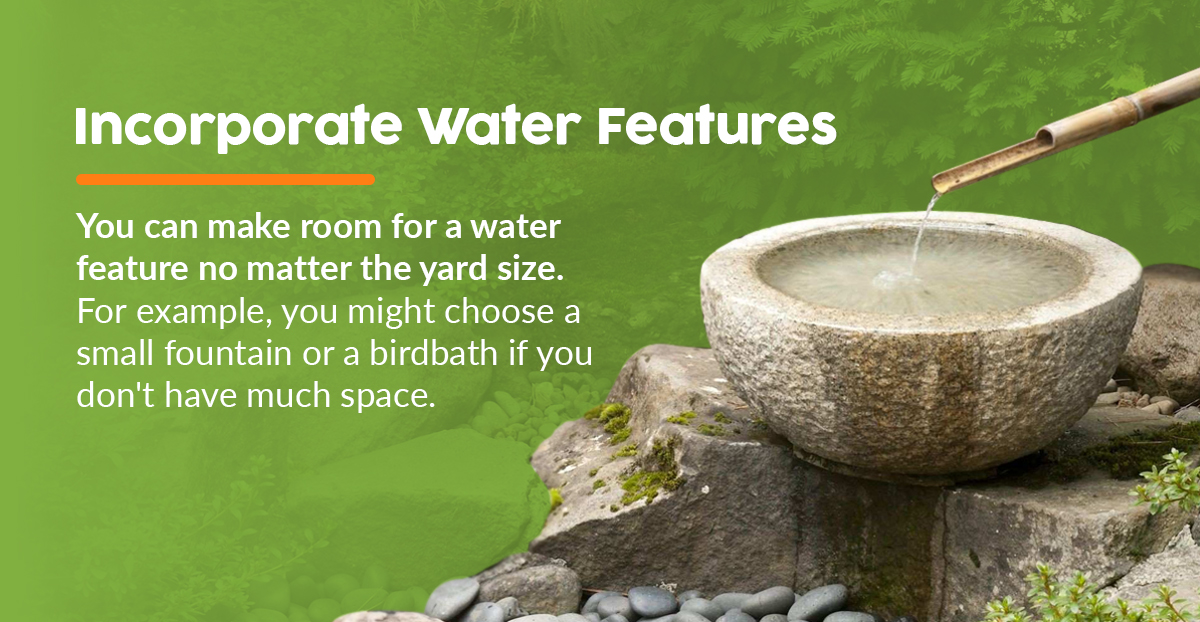 Imagine lounging in a hammock under a canopy of green listening to the sound of a gentle waterfall. Feels like paradise, right? Adding a water feature is a simple way to boost a tropical feel and create tranquility.
You can make room for a water feature no matter the yard size. For example, you might choose a small fountain or a birdbath if you don't have much space. You can make a fountain by inserting an electric pump into a large ceramic planter.
If you have space, consider creating a lagoon with a waterfall for a showstopping effect. You could also install a koi pond with a waterfall to enjoy the sweet music of cascading water and the sight of colorful fish enjoying their home. No matter what you choose, a water feature will make your oasis feel complete.
4. Upgrade the Seating Area
You'll need a cozy seating area to enjoy your tropical paradise fully. You might hang a hammock between two trees for napping or relaxing with a good book. Another option, if you have sturdy trees in the yard, is to hang a playful tree swing and add a touch of whimsy to your space. Ambitious DIYers might construct sturdy bamboo benches using bamboo poles, a saw, power drill and strong wire.
Make sure to toss bright accent pillows and cushions into the seating area, and incorporate bold colors like turquoise, yellow and fuschia or tropical patterns that mimic the plants nearby. Don't forget tables for setting down drinks and snacks.
5. Attract Wildlife
Tropical jungles feature an abundance of wildlife, which makes exploring even more exciting and delightful. You can capture the jungle essence in your backyard by attracting butterflies and hummingbirds. To attract butterflies and hummingbirds, incorporate plants such as purple Mexican salvia and yellow bulbine. Butterflies love bright tropical colors like yellow, orange and pink. Flowering plants also add cheerfulness to an exterior space.
6. Install Bamboo Fencing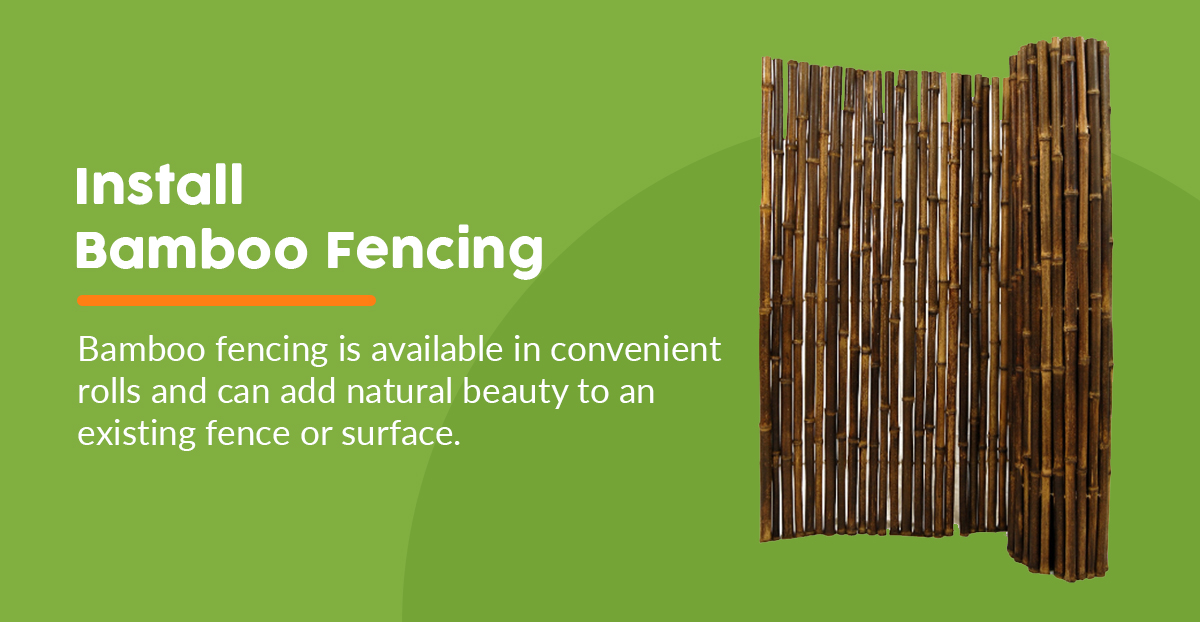 You can add some privacy to your backyard oasis by growing bamboo or installing bamboo fencing. This will make your tropical backyard a more intimate setting for savoring solitude or enjoying a laid-back evening with friends. Bamboo fencing is available in convenient rolls and can add natural beauty to an existing fence or surface. You can also construct a wooden frame to install the fencing.
You might use bamboo fencing to line the perimeter or define a seating area and create a more private tucked away space within your yard. Bamboo fencing can also function as a visually interesting backdrop for greenery. You can choose from a range of colors to suit your home's exterior and patio furniture from rich caramel brown fencing which makes colors pop to burnt fencing for a unique look. You can also apply a bamboo sealant and stain to highlight its gorgeous color or create the hue you want.
7. Build a Tiki Bar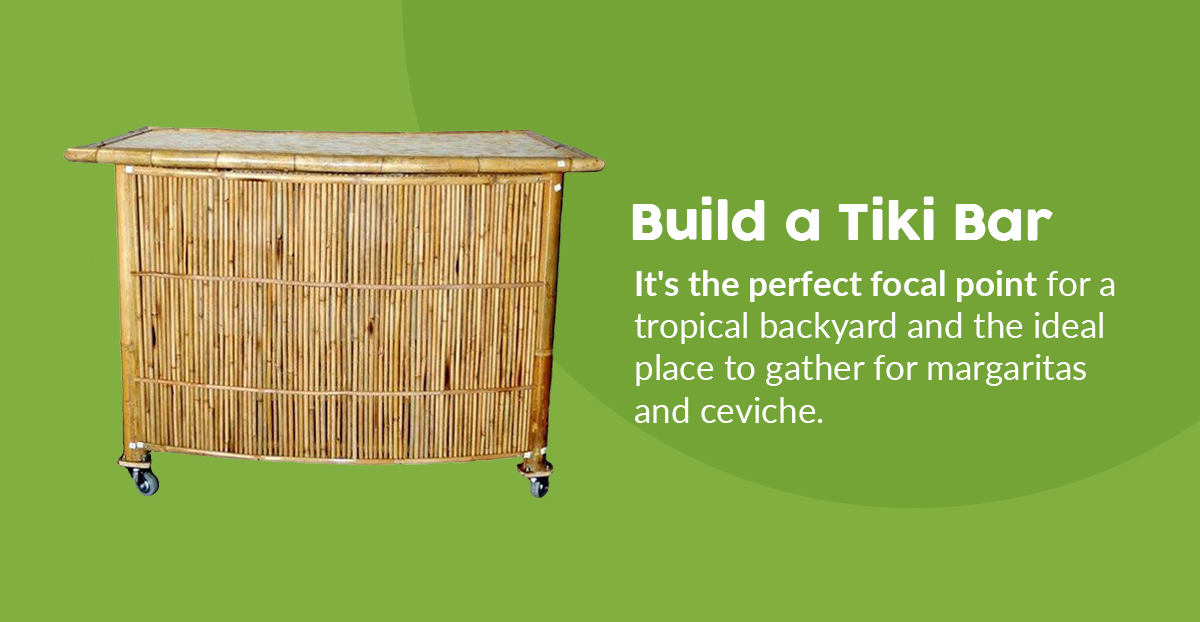 A backyard Tiki bar will get the conversation rolling and make guests feel right at home. It's the perfect focal point for a tropical backyard and the ideal place to gather for margaritas and ceviche. Also, you can design the Tiki bar however you want if you're building it from scratch. Don't forget to create a playlist of luau classics to fill the air.
One idea for creating a Tiki bar is to add bamboo fencing to an already-built bar. You can complete the island look by adding a thatch roof to the bar. To do so, you'll need to make holes at the corners of the counter and secure bamboo poles in each hole using glue. Build a frame for the roof using bamboo and attach thatch panels such as Mexican Palm thatch, African Cape Reed thatch, or Tahitian or Fiji Palm thatch for a classic tropical look.
8. Add Tropical Decor
A Tiki bar wouldn't feel complete without playful, colorful decor. Use decor to add cheer and visual interest to your oasis. You might choose any of the following for decorating your tropical backyard: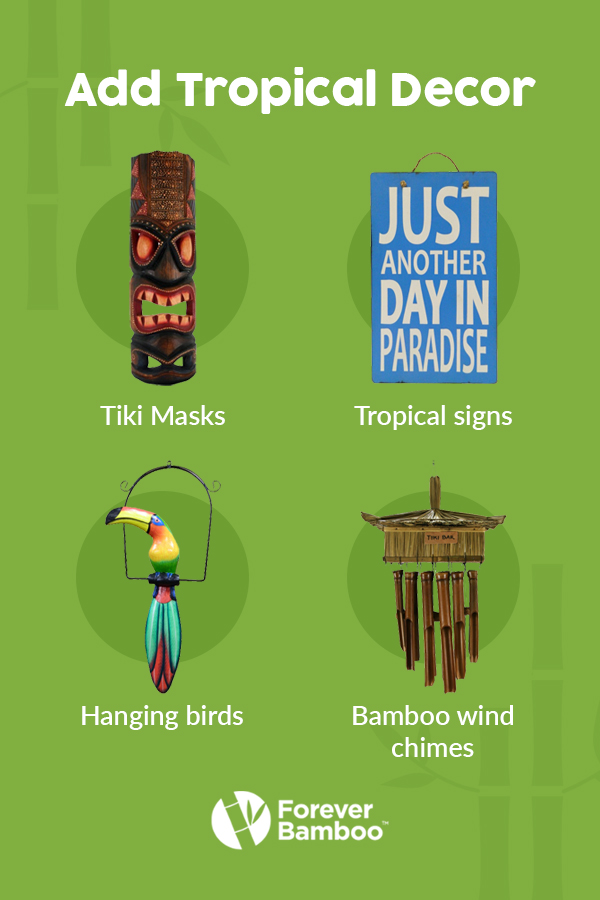 If you're a creative type, you may want to design and make your own tropical decor. You can use tape and paint to apply patterns to bamboo poles, for example, or cut and combine poles to create unique wall art perfect for a Tiki bar.
9. Create Shade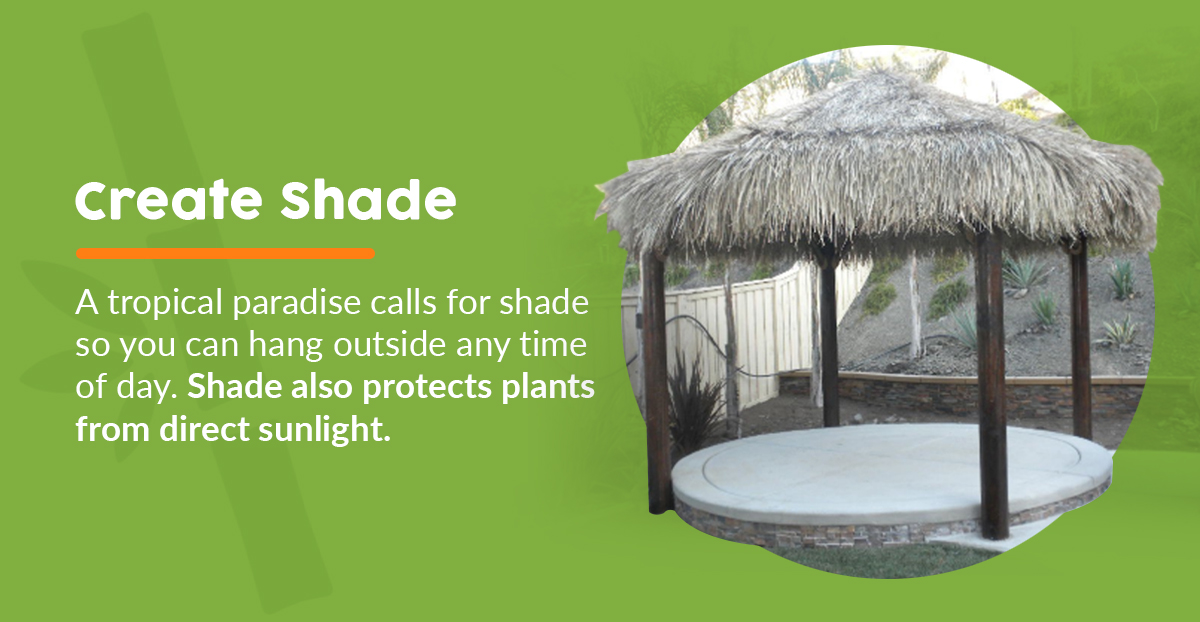 A tropical paradise calls for shade so you can hang outside any time of day. Shade also protects plants from direct sunlight. There are plenty of ways to add shade to your backyard. For example, you can construct a Palapa using wooden poles and a thatch roof. A Palapa can take the place of a traditional gazebo and provide shade and beauty. Use a Palapa to keep cool during an afternoon picnic or to add coziness to a seating or dining area. Consider ordering an umbrella kit to simplify the process.
Another option is to add a thatch umbrella to a table, bar or lounge area. You can move folding thatch umbrellas around if you decide to redecorate or add a new piece of furniture to the design.
10. Set up a Fire Pit
A fire pit can add a dramatic focal point to a tropical backyard. You and your guests will look forward to gathering around the fire to enjoy conversation or a Polynesian cookout. You can buy a fire pit to save time and energy, or build one yourself using materials like stones, sand and a shovel. Just make sure to position the fire pit on level ground at least 15 feet from the house and 10 feet from property lines. Generally, you'll want to create an inner wall made of fireproof building materials and an outer wall that forms a tabletop-like surface around the opening of the pit. It also helps to install a steel ring in the fire pit to keep the wall from drying out and crumbling too soon.
11. Make Stone Pathways
Consider using natural stones to form winding pathways throughout your backyard. You might create pathways that lead to the focal point like the Tiki bar or pool. A stone pathway helps create the feeling that the garden continues forever, and adds a sense of magic to the space. Try to use stones that are native to the area if possible. You can also add coarse rock salt to wet concrete and press it into the surface for a weathered look and texture. Stone pathways are also a great way to link spaces in the yard and create a unified look.
12. Build an Outdoor Shower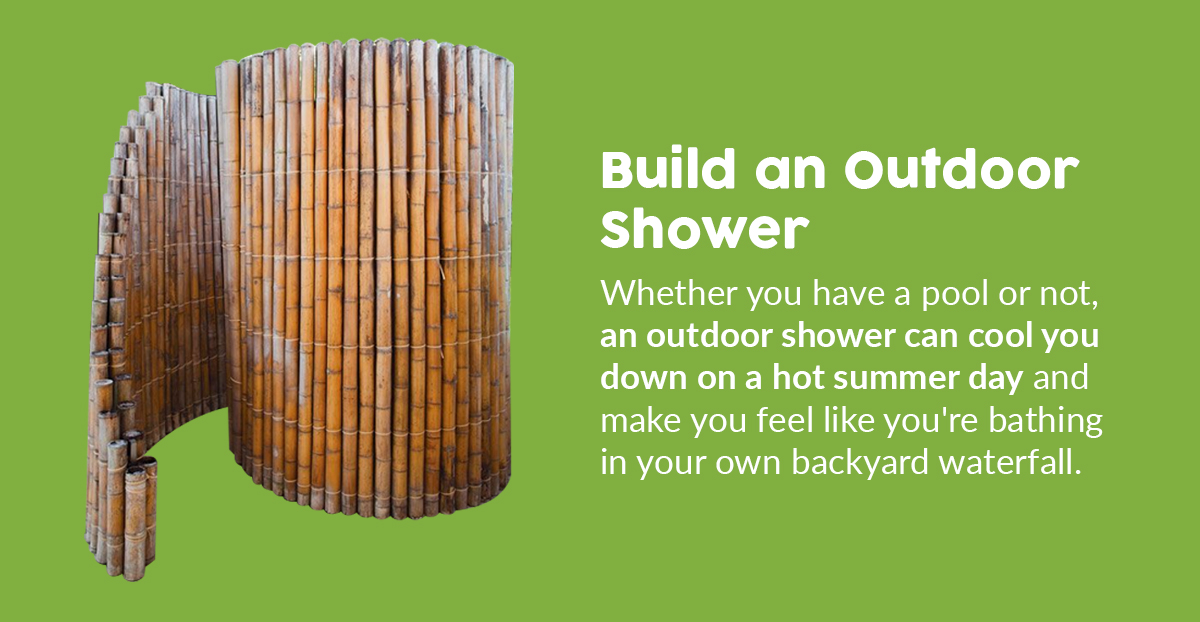 Whether you have a pool or not, an outdoor shower can cool you down on a hot summer day and make you feel like you're bathing in your own backyard waterfall. An outdoor shower can also help you relax after a day of tending your garden and ease the transition into relaxation mode.
To make a luxurious outdoor shower, you'll first want to check local building codes. Any new plumbing installation often requires a permit, and drainage may be regulated. Building an outdoor shower can be an involved project, which may or may not require drywall removal depending on where the water supply is located and where you want to build the shower. Simply said, you'll need to connect the shower faucet to your water supply, and create a privacy wall, drainage area and a shower floor. You can add sealed bamboo to the frame to increase its beauty and durability.
Create Paradise With Forever Bamboo
Bamboo grows naturally in tropical and subtropical regions, with some species found in Europe and North America. It's a highly versatile plant used in everything from housing materials to healthy meals. Bamboo evokes images of tropical escapes or Polynesian celebrations. It's an eco-friendly material that completes a tropical backyard.
If you're still wondering how to create a tropical backyard, we're here to assist you. At Forever Bamboo, we are proud to sell high-quality and sustainable bamboo to help you transform your backyard into a breathtaking haven for relaxation and entertaining. As one of the largest importers of bamboo and thatch products in the country, we can help you select the best products for your tropical design. Whether you need thatch panels to complete your Tiki bar or bamboo fencing to build an intimate cove, look no further than Forever Bamboo.
Shop our online store today or give us a call at 877-912-2244 for more information. Our customer support specialists will happily answer your questions or provide tips!