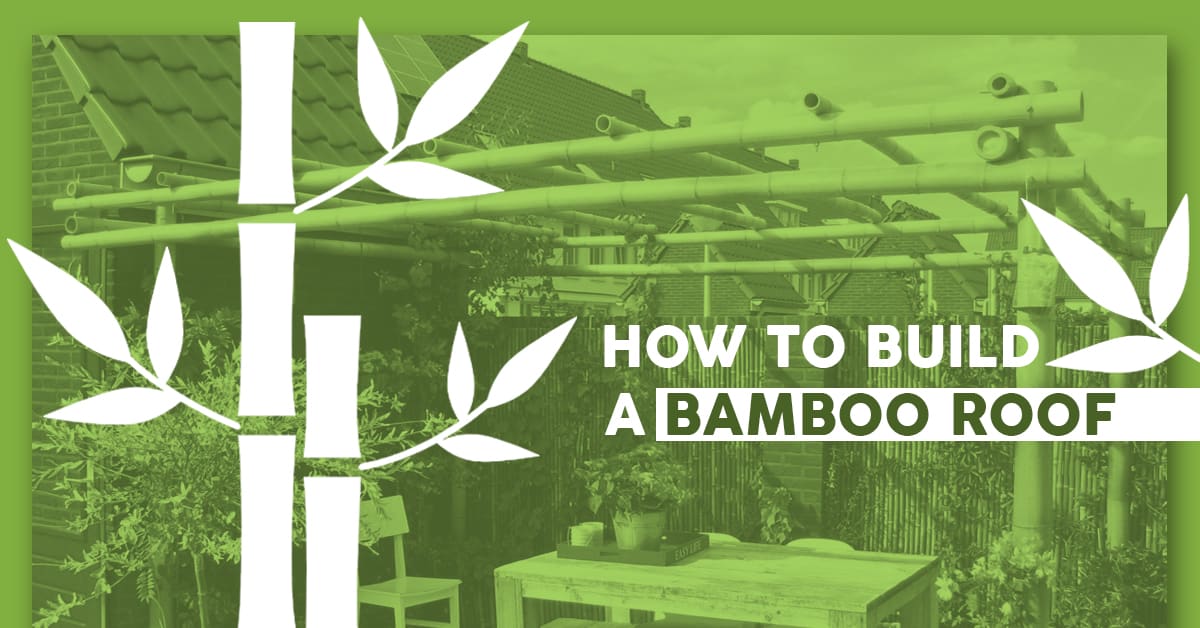 If you want to upgrade your exterior space, bamboo roofing can create a beautiful and interesting backyard look by adding tropical appeal to patios, tiki huts or umbrellas. Bamboo also provides great durability and longevity when cared for properly.
When building a roof out of bamboo, you can choose any style you want, including a bamboo frame with thatch or a bamboo tiled roof. In this guide for building a DIY bamboo roof, we will discuss a few styles of bamboo roofing and how to build a roof out of bamboo for your exterior living space.
Jump To Sections:
Best Uses for a Bamboo Roof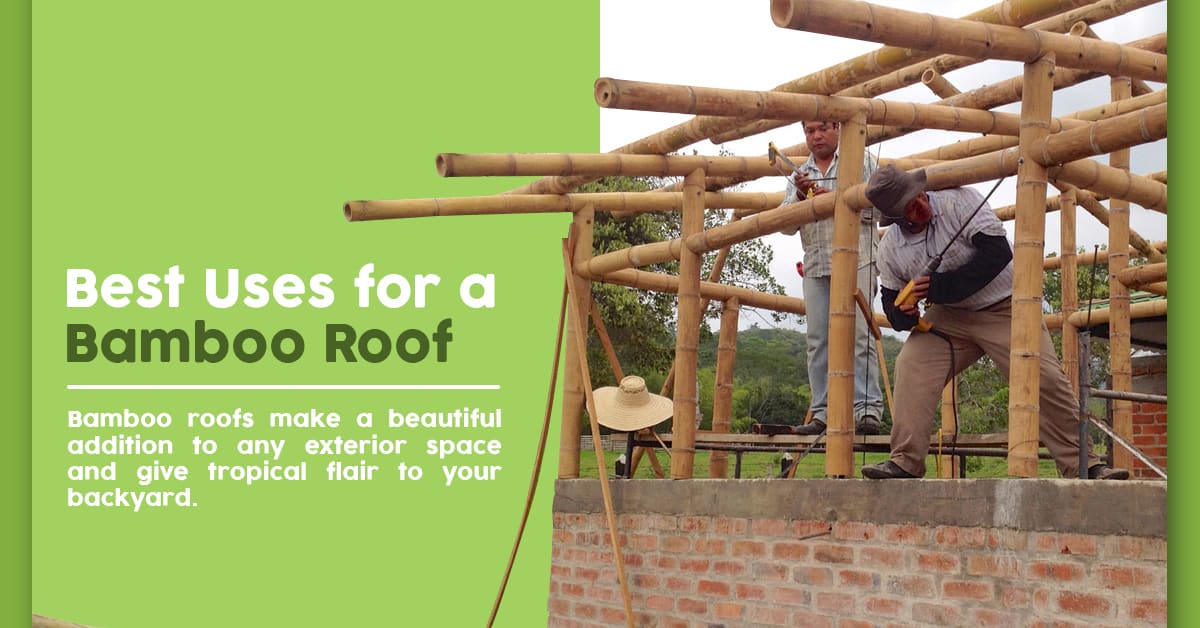 Bamboo roofs make a beautiful addition to any exterior space and give tropical flair to your backyard. Build a bamboo roof for a poolside umbrella or take your tiki bar to the next level with an authentic thatched roof. When you need to escape the heat on a sunny summer day, enjoy the shade under your tiki hut or palapa. Bamboo roofs are a simple but durable roofing option that adds character to your backyard paradise.
When you build your own bamboo roof, you can choose your dream design and select a thatch that best suits the style of your backyard. You can also save money by building the exact size and shape of roof you need instead of ordering a custom roof. Bamboo roofing offers endless design potential, and with the right tools and materials, you can build a DIY bamboo roof for any exterior structure.
Materials and Tools for Building a Bamboo Roof
Before you begin creating your bamboo roof, you will need to gather the right tools for the job. Bamboo is fairly simple to build with and does not require heavy-duty power tools, but you should always take the appropriate safety precautions.
When choosing materials for your bamboo roof, look for high-quality bamboo and thatching that will look great and last a long time. The materials and tools you need to build a bamboo roof may vary depending on the type of roof you choose to build, but here are some basic tools you will need to construct your bamboo roof:
Measuring tape: Before ordering supplies, measure the structure or area you want to cover to determine how much bamboo and thatch to order. While building a bamboo roof, you will need to measure your support beams and rafters to cut them to the perfect length.
Razor blade or sharp scissors: If you order thatch in a large roll, you will need to cut individual panels to fit your roof.
Staple gun: A staple gun is the easiest way to effectively attach thatch to a bamboo roof.
Circular saw: If your bamboo poles need to be cut to the correct size, you may need a circular or Miter saw.
Safety equipment: While building a roof out of bamboo, take appropriate safety precautions by wearing work gloves and safety goggles.
Zip ties: When connecting panels of thatch, zip ties may be used to conceal seams and create a cohesive look.
Bamboo poles: When constructing a bamboo roof, whole bamboo poles can be used as your roof framing and support beams. For a Filipino-style bamboo roof, you will also use half round bamboo poles.
Thatch: Traditional bamboo roofs use thatch or palm as an outer covering to provide shade and insulation. If you want an authentic look for your bamboo roof, you can choose between a variety of styles of thatch, including lush Mexican Palm Thatch, sturdy African Reed Thatch and tropical Tahitian or Fiji Palm Thatch.
Lashing cord: Joints in bamboo structures can be attached by screws, nails, steel bolts or dowels, but traditional bamboo structures often use lashing. Lashing cords are wrapped around areas where bamboo overlaps to hold the structure together.
Screws or framing nails: If you do not feel comfortable lashing your bamboo framing together, you can use framing nails or screws instead.
Bamboo Framing With Thatching
Many tropical cultures use bamboo framing as a base for thatched roofing. Many of these buildings are somewhat round in shape and have a slightly pitched roof. This is a simple and traditional method of building that is quite strong. Bamboo framing typically utilizes joint lashing rather than complex joints to hold the roof frame together and attach the roof to the top supports of the walls.
These types of roofs are typically made by overlapping eight bamboo poles reciprocally to create an octagonal shape. You add ridge poles around the outer edge and lash the intersections together. Create a slight pitch by using poles for the edge that are slightly smaller than the spaces between the central poles when laid out flat. To increase the incline of the roof, a central prop pole can be used, which allows the central opening to be much smaller. To finish the roof, small bamboo rafters are laid horizontally to add support, and the roof is covered using palm or thatch.
How to Build a Bamboo and Thatch Roof
Before you begin building, take measurements of the structure you want to cover to decide how much bamboo and thatch to order. Remember that you will be layering the thatch to cover the roof and may need to cut some pieces to fit properly. Order extra thatch to accommodate trimming and mistakes. This method of bamboo framing is best suited for round structures but can also work well with a square structure.
Place eight bamboo poles on the ground overlapped reciprocally.Allow enough overlap that there is room for lashing. If you have cut your bamboo poles, be sure there is still a node at each end for stability.
Add ridge poles and lash the intersections together.Choose ridge poles that are slightly shorter when laid between the central poles to create a slight pitch. There are many different lashing techniques to hold your bamboo framing together, but diagonal lashing or square lashing is a great place to start.
Roof pitch can be increased using a central prop pole.Choose a solid and sturdy central prop pole and attach the bamboo frame using screws, framing nails, or staples.
The central opening can be much smaller when using a central prop pole.
Small bamboo rafters are laid to add support.Add bamboo poles horizontally and lash them to the vertical beams. Space these rafters at least four inches apart but close enough together that your thatch will overlap when attached to each rafter.
The roof is covered using palm or thatch.Starting at the bottom of the roof, staple thatch to each bamboo rafter and complete one horizontal layer at a time. You may need to cut your thatch using a razor or sharp scissors. To create even sections, start at the knotted edge of the thatch and cut carefully between the knots in a straight line. When attaching thatch, leave enough thatch or palm hanging at the edge of the roof to conceal the framing.
If you use a sturdy central prop pole, you can also implement this design without an additional structure. Your central prop pole and bamboo roof can be used as a giant umbrella to cover a patio set or lounge chairs by the pool.
How to Build a Square or Rectangular Bamboo Roof
If the structure you want to cover is not round, you can still construct a bamboo and thatch roof with a square or rectangular bamboo frame. This roof design is perfect for building a backyard tiki hut or covering a square patio. Here's what to do:
Build your roof frame with bamboo poles. For a rectangular roof, the simplest choice may be an A-frame roof, as this design can easily be adjusted for any size and desired roof pitch. If building an A-frame roof, consider using a round lashing technique. For a square roof, construct a square frame with an additional beam through the center of the square. Add a vertical beam in the center of the frame to create the pitch and connect a bamboo pole between each corner of the square frame and the top of the vertical beam.
Add horizontal support beams. Start at the top of your roof frame and add bamboo rafters horizontally. Space these beams about four inches apart and secure them with lashing or framing nails. The size of these beams will increase as you move downward, so be sure to measure carefully.
Cover the bamboo frame with palm or thatch. Working from the bottom of the roof upward, staple your thatch to each rafter. You may need to cut your thatch to fit each side of the roof using a razor or sharp scissors. Use zip ties to connect the thatch at the corners of the roof, so the seams do not show.
Filipino-Style Bamboo Roofing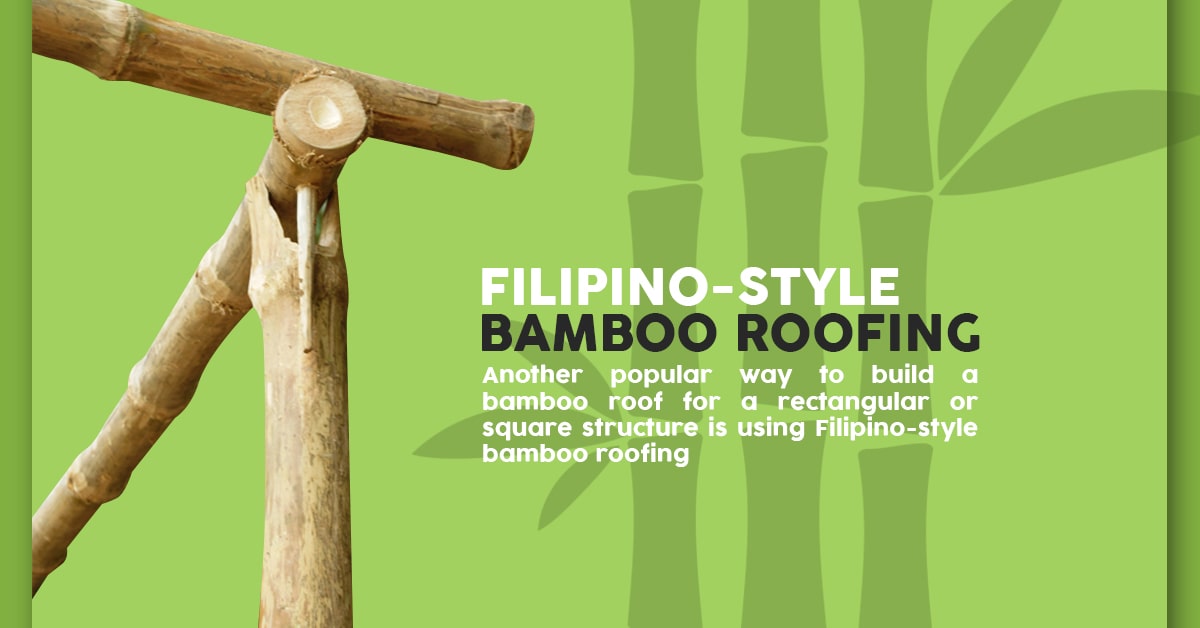 Another popular way to build a bamboo roof for a rectangular or square structure is using Filipino-style bamboo roofing. Also called "Spanish Tile" style bamboo roofing, this roof design uses a supporting frame built from bamboo or timber with overlapping half round bamboo poles for the roof tiles. The top tiles curve downward and the bottom tiles curve upward to create an interlocking tile design. If you use shorter bamboo poles, those higher up on the roof overlap on top of those lower down to prevent gaps where leaks could occur.
The halved poles are interlocked to channel rain toward the roof edge. You can employ an additional halved bamboo pole at the edge of the roof as a rain gutter. It is important to fit the top tiles closely together to help protect the soft inner surface of the bottom tiles. You may also choose to attach one half round bamboo pole along the peak of the roof for a clean finish.
How to Build a Filipino-Style Bamboo Roof
If you wan to add a Filipino-style bamboo roof to your structure, follow these steps:
On a built frame, interlock halved bamboo poles as tiles.A standard gable or A-frame roof style will work best for this type of bamboo roofing. If you choose to build this style of roof, the bamboo poles will need to be cut on an angle to fit the edges. Attach your bamboo tiles using screws, framing nails or heavy-duty staples.
An additional halved bamboo pole can be used at the edge as a gutter.Connect your gutter with a slight angle to direct rainwater away from the edge of the structure. You may also add a bamboo pole along the peak of the roof to encourage rainwater run-off.
Tips for Building a Bamboo Roof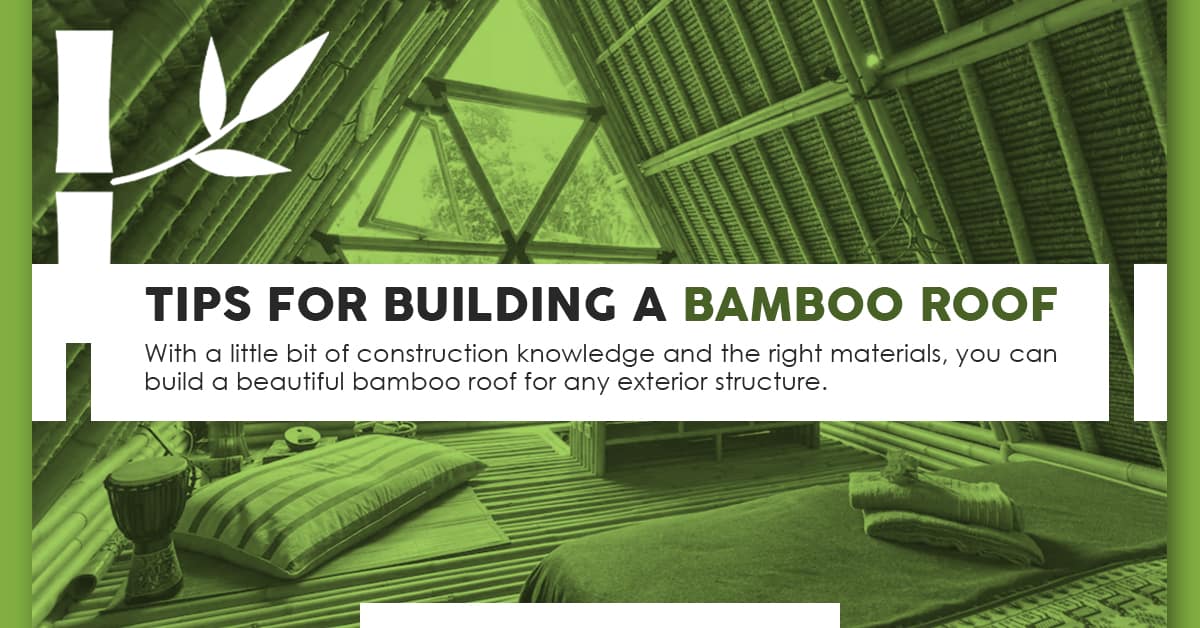 With a little bit of construction knowledge and the right materials, you can build a beautiful bamboo roof for any exterior structure. Take your DIY bamboo roof to the next level with these tips for building with bamboo and thatch:
Create an open design: Natural thatch is sturdy and does not require too much support from the roof frame. Create an open-framed design using bamboo rafters so your roof will be beautiful from the exterior and interior of your structure.
Use the bamboo nodes: When trimming or cutting bamboo poles, remember that the natural nodes in the bamboo contribute to its durability and strength. Leave nodes near joints and corners to increase the stability of your bamboo roof.
Overlap and trim your thatch: When attaching thatch to your bamboo roof, allow enough overhang at the bottom of the roof to create an authentic look and hide the support beams from the exterior. Allow each layer of thatch to overlap the one below for the best protection from sun and rain. Once you have installed your thatch, you may trim uneven edges along the bottom or layers.
Remember risk factors: Remember that thatch and bamboo are not fire-resistant and should be installed a safe distance from any open flames. If installing a bamboo roof near a fire pit or barbecue, consider choosing fire rated thatch or coating your natural thatch with a fire retardant.
Make your design your own: Your bamboo roof can be as simple or as complex as you desire. Experiment with the shape and design of your roof by adding decorative beams or choosing a unique style of thatch. You can also choose to add decorative bamboo paneling as a wainscoting on your tiki bar or palapa to create a backyard tropical paradise. Finish with bamboo slats or tropical matting for a truly unique look.
Find Beautiful Bamboo From Forever Bamboo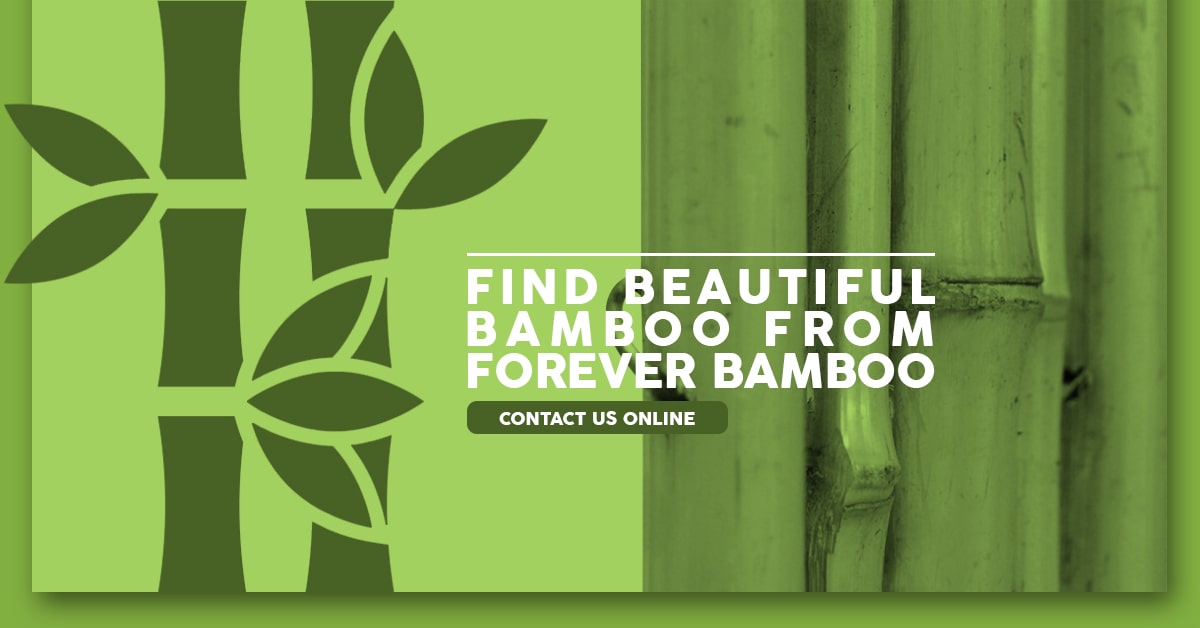 If you want to build a bamboo roof for your tiki hut or construct a tropical umbrella for your patio, Forever Bamboo offers high-quality bamboo poles in many sizes and lengths to suit your needs. Bamboo poles from Forever Bamboo are a durable, versatile and environmentally friendly way to add aesthetic appeal to any exterior space. For the perfect finishing touch to your bamboo roof, choose from a variety of natural and artificial thatch in the color and size you desire. Try before you buy with a sample box! Place your order within 45 days of purchasing your samples and get $25 off. This makes your sample box FREE!
As the nation's No. 1 provider of tropical decor, Forever Bamboo is proud to offer everything you need to create a tropical escape in your own backyard. Explore our collection today, then contact us online or give us a call at 877-912-2244 to receive more information about beautiful bamboo and tropical thatch from Forever Bamboo.
Post updated November 13, 2018.