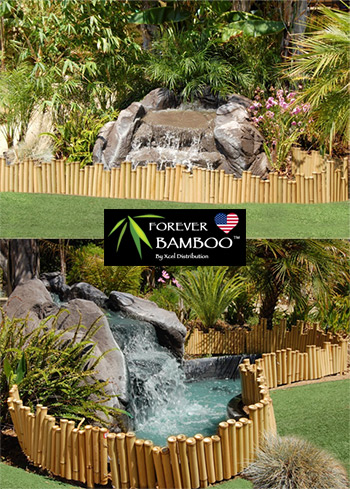 The landscape around your home is perhaps just as important as the house itself. You can never go wrong with adding bamboo to your yard to help give it a more welcoming feeling, and a better look. Bamboo edging and borders for landscaping is becoming more and more popular. It is a strong yet lightweight material making it easy to put wherever your yard needs it the most. The edging and borders come in several sizes and can be easily cut to fit any size you might need. There is also a large variety of shades to choose from, making it easy to add to your landscape. Bamboo can be added on gardens, pathways, or really anywhere you think your landscape could use it. It can be used both in a home setting, or a professional setting, bamboo looks great everywhere.
Other than the looks and the versatility of bamboo another benefit is how easy it is to add it to any setting. It is a strong yet lightweight material making installation a breeze. It take a very limited amount of time and know how, to add bamboo to your landscape. A nicely done bamboo garden border edging can really make a yard look great. The minimal effort is well worth the end product. Installing bamboo edging outside is a great way to beautify your yard and your business. These additions to your landscape will not only improve your yard, but will improve the overall look of your home.
Bamboo Edging – For the Home or Business
Bamboo border edging is an excellent choice for any yard or business. The bamboo bordering and edging will be a great addition and will add value to your home. Bamboo helps your landscape become more welcoming, and helps create a homier atmosphere. The borders and edges come in various shades and sizes making it easy to adapt to any yard. Bamboo is easy to cut and add anywhere to improve the overall look of the scenery. These Edges and borders can be added to the walkways, gardens, in your yard or your business, and will improve both the look and the sense of your landscape.
Save