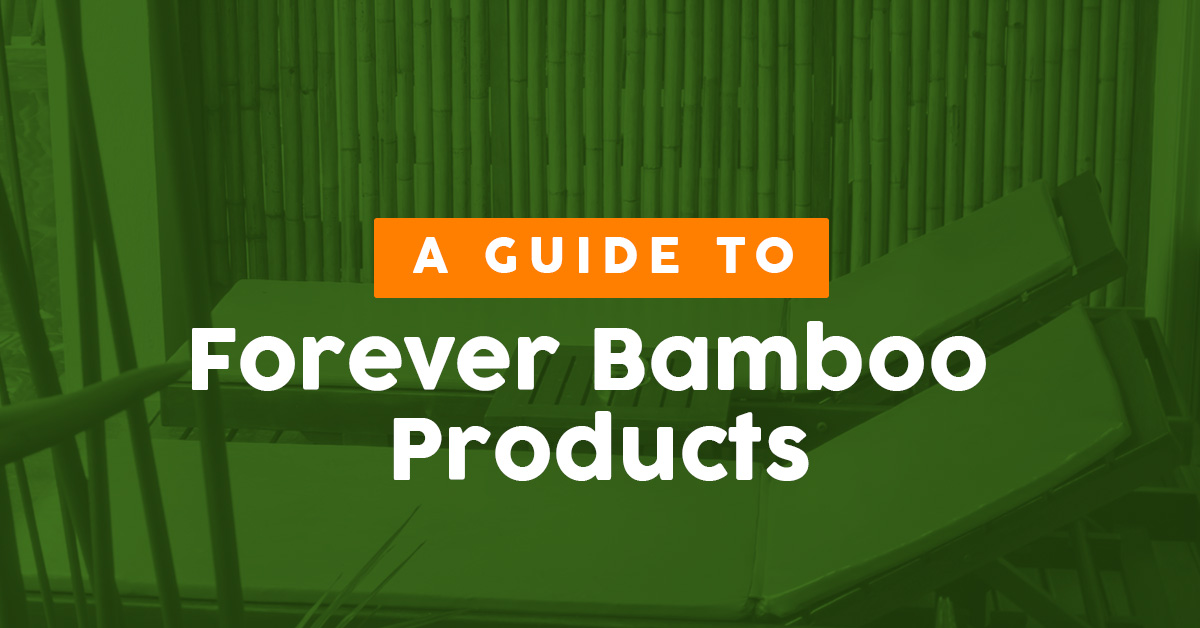 Bamboo products are an eco-friendly alternative to traditional wood products and provide an attractive tropical look to any interior or exterior project. Thanks to their natural sturdiness, our natural bamboo products fit a wide variety of decorating needs. This functional, everlasting natural material suits any business or home improvement project. Many of our items can last even longer with a coat of Total Wood Protectant (TWP) bamboo sealer.
Bamboo Fencing
Our most popular product is bamboo fencing, available in various colors and sizes. Bamboo fences create an interior or exterior island paradise. Each fence is made of the finest quality Tonkin bamboo that passes many different quality-controlled testing methods.
You can use bamboo fencing to:
Add some privacy
Divide areas
Cover furniture
Protect structures
Create a garden border
Update a chainlink fence
Build projects from scratch
Separate panels into smaller sections or attach multiple panels to fit your desired length. A series of sturdy galvanized steel wires securely connect the fence poles. The top of each pole is blocked off to prevent any moisture from collecting in the fence. Our fencing serves as an eye-catching, elegant addition to any space.
Bamboo Poles
Our extremely durable natural bamboo poles have a wide range of applications. Forever Bamboo poles go through a detailed selection and inspection process to ensure the highest quality product possible. We sell commercial-grade Tonkin and Moso poles in numerous sizes, perfect for any home or business project.
Choose from any of our natural, black or speckled colored poles to make furniture, tropical handicrafts and more. Cut the pole with a fine-toothed saw into the perfect size for your project. Then, use nails, a drill, glue and more tools to beautify a space or make something entirely new.
Bamboo Borders
Bamboo borders enhance any landscaping project. Flexible borders can easily adjust to fit walkways, gardens and other custom designs. Every pole is capped and connected with heavy, galvanized wires for lasting durability and longevity.
Our bamboo borders are available in different colors and sizes to accommodate any project you have in mind. Their shorter length and pre-assembled panels let you skip cutting and assembly. Section off areas that you want to show off, or accent furniture and other structures.
Bamboo Blinds
Bamboo blinds are a great addition to any interior or exterior application. Created from peeled and polished natural reed resources, these beautiful, roll-up bamboo blinds provide shade with a tropical style. Our easy-to-install reed blinds match any home style, from modern to traditional décor, to add the perfect touch to your kitchen, living room, children's playroom, patio, deck and more.
While our natural reed blinds are a popular choice for window coverings, their versatility can add a laid-back tropical ambiance to any space:
Decorate for events: Create an authentic luau experience or celebrate a tropical wedding in style!
Add a textured area: Install our natural reed shades to warm up the background of a Hawaiian Tiki Hut space.
Provide extra shade: Mount it on the side of your backyard Palapa for adjustable protection from the sun.
Bamboo Paneling and Slats
Bamboo paneling and slats provide excellent décor for both ceiling and wall projects. Our paneling is easy to cut to your project specifications, and it's relatively easy to install. The paneling and slats are available in a variety of different colors and sizes. All items are eco-friendly and cost-effective, making for a smart alternative to traditional wood and timber products.
Our bamboo paneling attaches to walls and other flat surfaces to transform your space into an island getaway or a natural and cozy retreat. Layer slats over paneling to create a dynamic texture or combine the two products to refresh a room's walls and flooring completely.
Bamboo Rugs
Bamboo rugs complement any tropical setting and make great additions to your interior living spaces. Forever Bamboo rugs are constructed from the finest quality bamboo and will instantly enhance any room in your home. Each style is stained and finished for a contemporary interior accent.
Our rugs are extremely durable and will last for years to come. Place a bamboo rug anywhere you would put a regular rug. Change an entire room's floor, or add a small touch of the tropics by using it as an area rug or runner. No need to remove your existing flooring to create the tropical paradise in your creative vision!
Reed and Willow Fencing
Our easy-to-install reed and willow fencing is available in 6 feet high by 16 feet long packages and can be downsized to any desired length. Like our bamboo fence panels, our willow fencing features galvanized steel wires that provide strength and flexibility.
Although not as strong as bamboo, reed will last for a significant amount of years if treated properly. In addition to its cost-effectiveness, willow materials feature a long lifespan of up to 10 years with proper care.
When it comes to reed and willow usage in your residential or commercial space, think beyond fencing:
Enhance a casual garden or patio with landscaping borders and path markers.
Create room and office dividers, or define spaces in an open-layout floorplan.
Make headboards, feature walls and other projects using our versatile panels.
Mix and match willow fencing with our more tropical materials to make a one-of-a-kind look.
Use Our Bamboo Products Wherever Your Ideas Take You
People most commonly associate bamboo and other natural materials with exterior use only. In reality, you can use many of our products in interior and exterior spaces, thanks to their durability and flexibility. We encourage you to think outside the box and use Forever Bamboo's offerings to achieve your design goals in any setting.
The right tools and materials can open up numerous possibilities. If you're looking for featured ideas to envision your space, check out our individual product category pages. For more inspiration, visit our installation photo gallery to see how customers innovate with our supplies.
Bamboo Wholesale Products for Businesses
At Forever Bamboo, we enjoy helping homeowners create the tropical retreat they've always wanted. We also love working with commercial customers! We regularly serve resorts, restaurants, zoos, parks and other businesses designing a slice of paradise. Even customers outside the service industry can benefit from our products' unique aesthetics.
We provide custom pricing to make bulk ordering easier and more economical for companies. Complete our wholesale form to get a customized quote for large commercial purchases.
The Nation's #1 Provider of Tropical Décor and Materials
You can count on us to provide the best tropical décor and customer service in the industry. See why our repeat customers choose Forever Bamboo for all their island decoration supply needs:
Free shipping: We offer free shipping on most products — a delivery charge only applies to items requiring freight shipping.
Expertise: Our highly trained customer service team is available to answer project and product questions five days a week.
Selection: We've got the largest inventory of materials and decorations in the industry.
Fast delivery: Our large United States-based warehouse delivers a quick turnaround.
Shop bamboo products in our comprehensive online store to avoid managing multiple checkouts and orders. If you place your order within 45 days of purchasing samples, you'll receive $25 off your order.
Call us at 877-912-2244 or complete an online contact form to get started on your tropical paradise today!