You probably didn't know that bamboo poles and thatch can be used as eco-friendly Halloween decorations.
There are many ways you and your family can get creative this Halloween season. Decorating your home can bring the family together and spark some creativity. Here are some ideas to get all the neighborhood kids and guests talking.
Tiki Masks
Hawaiian Tiki masks can be placed on tables next to food or pumpkin carvings as tropical Halloween centerpieces. Hawaiian tiki masks also look great when attached to tiki torches that mirror the spirit of Hawaii and Halloween.
Skull Tiki Torch
If you are planning on building a haunted house in your front yard, consider a haunted Luau theme! Bamboo poles are flexible, durable, and affordable, making for the perfect haunted addition. You can use a 5 or 8-foot decorative bamboo pole as the body and attach small pieces in thatch around the top with glue or twine. Complete the body by attaching a skull and placing the pole anywhere in your yard.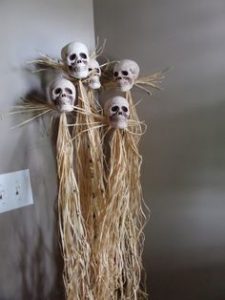 Pumpkin Hula Characters
Every home needs at least one Jack O' Lantern to really bring in the Halloween spirit. When looking for a pumpkin, make sure to purchase a larger one for decoration purposes. Measure the pumpkin and cut thatch accordingly to make a hula skirt. Paint a face for your pumpkin and glue some Hawaiian flowers for a finishing touch.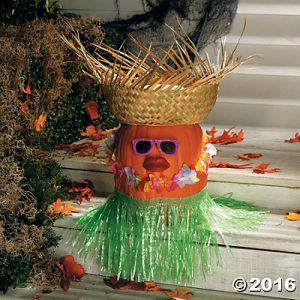 Cousin It from the Adams Family
Make your very own classic Cousin It from the popular movie The Adams Family. All you need is a tomato cage, thatch, sunglasses, and a top hat. Carefully apply a layer of thatch over the tomato cage. For a lusher look, apply two layers of thatch and tie the top hat and sunglasses to the body. This kid-friendly decoration will get everyone talking about your decorated home.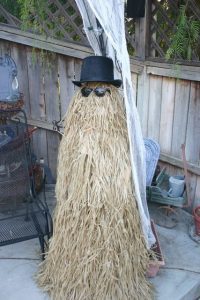 Bamboo Pole Limbo Decoration
Every Luau party needs at least one game of limbo for your guests, even skeleton guests! Use three bamboo poles as the limbo sticks and arrange decorative skeletons around the limbo game. You can get even more creative and hang decorative spiders and skulls from the bamboo poles.
Decoration Support
Trying to set up your walkway with spooky curtains and cobwebs? You need to hold up your decorations somehow. Lucky for you, bamboo is strong and lightweight, making it perfect for holding up some black, billowing curtains to set up a creepy vibe as people approach your door.
Halloween Scarecrows
Give your home an eco-friendly touch by making scarecrows with thatching material. In just a few easy steps you can build your very own Halloween scarecrow out of lush, eco-friendly tiki thatch.
To get started you will need some old clothing, thatch, bamboo, a hammer, nails, twine, staples, and scissors.
Dress your scarecrow in a long sleeve shirt using a horizontal bamboo pole as the outline for the arms. Tie the end of the sleeves and the bottom of the shirt with twine to ensure the stuffing doesn't fall out.

Stuff it with thatch, then cut a hole in the seat of the pants or overalls so the vertical bamboo pole can pass through. Tie up loose ends with twine and begin to stuff the pants.

For hands and feet, use old gloves or rain boots and secure with twine or staples. Stuff accordingly.

For the head, use a burlap bag or pillowcase and decorate the eyes, nose, and mouth.

Add the finishing touches by accessorizing your scarecrow to look funny, scary, or kid-friendly.
Scarecrow Stand
That scarecrow is not going to hold itself up on your lawn… unless it has come alive—in which case, you have bigger problems on your hands. Prop that bad boy up anywhere on your lawn with some bamboo and you are set!
Invite a Murder… of Crows
Nothing says Halloween like a bunch of crows hanging out on your lawn. Obviously, you probably don't have time to gather a few live birds and train them to sit all Halloween night. Why not buy some fake crows and set them atop bamboo bird perches.
Tropical Zombie
If you really want to get into Halloween with matching costume and decor, decorate your walkway with a tropical theme and dress in a Hawaiian shirt, flip-flops, sunglasses, and a margarita with a little umbrella. Paint your face like a zombie and call it good.
This Halloween, go eco-friendly with your decorations and get the entire family involved. Share your project with us by emailing pictures for a chance to be featured on our website!