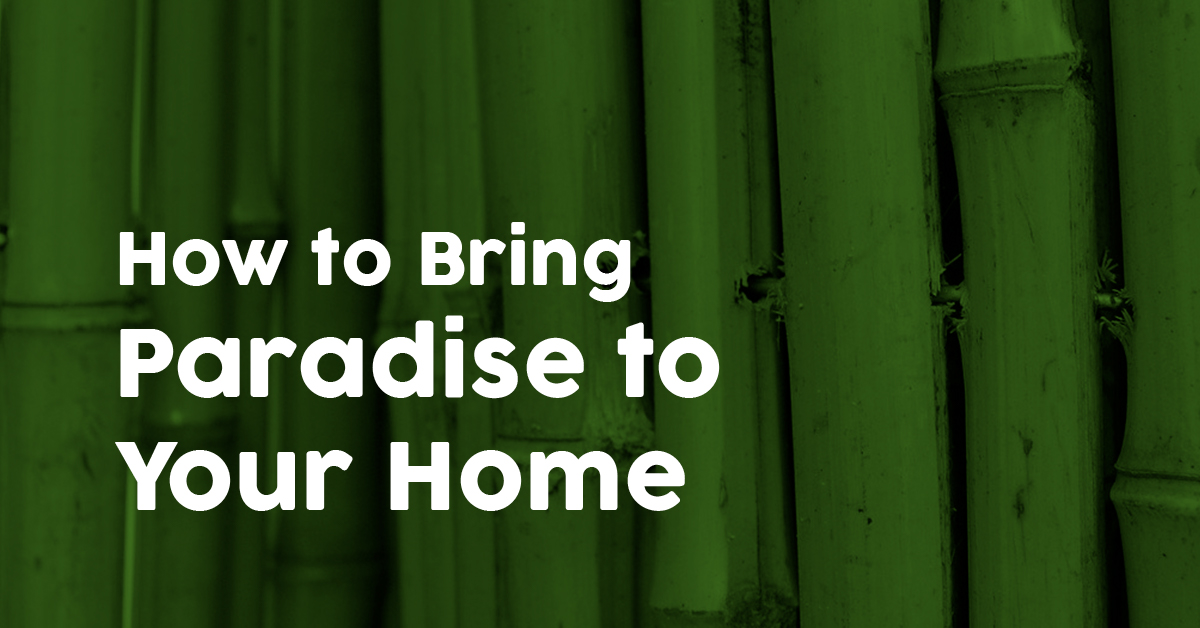 Even if you're the type of traveler that prints out itemized packing lists and detailed daily resort itineraries, you can't account for every situation when booking flights and hotel rooms.
Unfortunately, circumstances beyond your control can postpone or cancel your vacation plans. It's tough to stay home when all you can think about is the beach-side resort you booked months ago.
While you can't predict what life might throw your way, there's no reason you can't make the best of your time at home. If you were going to take the week off of work anyway, you might as well spend that vacation time making your home as relaxing as possible.
What could be better than the relaxation of paradise paired with all the comforts of home?
No matter how stressful life becomes, if you make your backyard or home its own paradise, you'll always have a spot to lounge and drink piña coladas — even if they aren't out of coconuts.
Here are some ideas on how you can replicate your tropical vacation without ever leaving home.
Jump To Sections: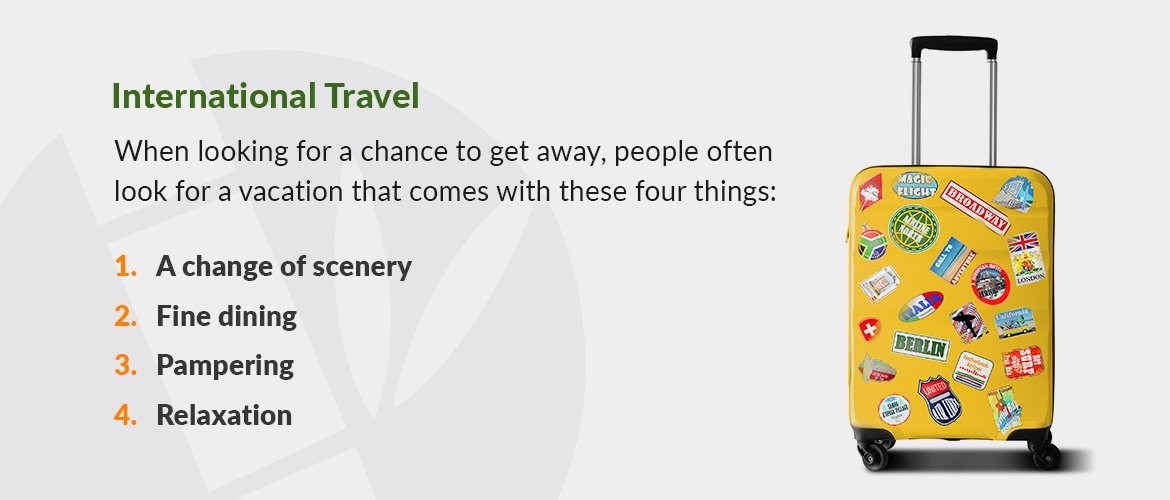 International Travel
When looking for a chance to get away, people often look for a vacation that comes with these four things:
1. A change of scenery: Sometimes, you just need to switch up your sights to change your point of view. When people see breathtaking nature and luxury resorts, they can easily forget the stressors of the office.
2. Fine dining: Entering a new culture means enjoying the local cuisine. There's something exciting about trying new flavors you've never experienced before.
3. Pampering: When visiting luxury resorts, most people are looking forward to the complete spa treatment. Few people get the chance to fully indulge themselves at home.
4. Relaxation: When your flight takes off, it's easy to leave all your everyday worries on the ground. You can enter a new mindset that is more conducive to serenity and inner peace.
When your plans get canceled, it might seem like all those opportunities go away. However, with a bit of creativity and resourcefulness, you can bring all these things to your backyard.
Even if your plans have to change, you can still bring the elements of international travel into your backyard. Whether you were headed to Kenya for a safari or an island for a tropical getaway, you can take parts of those trips and incorporate them into your time at home. With just a few accent pieces, you can make your home look like a vacation destination.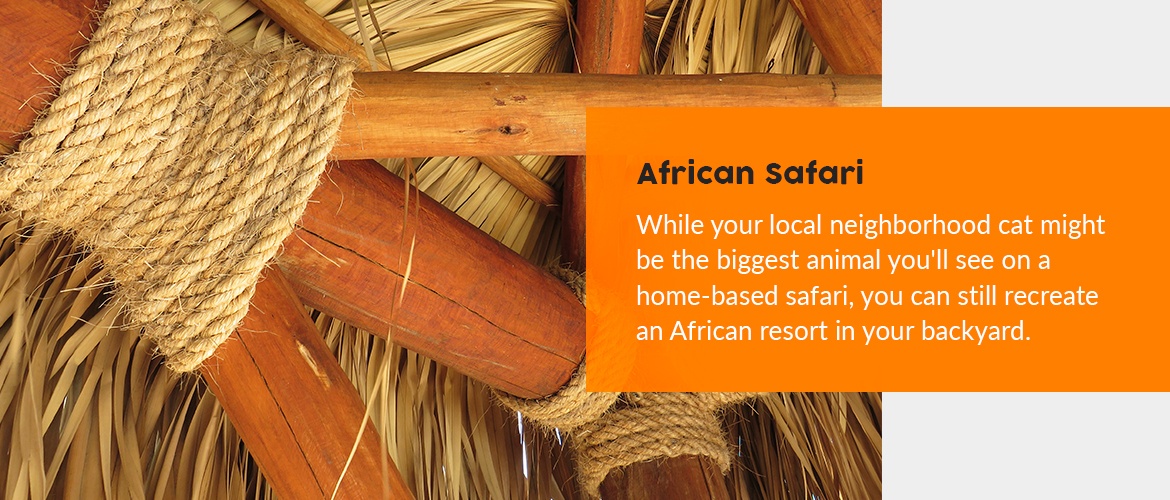 African Safari
While your local neighborhood cat might be the biggest animal you'll see on a home-based safari, you can still recreate an African resort in your backyard.
To start building your own paradise, you'll want to focus on maximizing your time in the sun. Make your backyard a place where you can catch some rays or spend time in the shade while enjoying a tall glass of your favorite cold drink.
Adding some paradise-inspired, summer-themed furniture to your home will make your space comfortable and start to look like a resort. Getting bamboo furniture for your home takes you to an exotic vacation far away from any stressors. For sunbathing, make sure you have a comfortable reclining chair you can lean back and face the sun in. When you want to enjoy the weather under some shade, set up an African reed umbrella to cover your table to better set the tone for your African-themed backyard vacation. Measure the area you're looking to cover, so you can determine which size works best. That way, you can get full coverage on whatever size table you have.
Do you already have a covered structure in your backyard that offers shade? You can still give it the appearance of an African resort by attaching African reed thatch panels to the roof.
Since your backyard is probably not home to a cape parrot or bearded vulture, you might miss the sounds of birds soaring through the skies. Try adding a wind chime to your backyard to add an auditory element to your backyard experience.
If you were looking forward to discovering wild animals on a safari, bring out a laptop or tablet and find a documentary to enjoy. With the quality of modern video, you could watch lions and elephants with better detail and closer zoom than you could expect on your own safari.
Mexican Siesta
Were you planning a Latin American vacation to experience the beautiful beaches of Mexico? While you can't bring the deep blue waves to your porch, you can still bring some of the best elements of a Mexican resort to your backyard.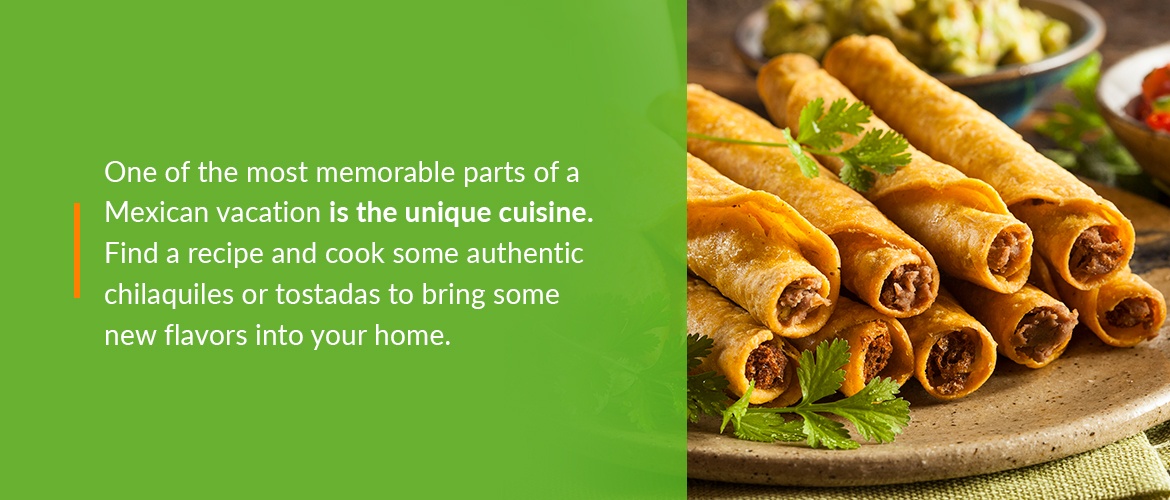 One of the most memorable parts of a Mexican vacation is the unique cuisine. Find a recipe and cook some authentic chilaquiles or tostadas to bring some new flavors into your home. There are thousands of recipes available online for any dish you could imagine, so don't be afraid to get creative. Here are some popular Mexican dishes to consider trying:
Carnitas:

 Braised or simmered pork in a small taco with cilantro, onion, refried beans, salsa and guacamole.

Enmolada:

 A corn tortilla filled with cotija cheese and chicken and covered in black mole with cheese and sesame seeds.

Rajas con queso: 

Taco filled with Poblano chiles, rajas, and crema de poblano.

Salbut:

 Puffed tortilla deep-fried and topped with avocado, pulled meat, lettuce, pickled red onion and tomato.

Taquito: 

A rolled tortilla filled with some combination of beef or chicken and cheese that's fried.
If your dish doesn't turn out as expected, order take-out from your local Mexican restaurant. Finish off your dish or take-out, with a homemade margarita or Aguas Frescas.
Once you've experimented with your latest creation, enjoy your Mexican meal under a palm thatch Mexican umbrella. If you already have one on your deck, placing an umbrella cover over your current umbrella transforms the existing space. Play a recording of the sounds of waves crashing and seagulls chirping.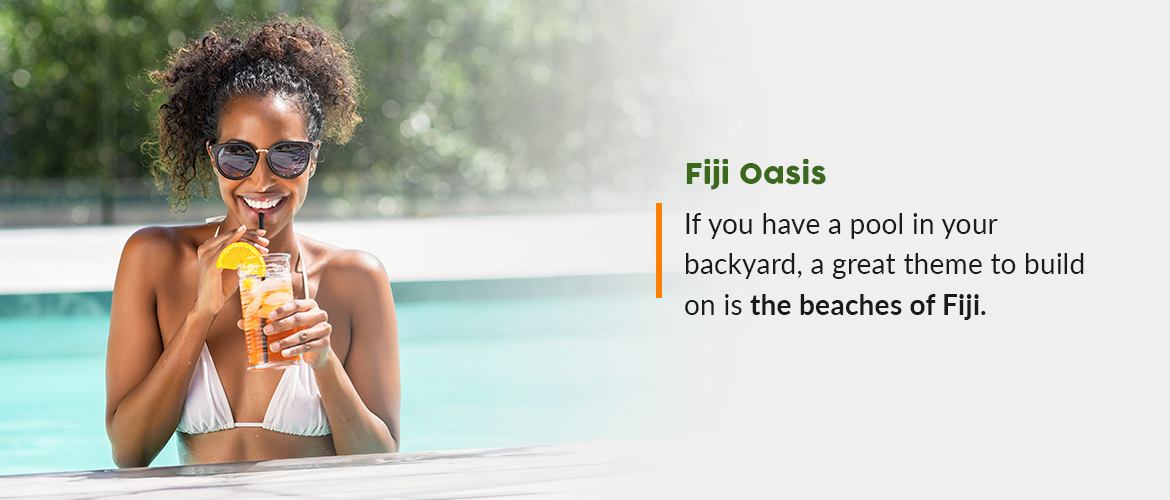 Fiji Oasis
If you have a pool in your backyard, a great theme to build on is the beaches of Fiji. Known for its stunning vistas and native culture, you can see from the pictures alone why it is such a desired vacation destination.
Even if you can't go hiking on Mount Tomanivi or snorkeling by the Yawasa Islands, you can incorporate elements of island time back home. Appreciate the beauty of nature in your backyard with planters of colorful flowers. This gives you something to admire while floating in the pool. Even if you don't have your own poolside bar, enjoy a tropical fruit cocktail of your own making while lounging poolside.
To make your own Fijian bar, add a Tahitian Palm Thatch to your outdoor structure to make your backyard feel like a resort with a poolside cabana. Getting a sustainable bamboo wine rack gives you a great place to store your spirits and adds to the feeling of a tropical poolside bar. 
If you're missing that ocean wildlife, you can find aquarium livestreams online that show shark, jellyfish, coral reef and tropical fish tanks. They're relaxing to watch while you unwind in the pool, and sometimes you can catch aquarium directors narrating the livestream and taking questions from viewers. If you get nervous in the ocean, this is an excellent alternative for you to appreciate the beauty of wildlife without worrying about what might brush up against your leg. Plus, you don't have to worry about a wave knocking over your glass of wine!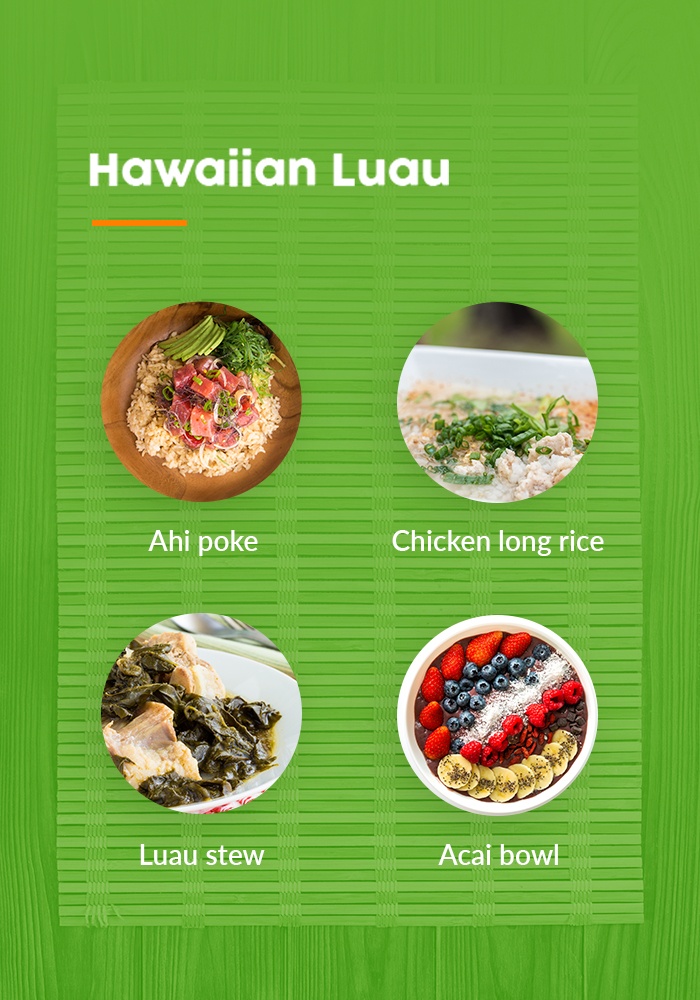 Hawaiian Luau
Known for its beautiful beaches, Hawaii is home to both natural beauty and cultural entertainment. While you won't have fire dancers in your home, you can incorporate tiki elements into your backyard to have a luau of your own.
The traditional luau celebrates joy and happiness. During your vacation, take the time to celebrate the simple joys in your life and find delight in the world around you. By making your backyard feel like a luau, you remind yourself that the little moments in life deserve just as much celebration as the big ones.
For some staycation decoration ideas, add tiki masks, tropical signs and hanging birds to your backyard. For a special twist, hang a bamboo tiki bar wind chime to add some musical tones with every breeze. 
To start a part of your own, make some fun tropical drinks and finger foods to enjoy. Good choices for a menu include meats and fruits cooked on a grill, and make sure to add seafood to incorporate the island theme. Sweet, fruit-based marinades are excellent options, and using a pineapple garnish adds color and flavor to each dish. 
Creating authentic dishes to pair with the tropical decor of your home will bring cohesion to your relaxing staycation. To really make your home feel like a vacation spot, here are some Hawaiian-themed dishes to try creating on your own:
Ahi poke: This simple dish only includes a few ingredients, so the tuna gets to be the star of the show. Only try this dish if you have a local market with high quality, fresh fish.
Chicken long rice: With a Chinese food inspired taste, this stew features clear mung bean noodles and chicken with a ginger flavor — it pairs well with many Hawaiian dishes.
Luau stew: A dish with multiple iterations, this famous stew focuses on cooked taro leaves and has ingredients like onion, ginger, pepper, seaweed and coconut milk. A popular version includes brisket.
Acai bowl: These combinations of banana, granola, berries, honey and acai have made their way into local coffee shops in North America, and for good reason — they're delicious. Beginning your relaxing staycation as soon as you wake up is the best way to turn your home into a tropical oasis.
Staying home does not mean you cannot take the time to celebrate you. Throw your own luau as a testament to your accomplishments of the year and give yourself an escape from the demands of your workday. Take this time and make it all about you.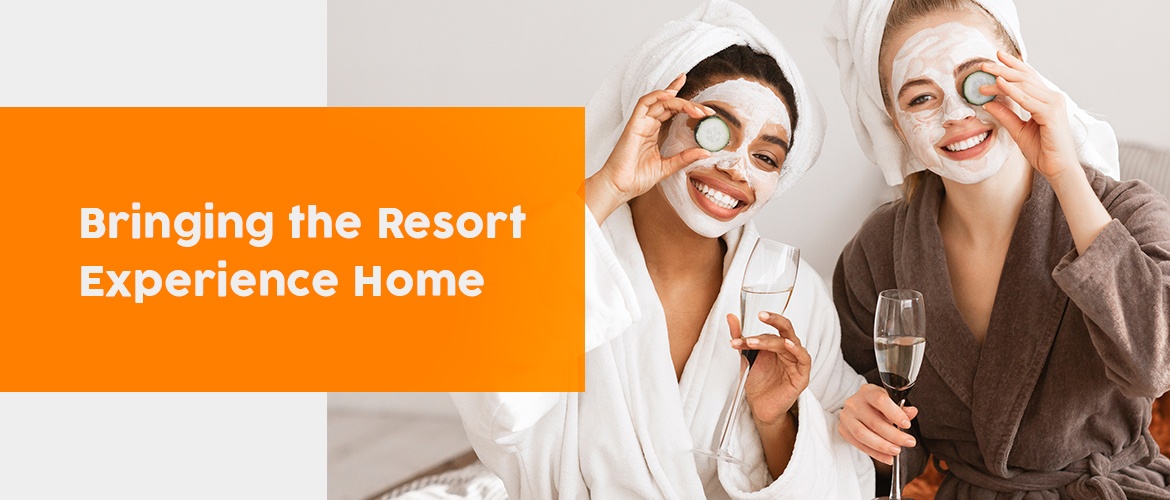 Bringing the Resort Experience Home
If you booked a stay at a luxury resort, you might feel disappointed now that you can't enjoy some much-needed pampering. However, with a bit of creativity, you can bring the resort experience right into the comfort of your home. Think about some of your favorite resort perks and consider how you can best adapt them into a personalized experience that gives you a bit of paradise inside the comforts of your own home.
Spa
If you were supposed to enjoy a spa vacation with your partner, you could work together to give each other a relaxing spa experience. Take turns giving each other massages, guiding the other on where you feel the most tension. Work on your communication with each other and spend quality time helping your partner unwind.
Take the time to unwind with facial, foot, skin and body treatments you've never tried before. Always test new products on a small part of your skin 24 hours before doing the full procedure to make sure you have no adverse reactions.
If you treat yourself with a higher-end product than usual, you're still spending less than you would at a spa, so don't hold back from trying out that luxurious skin care cream you've had your heart set on.
A home spa experience can take many forms, so think about what procedures you gravitate towards at the spa and adapt them for at-home use. Think about what part of the body you want to focus on and what sorts of sensations help you relax:
Touch: 

Do you enjoy soaking in a relaxing bath? Could your skin benefit from a special sugar scrub?

Taste: 

Does a specific herbal tea help you relax? Do you love indulging in high-end chocolate?

Sound:

 Is there a particularly relaxing type of music you enjoy? Does the sound of the waves bring you peace?

Smell: 

Is there a specific candle that makes you feel relaxed? Do you want to try a new essential oil in your diffuser?

Sight: 

Do you like watching a crackling fire? Is there a small water fixture you like to watch?
If you want to enjoy lounging in the sun with a bit of increased privacy, consider installing bamboo fencing over your current fence. Then, you can enjoy a face mask and cucumbers without being easily spotted by neighbors. 
Cuisine 
The best part of a staycation is that you aren't limited to one country's signature dishes. You can sample all sorts of food when you try different recipes on your own. Every night can bring your taste buds to a brand new part of the world.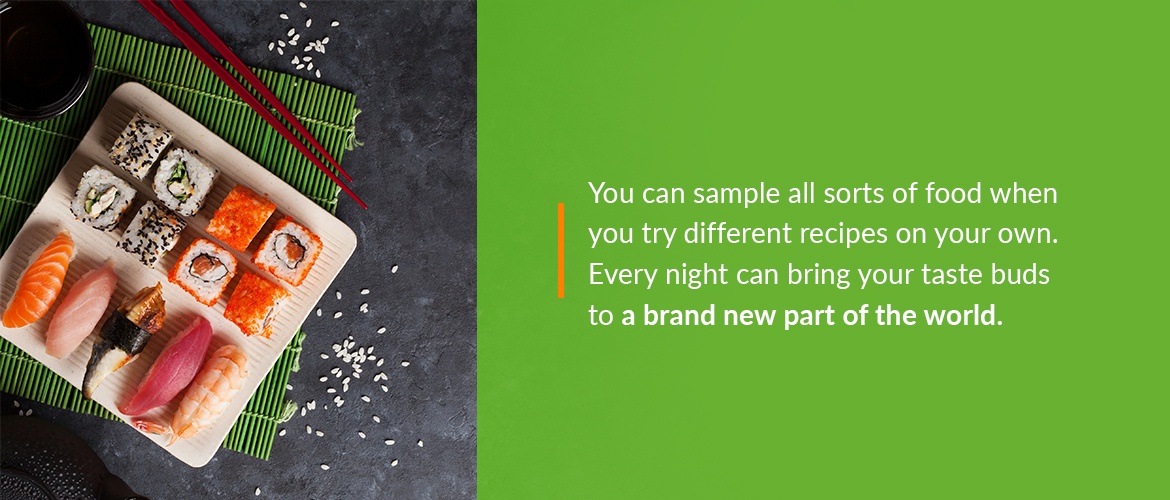 Here are popular foods from different countries around the world to give yourself some inspiration:
Spain:

 Seafood paella features different fish and crustaceans along with white rice and herbs.

Vietnam: 

Pho includes fresh rice noodles in beef broth that can be customized with so many different ingredients that you're sure to find one to best fit your palate. 

Poland: 

Pierogis are the polish take on dumplings, and like pho, you can customize them with different ingredients for the filling. Potatoes, sauerkraut, various meats or onions are just a few of the popular options.

Japan: 

Sushi is a popular dish that can be prepared in a variety of ways. Pair with miso soup and rice for a well-rounded meal. If you're feeling adventurous, try fixing yourself a sake cocktail.
Try recipes with ingredients you've never seen before. Shop at a local market other than a chain grocery store to get more authentic, niche ingredients. If you have a partner, involve them in the cooking process, so you can have a couple's cooking night as you learn new techniques. You're trying something new, so feel free to make some mistakes along the way. The food will taste even better when you develop a newfound appreciation for its process's complexity. 
When you've finished whipping up your masterpiece, eat outdoors, if possible, to appreciate the sunset or stars. Set the table with candles and use your finest dishes. You're treating yourself, so pull out all the stops and indulge in a wine you've never tried before. For that extra flair, set up sconce torches to give your backyard more of a resort feel and to add additional lighting.
Meditation 
One of the best parts of any vacation is the ability to completely unwind. You have a more natural mindset that gives you a sense of peace, knowing that your troubles are far away. Practicing deep meditation gives you the skills to feel deep peace wherever you are. Cultivating this skill will help you even beyond your staycation, giving you the ability to shut down the parts of your mind that are wired with anxiety.
One thing that can help your mind enter a place of meditation is arranging the space around you. Add a tropical candle or a bamboo rug to a quiet, clean room in your house that you don't associate with stress. Maybe this is a guest bedroom, a finished basement or any space you don't do much work in. You can set that space aside in your mind, so that when you enter the room and see those relaxing objects, you know to start the process of relaxation.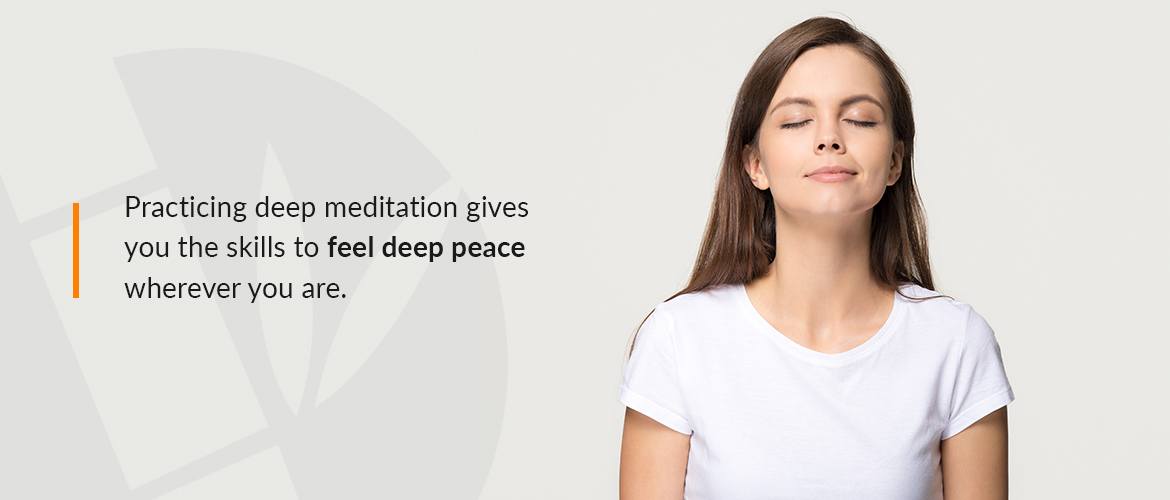 If you want to incorporate movement, you can follow along with a peaceful yoga tutorial as though you have your own private class. Meditation is all about shifting your focus from what brings you anxiety and drawing attention to what you can control, such as your breathing. We are always so focused on the externals — like stressing at work, worrying about current events or wondering what the future holds — that we forget to focus on ourselves internally. Through meditation, you bring awareness to each part of your body while slowing down your racing thoughts.
Meditation is difficult and takes practice. The most important thing to do is give yourself grace to make mistakes. You won't be a master immediately.
If you're just getting started, try a simple body scan or grounding exercise. When you are ready to begin, settle into a space on the rug with your back on the floor and your legs outstretched or slightly bent. Place your hands at your sides with you palms facing the sky or on your stomach so you can feel your breathing. There are plenty of apps you can find that lead you in guided meditation, but if you don't want to commit to a subscription, you can find plenty of free meditation sessions on YouTube. 
Cultivating the skills for meditation takes time, so don't feel frustrated with yourself if you don't master it right away. Taking the time to start these habits during your designated vacation gives you the skills you need to bring meditation into your everyday practices.
Start Making Your Own Paradise Today
While it's hard to beat the peace that comes with a change of scenery, through some creative thinking and adaptation, you can bring a slice of paradise into your home. Spend the time you already took off from work investing in yourself and your relaxation. Self-care is an essential part of feeling rested and rejuvenated, and you shouldn't let canceled flights or refunded resort rooms stop you from taking care of yourself.
Forever Bamboo gives you a great place to start transforming your home into a paradise of its own. Looking through our extensive collections of fencing, decor, huts, umbrellas, artificial rocks and thatching can help you reclaim your vacation and focus on the relaxation you deserve from the comfort of your home.