You want to add texture and a tropical feel to a space, but maybe you don't know how. You could add bamboo furniture or other products, but what if you want to enhance walls, ceilings and other surfaces? Tropical matting is your answer.
From natural to synthetic, there are plenty of types of tropical matting to choose from in your search. We'll help you decide which type of tropical matting is best for you, along with some ideas on where to use it and the benefits. Not sure what tropical matting is exactly? We've got that covered, too.

Jump To Sections:
Types of Tropical Matting
Tropical matting consists of woven material that creates a flexible mat-like material. The woven material can be natural or synthetic to create different types of matting. The variations between natural vs. synthetic matting are as follows.

Natural matting: Manufacturers or weavers use palm leaves, tree bark or similar materials for natural matting. They allow the product to dry after harvesting or use already dried materials. Even when dry, the bark and leaves have enough flexibility to allow people to weave them into intricate designs. As manufacturers weave the material together, they form a sheet as the final product. This sheet is natural matting. You can roll it for easier transportation and unroll it without any damage once it's time to install.
Artificial matting: Synthetic matting features similar woven patterns that resemble natural products. One of the primary differences between natural versus artificial matting is their material. At Forever Bamboo, we offer ViroSurface matting. The artificial matting mimics natural fibers, bamboo, bark and other materials. Because they are synthetic alternatives, they are a bit more durable and available in many different colors and styles. With proper care, synthetic matting will resist rot and decay.
Natural and synthetic matting usually come in a roll for various applications, no matter what process was involved in its creation. In addition to different materials to choose from, you'll also have to consider what pattern you'd like. The weave of the material creates various final products. Different types of tropical matting come in various weave patterns, as follows.

Bandeau weave: This type of weave often creates a checkerboard-like pattern. Bandeau weaves are more straightforward, made with an over-under method that creates a grid. The texture can be modern with its sleek lines, or rustic, depending on the color and material you choose. Many rolls feature bandeau weaves tilted on a diagonal, but you can install them to create straight lines instead. You'll find this pattern with different sizes of strips, which can create a one-inch pattern or smaller. The smaller the pattern, the cleaner and more classic your design will appear.
Herringbone weave: If you're familiar with the herringbone pattern, you have an idea of what this weave looks like. Herringbone weave matting has an eye-catching, zig-zag pattern. Its appearance is simultaneously complex and sophisticated. Some matting features different colors of material woven together for the herringbone look. The variety of colors adds more interest and detail to herringbone matting. Choose this pattern for a luxurious, yet tropical, design.
Basketweave: Imagine a picnic basket for an idea of what basketweave matting looks like. The basketweave combines the simple lines of the bandeau with the intricate crossovers of a herringbone weave. The result is a layered effect with a stacked look like that of a brick wall. The basketweave has a strong and rustic appearance that calls back to the practical products of weaving from centuries ago.
The patterns above come in different thicknesses. The width of the design depends on the size of the material used in the weaving process. Once you have a weave style in mind, you need to think about what colors will work for you. Natural and artificial mats come in a range of colors, such as:
Black
Tan
Mahogany brown
Chocolate brown
Dark, espresso brown
Red
Green
The colors of mats you have to choose from depend on which variety you select. Different natural materials produce different colors when dried and woven together, and synthetic materials can be almost any color. With its wide range of styles, patterns and colors, tropical matting is perfect for countless purposes.
Uses of Tropical Matting
Matting, whether natural or artificial, serves a decorative purpose. Owners of homes and businesses typically install tropical matting in interior spaces. Some places you can apply matting to include:
Walls
Ceilings
Tabletops
Tiki bars

Tropical matting is functional in many ways. Other purposes of matting involve cutting and shaping the mat, which can create:
Accessories like hats, belts or purses
Coasters and placemats
Craft materials like ribbon
Art or frames for artwork
You can get creative with your use of matting since it is so versatile, especially if you have leftover cuttings after large installations. Different types of tropical matting have many purposes, but the most common uses are on furniture or in buildings. Decorators love natural and artificial matting for the style it brings to a space.
Tropical matting, as the name implies, gives your home or business a tropical feel. You can also use artificial and natural matting to give a Zen or rustic feeling to your home or business. Many locations can use tropical matting, no matter their style. The possibilities include mats for:
Homes
Restaurants
Spas
Zoos
Hotels
Resorts
Theme parks
Retail buildings
If you don't own one of the businesses above, your space will still look stylish with the addition of matting. Any industry will benefit from a touch of nature. Along with the versatility come many other benefits of tropical matting.
Benefits of Tropical Matting
Even if you're not sure tropical matting will suit your home or business, the advantages will convince you. When you choose a building or decorating material for a space, you want it to be as beneficial as it is stylish. With tropical matting, you'll see advantages when you order, install and enjoy the finished product. There are even advantages to the materials that make up matting. Some of the benefits of these mats are as follows.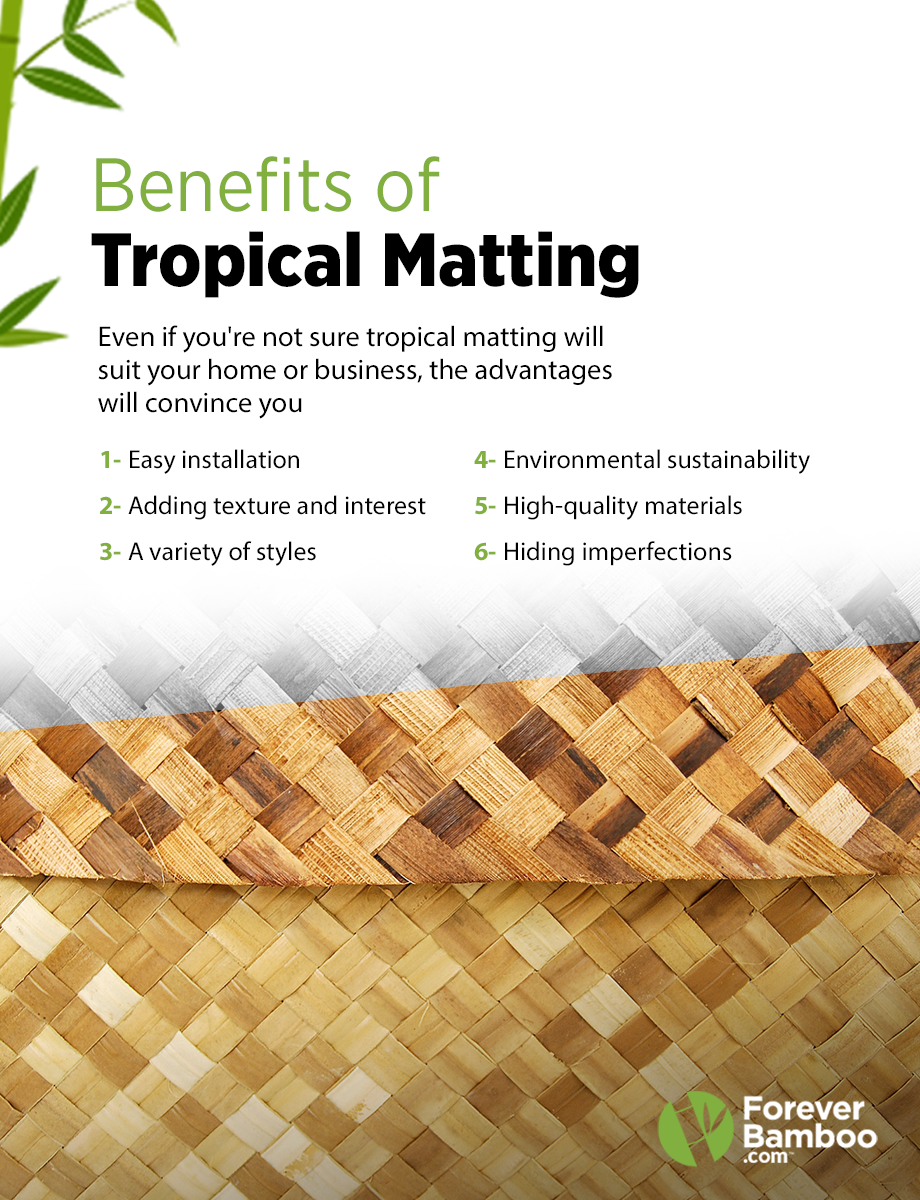 Easy installation: One of the best advantages of matting is that you don't need special equipment or supplies to install it. Common household tools — hammers, nails, staples or glue — are all you need to put up your gorgeous matting. If your roll of matting is too long or you need a custom shape, you can cut the material. You won't unravel or damage the matting if you cut it to size, and all you need are quality scissors to customize your matting. Seal the edges for a clean look, and you're ready to decorate your home or business.
Adding texture and interest: If you feel as if your walls or ceiling need an upgrade, tropical mats add something new. Create a feature wall or draw interest upward with interior applications. You can also add matting on the front of tiki bars or the tops of tables. The additional textures throughout your space will provide dimension and give a room something it's been missing. As you look around your space, think about the textures you see. Now imagine how an eye-catching woven pattern would enhance that space. That's exactly what matting will do.
A variety of styles: Natural and synthetic matting come in an array of woven styles and material colors. No matter what style or color scheme you have in your home or business, you'll find a type of tropical matting that fits. If you like a pattern, but can't find the color you need, you can paint, stain or dye specific varieties. You can also mix and match styles throughout an area or property to create contrast. An eclectic style will make your space feel more rustic and is sure to impress.
Environmental sustainability: Whether you choose artificial or natural matting, you're getting an eco-friendly product. Synthetic matting is non-toxic and recyclable, meaning that if you ever decide to replace it, you can dispose of it guilt-free in a way that's safe for the environment. With natural products, manufacturers create matting with sustainable materials such as bamboo, leaves and bark. Growers harvest them in ways that allow them to regrow or regenerate. When you use natural matting, there's no guilt of harvesting whole trees, as there would be with hardwood products.
High-quality materials: In addition to being sustainable, the materials of tropical matting are high-quality. They are flexible and durable, which helps them last on interior applications. With proper care, tropical matting can resist rot, pests and other intrusions that would have compromised their appearance.
Hiding imperfections: The longer you use tabletops and furniture, the more wear you subject them to. With matting, you can disguise years of use. Install it on tabletops that have water stains and rings, or cover any scuff marks on the front of your bar. You can even use it on walls or ceilings to hide minor cosmetic imperfections, all while getting the benefits above.

With all the benefits of tropical matting, it's worth trying in your home or business. You'll just have to pick what style works for where you'd like to put it.
Which Type of Tropical Matting Should You Choose?
At Forever Bamboo, we offer a range of synthetic and natural matting perfect for your home or business. It may seem challenging to know which type of matting is best for you, but with some consideration, you'll have tropical matting that meets your needs in no time. Before diving into your options, think about:

The current style of your space
What areas you'd like to cover
What weave style suits your tastes
The color or colors that would go with your décor
If you'd like a variety of matting or the same throughout an area
Your budget per area
Once you evaluate the above, you'll have a clearer idea about what you're looking for and how much matting you need. From there, you can begin choosing a type of matting. At Forever Bamboo, we have an array of matting options that include the following.

When deciding between types of natural matting and synthetic options, think about how much control you want. If you don't mind color variation, you can go with natural mats. For those trying to match a color scheme, consider synthetic. You have more control over what color you get in the final product, since artificial fibers can be almost any shade.
The weave pattern you prefer also impacts your choices. For a full range of pattern options, go with the ViroSurface synthetic mats. For the natural, classic-looking bandeau weave, go with lauhala or Bac Bac matting. If you're covering a large surface and think intricate patterns may be a bit much, opt for lampac matting in a panel style. Smaller areas suit complex patterns, since you don't want to overwhelm those viewing it.

If you have to cut your matting to size in an interior application, consider adding rope or molding to finish edges. Even if you don't need to trim any excess material, certain accents can enhance the look of your final product. Consider additions such as the following.
If you think tropical matting and décor may be right for you, but you aren't quite sure what style you like or whether you'd prefer natural vs. artificial matting, purchase a sample box. Try before you buy to make choosing a type of matting easier. The best part is, if you make a purchase within 45 days of purchasing the sample box, you get $25 off, which means the sample box is free! Our samples will help you determine the best matting for you out of our broad range of options.
Get Tropical Matting at Forever Bamboo
When you're looking for tropical matting, shop with Forever Bamboo. We are the largest supplier of island-inspired products made of thatch or bamboo, as well as tropical matting. We're experts in providing island-inspired décor and materials that are perfect for any home or industry.
Browse our selection of tropical mats to see the types of natural matting we offer, along with our ViroSurface synthetic mat options. Contact us at 877-912-2244 with any questions you have about our tropical matting, rope and braid options. Our trained and professional staff will be happy to help you turn your home or business into a tranquil, island-like oasis!