Nothing gives a yard and garden area a clean, finished look like bamboo garden border edging. The border gives a clear, defined separation between different features such as lawns, planting beds, walkways, water features, and more. While many people may think bamboo can only be used if the goal is a tropical look, bamboo is actually very versatile, especially if you choose borders in unique colors such as black bamboo rather than the traditional light honey color of natural bamboo. Though bamboo is a durable material that can hold its own against the elements, your garden edging will last longer, regardless of the color, if you treat it with a varnish or sealant before installing it.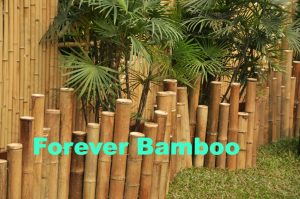 Designing various areas in your yard is a terrific way to flex your creative muscles. That can mean using as many round and curved lines as straight ones for different aspects in the space.  Bamboo borders are constructed in a way that allow you to curve them around S-shaped edges of pathways or irregular shaped garden areas, yet another feature that adds to the versatility of the attractive edging. What's more, you can use bamboo borders with other traditional gardening elements such as terra cotta pots, cinderblock, pavers, and others to create a unique look that is entirely your own.
When shopping for bamboo garden border edging, come to the bamboo experts. At Forever Bamboo, we specialize in everything bamboo from borders to fencing, paneling, poles, slats, and more. All of the bamboo products we carry are top quality, eco-friendly, and easy to install. Our bamboo borders come preassembled so all you have to do is cut them to size, treat them with a sealant, and place them wherever you want. Plus, we offer edging in two beautiful natural colors to ensure you get the look you want. Many of our products ship for free, so you'll save money on the best quality bamboo supplies when you shop Forever Bamboo.