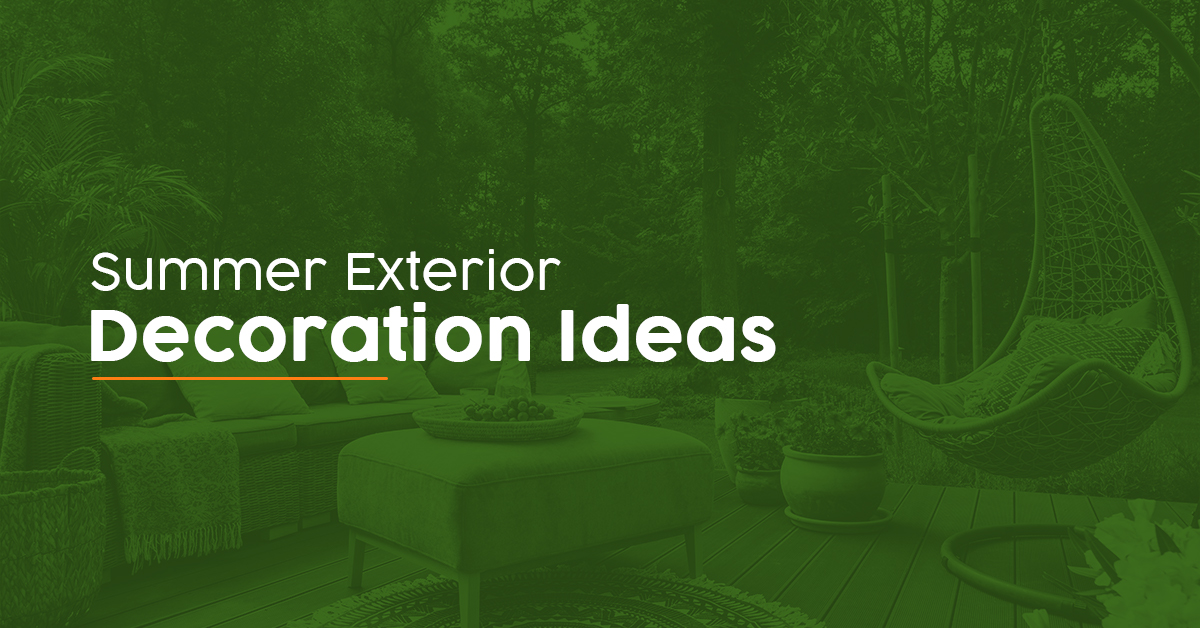 Summer is the perfect time to revamp your home's exterior design. Because summer means spending hours on end outside, you need an outdoor living space you actually want to spend time in. Whether you dream of turning your yard into a personal sanctuary or the ultimate party pad, freshening up your exterior decor can help you achieve your summer design goals.
This exterior decor style guide will explain the benefits of updating your home's exterior, provide tons of outdoor summer decor ideas and give you ways to transform your backyard into a tropical oasis. Learn about the hottest exterior design trends of the summer and how you can use them in your outdoor layout.
Jump to Sections: 

Reasons to Update Your Home's Exterior This Summer
Updating the exterior of your house provides you with many advantages. Even making small changes can make you feel like you got an entirely new home. Regardless of the reason behind your decision to start your exterior home update, the end result will be exciting and satisfying as long as you devise a solid plan.
Here are some of the top benefits you'll get from updating your home's exterior this summer.
More Appealing Aesthetics
Choosing to update the exterior of your house allows you to create a completely fresh look for your home. Styles and fads are constantly changing, so you'll need to re-decorate your home frequently if you want to stay current. Fortunately, making even small changes to your home's exterior periodically can give it a new look and boost its curb appeal.
Because the exterior of your home is the first thing guests and passersby will see, you want to be sure your house appears well-kept, welcoming and inviting. Bringing your house's exterior spaces up to date will leave people with a great first impression of your home and your style. An expertly done exterior remodeling job even has the potential to add great value to your property.
Minimized Maintenance
One of the biggest reasons to update your home's exterior is to refresh or repair any maintenance concerns. Everything about a house's exterior deteriorates with age, so you'll need to be intentional about keeping up with your exterior maintenance. Doing so can help you avoid larger issues, such as water damage or fire hazards.
Because maintaining an older house can be incredibly time-consuming, consider updating your home's exterior with more low-maintenance materials. Renovating your home's exterior instead of routinely servicing it can be a more cost-effective and time-saving choice in the long run. In this way, updating your home's exterior can both increase the life span of your house and save you from extra yard work on a hot summer's day.
Expanded Living Space
Summer is the season to spend as much time outside as you can. You can make the most of your summer by updating your home's exterior to include more usable spaces. From designing a small patio to constructing an entire screened-in room, there are many exterior home improvement ideas for increasing your home's living spaces.
Whether you want to create a great outdoor area for hosting dinner parties or carve out a personal zen space for appreciating nature, you can achieve whatever additional living space you want by updating the exterior of your home. If you already have an outdoor living space, such as a porch or backyard deck, you can turn this existing area into something brand new with a few minor renovations.

10 Summer Exterior Decoration Ideas
Before you start switching up your home's exterior design for the season, you'll need a summer home decoration guide to walk you through the process. After going over all of the outdoor decor options available, you can start making design choices and revamping your outdoor living spaces.
For some design inspiration, check out the 10 exterior decor ideas for summer below.
1. Roll out the Welcome Mat for Summer
Even if you only have five minutes, you can do this summer exterior decor idea. Quickly and effortlessly improve your home's look by adding a fun doormat. Putting out a festive doormat is an easy and inexpensive way to celebrate summer, show off your style and add a pop of color to your home. A decorative doormat, rug or matting can be the small touch of pizzazz your house's exterior needs to kick off the summer season.
2. Create a Party Space
Entertaining guests outdoors is one of the best parts of the summer season. Whether you love hosting family cookouts each weekend or throwing an annual Fourth of July party, an outdoor area for entertaining is the key ingredient for a successful summer. You'll want your summer party space to include features like a colorful table, decorative pillows and festive accent items that will keep everyone in the party mood.
One of the most important parts of planning your exterior summer party space is picking a theme. For example, tropical and nautical themes are perfect for the warm summer months because they center around the beach and ocean. Once you decide on your decorative theme, you'll want to incorporate it as much as you can into your design plans.
Specifically, you'll want to buy bright tropical or floral dishes that work with your theme and add splashes of color and pattern to your space. You can also include fun elements, such as a mobile bar cart, bamboo wind chimes and other summer decorations that will enhance the party atmosphere.
3. Refresh Your Outdoor Furniture
Revamping your outdoor furniture is a simple way to breathe fresh life into your home's exterior design. Depending on what condition your current outdoor furniture is in, you may want to get new cushions for it, repaint it or replace it entirely. Refreshing your outdoor furniture can be as easy as getting new decorative pillows to place on top of it.
You might also want to add a new furniture item to your existing layout. Consider adding a statement piece of outdoor furniture like a hanging swing, rocking chairs or a lounger. You'll also need a large umbrella for the summer season. Putting up a Tiki umbrella will contribute to your outdoor area's ambiance, protect you from the sun and provide some much-needed shade.
4. Elevate Your Landscaping
Never underestimate the power good landscaping has to enhance your home's exterior. Upgrading your house's landscaping with a few well-placed shrubs, flower beds or trees can bring in some much-needed color or cover up yard imperfections. Adding new types of foliage to your backyard can completely transform its look.
Assessing your home's landscaping also includes its hardscaping, meaning your driveway, patio, deck or porch. Think about whether you need to repair any of these areas or if you want to add anything like a walkway or fence. Putting up a bamboo fence can be a great way to enhance your property's privacy while adding to its natural aesthetic.
5. Embrace Nature
Considering your house's exterior is outside, you'll want to include some natural elements in your exterior design. Give your home some organic appeal by cultivating a mini flower garden or decorating your outdoor tablescape with some adorable succulents. Adding a little charm and whimsy to your home's exterior design will make it a warmer and more welcoming place.
6. Concentrate on Cozy
Make your home's summer outdoor living area just as comfortable and relaxing as being indoors by focusing on elements like airy fabrics, cool colors, natural light, soft cushions and chiffon canopies. You can also make summer nights cozier by including a fire pit in your outdoor layout.
7. Reinvent Your House Numbers
Updating your house numbers is another simple and straightforward way to upgrade your home's exterior. You can revitalize your house numbers by updating their style, putting them on a wooden block, mounting them on fake grass or repainting them. Regardless of how you choose to freshen up your house numbers, make sure they are visible, easy to read from a distance and positioned under an exterior light.
8. Add a Summer Texture
Bringing some texture into your home's exterior design will really pull together its look. Many contemporary homes include features like architectural wall panels, corrugated metal panels, an accent wall or thatch products to add texture while maintaining a modern and polished look. Even just a hint of texture can significantly enhance your overall exterior layout.
9. Light up the Night
Summer is a lovely season because you can spend time outdoors long after the sun goes down. Adding ambient lighting to your home's exterior spaces will make your summer nights memorable. As a bonus, outdoor lighting fixtures are both functional and festive. Look for fun exterior lighting elements like string lights, candle-lit glass jars and Tiki torches to create a nighttime wonderland.
10. Sign off on a Great Summer
A clever sign can tie your whole exterior space together. Signs have already become a popular indoor decor item and they are steadily making their way outdoors. Whether you purchase a pre-made sign or make your own custom sign, a great summer sign will take your outdoor space to the next level.
You can post your summer sign beside your porch, near your driveway, next to your patio, in your garden or hang it on an exterior wall. Depending on the structure of your property layout, you can even use outdoor signs to create specific sections or zones within your yard. Some well-placed summer signs will set the mood for each area of your backyard and unify your entire exterior design.

Turning Your Exterior Into a Tropical Oasis
Who doesn't want to live at an island resort? With the right exterior decor, you can transform your backyard into a tropical oasis that's perfect for both relaxing during the day and partying the night away. Discover how to renovate each zone of your outdoor living area into a tropical retreat.
The Sitting Area
Start your tropical exterior remodeling with your outdoor seating area. You'll want to create a space on your patio, deck or porch that's comfortable for sitting and chatting with friends, reading or even taking an outdoor nap. This area will largely revolve around the outdoor furniture you choose and how you decorate it.
To make your outdoor sitting area feel like an island escape, start by laying down some tropical matting or a bamboo rug. Then, fill the space with bamboo furniture pieces to create a laid-back, easy-breezy atmosphere. Complete the look with small touches of tropical decor, such as floral cushions, Tiki masks, bamboo wind chimes, hanging birds and tropical signs. Make sure you also set up Tiki torches for late-night entertaining.
The Eating Area
Every exterior layout needs a well-defined eating area where you can enjoy a casual lunch break or host a large get-together. Situate your outdoor eating area near the patio doors so it's easy to access from the kitchen. The closer your outdoor eating area is to the kitchen, the less distance you have to carry full plates and the better your traffic flow overall.
Your eating area will need a large table, plenty of comfortable chairs and a big umbrella to shade diners from the scorching summer sun. Stick with the tropical theme by using bamboo furniture and thatch umbrellas in your eating area. As for the smaller details, put out tropical plates, floral napkins and a bouquet centerpiece whenever guests come over.
The Garden
Cultivating a thriving, tropical garden will give your home's exterior that extra exotic feel. Specifically, you'll want to grow some special plants like orchids. Orchids are gorgeous, brightly colored tropical flowers that will complement your tropical theme beautifully. You can also decorate your home's exterior with tropical plants like Bougainvillea, Flowering Banana and Mandevilla.
The Backyard
Continue your exterior's tropical theme from the garden by making your backyard as lush and green as possible. Adding plants with large leaves and planting crawling vines along some walls are simple ways to bring more greenery into your yard. A bamboo fence is also the perfect backyard addition because it fits flawlessly within the tropical theme while increasing the privacy of your personal oasis.
The Shady Spot
Finish off your backyard island getaway with a shady spot designed for escaping the heat and relaxing. Your shady spot could be a gazebo, screened-in porch, she-shed or anywhere else you can cool down and unwind. If you really want to create a tropical paradise, make your shady spot a Tiki hut under which you can lounge all day long.
Where to Buy Exterior Tropical Decor
Now that you have a game plan for designing your at-home oasis, all you need is a place to purchase tropical decor for your home exterior. As with any home renovation project, you want to use the highest quality materials possible when re-decorating your home's exterior. You'll want to go to the nation's top provider of tropical decor — Forever Bamboo.
Save yourself the time energy of running around to different vendors by using Forever Bamboo as your one-stop shop for all things tropical decor. Forever Bamboo offers everything from bamboo fencing and furniture to Tiki torches and tropical matting. Whether you're completely remodeling your outdoor living area or just want to freshen up your home's exterior, you'll find exactly what you need at Forever Bamboo.

Shop With Forever Bamboo
If you're ready to turn your exterior into a tropical oasis, shop online at Forever Bamboo. At Forever Bamboo, you'll find the largest inventory of tropical decor, including Tiki huts, umbrellas, tropical matting, thatch items and bamboo products. When you shop with Forever Bamboo, you'll have no problem finding the perfect tropical pieces for your home's exterior design.
Make the most of your outdoor summer spaces by shopping with Forever Bamboo today.