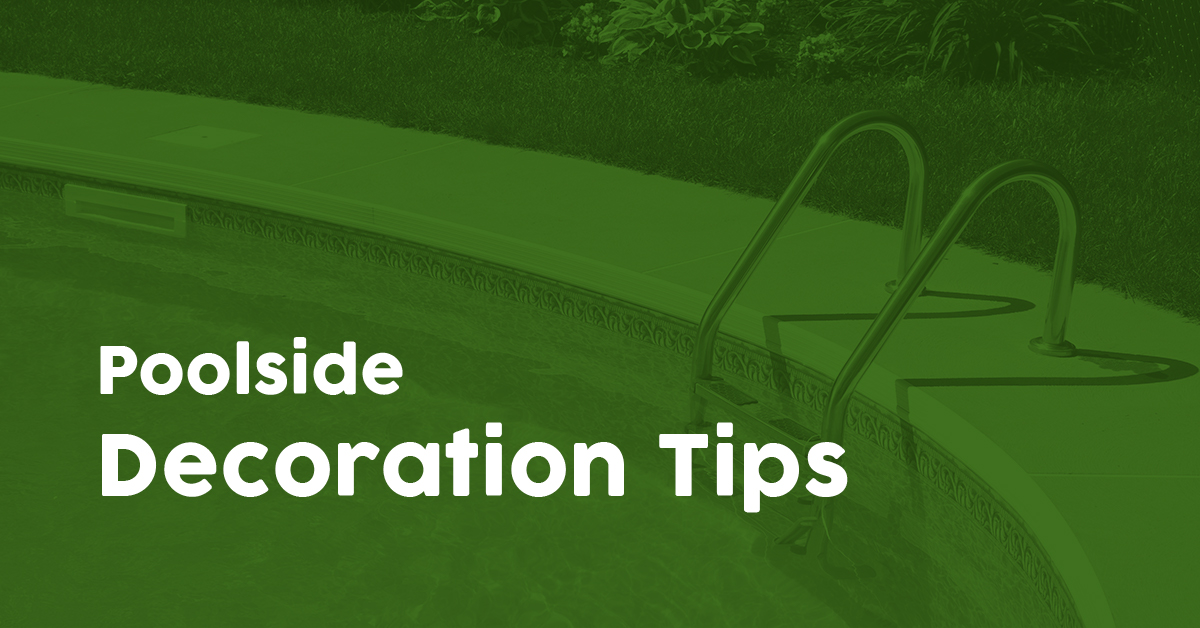 As you look out on your backyard or your company's pool, you may want something more. Maybe you need a relaxing escape to kick back and unwind in or a fun space where you or guests can swim, splash and play. Whatever you want to do with this exterior space, you're probably wondering how to create a tropical oasis in your backyard or outdoor space.
Whether you're transforming the exterior at a public pool or resort or want to learn how to enhance your backyard, these poolside decoration tips will help. Discover how to make your yard stand out with ideas and products from Forever Bamboo!
Jump To Sections:
Tips for Decorating Around Your Pool
Maybe you've never decorated an exterior space or want advice before renovating a backyard area. Don't worry — some tips will make it an easier process. Learn how to decorate around your pool with these ideas:
Have a theme: If you feel you have too many ideas for poolside decor, narrow it down with a theme. Select something beachy, tropical or floral or brainstorm different possibilities to keep you on track as you find decorations.
Use exterior products: Avoid using products meant for interior design as you decorate around the pool. Search for UV-protected products if it's always sunny and durable materials that can last longer against the elements.
Use water-resistant materials: Select waterproof or water-resistant materials for your exterior decor. Whether the elements or water from the pool gets on your decor, you'll want them to stay intact. If you want poolside decor that isn't waterproof, keep it in a covered area or remember to put it in storage if you're expecting a storm.
Secure lightweight items: Heavy exterior accents have a better chance of withstanding the wind. If you add lightweight decorative touches throughout your yard, bring them inside if you're expecting severe weather. Signs, cushions, table decor and various items could blow away or get damaged.
Combine practicality and decor: For a functional exterior space, use elements that are decorative and practical. Dress up seating, fences, bars and other elements that take up a significant part of your exterior layout. Adding function and beauty is also an excellent way to learn how to improve curb appeal.
Be creative and have fun: If you have fun with your tropical decor for by the pool, it'll show. Poolside decorations should be fun or creative and inviting, so use your imagination as you design your backyard oasis.
How to Decorate Around Your Pool
Now it's time to begin decorating, but what should you put around your pool? Envision how you want to transform your backyard for you and your guests, and fill it with poolside decorations that suit your vision. Discover how to make your yard stand out and become a slice of paradise with these poolside decor ideas:
1. Bamboo Fencing
Backyards transform with the addition of a simple fence. Along with some privacy, you can emphasize the tropical feel of your poolside spaces with bamboo fencing. You'll find bamboo fencing in a variety of colors and sizes that'll suit your exterior needs and the rest of your poolside decor, so consider your options:
Use those bamboo decoration ideas along the edge of your backyard for a practical and stylish border. Bamboo fencing is also a stylish choice to help incorporate an above-ground pool into your tropical theme. Install fencing around the pool or around the pool pump to disguise them.
2. Tropical Matting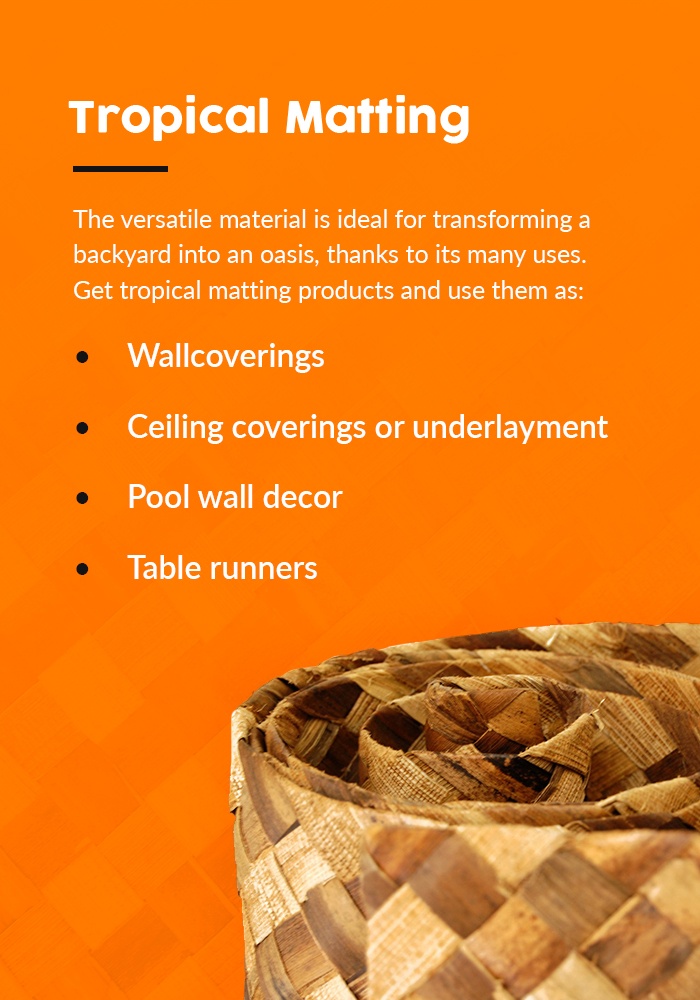 Tropical matting features woven fibers to give every sheet its own unique pattern and texture. The versatile material is ideal for transforming a backyard into an oasis, thanks to its many uses. Get tropical matting products and use them as:
Apply a clear coat of polyurethane or varnish to your tropical matting to protect it from the elements. That'll help prevent damage in certain conditions and provide an eye-catching sheen for your exterior applications.
3. Bamboo Furniture
Sometimes the best way to spend a day is lounging by the pool. But you need the right furnishings to make that possible. For practical yet stylish ways to relax and accent your backyard, consider bamboo decoration ideas with furniture. Bamboo furniture provides the ultimate tropical look that suits resorts and homes alike. Here are some of the bamboo furniture options you may need to decorate your backyard:
A combination shoe rack and bench for guests' convenience and to keep everyone's shoes in one place.
A lounger to lay down and relax on by the pool.
A low table that you can add decor to or use for placing a drink on as you or guests relax in your oasis.
Shelving to hold towels or pool supplies in a pool house.
Select bamboo furniture that's sealed for resistance to the elements, giving your furnishings a maximized lifespan. Bamboo is already among the hardest woods for making furniture, and it's swell- and scratch-resistant. Bring bamboo furniture inside if you're expecting high winds because it is a naturally lightweight material. But that does give you the benefit of easily rearranging your furniture to suit your needs.
4. Tiki Huts
Provide visitors with shade from the heat and the sun with a Tiki hut. Tiki huts are versatile structures, suitable for spaces like your:
Patio
Deck
Lounge area
Bar area
Poolside area
Picture walking out to your exterior space, admiring your impressive Tiki structure and lounging underneath its shade. It's a luxurious addition to any pool area, and one worth considering if you have the space.
For simple installation, purchase a Tiki hut kit. You'll get custom-made structures with a moderately easy to install setup. There's no need to purchase separate hardware, poles, a frame or thatch covering for your Tiki hut if you order a kit.
5. Umbrellas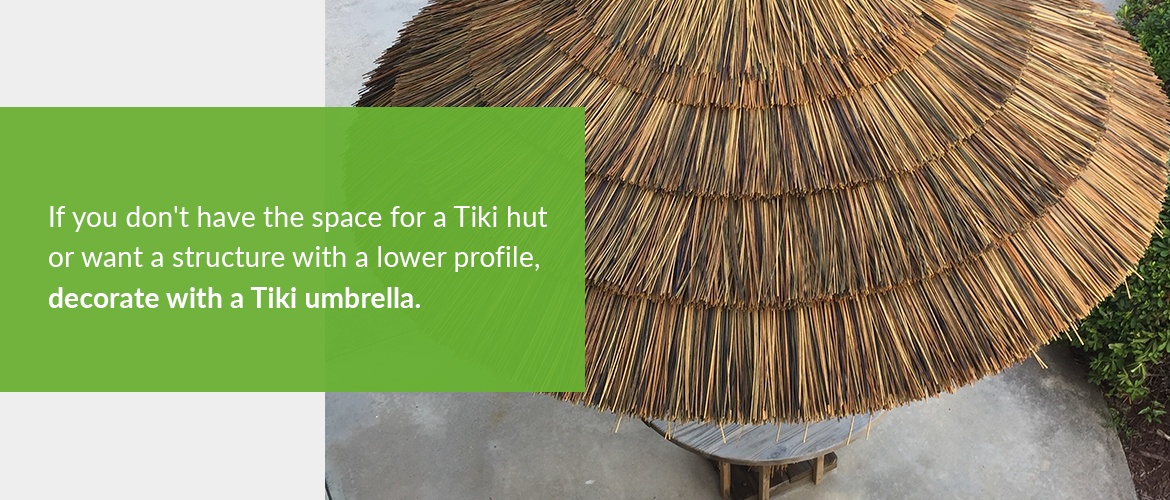 If you don't have the space for a Tiki hut or want a structure with a lower profile, decorate with a Tiki umbrella. You'll have coverage for lounge chairs or other seating areas so you or guests can lounge by the pool in style. Tiki umbrellas come in a variety of materials and textures, like:
A Tiki umbrella could last up to 10 years, depending on the climate and conditions where you install it. Choose a folding style if you can't use your backyard year-round. You'll be able to store the umbrella conveniently in the off-season.
6. Tiki Masks
A handcrafted Tiki mask is a unique addition to your backyard decor. Enhance your home's or company's poolside areas with fun and intricately detailed designs. Possible applications for Tiki masks include:
Using them in place of garden gnomes among your plants.
Hanging them in Tiki huts or bars.
Lining a pathway with a few Tiki masks on either side.
Attaching them to arches or structural poles for umbrellas and huts.
With so many colors, sizes and styles to choose from, you'll find a whimsical Tiki mask that'll match your poolside decorations. They're a unique touch to add to a Hawaiian-themed party or to leave up all the time in a lighthearted tropical theme.
7. Tropical Signs
Add whimsical touches or enhance the theme in your backyard with tropical signs. These additions to your poolside decor are ideal for any variety of areas. Add them to a bar, a patio, a deck, fences or walls and areas that need something extra. Fill a blank space in your design with:
Retro signs or retro-inspired designs for a vintage feel.
Humorous signs to add personality to your poolside decorations.
Floral signs for a pretty, tropical touch.
Palm signs for a classic tropical decor element.
Beach-themed signs to add a coastal feel to your poolside decor ideas.
Paddle signs for a hand-carved addition to your decor.
Surfboard signs for a large, eye-catching option.
Combine tropical sign styles for an eclectic, beach house feel. If you prefer a more uniform look, keep your design within a theme and select one category of tropical signs to use.
8. Tropical Plants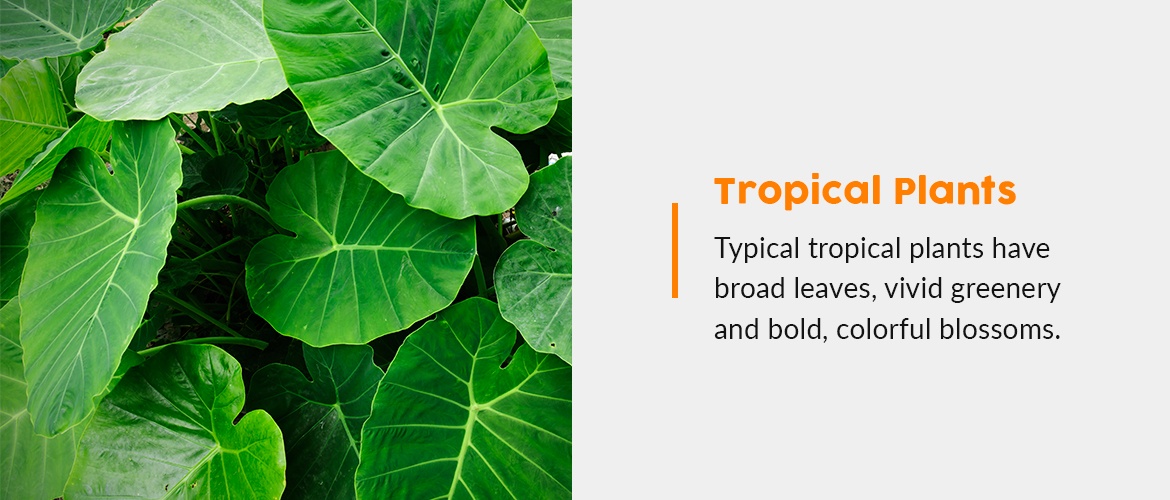 If you need pool landscape ideas, carry the tropical theme into your plants. What will flourish in your backyard will depend on the climate and how much shade you have. Typical tropical plants have broad leaves, vivid greenery and bold, colorful blossoms. Consider plants like these, but see if they'd thrive in your climate, as well:
Hibiscus provides a pop of color with its blooms.
Elephant ear plants add large green leaves to your space.
Croton is low-maintenance and has colorful, leathery leaves.
Palms add texture and greenery in various sizes.
Bromeliads are colorful plants that enjoy the shade.
Potted bamboo plants match bamboo furniture and accents.
Begonias add pops of color in hanging baskets or pots.
Depending on your climate, you may have to use these tropical plants as indoor decor during cold seasons. Incorporate faux plants if you aren't familiar with plant maintenance, don't have the time to upkeep the plants or have an unfavorable climate. Decorate with faux yet realistic plants in covered areas or use UV-resistant and waterproof options that won't fade or get damaged by the elements.
9. Lighting
Enjoy an evening or night by the pool with a spectacularly lit exterior space. Use lighting in and around your pool and seating areas to create a comfortable and safer space for you and guests. While lighting is practical, it can also be decorative, depending on what styles you select. Incorporate lighting for your backyard and poolside, such as:
Torches give a tropical feel and soft glow.
String lights hang through trees or above seating areas and provide soft lighting.
Lanterns come in various looks from modern to vintage.
Spotlights highlight your outdoor landscaping accents.
Floodlights are practical lighting for patios, decks and other areas.
Step lights are another practical choice to make deck stairs safer.
Garden lights are for natural areas and come in fun or simple styles.
Bollard lights line pathways and walkways in your yard.
Lighting makes your pool and backyard feel like an inviting oasis. Even if you or guests want to relax outside as the sun goes down, it's possible in the comforting glow of your lighting choices.
10. Water Features
The flowing sounds of a water feature create a tranquil backyard oasis and create a unique pool setup. Create the water feature near a seating area for a relaxing spot or add it to the pool to make a literal splash. Wherever you put them, consider installing outdoor landscaping accents like these:
Fountains come in a variety of styles and sizes. Have them flowing into your pool or install a separate unit elsewhere in your yard. No matter where you put it, it's sure to improve curb appeal.
Spouts create narrow streams or arcs of water. Use multiple along the edge of a pool, and find programmable versions to change the flow of the water. You can even get spout water features that light up or synchronize with music.
Rock water features bubble and dribble water for a soothing structure. A rocky water feature can be small and simple, suitable for backyards with minimal space. If you have the space, you could create a dramatic assortment of rock water features. Accent the structure with durable artificial rocks to have more control over the structure's appearance.
Ponds create a natural and peaceful backyard. If you don't want to add this water feature to your home or business, make an inground pool look like a pond. Add tall greenery and rocks around sides of the pool to make it seem natural and integrated into the landscape.
Ensure that all the materials you use for your water feature are waterproof and durable. That'll prevent you from putting in the effort to install a water feature only to have it become damaged shortly after.
Transform Your Backyard With Forever Bamboo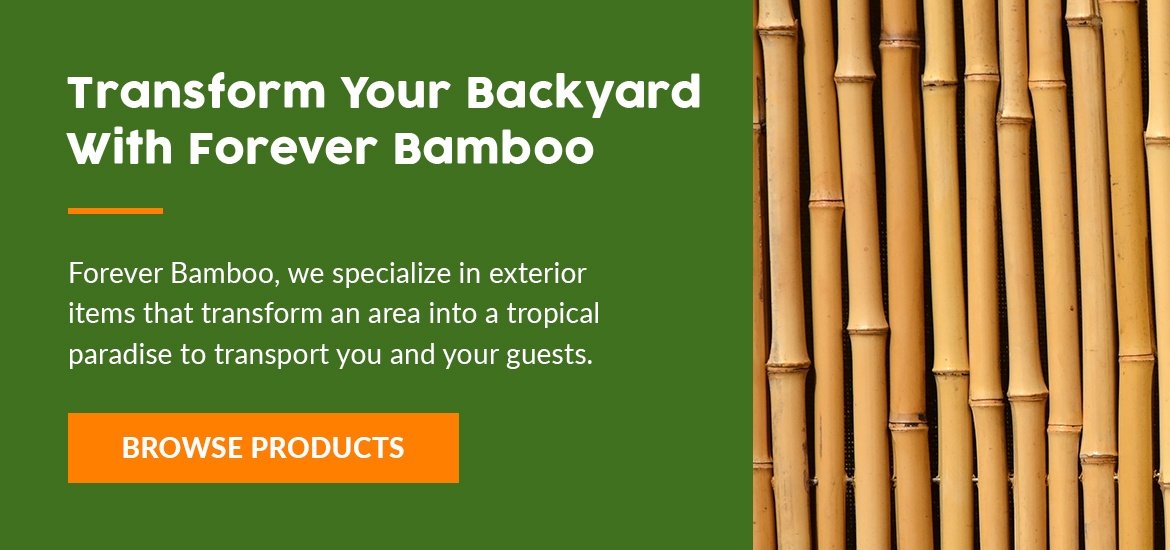 Create a tropical oasis in your backyard with products from Forever Bamboo. At Forever Bamboo, we specialize in exterior items that transform an area into a tropical paradise to transport you and your guests. With commercial-grade materials, customer support available Monday through Friday and free shipping on most products, you'll get quality service and stunning products for your backyard.
Browse our bamboo and thatch products, tropical matting and decor and our Tiki huts and umbrellas. Find what you need to create a backyard paradise with Forever Bamboo!